Roy's Note:  Diana Leão Costa lives in Porto and has a degree in architecture under her belt, and is currently studying viticulture and winemaking at Faculdade de Ciências da Universidade do Porto. Additionally, Diana has several years of experience selling Portuguese wine and especially Port products in her country. During the 2015 harvest, she worked as a "cellar rat" at Quinta do Crasto in the Douro. Earlier this year, Diana joined a small group of travelers to explore 5 distinct wine regions in the center of her country and had a great time. She kept a daily log and asked if we'd be interested in sharing her point of view for the benefit of future guests, or anyone interested in learning what one of our new tours is like. Diana also asked me to mention, that this is her first attempt to write an article in the English language.
My Impressions of the first
"Five Regions Tour" in Portugal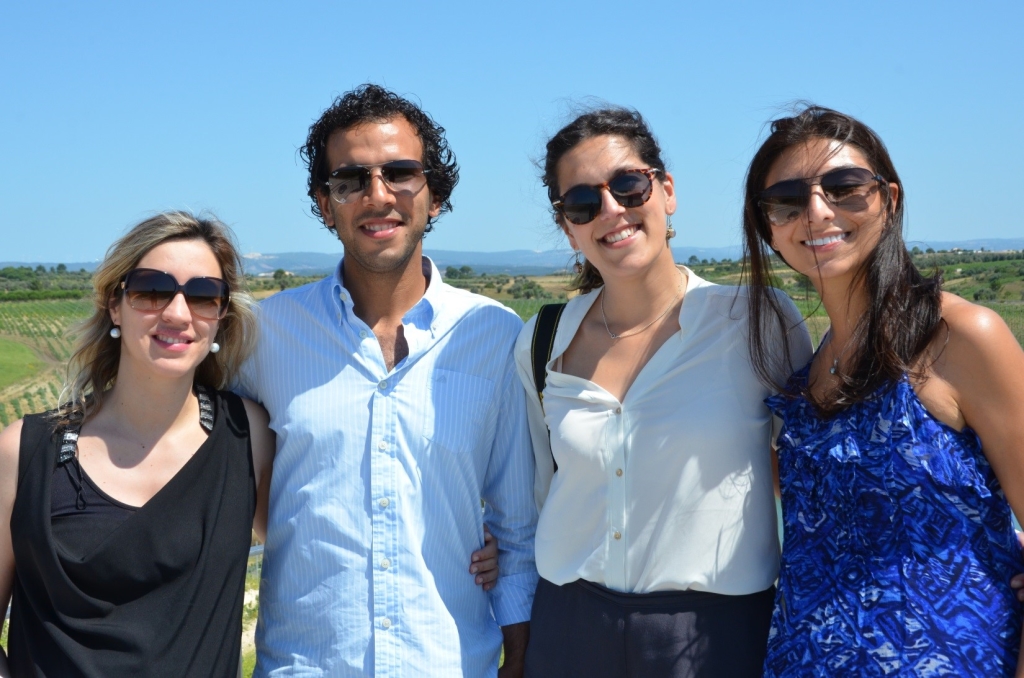 Article by Diana Leão Costa © December 2015
When you are considering whether to join a wine tour, you're expecting an experience that will revolve around wine tasting and good food. Even though you might be surrounded by a lot of people, it's always a very personal experience, in my point of view. You expect to have some unforgettable sensorial moments and explore new places and new tastes. This was sincerely what I hoped to encounter as a starting point for this journey.
FTLOP's FIVE REGIONS TOUR was about joining our two co-hosts in their first effort to visit five distinctive wine regions in my own country, so I wasn't thinking about the charms of unknown landscapes, but I was intrigued by the fact that we had big references of Portuguese winemakers and also smaller companies on the menu. The reason for participating in this tour was personal. My intent was to gain further knowledge of Portuguese wine processes and their influence and some unique producers and the best of all, I was going to share this opportunity with an amazing friend. So this seemed to be the perfect way to have a great vacation.
Now, can you imagine doing all this exploration in a laid back way and instead of having endless winery visits, technical explanations about the process of wine making and quick tastings; instead you get to try many new flavors in cozy environments, with the producer present to explain their vision, treating you like an old friend due to the relationship with our hosts. So we were able to spend a relaxed time unraveling the mysteries of wine making without it being overly technical. So, can I summarize this tour in a word? Passion. Don't get me wrong, this is a cliché, for sure, but this is what I felt. Passion for wine alchemy.
I'm a young architect that at one point in my life found myself jobless with a lot of will to work and learn more. I wanted a job working only with Portuguese products … it was not easy, given the local economy and lack of opportunities. I started working with wines and had wonderful clients from all over the world that looked to me to provide them with a little bit more understanding about the wines they tasted. So, my personal interest in it continued to grow and nowadays, part of my life revolves around wine.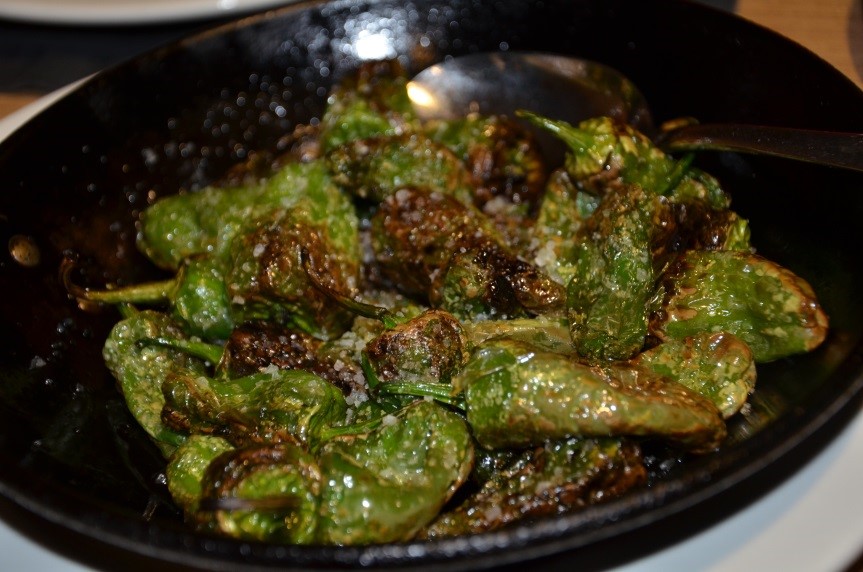 FIVE REGIONS in a week, with many producers, a few legends and unexpected surprises.
The kick off of the tour took place in Coimbra, the former capital of Portugal, possessing the 2nd oldest University in all of Europe. We began with an informal lunch and had the opportunity to taste a few Vinho Verde and olive oil from Colinas de São Lourenço.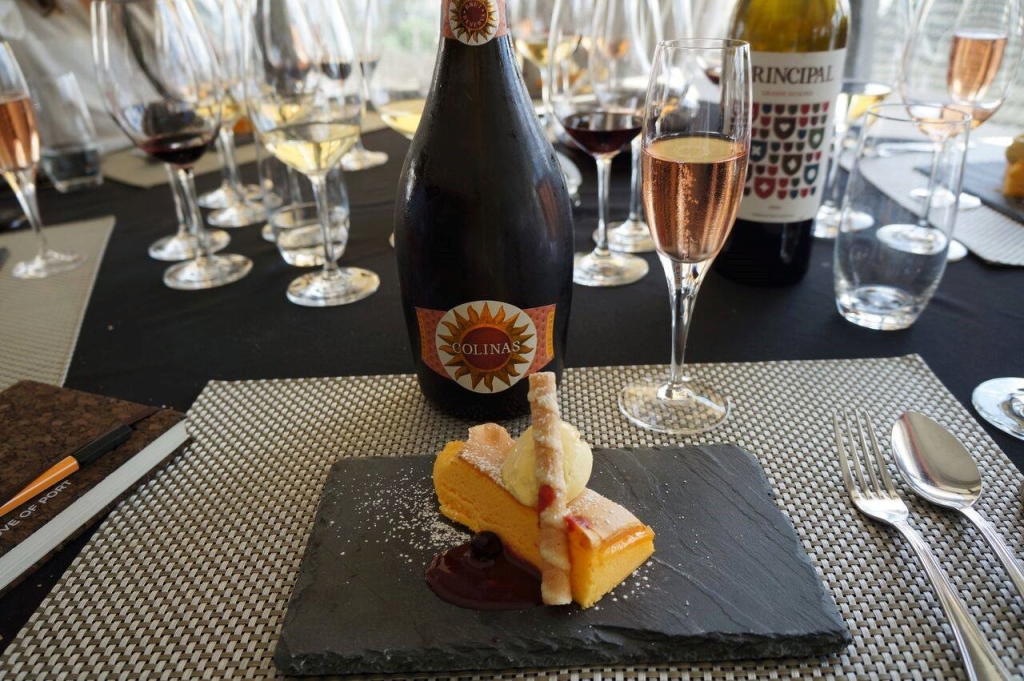 The first region on the itinerary was Bairrada, famous already for sparkling wine and roasted suckling pig, (Leitão assado à Bairrada), is now a very popular appellation with new and exciting wines. Crazy blends with a nice touch of acidity and minerality due to the combination of different grapes, soil and humidity.  This region, now in vogue in Portugal, is a place of proud and focused winemakers, new companies and trendy ideas. The Baga grape is definitely this region's banner and although not fully supported by all the producers, there's a strong group of winemakers determined to continue the history of this variety of grape in the region.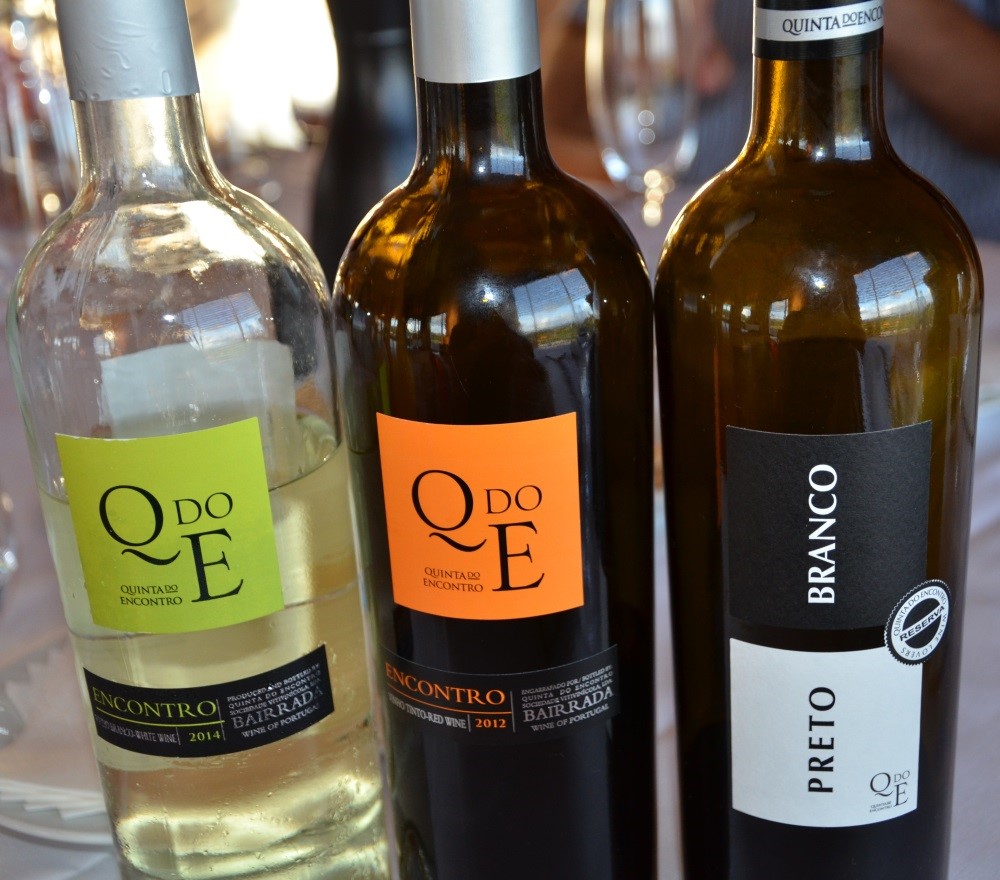 I had no idea that Bairrada, which until fairly recently was an obscure region in Portugal, had such a diverse breadth of indigenous grapes and unique wines besides the well-known sparkling wine. These are no small producers anymore, these are new companies determined to be known in the international markets. Some of the production is now exported globally.
Our first visit was to Quinta do Encontro in São Lourenço do Bairro. The circular winery building (shaped like a wooden wine cask) stands out in the middle of the vineyards, which allows whoever is tasting to have a complete panoramic view of the property. It is difficult not to love this place. Though soft and approachable, these wines were unmistakably Bairrada. With a nice acidic basis, good chalky tannins and filled with beautiful aromas of plum, cherry and raspberry. Two grape varieties destined to make the difference in this region – Bical for the whites and Baga for the reds – due to their affinity to Bairrada soil types; chalky clay or clay and limestone. The first, white, fills the wine with nice exotic fruit but acidic flavors. The other, red, is responsible for dark fruit flavor with powerful tannins. These unique flavors are blended with other varieties in order for them to create and magnify a new identity for this  region, mixed with tradition. Considering Portugal is becoming better known for its wine quality and diversity, there is no better timing for this creativity.
In the Bairrada you have a famous wine family – father and daughter – the Pato family. Crazy, in a good sense, when it comes to their winemaking ability. This name was no stranger to me, but this visit revealed to be an unbelievably fine experience.
First, Luís Pato. A gentleman when it comes to wine. Luis has come to a point in his life that he's not afraid to take risks, or take a wrong turn. Well, looking back at his wine life, he never was. Listening to him talking about his wine was a singular experience. He received us in a very relaxed way, which reveals the confidence to talk about his own work. Surprised nonetheless by this unusual group of wine lovers, he started revealing some of his secrets to us. His passion was quite evident and he is definitely a visionary and pioneer. Pato is deeply passionate about Baga. He made his first wine from this single variety in 1980. Unconventional in many ways, he destems Baga, uses ungrafted vines and makes two distinct harvests from one vineyard about a month apart. His wines are true to the region, but in no way old-fashioned.
We had the opportunity to taste a broad spectrum of wines from his portfolio – Maria Gomes was the first. A traditional method sparkling wine that owes its name to this particular grape as it represents 80% of its composition, but as it produces wines that can lack verve, it is blended with 20% of Sercialinho that provides the necessary acidity and freshness. This sparkling wine has its second fermentation in the bottle, in order to preserve its floral aroma.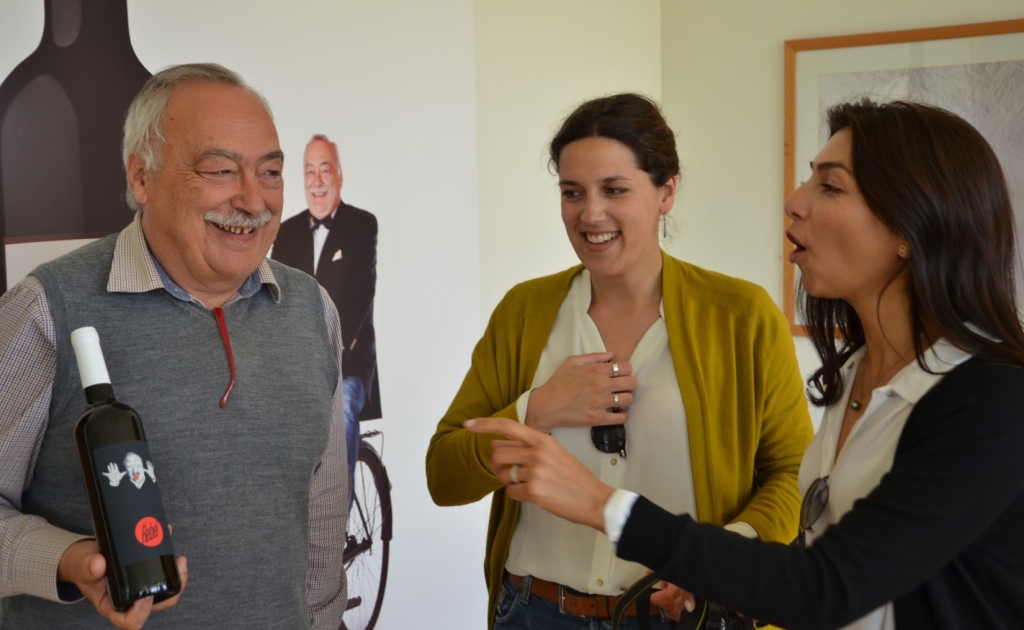 From the same vineyard – Vinha Formal. Luís Pato creates a sparkling wine and an elegant regular white wine – a field blend of Touriga Nacional and Bical. The sparkling wine, Vinha Formal 2013, is the result of a month long first fermentation in second year wooden casks and then a secondary fermentation in the bottle for 9 months, (the minimum for Bairrada's sparkling wines). Elegant notes of smoke and toast, ripe pineapple, figs and honey come to mind when you taste it. Vinha Formal 2013 the white wine, is composed from the later harvesting and is fermented and matured in oak casks during 8 months. It presents a very unique texture and aroma - a balance between the unctuosity while still showing the freshness of the fruit.
Being a Baga lover, Luis Pato created Informal, a sparkling wine made of 100% Baga, a sparkling wine with a Pinot Noir character, yet it is purely Baga from chalky clay soil. Harvested in the last week of August, these grapes reflect the soil with its mineral (smoky) character and omnipresent delicate taste of fresh raspberry. Even the color is quite distinct – a peachy salmon with a beautiful bead of bubbles.
Although this is an older wine company for the Bairrada region, the Pato family has always been at the forefront of the winemaking game and they ambitiously approach the global market. "8" is a wine created especially for the Asian market where there is a huge demand for the wines of Portuguese. 8 is a drier, much more intense wine made from 100% ungrafted Baga. A refined touch of Baga made for sensational markets with a curious label! An 8 and a bowtie. You choose.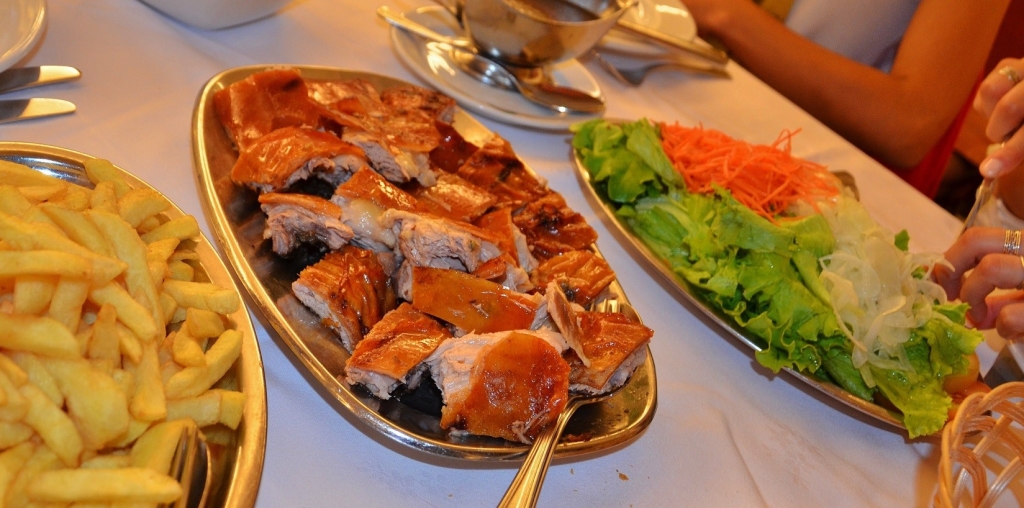 So the love for wine runs in the family. Filipa Pato understood from a very young age that she was also driven by the family's passion, so she traveled around the world to learn about other wine traditions and techniques. Although she started in her father's company, Filipa now runs her own company and some vineyards at Óis do Bairro. Soon to open a brand new winery, we spent a few hours with her over an informal lunch not far from her home. Filipa shares the same simplicity as her father, adding to this her own irreverent and fun personality. Wines without makeup – is her personal raison d'être.
Nossa – is one of her white wines, a 100% Bical from clay and limestone soils – pure Óis do Bairro terroir driven, from 25 year old vineyards, delivering a salty caramel taste, with pear and bees wax. This beautiful wine is fermented and matured for 8 months in 500 liter casks, presented us with crisp acidity and a delicate hint of oxidation.
2011 Nossa – a classy red wine, is pure Baga without makeup, profound and aromatic, with fresh red fruit aromas, and exhibiting the influence of Atlantic minerality. Filipa Pato's main goal for her wine is to present the terroir, this wine is born of several Baga old vineyards from this region, fermented in a Roman style, with lagares and then matured for 18 months in 500 liter oak casks. This stage helps to balance the Baga's strong tannins.
Both appointments with members of the Pato family were memorable as we were inspired by their honesty and willingness to share their secrets with us. Informal and educational wine exploration at its best, with leading players from this renowned family. All the things I had hoped to achieve by coming along on this tour.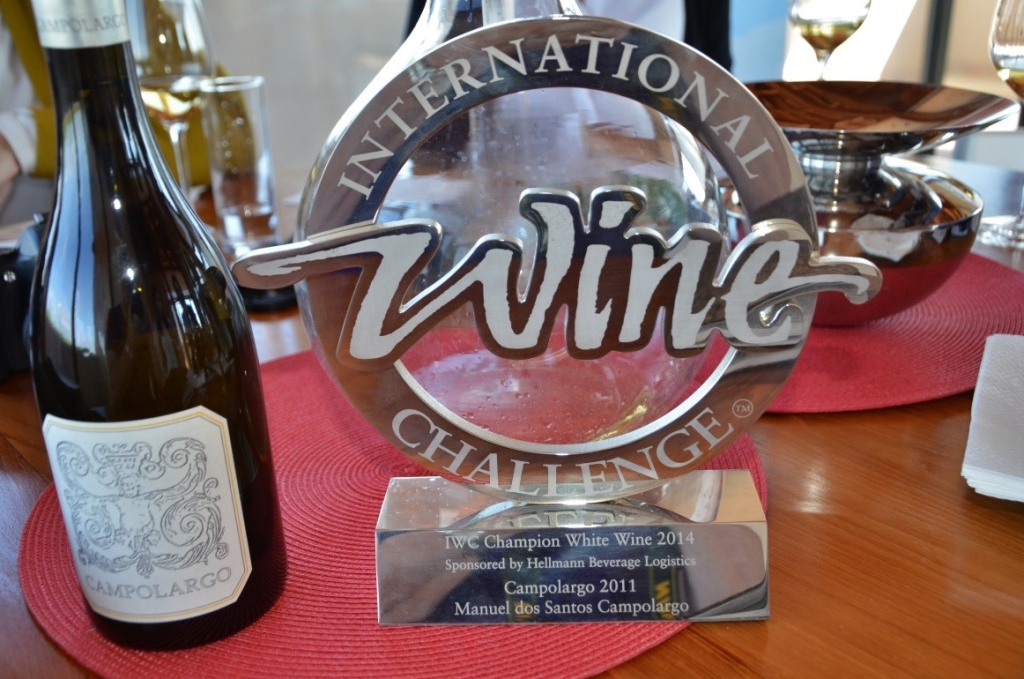 Campolargo was the third company we visited, and it is another family-owned operation intricately woven into the region's fabric and history. This is a huge company with 170 hectares of vineyards, most situated on the estate. The vineyards are composed of indigenous and international grape varieties. Within the reds: Baga, Touriga Nacional, Tinta Barroca, Pinot Noir, Trincadeira da Bairrada and Cabernet Sauvignon. The white varieties include: Bical, Arinto, Cerceal and Verdelho. This family business has a large portfolio adapting themselves to the international markets' demands, but still maintaining the region's tradition.
After touring the entire winemaking and storage facilities, the tasting took place during a beautiful sunset on the top floor of the main building, surrounded by vineyards, and was conducted by Joana Campolargo. The tasting kicked off with three mono-varietals- 100% Verdelho, 100% Bical and 100% Baga. The wines offered the full expression of the region's best feature – its terroir. Baga is the grape that stood out from the others due to the unique character of the Baga, which presented us with a rich, intense flavor of dark cherry and black currant but with a hint of almonds, evidence of the 12 months of wood aging.
On a completely different perspective, working with international grapes in this terroir is also challenging due to soil composition and the intricate climate of this region. Calda Bordalesa, a red wine made of a blend of Merlot, Cabernet Sauvignon and Petit Verdot presents a completely different state of mind. True to French style wine the tasting notes are more of a dark fruit with dark chocolate, mint and solid tannins.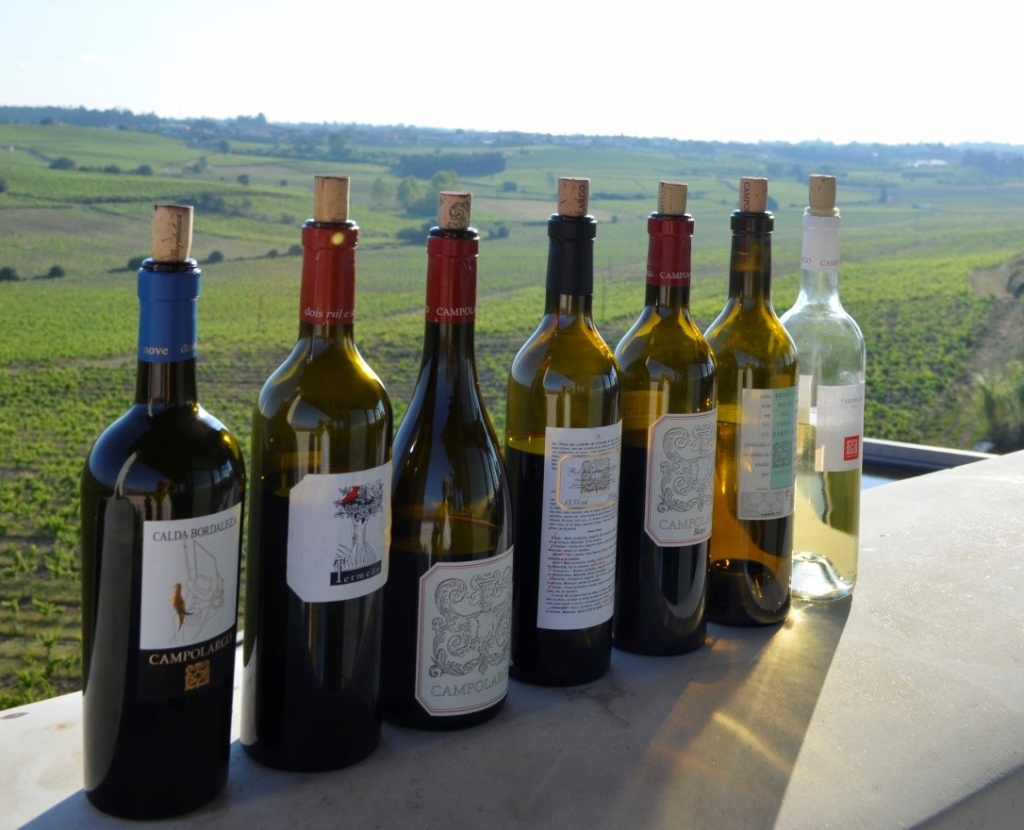 The complete surprise was a sparkling Pinot Noir – Rosé Brut. With a peach color and a delicate stream of small bubbles, this sparkling wine impresses for the elegant nose with hints of cotton candy, Earl Grey tea, limes and old rose. It is a strange combination and is unique, without a doubt. A perfect ending for this tasting!
But the tasting did not actually end there! During our stay in this amazing region we had the opportunity to lodge at Casa de Mogofores, part of the estate of the Campolargo family. This sumptuous and quiet home hides inside many beautiful rooms and an indoor swimming pool. Each night, at the dinner table we would taste again some of the wines we had tried at the winery, just as an exercise for the palate and for the head; paired beautifully with a home cooked dinner.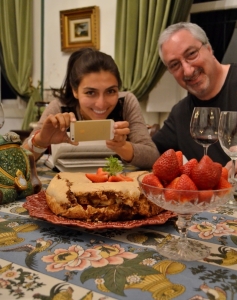 The second region we visited was Tejo, an unexplored region in terms of most international markets, but in Portugal it is considered on the cutting edge for new wine tastes and blends. Roy and Mario chose our visits judiciously and with a keen eye on some of the best winemakers and their fine wines. This region has undergone several changes in the last 15 years, dramatically improving the quality of wines and aiming exports at exclusive markets.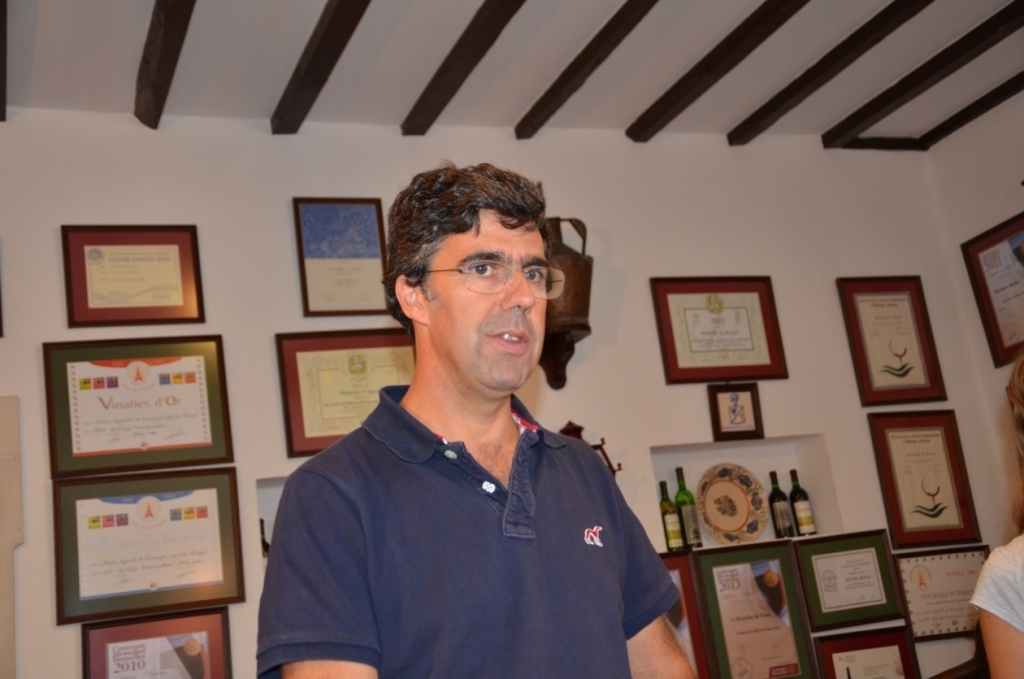 We first spent time at Casal da Coelheira winery, a well-kept secret in Tramagal near Abrantes, as we came to discover. A traditional producer that makes some excellent wines that were presented to us by the owner/winemaker, Nuno Rodrigues (in photo above). He is responsible for this small family-run business of three generations, including 64 hectares of vineyards most of it in sandy soils, and the majority of vines ungrafted due to the inexistence of phylloxera.
There is always a tendency to highlight what you like best, but it is impossible to forget how special we felt sharing the table with the winemaker and having him attentively listening to our judgement of his wines. His openness really made the difference for us as a group with such diverse wine visions. On top of that, this was an unknown producer for the guests, which added to the surprise of the high quality of wines in the lineup we were able to taste.
The white wines, Casal da Coelheira – White 2014 and White Reserve 2014 – although from completely different grape varieties, represented what the region does best – delicate flavors of fresh fruit, well-balanced with focused acidity leaving a fresh persistence on the mouth. This is the terroir working directly on the final product. The Rosé is no exception, made of 50% Shiraz and 50% Touriga Nacional, showing a nice touch of exotic fruit, watermelon and strawberry again with a pleasant acidity – absolutely unique. When it comes to the red wines each states a singular character. Casal da Coelheira Reserve 2014 is a blend of Touriga Nacional, Cabernet Sauvignon and Touriga Franca – it's an unexpected excellent red wine with a nice thick violet color and blackberry and black currant aromas, with a hint of dark chocolate, intense acidity and nicely framed tannins.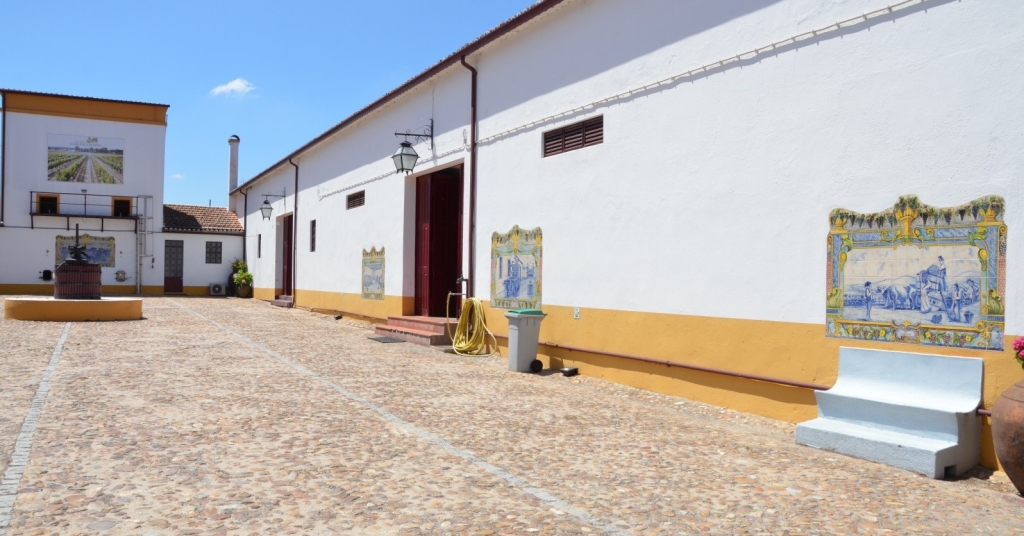 Mythos 2012 – a wine made only in exceptional vintages is produced from the same blend of grapes, but producing a much more complex wine than the Reserve 2014. It is a wine built to represent the terroir of Tejo where each variety of grape is fermented separately and the maturation occurs, up to 14 months in French (80%) and American (20%) oak barrels.  It delivers a solid full-bodied red wine, with abundant tannins. Black currant and dark chocolate notes and in the mouth it goes from a sharp edge to an elegant style texture and profound taste. Mythos is a wine built to age for several years and a very nice surprise!
When we thought we had had enough for our morning tasting, not so fast, it was now lunch time and the winemaker brought us to enjoy a very special restaurant in Abrantes. I could describe the food which was delicious, but I'll just keep it a secret and say that the dessert was unbelievably good and quite nutritive.
After putting a coin on the wall for good luck and making sure it would not fall off, we set sail for another region, although we would revisit the Tejo again, later in the tour. It was certainly a great start to this little known gem.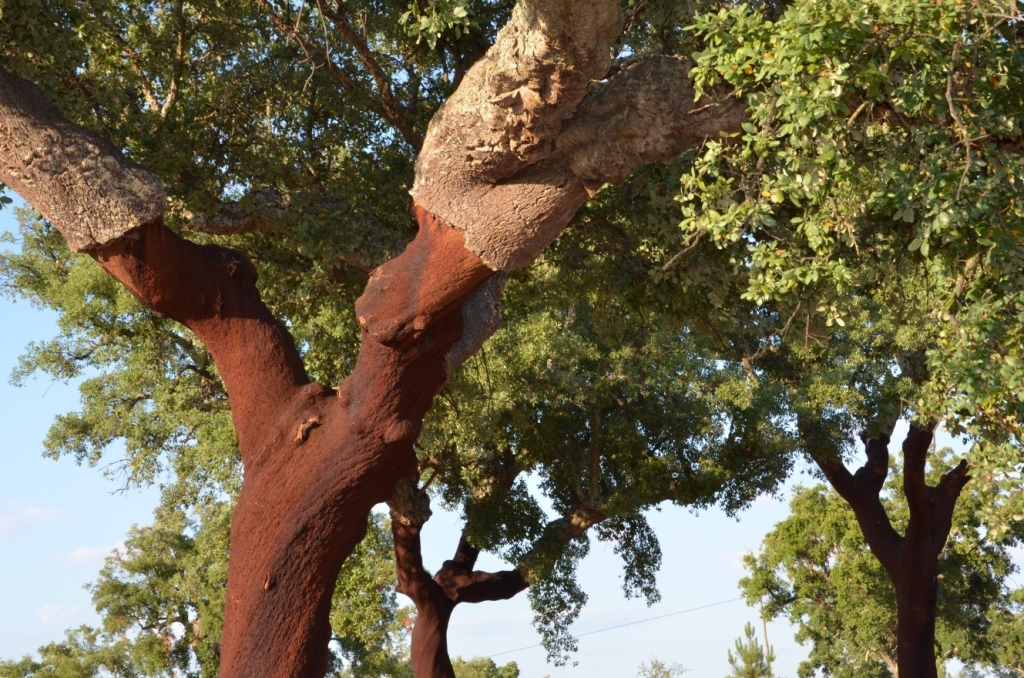 Changing landscape yet again, we headed for the cork region and the golden plains of the Alentejo wine region. During our ride, we stopped along the way to explore the cork forests and later on, visited a massive cork plant, with many hectares of harvested cork bark that was seasoning before being ready for shipment to a production facility.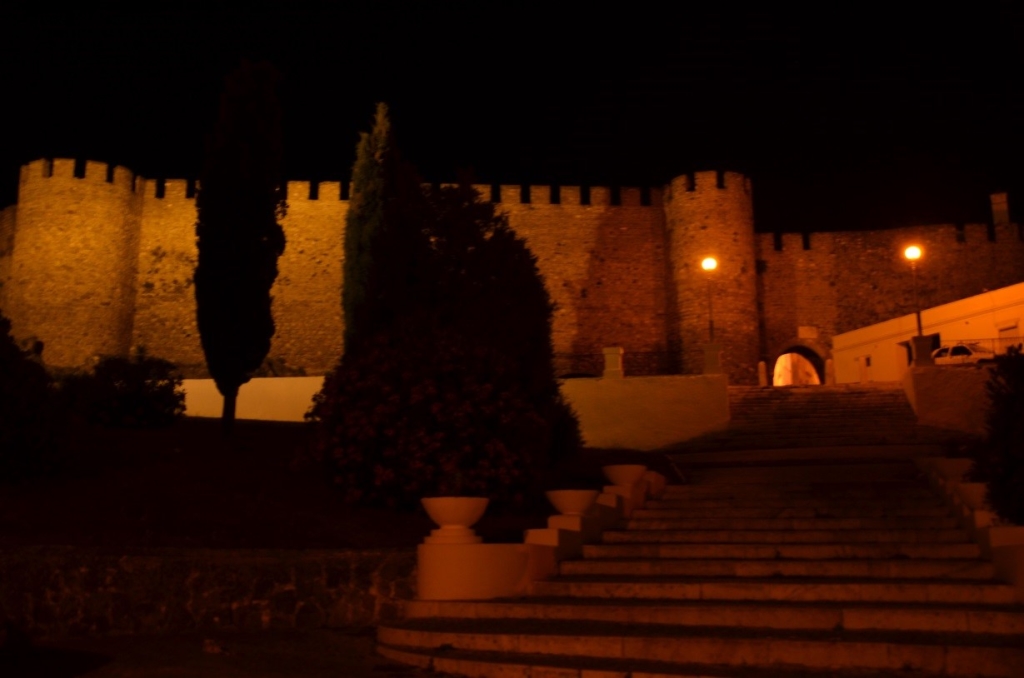 Pateo dos Solares in Estremoz was our resting point. A really classy hotel within the castle walls, with an outdoor garden where you can enjoy their swimming pool. I like a good swim whenever possible, so it was a real treat to be able to utilize this pool while staying at this nice property that is surrounded by the village and large historic castle too.
Alentejo comprises about 1/3 of Portugal's land mass, so it is huge and is known as the region for strongly flavored wines; let's call them with a temper, wines that require time to taste. These are mainly poor schist soils and reach higher temperatures during most of the summer months, and the hungry, stressed vines must search deep to find nutrients.
Our first appointment, Roy had previously been to this property and met the owner and tasted many of their wines and thought this was one we should not miss. João Portugal Ramos is one the region's largest wine companies thanks to the area of vineyard managed by the group – 600 hectares. This company is the result of the work of João Portugal Ramos spanning the last 30 years and produces wine throughout the country, (including the Douro) yet it started in Estremoz in 1990. This is a family-run business with a well-built economic structure and a strong social responsibility, as most of the work is done by employees from within the region.
Starting our visit atop the walls of the existing Castle in Estremoz, from where most of the property can be seen, we're introduced to the company and to its vineyards. What a view! Funny fact, the vineyard right below the castle's walls at the entrance to the village is planted with Alicante Bouschet and Trincadeira, in alternating lines so when the leaves mature, one is still green, while the other one is strong red, coincidentally composing the colors of Portugal.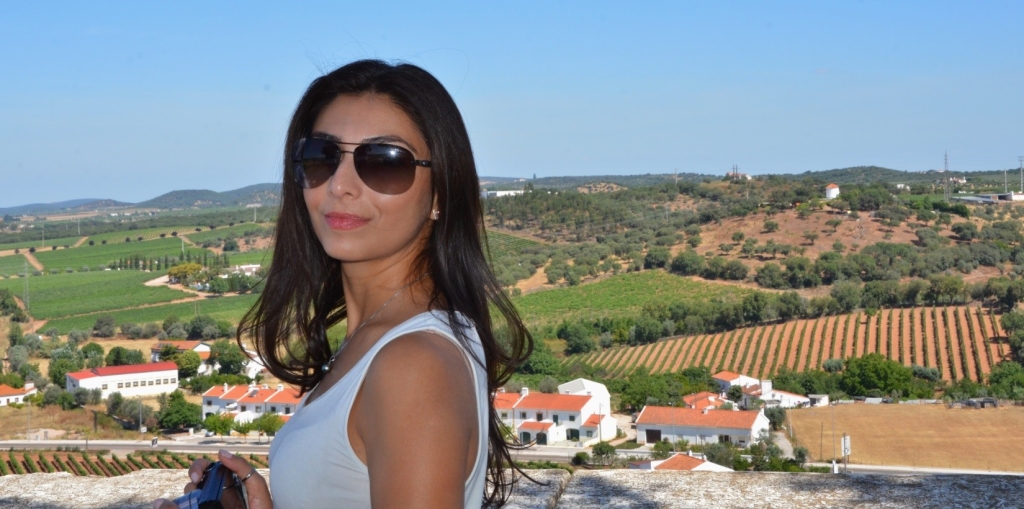 After we checked out the vineyards much closer, we visited the winery, the cellar and the beautiful marble lagares (yes, pure marble). Afterwards, we went to the first floor to take part in a grand tasting.
First in line is Pouca Roupa, Rosé – my favorite rosé wine during the Tour is a blend of Aragonez, Touriga Nacional and Cabernet Sauvignon, which was harvested during the night and laid to rest to guarantee the delicate extraction of color – a salmon hue. It has a fresh nose with hints of apple, peach and white melon and some minerality present due to the schist soil, a nice sweet taste, simple and clean.
Within the white wines, one prevailed in my attention, the Vila Santa Reserva 2013 – a blend of  Arinto, Sauvignon Blanc, Alvarinho – a wine that's partially fermented in oak barrels with a tropical fruit aroma, notes of young honey and sweet lemon, nice structure and light acidity. Perfect!
Within the red wines, it is more difficult to choose a favorite, as we tasted many and they were all quite unique, but I can describe 3 that I found quite interesting. Vila Santa Reserve 2013 - a blend of Aragonez, Touriga Nacional, Syrah, Cabernet Sauvignon, Alicante Bouschet – is a partly foot trodden red wine, fermented in wooden vats and with a long post-fermentative maceration.
The aroma gives away the complexity this wine has, with hints of dark plum, black fruit blend and sandal wood and in the mouth you can feel the elegance of the tannins and a balancing acidity, finishing with a taste of unroasted almonds.
Quinta da Viçosa 2011 – a special wine made only when the quality of the wines is exceptional – a blend of Touriga Nacional and Cabernet Sauvignon that shows a dark currant color and a dark berry aroma mixed with notes of black pepperish chocolate and nice chewable tannins.
To end this amazing tasting we tasted their high end, Marquês de Borba Reserve 2012 - Deep in color. Excellent concentration of aromas. Notes of jammy red fruits and spices. Potent and elegant. Solid, vigorous, with compact and well integrated tannins and spices. Long and distinct finish. A wine for ageing. This is the official site's definition and I couldn't agree more. Sometimes it is best to stay on the simpler side of the critique.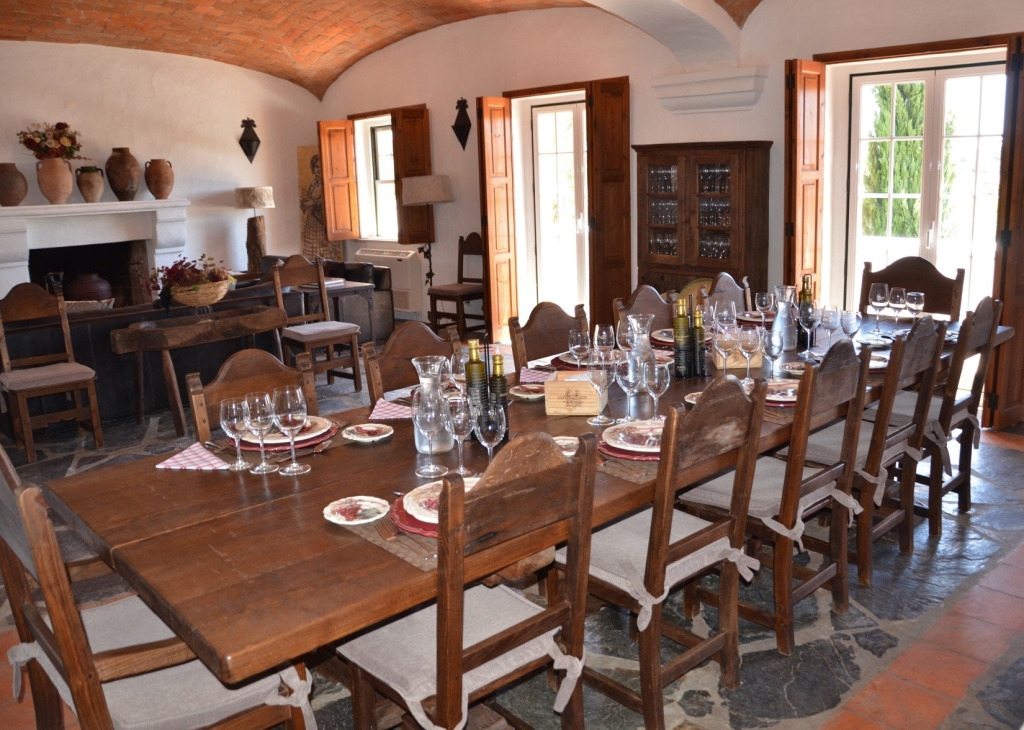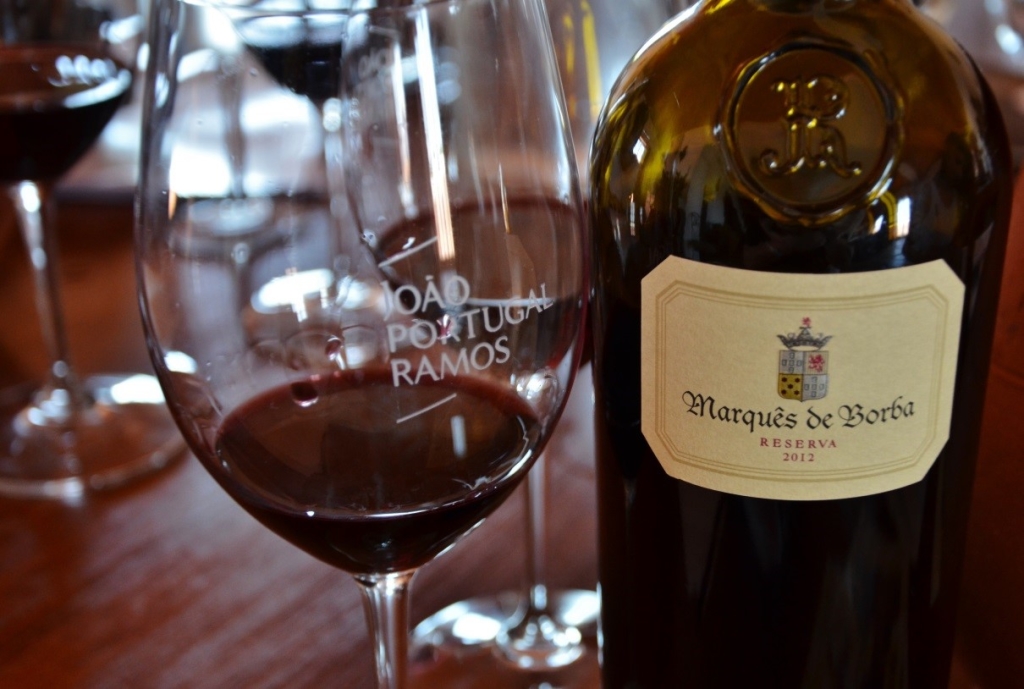 In the end, some members of the executive team joined us, and we had the opportunity to meet with João Portugal Ramos. After introductions we enjoyed a nice lunch with some of our favorites from the tasting and a couple of older bottlings too. This might be irrelevant to someone else's eyes but for us it meant having the opportunity to dig deeper in the knowledge behind these powerful wines. After lunch we said goodbye to our hosts and departed for our next visit.
From one memorable moment to another. We headed up to Mouchão. Herdade do Mouchão, was a much anticipated visit for Roy, possibly the one place he was most looking forward to visit on our tour; but for me it was still an unknown. Well it shouldn't have been, considering the extraordinary quality of these wines and their worldwide presence and reputation.
David Marques Ferreira, the director of Mouchão welcomed us like old friends. Maybe that's not difficult for him as it is obvious that he loves what he does. Throughout the visit he showed us a sincere enthusiasm for this place and his work, which in the end his passion infected us as well.
Mouchão, a fertile land between two rivers, is owned by the Reynolds family (known to Roy and some Port lovers) and it is now part of the fourth generation. The company not only produces wine, it produces cork, excellent olive oil, honey and spirits too. But their wines are certainly unique, maybe because when it comes to wine production, everything is still the closest to traditional, no irrigation, hand picking and foot treading. Another interesting fact is that most of their red wines are quite tannic, therefore rest in wood, some up to 24 months, so they can be tamed and lose some of their aggressiveness.
It was a very warm late afternoon when we arrived and humid too, so while we walked to the vineyards it became extremely hot. David was proud of the vineyards and wanted to show us more, but to walk to the "Roman bridge" area was just too far given the temperature and we wanted to make sure we would have time for a proper tasting, of course.
When we arrived back at the winery, David showed us  around the production areas and the rest of the building from the turn of the 20th century, including the distillery equipment. There was a lot to see, but he could tell we were very eager to try the wine lineup he had arranged for us.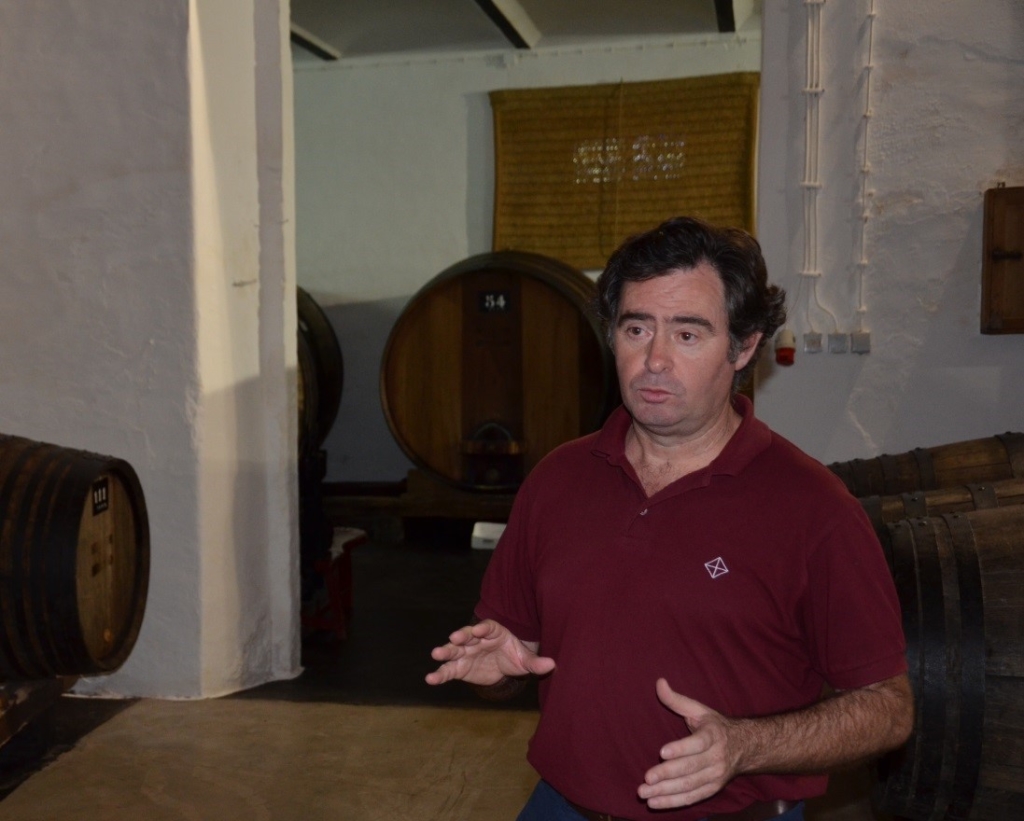 The first wine on the table was a Dom Rafael White 2013. This a blend of Antão Vaz, Arinto, Perrum and Fernão Pires, being a very aromatic wine which offered notes of sweet flowers, a little bit of lime and meringue. Oaky flavors with a buttery feel to it. Quite distinct.
Their reds are equally impressive. Ponte das Canas is a red wine from 2011 made from Alicante Bouschet, Touriga Nacional, Touriga Franca and Shiraz. It's trodden and fermented in lagares aged in oak barrels and afterwards aged in bottle prior to release. This wine shows a dark rich color, an interesting complexity due to the dark fruit aromas with a touch of black pepper. It is persistent and spicy with chalky strong tannins.
Another one, unavoidable is the heralded Mouchão 2010. This is the company's best known label and strongest reference, as Roy called it, "a cult wine" here in Portugal. A truly complex wine with delicate balance between the dark black fruit blend and the hints of eucalyptus and pine, composed of a nice structure and persistence without being too heavy. Tannins built to last.
We also tasted Mouchão Licoroso 2009, a 100% Alicante Bouschet wine that can be described as a super intense plunge of sweet black fruits and licorice adding a little spiciness to this exotic dessert wine.
This nice tasting lasted till 9:30 pm as we were so involved in this cozy conversation sharing the love of wine and the experiences each one of us had, so I have to pinpoint this moment as one of the most memorable of our Tour.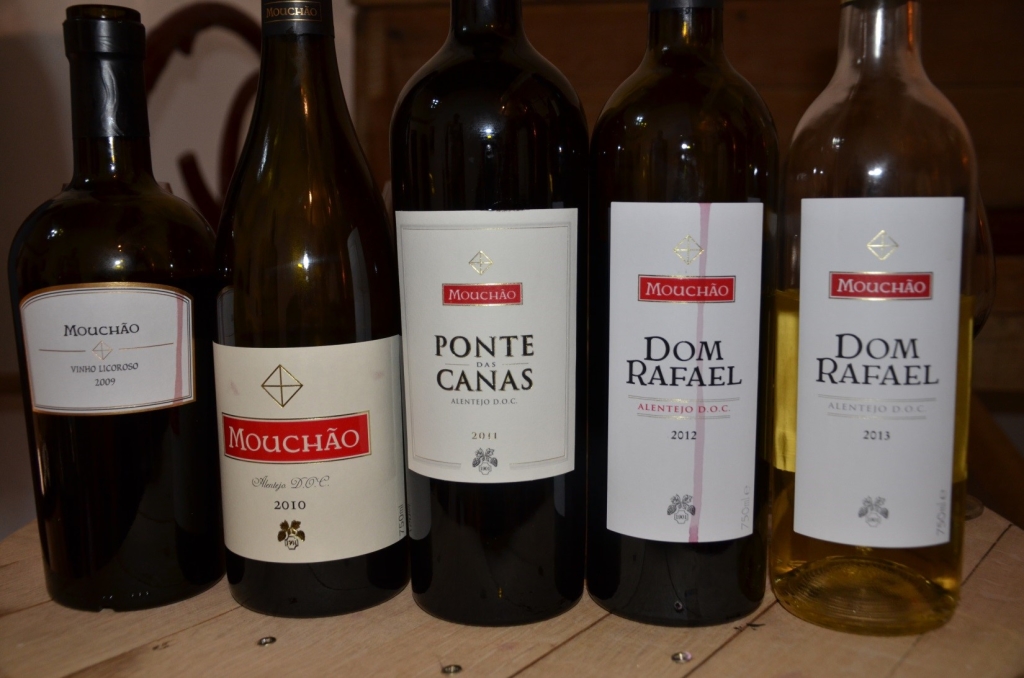 Back to our hotel and later we walked around the town of Estremoz, before a late night dinner with excellent food and beer. After dinner another walk in the streets of the village, charming and picturesque, surround by the protective walls of the castle. It was warm and very quiet and we enjoyed this immensely, before heading back to our resting place for a good sleep.
The next day we headed in a different direction, actually another region. I love Portuguese fortified wines. The older, the better! Yes, I know, maybe another cliché. Every woman loves sweet things, so Moscatel (Muscat grape) is no exception. The Moscatel de Setúbal is one of the most praised fortified wines of Portugal, along with Port, Madeira and Carcavelos. This sweet wine is made from a very aromatic and sweet grape of the same name and it ages for a minimum of 2 years in what they call an "oxidative style" in oak to better shape the distinct aromas of the nectar.
Mario and Roy have introduced other guests to the producer we were about to visit. In Palmela there's a very small company that produces this sweet wine for the last three generations - Horácio Simões. Thanks to the stubbornness of the oldest generation in transforming this elite aged wine into something accessible for everyone, they now produce several Moscatel wines.
Maybe, I am showing too much love for Moscatel. But if you wish to say otherwise, you must taste it first. This is incredible! We had lunch at this property with the winemaker, a local friend of his and another family member. Lots of nice table wines were included and a couple of great Moscatels we had not tried, were served with dessert. We even got to meet the grandfather of the owner, who is approaching 100 years old and was so happy to meet us!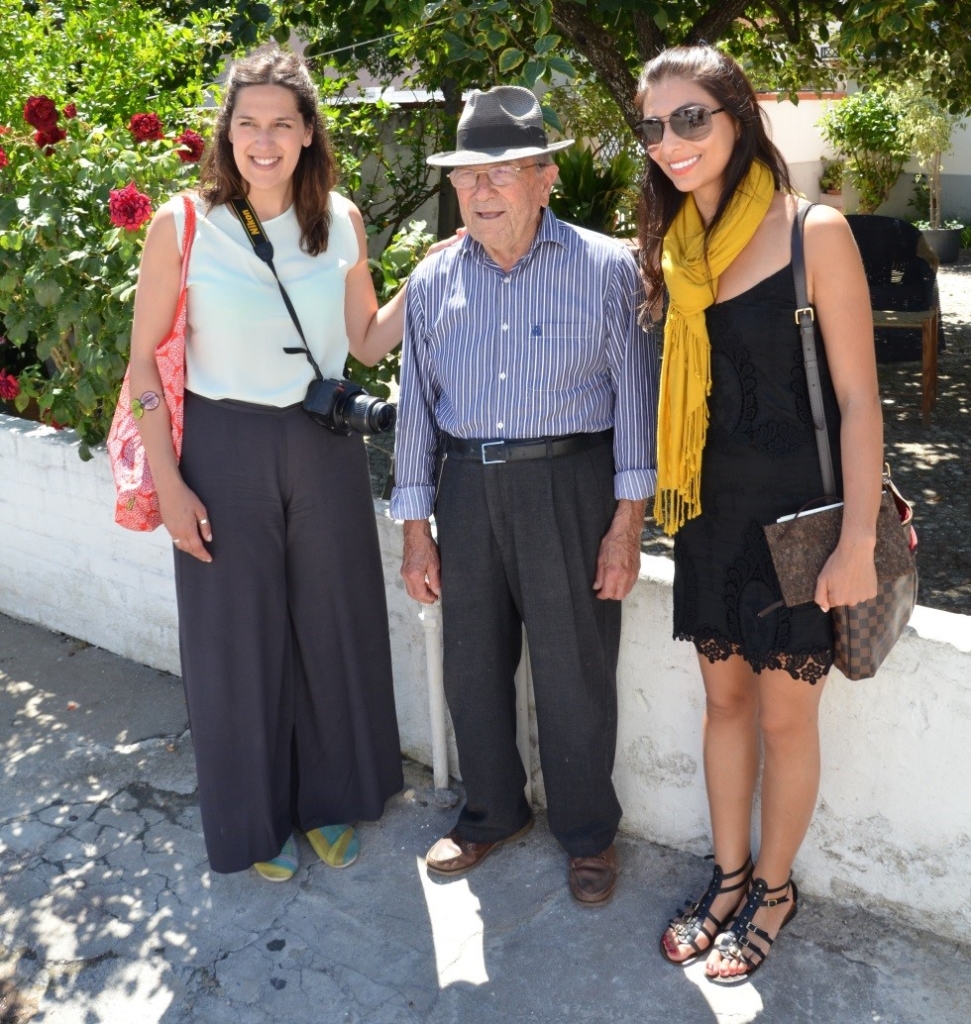 This small family-run business is known for its quality and they'll share with you their many vinous gifts and explaining how much I loved the tasting we did is no surprise.  But I won't bother you describing all the wines we tasted, as it was an extensive selection. I'll just stick to the specific ones I just couldn't get enough of.
Moscatel de Setúbal – 10 Years Superior. This wine is not completely fermented. In order to preserve some of its sugar, brandy is added before the fermentation ends. Then it is laid to macerate during the 6 months of autumn and winter in contact with the grape skin.  After that it is allowed to rest in wood barrels. The aromas that were once floral and fresh turned into orange peel and milk caramel, but still showing in the mouth hints of ripe exotic fruits with a caramel touch and an insinuation of wood. This 10 year old Moscatel, filled with all these crazy aromas is a full-bodied wine with a long persistence and sharp edged acidity which allows you to drink it lightly.
Excellent, is a blend of the best 3 years of the decade. This a family tradition as the 3 generations are involved in the choice of the best 225 liters barrels of it, in order to make this wine. 2001, 2003 and 2007 are the chosen wines to feature in this particular bottling. When you open this bottle you still get what characterizes the Moscatel grape mixed with other aromas of aged Moscatel such as dried apricot, orange peel and cream caramel, while in the mouth you get similar flavors, but with a more refined presentation of orange marmalade, a touch of cinnamon, crème brûlée, almonds and apricot with a gentle hint of mahogany. It has nice acidity that balances out the strong sweet flavors.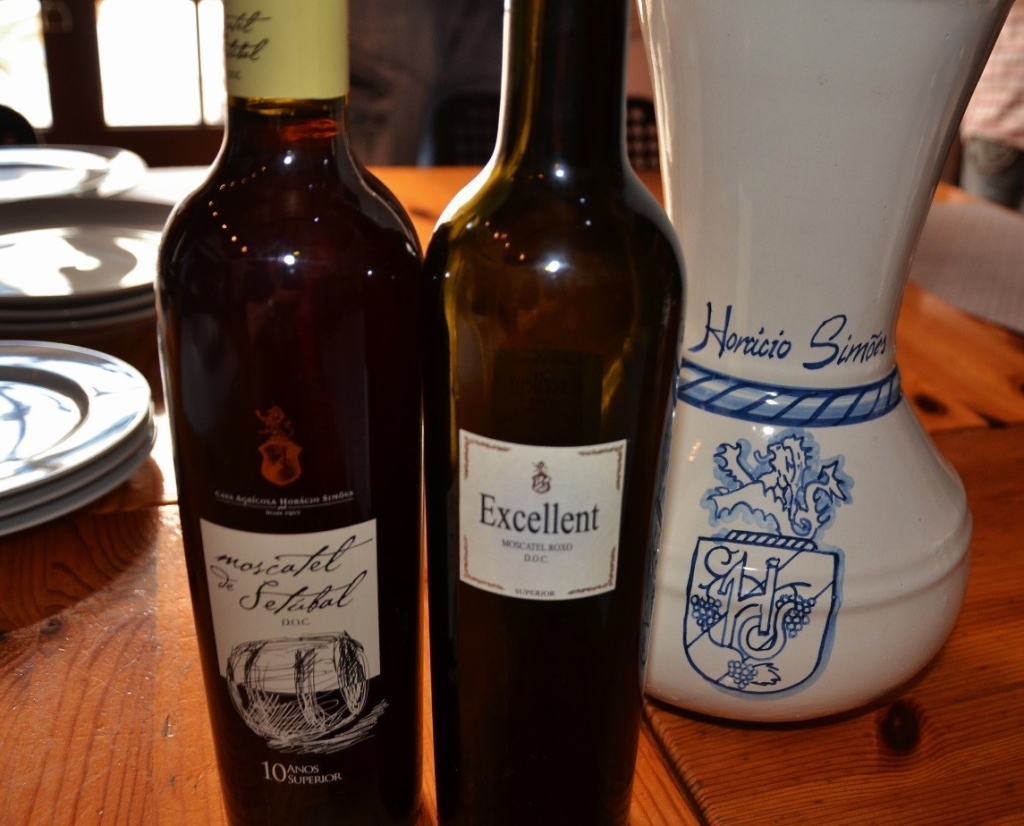 Next up was an afternoon visit to the legendary José Maria da Fonseca the best-known producer of Moscatel de Setúbal. This company shows the difference between it and the tiny producer we visited earlier in the day. José Maria da Fonseca is a completely different size from the previous one, even though it is still a 100% family-run business, now in its 6th generation with almost 2 centuries of history. They own the oldest winery in Portugal, working since 1834 and present an impressively deep portfolio of table wines and fortified wine, in which it included the exemplary Periquita – the oldest brand of table wine in all of Portugal … and it remains in production today, nearly 160 years after its inception. Moreover, most notably this producer has a national and international reputation for its iconic and highly sought after selection of Moscatel de Setúbal.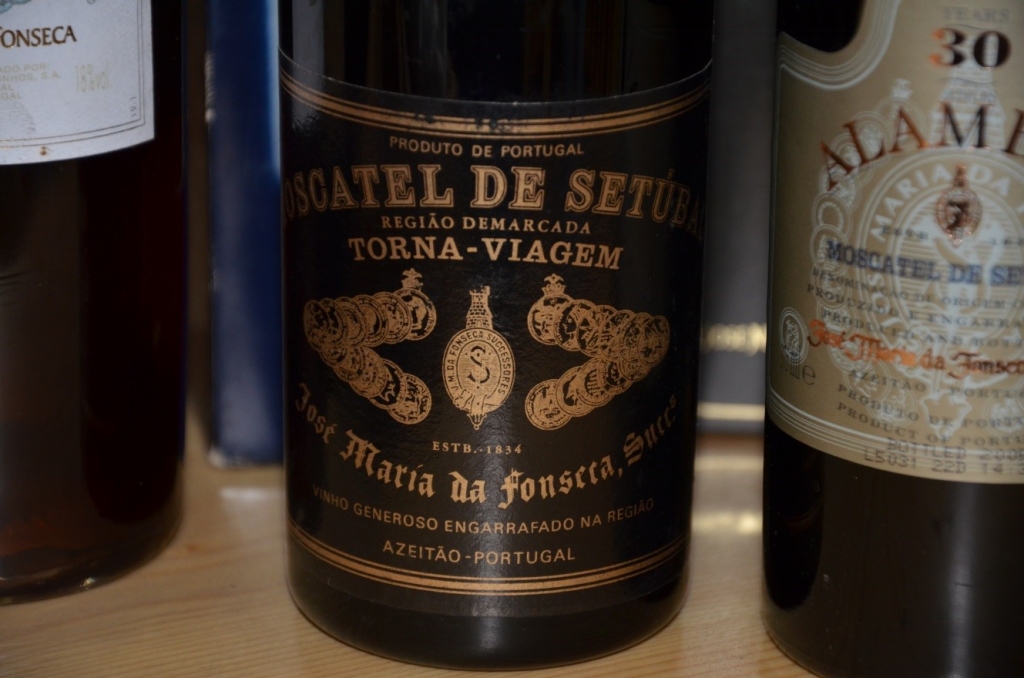 Our visit to JMdF's Manor House was guided by António Maria Soares Franco, the eldest of the 6th generation. Their estate in the middle of Azeitão is still where most wines are produced and aged. It is also where the family jewels are kept. The unicorn wine known as "Torna Viagem" (which translates to "round trip") for example, is a very special Moscatel that results from an idea that José Maria da Fonseca had to increase its sales. Shipping this wine in the old vessels that traded in India, Africa and Brazil, José Maria da Fonseca hoped to expand his business. The wine that would return on the ship, unpurchased, had already endured hot temperatures and the humidity of the tropics and crossing of the equator and therefore had refined its character. The company re-created this process on a second voyage, in 2000.
The JMdF portfolio is as diverse as it is extensive, but we focused mainly on the Moscatels, nonetheless, I would like to outline one of the red non-fortified wines we tasted that excelled by its quality – Hexagon 2008: Six Sides, six Grapes and six Generations: Foot- trodden and fermented with full skin contact, this wine remained in oak casks for 3 months during the battonage and then aged for 12 months in French oak casks. It presents itself with a blackberry aroma, notes of sweet spices, fresh vanilla and black chocolate. High acidity and chalky tannins. Long length, but rather dry. A lovely surprise.
Now for the Moscatels – Moscatel Roxo 2005 – belonging to their private collection - has been launched in 2014 and has spent those 9 years aging in oak – it has a beautiful color without too much oxidation and a refined palate. Cinnamon bread, caramel and sugar cane notes showing a light acidity and medium length. Delicate and perfect for the beginning of a meal.
20 Year Old Moscatel Roxo - is also a pleasant surprise – having a nicely structured frame, light and crisp acidity and loads of persistence. It offers beautiful notes of crème brûlée, caramel, tobacco and hazelnuts. Coffee foam and cinnamon. Excellent!
Then came the amazing Trilogia, a very special wine released in 1999 celebrating the turn of the century and the millennium. It is the top Moscatel available for sale at the winery today; and is a blend of 3 special vintages – 1900, 1934 and 1965, the winemaker's choice of three great vintages of the company's Moscatel de Setúbal production. This limited edition is a complex mix of flavors such as dried figs and dried bitter orange with spiciness to it. Perfect acidity with a nice unctuosity and long persistence. The guests and both of our hosts were loving this wine! Roy and Mario had brought another group here the previous month and Roy told us he first visited here in 1994, before he even visited Porto or Douro for the very first time!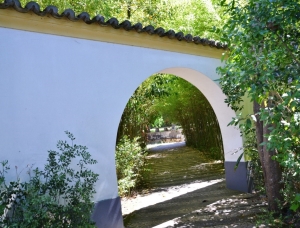 To end this perfect day we drove up to Quinta da Lapa, a beautiful estate with 300 years of history, but it was fully restored at the beginning of the decade and is now replete with 21st century amenities and comfort. Wonderful, natural ad peaceful. In the middle of vineyards and corn fields, lays the main house developed around a huge square patio, as it is traditionally built. Each room is named after a Portuguese grape variety and many of the guest rooms possess a huge balcony suspended above the gardens. Here you can enjoy a perfect sunset and relax, with a glass of wine, of course!
So we are now back again in the Tejo region, although this venue offers a completely different landscape, surrounded by lots of open land, high mountains and slopes. Here you feel the wind and the temperature changing during the day. Lapa itself is situated in a very quiet part of the region and you feel like you are really on vacation while here in a luxurious, laid back and relaxing environment.  We all had a casual wine dinner and discussed our day and the unique furnishings in our rooms. The food was very good and service was like being at the table with relatives. Love it here!
A new day, and after a light breakfast, we head out to visit friends of Roy's and Mario's. In the middle of nowhere, probably is what I should say, lays this unbelievably well-disguised wine property. Quinta de Chocapalha is owned by the parents of renowned winemaker, Sandra Tavares da Silva's family. Sandra's name in the oenology world is a well-known quantity with a sterling reputation; as she makes wine not only for her parents at Quinta Chocapalha, but was the long time winemaker alongside Cristiano van Zeller at Quinta do Vale D. Maria and remains a consulting oenologist there, but may be best known for her wine project in partnership with her winemaking husband Jorge Serodio Borges at Wine and Soul in the heart of the Douro Valley.
While Quinta de Chocapalha is a property that was unknown to me, (I trust Roy and Mario to only take us to places that are worthy of our time and exploration) for two reason it should not be unknown – both the fact of who the winemaker is and the realization that the winery was designed by a well-known architecture firm, Herzog and Meuron.
The Chocapalha estate, bought by Sandra's charming and engaging parents, Paulo and Alice, in the 1980's, belonged previously to João Portugal Ramos's family and it dates back to the 16th century. The sandy soil and low production of the 45 hectares planted to vines, led to the need for major re-grafting in the vineyards and some block planting necessary to adequately improve the land in order to meet their desired level of production. Their first bottled vintage was 2000.
This took not only time but also a lot of love, sweat and determination from the owners. In fact, these are the exact same feelings you see in Paulo and Alice's eyes, even today. The ambience here doesn't feel like "a company", as this is a family home and the winery is run by the family and for the family. You're a guest first and foremost and you immediately feel like you are spending time with long lost friends and you will enjoy every moment of it in the company of the founders. It just doesn't get any better than this.
Once you are introduced to more of the estate, you discover a beautifully designed building that extends itself along the slope. Contoured in a simple line. Damn. I fell in love. The winery is a beautifully designed building that extends itself deep into the mountain. Like a vertical cut. Conceived according to Sandra's layout and designed by João Pedro Serõdio and Herzon & Meuron, this is a fabulous architectural achievement, and it is a very practical building with loads of space, the scale of which is perfect. Here you don't feel the discomfort of high ceilings or cluttered spaces. Very inspiring for this architecture admirer!
The tasting, done at the family table, next to the inviting poolside blew us away. One of the things that amazed me and it is an honest personal opinion, was the different facets to the flavors found in Chocapalha's Arinto, (a popular white indigenous Portuguese grape). I found distinct differences in Arinto throughout all of the 5 regions, varying from distinct mineral tastes, and ranging from citric to floral aromas and achieving several unique viscosities. I still find this variety one of the most captivating and something that impressed me during the tour and had me thinking about this grape, even weeks later.
So I'll start off with one of Chocapalha 100% Arinto from 2014. A refreshing wine with a citric edge, notes of lemon leaf, acacia flowers and dried pineapple adding a nice white tea essence.  The acidity gives this wine a nice freshness to it and the aromas linger in your mouth. For a 100% Arinto, this seemed a nice disclosure and a delicious way to start our tasting.
The family's portfolio has several wonderful white wines. Fresh and unique aromatics exist in all of them. But I turn the focus now on the red ones. Two special red wines in a lineup with many fine Tintos. My favorites were the Vinha Mãe and CH. Vinha Mãe 2011 – a blend from a very special vineyard where you have Touriga Nacional and Shiraz combining to produce a mixture of dark fruits such as cassis and currant, chocolate and black pepper. Gentle and refined tannins and a high acidity delivering a desirable persistence.
CH 2011 – This blend which celebrates Alice's Swiss origin is a 100% Touriga Nacional from a special terroir. It ferments in granite lagares and matures in French oak barrels for 24 months. The beautiful aroma of black fruits blends with chocolate, violet and a distinct peppery quality. This is a very tannic young wine, loaded with aging potential and with a medium body weight and a long persistent aftertaste.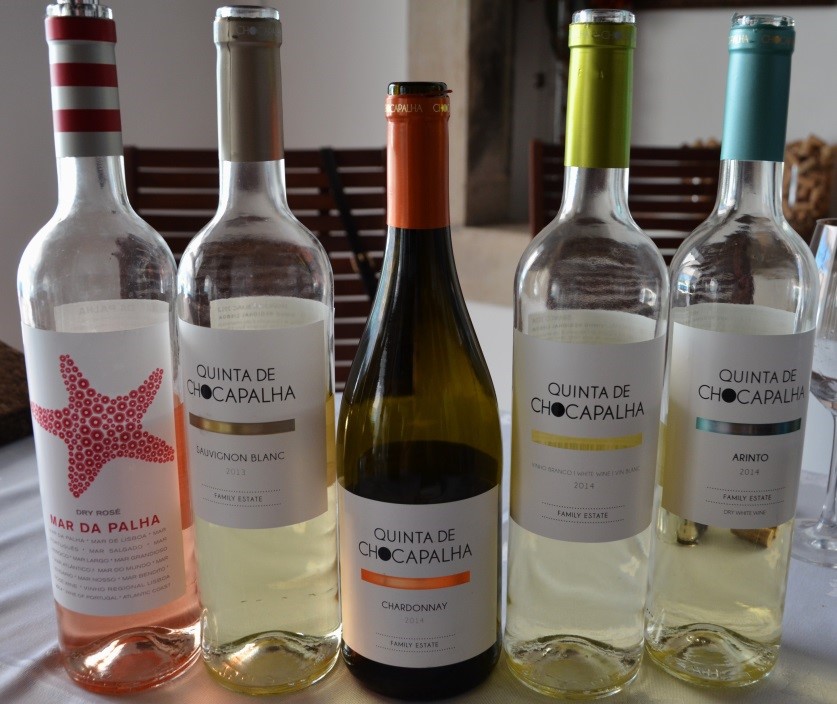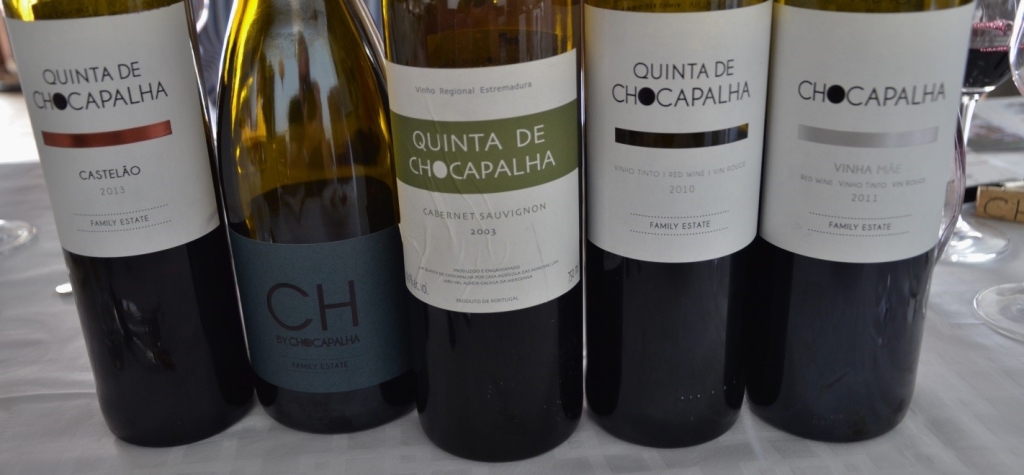 Alice and Paulo's love for this place is evident and their kindness is impossible to forget, which adds to the warm feeling we had for Quinta de Chocapalha. In Alice's words, "the wine should be born already, not blended." They try to make the closest possible.
We had so much fun and a great lunch at this property which stands out in my fond memories of our visit here. The 10 wines and a Port we tasted were wonderful, but I will never forget the kind hospitality of our hosts!
It was time to explore yet another wine region and this property Quinta do Pinto belonged to the nearby Lisbon region. Roy had spent time here meeting the family and winemaker, Rita Cardoso Pinto back in 2011 and told us that we were going to have a lot of fun here with her sister, Ana Cardoso Pinto that Roy met last year in Seattle at a Vinhos do Portugal event. It is a place you must not miss near Alenquer, with westerly wind and gentle slopes, cold winds from the Atlantic and long maturations. A place of sustainable organization, and the family is fiercely proud of it.
Deep roots grow from this Quinta into the region's tradition. This beautiful estate – Quinta do Anjo - shown to us enthusiastically by Ana, has 120 ha, 53 of it planted with several grape varieties that show the characteristics of the Rhône region of France. There are another 10 ha more with native Portuguese varieties. Quinta do Pinto's wines have a defined profile that makes them unique. Creamy, fresh, sumptuous, silky and smooth mouth presence. Their goal - disseminate international varieties that express differently in their property's terroir – taken directly from their website.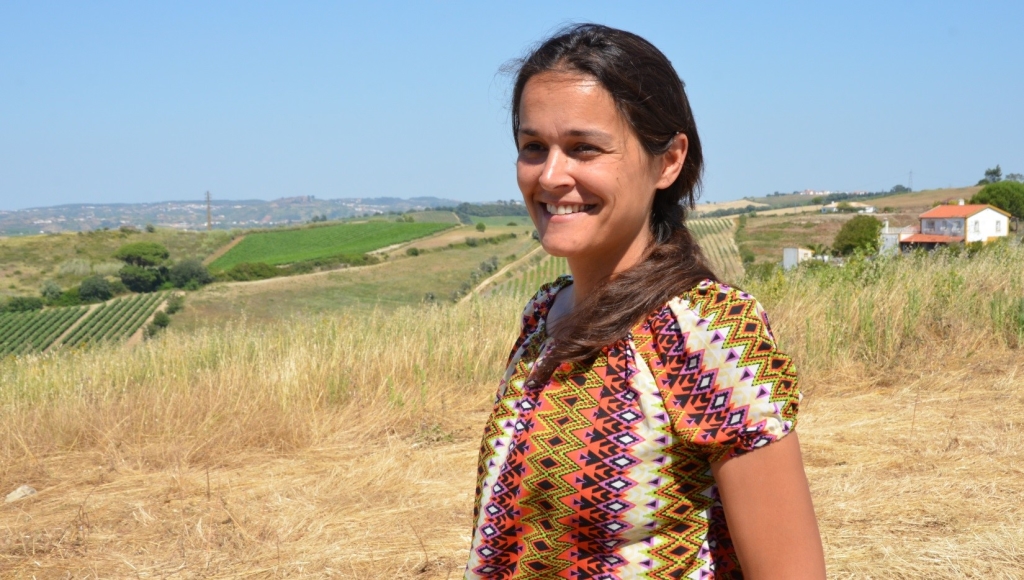 After a quick intro, Ana took us on a wild ride throughout their property's hilly vineyards and this was a lot of fun and laughs. Afterwards she showed us around the entire winery and quinta along with a detailed tour of the extensive cellar. Ana was a great and lively personality and we sat on the balcony of this impressive family home where you feel the atmosphere of comfort and relaxation, made even better by Ana's personality. Now, it was time to drink some of Pinto's nice wine selections, of which there are many. Roy and Mario narrowed down the lineup with Ana, so we would finish before the moon came out.
I'll start off with an amazing white wine, a group favorite and one of the best we'd had to this point in the trip! Quinta do Pinto 2013. Viognier blended with Chardonnay aged for 6 months in oak cask. The first image that comes to mind, although it may sound strange, is uncooked lemon cake. This wine presents a beautiful creamy texture with high acidity giving it a fresh vibrancy mixed with gentle minerality ending with a salty lemon cream taste that lingers and then some.
The expression of the terroir is indeed special and you can notice that in the red varieties as well. Terras do Anjo 2012 is lovely, a mixture in equal parts of Touriga Nacional, Castelão and Syrah. Surprising for the fine blend of dark fruits, prunes, chocolate and pepper, yes, quite familiar aromas for sure, but add to all this the salty flavor of the land, a little bit of olives. This is a complex wine with ripe tannins and an elegant body. In the end you'll find a bit of herbaceous finish which I liked and was quite refreshing. In Ana's words, "this wine is from a year where you can find a more feminine side of the Touriga Nacional." And it showed!
Which brings me to another wine from the same year but 100% Touriga Nacional. Quinta do Pinto – Touriga Nacional 2012. Again you can find a black fruit blend mixed with violets and an earthy nose. Similar to a Burgundian wine, this one is profound and complex and chewable. Very young and power packed tannins and showing long persistence in the mouth. And even though this blend spends 12 months in French oak, its presence it is still quite subtle. Wow, this was really a beautiful baby wine with many years of good drinking ahead.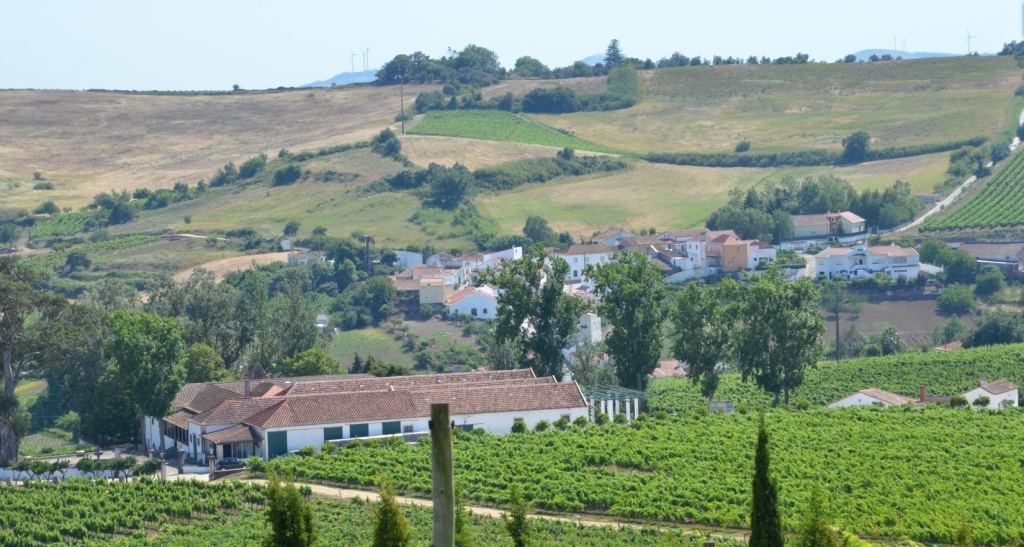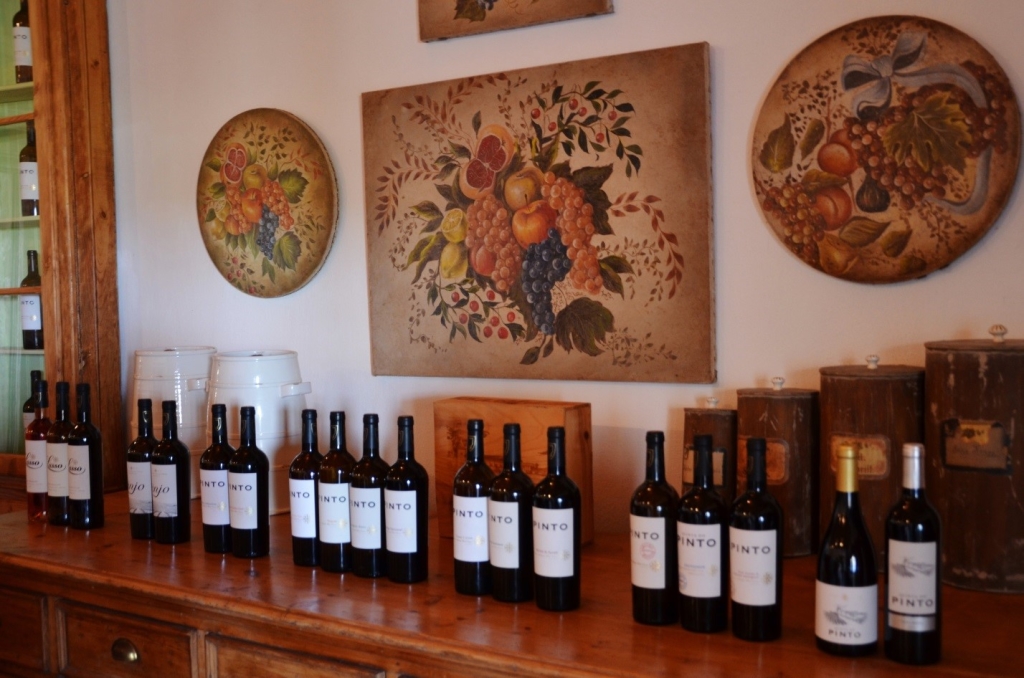 While we did get to taste a bunch of other wines, Ana's kindness and knowledge of the terroir, the soil, the grapes and even architecture was so much fun to be around. We had a nice discussion as we both studied architecture in University and now find ourselves involved with wine. This is a property that I want to visit again and taste more of the diamonds here.
It was getting late, so we had to go before it got too dark out. We went back to the hotel at the wine property Quinta de Nossa Senhora da Conceição da Lapa, (which dates back to 1733) and is located in the highlands north of the Tejo River. I was very happy we would be staying here another night, it is such a calming influence and a gorgeously appointed hotel property … with great food & wine! We just had time to refresh and change before dinner was to be served. We were all hungry and looking forward to a special meal. We drank many fine wines, some that Ana gave us to enjoy with dinner as well as a couple from Lapa too. By the time we finished it was very late and sadly, the next day was the last full day of the tour. I didn't want the fun to end yet!
I woke up and the sun was shining in my window with an incredible view of the surrounding vineyards. I just enjoyed laying there and thinking back to all of the great moments we had experienced so far. Lapa was so relaxing and I would like to say that here I really felt at home, though this beautiful house was so big, but at the same time enjoyable, peaceful and happy.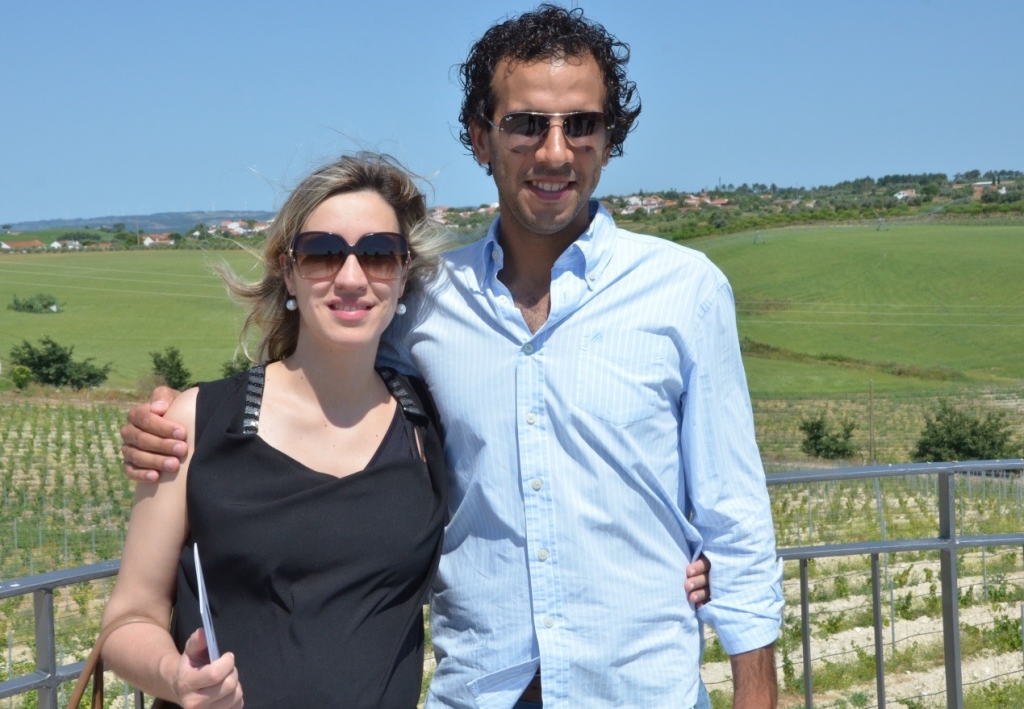 On our last day, the winemaker and his wife took us on a tour of the vineyards and we got out of the vehicles and learned a lot about some of their grapes and the history of the property and the views were beautiful. We passed by the swimming pool, but it was nearly time for lunch and we had a big tasting ahead of us too.
We had the pleasure of enjoying a delicious meal, cooked for us by the two lovely ladies that took care of the house, along with the owner of the estate and his young and enthusiastic winemaker. Roy and Mario had never met the father of Silvia who runs this quinta and things started out a little bit formal but that did not last long.
Their vineyards are still quite young and still have a lot to prove, but that doesn't stop the owner from dreaming of getting even more land to plant more vineyard. But the estate is already impressive, (as we a chance to see the entire property from the top of the observation tower) and yet transmits a familiar feeling of still being tamable.
I have not written much about Rosé wines, as I'm typically not a big enthusiast of Rosé, but in this case I enjoyed Quinta da Lapa Rosé Selection 2014. This blend of Merlot and Touriga Nacional presented a beautiful copper color and impressed with watermelon and quince aromas, a nice unctuosity and neat freshness. It lingers long and delicately in the mouth.
Most of the time the wines are not only compositions and blends, they are also stories.  "Nana" is one of the best wines produced by this Quinta that honors the owner's wife – Nana. This wine is for sure a perfect homage. The Nana reserve 2010, is an elegant combination of Trincadeira, Castelão, Shiraz, Merlot and Touriga Nacional where the black fruits aromas are mixed with dark chocolate ones and a light hint of mint. This wine has a sexy feeling to it, a nice unctuousity, velvety texture and a nice body with ripe tannins. Loved it and so did our entire group. It is one of the best wines we had the whole week. Even Roy was impressed with this particular bottling.
This was one of the most wide ranging tastings of the tour and a great way to finish it off, as we tasted for several hours around our great lunch. Quinta da Lapa has a remarkable portfolio and it still has a lot to show in the future. Roy had tasted many of their earlier vintages before and said he noticed a significant improvement in the four years since he last visited here. Although the wines that I mentioned in this article are for the majority, blends of Portuguese varieties, I'm still amazed to see the adaptation of international grape types on Portuguese soil.
One notable example is a red wine, Quinta da Lapa Reserve Cabernet Sauvignon 2012. It is a curious wine showing off a beautiful color and delicate aromas of black cassis, pepper and pine resin with a nice subtle touch of oak. Elegant tannins, a nice body and excellent length. A wine that resembles a Napa Valley style. Very impressive!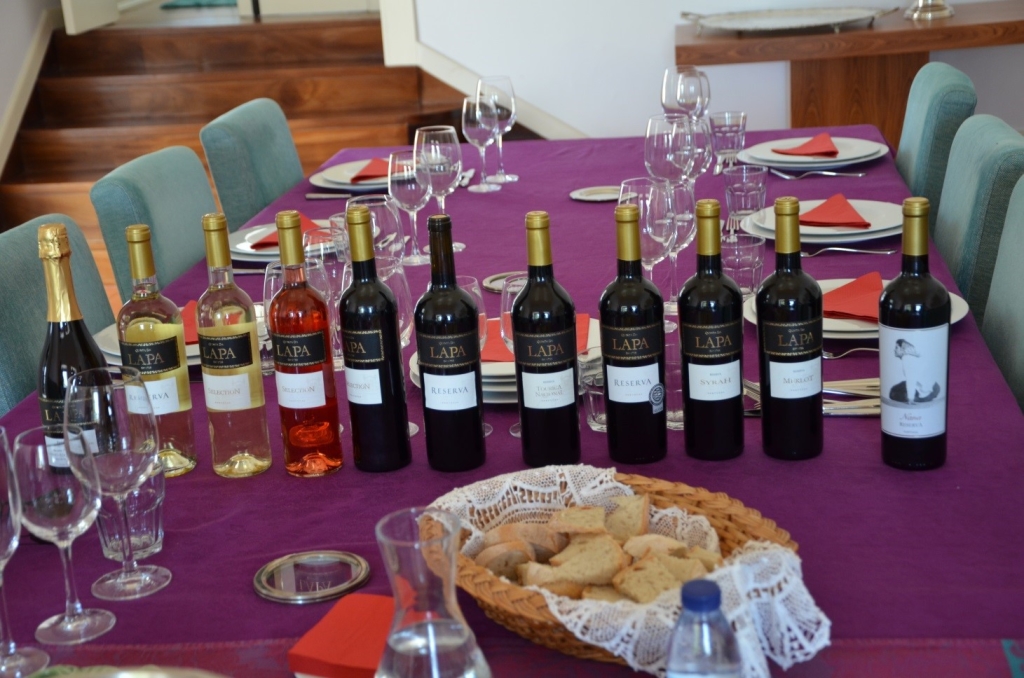 This was a perfect ending to our amazing Tour – tasting the best of the wines Quinta da Lapa has to offer and paired so nicely with our meal. Enjoying this with our group – now all good friends, along with Lapa's owner and winemaker and his wife … made our last day nostalgic.
5 Regions, 8 days, many tastings and unbelievable memories. When I decided to join this Tour after speaking to Roy, I wasn't expecting this experience where it is not only the palates that matter, but all the stories behind the scenes and the people that share them. The confidence that you can return again to these places and people will be impatient to share what's new and show you with immense pride the results of their hard work. This is what makes wine and this tour, so special for me.
Although I had met Roy a few years ago in Porto, and met Mario for only the second time on this trip, I still did not know what the chemistry of a Tour would be like with a small group of wine lovers from other countries and it surprised me in so many ways. For the will and pleasure of every owner/producer/employee to show the results of their hard work and exceptionally warm hospitality; for the relaxed and unpretentious tastings we enjoyed, for the complicity with our fun loving group and caring co-hosts who taught us so much about the regions we visited and added a lot of commentary to the wines we explored, and for the many invitations we received to come back again. I can't wait to do this again someday. It was an experience I'll never forget.
For the wines for sure, we got to taste some of Portugal's jewels, so to speak, and taste so many different styles and profiles of wines in such a short period of time, but strategically chosen to give you a full view of the existing palette of wines in this country. So, can I repeat the cliché again? – Passion – this is the best word to describe this amazing experience. Passion for what you do. It is hard for me to understand how this was only the first time our co-hosts ever did this tour. They knew so many of the people we visited and picked great places for us to go, to stay at wonderfully comfortable hotels and quintas and the restaurants were all so unique, some simple, some so very high end, but not with an attitude.
If you're into Portuguese wines and you would love to see other flavors in a very relaxed way, this tour is without a doubt an incredible opportunity. And believe me, forget the fancy clothes and shoes and save a lot of space to take wine back home.  Some of these wines are still unknown outside of Portugal and in a few years' time you will be glad you have them in your cellar. Your friends will be jealous. Last of all, taking a wine vacation, a "tour" in my own country was something that seemed that it could be good, and maybe not so good, or … even great. Outside of Mario, I was the only Portuguese person in the group. But I left at the end, feeling very proud of what my country is able to produce, the treatment we got and the new friends that I made and that I will know for my whole life.
An alphabetical listing of wineries we visited during 2015 Five Regions Tour:
ALENTEJO Wine Region:
Herdade do Mouchão - http://mouchao.pt/
João Portugal Ramos - www.jportugalramos.com
BAIRRADA Wine Region:
Campolargo Vinhos - www.campolargovinhos.com
Colinas de São Lourenço - www.idealdrinks.com
Filipa Pato - www.filipapato.net
Luís Pato - www.luispato.com
Quinta do Encontro - www.quintadoencontro.pt
LISBOA Wine Region:
Quinta da Chocapalha - www.wonderfulland.com/chocapalha/
Quinta do Pinto - www.quintadopinto.pt/
SETUBAL Peninsula Wine Region:
Horácio Simões - www.horaciosimoes.com
José Maria da Fonseca - www.jmf.pt
TEJO Wine Region:
Casal da Coelheira - www.casaldacoelheira.pt
Quinta da Lapa - www.quintadalapa-wines.com
Written by Diana Leão Costa, December 2015.