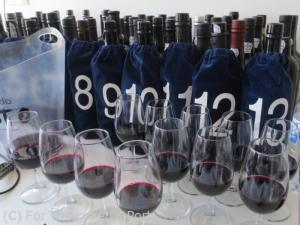 Here you can download PDFs of Roy's detailed Vintage Forecasts for each major Vintage since 2000 and the wines released. Remember, these reports are based on tastings at the time of release.
Wondering how those wines are developing and drinking now? Consult Roy's Vintage Port Chart (which covers every Vintage from 1900-2011) for a quick Drink or Hold assessment, and of course the FTLOP Tasting Note Database is a treasure trove of notes from Roy and many of our readers. Roy's notes are accessible to Subscribers only, but members' notes are available for everyone to read.
Not a Subscriber yet? Visit our Subscribe to FTLOP page for full details of the Newsletters which include exclusive Subscriber-only content and special buying opportunities for Port, Madeira and Douro DOC wines. Additionally, Subscribers have full access to restricted content here on the site, such as early access to Vintage Port Forecasts and all of Roy's tasting notes in the Tasting Note Database.

2011 Vintage
2011 is one of those exceptionally rare vintages where everything seemed to fall into place by harvest time to create something extraordinary. The 2011 Vintage Ports are massively fruited, mellifluous and symmetrically structured Ports. Reviews of 67 Vintage Ports.
FTLOP 2011 Vintage Port Forecast
2009 Vintage
The 2009 Vintage Ports all showed a depth of extraction which was remarkably dense and fully opaque. Ripe tannins were commonplace, with good grip though not as punishing as I noted in the 2003's at the same stage. The overall quality of 2009 has been higher than what I found with 2007 VP's at the same point in time, and definitely more consistent. 18 Vintage Ports reviewed in detail.
FTLOP 2009 Vintage Port Forecast
2008 Vintage
The best Vintage Ports of 2008 exhibit finely tuned tannins, crisp acidity and fresh, concentrated wild berry flavors. 17 Vintage Ports were evaluated with full notes, and 5 cask samples were numerically rated.
FTLOP 2008 Vintage Port Forecast
2007 Vintage
The 2007 Vintage was extraordinary for several reasons: first, it set a record for the largest number of declarations, and second, many of the Ports shippers declared both their classic labels and the corresponding single quinta labels, or created new niche cuvées, such as Quinta do Vesuvio "Capela" and Niepoort's "Pisca." Finally there were some first-ever Vintage Ports launched by producers Duorum and Quinta Dona Matilde.
Overall, the 2007 Ports present phenomenal balance, with excellent structural components along with extracted, rich and lush fruit, and will age brilliantly. Moreover, most will be quite approachable early as well, which is a different dynamic. Detailed notes and ratings for 63 Vintage Ports.
FTLOP 2007 Vintage Port Forecast
2005 Vintage
Overall, there are some well made VPs, but only a handful that really captured the imagination. Across the spectrum of the 2005 class of Vintage Ports, I believe the key factor is that they exhibit equilibrium in spades. Comparing 2005 to 2004, the 2005's possess not only more vivid acidity and extraction, but late arriving lush tannins which created harmonious young Vintage Ports with lots of ripe fruit flavors. 35 Vintage Ports reviewed.
FTLOP 2005 Vintage Port Forecast
2004 Vintage
The beauty of the 2004 Vintage Ports is the symmetry these VPs deliver on the palate as well as the "approachability factor." Nearly half of all the 2004s I tasted won't make for old bones but will make for very enjoyable drinking while they are young. Detailed reviews of 24 Vintage Ports.
FTLOP 2004 Vintage Port Forecast
2003 Vintage
Reminiscent of 1994, the fruit was extremely primary, approachable and concentrated. The structural components did not show prominently in at least half of the wines, until the second and usually the third time trying them. I found the tannins appeared late on the palate and usually towards the end of the aftertaste. This reminded me of quite a few of the 1994s early on, where the tannins were subordinated by the huge fruit forward nature of the VPs.
So for anyone looking to add some young Port to their collection, you will be able to enjoy the 2003's while they are young or you can stash them away in the cellar with the knowledge that they have the structural components that will enable them to improve over time. 47 Vintage Ports reviewed.
FTLOP 2003 Vintage Port Forecast

2000 Vintage Port
This young vintage has the best across-the-board quality level I've yet to experience in pre-arrival VP, and I am including the revered 1994 vintage.
Unquestionably, the 2000 Vintage Ports include many with massive, concentrated fruit, pungent aromas, remarkable "grip" and solid structure. Some are very well-balanced wines which will grace the tables of our children if not our grandchildren. Notes for 29 Vintage Ports.