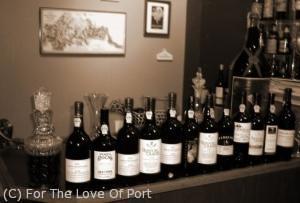 Late Bottled Vintage Port, or LBV, is one of the most approachable types of Port, which strives to emulate the prestige and profile of Vintage Port at a considerably lower price point. It is a delicious drink that seamlessly complements a variety of food offerings; blessed with solid shelf stability as an added bonus. These qualities stand out for consideration by savvy consumers as well as those empowered to creatively balance on-premise wine lists.
History of Late Bottled Vintage Port
Late Bottled Vintage Port was created several centuries after Vintage Port, becoming a commercially viable alternative for grapes that were not quite vintage worthy, without having to declassify them for use in other Ports. The LBV designation has become a great success story and a means for the Port trade to provide restaurants with a delicious and more affordable option to its big brother.
In my search to discover the true genesis of LBV, I unearthed several companies claiming to be the first LBV. Most stated dates ranging from the late 1950s seemingly through the midpoint of the subsequent decade. Sorting through these assertions until finding what seems to be the most likely reality, the unassuming João Nicolau de Almeida, winemaker and head of Ramos-Pinto provided proof positive, with a significant distinction, "The oldest LBV registered at IVP, (today known as the IVDP or Port & Douro Wine Institute) is for sure, the 1927 Ramos Pinto."
Almeida elaborated, "In the beginning of the last century, Ramos Pinto had some customers that used to order Vintages or Novidades, but they wanted wines to be drunk at an earlier age. So, in order to "round" these wines up, Adriano Ramos Pinto decided to bottle the Vintage Port four or five years after the harvest and ship what we now call Late Bottled Vintage." Almeida continues, "The IVDP made the LBV category official in 1958. Since then, all Port shippers were allowed to make this type of wine and had to sell it officially under the Late Bottled Vintage designation."
Not that I doubted what had been explained, yet I asked João how it was possible for the 1927 to be registered with the IVP, when that organization was not established until 1933? After all, to present evidence that contradicts the claims of other prominent Port producers regarding the first ever LBV, it was prudent to garner further proof. João made sure I understood that he was not claiming that Ramos Pinto was the "first" LBV to be registered with the IVP, but the "oldest" LBV to be registered (April 15th 1986) by the regulatory organization of the Port industry.
Which leads me back full circle to a bottle of LBV that my friend Derek Turnbull consumed in the UK, a 1960 Dow LBV that was bottled in 1965. I also received a copy of a segment from the April 2009 Decanter Magazine wherein The Fladgate Partnership's Chairman, Alistair Robertson acknowledges that there were pre-WWII bottles of Traditional LBV Port sold (Unfiltered) and even mentions some produced by Quinta do Noval being sold in rather small quantities in the 1950s. Mr. Robertson also clearly states that Taylor Fladgate was the first to pioneer fined and filtered LBV, which he launched in 1970. Kobrand's website (US importer for TFP) points out that the 1965 Taylor Fladgate LBV was the first. Wikipedia mentions a 1958 Fonseca bottled in the UK in 1964. So for now, the mystery of which LBV is actually first, has yet to be solved, but I'll stick to which is the oldest, because that seems like a pretty safe bet.
Styles and Profiles of LBV
Late Bottled Vintage Ports are produced from the grapes of a single harvest; the vintage of which will be prominently stated on the front label. Like all Port, samples of LBVs must be submitted to the IVDP tasting panel which performs a series of rigorous organoleptic tests prior to approval and issuance of the Selo de Garantia which appears on every bottle of Port sold.
LBVs are bottled between the 4th and 6th year after harvest and typically spend those years in very large oak barrels, which are called Toneis (plural for "tonel"), although some producers choose to store LBV stocks in tank instead of wood.
While Vintage Ports are "generally declared" an average of three times each decade; weather permitting, LBVs are typically produced almost every single year. The year the LBV was bottled must appear on either the front or back label of the bottle. LBVs can be either filtered or unfiltered (the latter was formerly designated as "Traditional" until the nomenclature changed. The year of bottling will also appear, typically on the back label of the bottle, although it can be located on the front.
LBVs which are filtered (and fined) are designed to be consumed upon release and are not meant to be aged. Filtered LBVs don't possess sediment and there's no need to decant them prior to drinking. Most filtered LBVs do not state the term "filtered" on the label. A couple of examples of filtered LBV's are Taylor's and Graham's, as usually this type of LBV is reserved for British owned Port shippers. Even this can be considered a sweeping generalization, as for example, the 2005 Dow is unfiltered and so are all of the Smith Woodhouse LBVs that I've ever tasted; both of which are owned by the Symington Family Estates. Most filtered LBVs use T-stoppers which can easily be re-used once opened. This is just another way to be able to tell if the bottle is filtered, but I have seen unfiltered bottles using these types of corks on rare occasion too. Some believe that the fining and filtration removes the flavor or vigor from this type of LBV. That is a myth; at least from my own empirical evidence to the contrary.
Unfiltered LBVs will throw a "crust" (sediment) just like a Vintage Port and must be decanted prior to consumption. Often times this type of LBV can be cellared for several decades (from top LBV producers 20+ years is not outlandish) as they will improve with bottle age, but can certainly be consumed upon release as well. Most of the time the word "Unfiltered" will appear on the front label to indicate this designation of LBV Port style, although older bottles may still be found with the term, "traditional" on the label. Every Portuguese-owned Port producer I can think of makes unfiltered LBVs, but only a very few of the British Port shippers do. It is safe to say that most unfiltered LBVs are finished with a driven cork, which will allow collectors to store the bottle horizontally, while there's no problem if it's stored upright on a back bar display in a restaurant.
There are numerous profiles to LBV and even within a specific Port shipper's range, the length of time that LBV actually ages in wood can differ. For example, a producer may age a specific harvest's LBV for five years, while the next year they may decide to age their LBV for four years instead; or possibly go to the other extreme, of six years. If a LBV remains in cask for four years vs. five or six, it will tend to deliver a more overtly fruit forward style and these variations can confuse buyers who expect consistency in a "house style" similar to how Vintage or Tawny Ports are known for their house style.
Conversely, extending the wood aging in neutral older casks provides a unique profile too. An astute palate will perceive the difference in LBVs that spend more time in wood due to the oxidative environment. The evolution of the fruit character is sped up and can be discerned in the mouthfeel and flavor. However, it is my belief that Port shippers should instinctively use the natural qualities of a given harvest to determine the length of barrel aging for their LBVs; rather than follow a finite recipe. Nonetheless, Port is fortified by tradition and most companies tend to stick to a tried and true formula.
LBV Facts & Figures
Vintage Port represents between 1% and 2% of all Port, whereas LBV is about 3.5% of all Port produced. Today, global sales of LBV represent over 5 million bottles annually. The UK is the single largest market for LBV, with nearly two and a half million bottles sold. The pricing for LBV in the UK is typically considerably less than what we pay for LBV in the USA. It is not uncommon to find LBV on sale in their "big 3" supermarket chains for £5-£8; a far cry from what we pay here in America. That said, normal pricing is £12-£16, according to my Port drinking friends there. In the USA, LBV usually ranges between $18 and $25 at retail.
LBV is Wine List Friendly
Sommeliers and Beverage Managers will find that LBVs are an easy sell but have several key advantages over other types of wine, including most other dessert wines.
Let's start with pricing: A typical 750 ml of LBV Port will generally wholesale for $12 - $20 in most areas of the USA. The profit margin realized, (with an average of 2-3 oz. pours) is rather impressive and indicates why LBV is a prime candidate for by-the-glass programs.
Extended shelf life: once opened, decanted (or not) and re-corked; LBV -- filtered or unfiltered, can provide drinking pleasure for a minimum of two weeks and if kept at a cool temperature, will retain its freshness for up to a month or so. This is a significant advantage for LBV!
LBV Port pairing: Purists may want to drink LBV on its own, but cheese like Sharp Cheddar, Smoked Gouda, Stilton and especially Portugal's Serra de Estrela tend to perfectly complement the fresh fruit flavors of LBV. Also recommended – poached pears, fruit tartlets, cashews, walnuts or hazelnuts and chocoholics love the marriage with LBV and bittersweet chocolate. Think out of the box, be adventurous and try pairing LBV's with appetizers and/or a wide array of entrees too. I recently tried a bottle of LBV with a grilled sirloin steak adorned with sautéed portobello mushrooms … and the pairing was marvelous. Old rules don't apply!
What a Difference a Year Makes: LBV vs Vintage Port
Several Port shippers reflect on Late Bottled Vintage and whether having a generally declared vintage for Port, affects the grape allocations, and overall quality.
Pedro Branco, proprietor of Quinta do Portal translates the words of his winemaker Paulo Coutinho: "LBV's from non-declared years may be effectively better, but what surely happens is that we have more LBV available in non-declared years. When we taste a LBV from a non-declared year two years after the vintage and the wine shows a lot of complexity we can conclude that the initial volume destined for Vintage Port will enrich the quality of the LBV and increase its volume. With two more years of ageing we'll have a great LBV. The consumer wins by having access to a better wine and still, at a very reasonable price."
Adrian Bridge, Managing Director of The Fladgate Partnership: "It is best to buy your LBV from a producer whose quality and style you like. The year is less important than who made it and the capacity of the producer to reach the quality threshold – not all LBV's are equal. We aim to make all the grapes that we grow into vintage Port but clearly we only ever make a small proportion into our very finest wines. The remainder is selected to age as an LBV or as Aged Tawny. The quality assessment takes place in the February following the harvest and is done against our quality standards. To us this is more important than the exact year of production and ultimately that is what should matter to the consumer."
Rupert Symington, Co-Managing Director of the Symington Family Estates responds: "Clearly in a year where there are ideal conditions in the Douro, the overall standard of grapes will be higher, so in general the LBV from a great year should be better. In actual fact we have found that with greater control over picking dates in our own vineyards, and with enormous advances in port making technology, we are able to make top class LBV's in almost every year from Letter A grapes, so the consumer buying, say, a Graham LBV need not worry about any noticeable variation in quality, even though the style will naturally change from year to year in line with the conditions and success of the different varietals."
Miguel Roquette is the Export/Marketing Director for his family's Quinta do Crasto: "I do agree that in declared years, especially in fully declared years, most of "the good stuff" turns out to be Vintage Port. But as a single Quinta producer this is not exactly so. Every year at Quinta do Crasto only approximately 30% of our total Port production is bottled as Late Bottled Vintage or as Vintage Port, (if the quality is really good) being that the rest of the production is sold in bulk to major Port shippers in Gaia, as happened in the past with all Single Quintas. As for the LBV and having such a vast choice to select the best lots, we can have a great quality wine even in declared vintage years."
LBV Tasting Notes
1984 Smith Woodhouse Late Bottled Vintage Port - (Unfiltered; bottled 1988) Lots of sediment in this 26 year old LBV. Strawberry color w/ pink rim and tawny outer edge. Faint floral fragrance, pine needles, chocolate and sweet cigar tobacco note. The SW delivers rich, soft and elegant secondary character, almost tawny-like and is loaded with chocolate and Cointreau flavor. It could easily pass for a Vintage Port. After four years in wood, it was aged an additional four years in bottle prior to release, as are all Smith Woodhouse LBVs. After more than a quarter century, it exemplifies how LBV's can age and drink well for many years. The last time I tasted this was more than a decade ago. The SW LBV is an expressive Port offering a soft and generous lingering cherry-infused aftertaste of medium length. Enjoy over the next five to seven years. 87 points 10/25/10 (Premium Port Wines, Inc.)
1994 Porto Poças Late Bottled Vintage Port - (Unfiltered; bottled 1999) Medium dark ruby core with lighter pink edge, possessing ultrafine sediment. Complex aromas of anise, red licorice and spicy strawberry. Quite delicious and immediately a stand out with richness, dense chocolate, prunes and figs in a medium-full weight frame. Loads of concentration here proves what a top notch LBV is capable of achieving. In perfect harmony today, with excellent structural components and a crazy long fruit filled finish. 1994 Poças is possibly the finest LBV I've ever tasted and brings back fond memories of the 1994 Quinta do Noval LBV which had always been my benchmark, although this is the highest score I've ever awarded any LBV to this point. 94 points 10/25/10 (HGC Imports)
1995 Smith Woodhouse Late Bottled Vintage Port - (Unfiltered; bottled 1999) An additional four years of aging took place after bottling and prior to release. Featuring an inky ruby core belying the age of this Port. The essence of grape and dark fruits provides a hint that this is a very youthful LBV. The palate offered intricate nuances of black cherry, tar, peppery spice and brambly blackberry, while the mid-palate was crammed with flavor. Dense, focused and primary with a silken texture that would have most believing it was a fine teenage Vintage Port. I revisited the 1995 over the course of two weeks and it never lost a step. A classy LBV that is sure to drink well through 2020, or beyond. Plenty of poise and palate presence -- one of the best of the 25 LBV's I tasted for this report. 93+ points 10/25/10 (Premium Port Wines, LLC)
1996 Quinta do Crasto Late Bottled Vintage Port - (Unfiltered; bottled 2000) Dark crimson color with a lighter meniscus. Lush fragrant earthy quality with tobacco, mocha and red fruits. Light bodied and forward fruit provide distinctive kirsch flavors with a strong chocolate laden backdrop. Easy to approach along with great acidity and tannins that show that this Quinta do Crasto still has plenty of life ahead; in my opinion, another eight more years or so. This performed well over a 3-day period, with bright tannins that led to a long, smooth aftertaste imbued with some protruding warmth. 90 points 10/25/10 (Broadbent Selections)
1999 Quinta da Gaivosa Late Bottled Vintage Port - (Unfiltered; bottled 2004) Produced by Domingos Alves de Sousa. Dark ruby with a cranberry colored rim. The nose of this Port harkens to a very different Douro profile: a deeply earthy and mineral laden first whiff, followed by a floral essence, cassis and kirsch in a multifaceted and compelling package that required some coaxing. It's primary wild berry, fruit forward flavors will likely appeal to those not remotely aware of LBV or even Port for that matter. Ripe and sweet in style, juicy in a light-medium weight this Quinta da Gaivosa LBV is quite approachable and the tannins are fully resolved at this juncture. A well made Port from a fine producer which may be a new name to many reading this tasting note. Drink now through 2018. 90+ points 10/25/10 (Vinum Wine Importers)
1999 Smith Woodhouse Late Bottled Vintage Port - (Unfiltered; bottled 2003) As with all SW bottlings this had an additional 4 years of bottle aging prior to release in 2007. Dark magenta hue with full opacity. Typical of Smith Woodhouse, the aromatics are profound and prominent, with evocative earthy notes of rose petal, kalamata olive, boysenberry and cocoa powder. The palate is fresh and seemingly sweeter than other SW LBV's, but with the tell-tale purity of grape akin to chewing on grape skins. The tannins are generous and ripe, if not a bit astringent. By day 3, the fruit was still primary, the tannins still aggressive, and the bouquet had blossomed beautifully, but overall the 1999 is rather straightforward. This SW will be best consumed over the next ten to fifteen years. 91+ points 10/25/10 (HGC Imports)
2000 Quinta do Crasto Late Bottled Vintage Port - (Unfiltered; bottled 2006) Quinta do Crasto is a great example of a producer that uses no formula when it comes to deciding when to bottle, as the 2000 remained in wood for six years; a rarity for an Unfiltered LBV. Exuding a dark scarlet hue with full opacity and showing only a trace of very fine grained sediment. Fragrant essence of fresh cut flowers, plum and boysenberry notes are distinctive and pure. It was immediately apparent that this was something really special and one of the best LBV's Quinta do Crasto has ever produced. From the concentration of the dark berry fruit flavors to the stellar harmony and focus, not to mention powerful structural components, this was clearly one of the standout LBV's evaluated for this report. It will be interesting to follow the evolution of this Port, but I've no doubt that it will still shine in 2025. 93+ points 10/25/10 (Broadbent Selections Inc.)
2000 Ferreira Late Bottled Vintage Port - (Unfiltered; bottled 2004) Scarlett red, mostly opaque. Rich in aromas of sour cherry, framboise and floral scents. This Ferreira delivers sweet ripe, mouth-coating and voluptuous fruit filled style. It is a real head turner with kirsch and some cocoa providing the immediate impact. Possessing crisp acidity, moderate tannins and a good dose of spirit from the entry to the finish. Ferreira typically makes very solid LBVs that are easy to approach and with great purity. This 2000 version fleshed out over several days and provides juicy finesse and a medium length to the velvety smooth aftertaste. Very approachable today, and should be consumed by 2016. 88 points 10/25/10 (Broadbent Selections Inc.)
2003 Fonseca Late Bottled Vintage Port - (Unfiltered; bottled 2008) Fonseca is one of the few shippers that bottle both filtered and also an unfined/unfiltered version of LBV; this one with a driven cork. Dark magenta hue with full opacity. Exotic bouquet of grenadine and essence of lavender. Driven by sweet, juicy and primary purple fruits, it is instantly approachable and proffers a silky texture too. Stacked with a medium body weight, moderately grippy tannins and a fresh, lively finish. 2003 Fonseca will drink well over the next decade. 91+ points 10/25/10 (Kobrand Corp.)
2003 Quinta do Crasto Late Bottled Vintage Port - (Unfiltered; bottled 2008) A producer known for excellent artisan crafted LBVs bottled after 4, 5 or 6 years in cask, depending on what the harvest delivers. Dark inky garnet and fully opaque. This is a massive young LBV in every sense and "blind" I'd be thinking Vintage Port. Accented by aromas of spicy blackcurrant and blueberry scents. It took a couple of days for this to show its best, as its still such a young beast with dark cherry and raspberry flavors in abundance -- in an off-dry, full bodied yet soft textured profile. The powerful structure is supported by ripe, fine-grained tannins and it all ends with a hot streak on the finish. Even a couple of days later it was still present, but less obtrusive. Enjoy over the next 8-12 years. 90 points 10/27/10 (Broadbent Selections Inc.)
2003 Quinta de la Rosa Late Bottled Vintage Port - (Unfiltered; bottled 2007) Dark crimson and mostly opaque. The nose was austere for several days and finally emerged to offer scents of rose petals, herbs, brambly blackberry and a wave of spirit. Sweet and juicy, simple and smooth in the mouth with an earthiness that I liked. Initially light-bodied, it added some weight a few days in and the plush texture was soft and sexy. A bit four square and with a hot, slightly bitter finish; even four days later it was still rather warming and simple but tasty nonetheless. Enjoy over the next 6-8 years. 88 points 10/27/10 (Vinum Wine Importing & Distributing, LLC)
2003 Taylor Late Bottled Vintage Port - (Filtered; bottled 2008) Inky purplish-ruby with full opacity from core to meniscus. Big, boisterous and deeply fruited both on the nose and palate. Huge concentration of black wild berry flavors, framed by powerful non-aggressive tannins. By day three this was even better and after a full week of nosing and sipping, this settled into a fleshy, round and approachable Port with a harmonious, lingering boysenberry-infused aftertaste. This 2003 is a relevant illustrative example of what a filtered version of LBV can achieve; and one of the finest Taylor LBVs in recent memory! 92+ points 10/27/10 (Kobrand)
2004 Quevedo Late Bottled Vintage Port - (Unfiltered; bottled 2010, a full six years in wood) A cask sample. Scarlet and opaque. So young this needed lots of coaxing but by the 2nd day I nosed primary grape and generous scents of black cherry with graphite along with gently roasted undertones. Medium-bodied briary blueberry fruit was easily accessible and showing prominent tannins juxtaposed against the vibrant fruit flavors. By day three it was richer, still delicious and the tannins began settling down, but were still astringent. The finish had good length and purity but lacked intricacy in the middle; with a significant upside, which will reward cellaring. Drink now to 2020. 89+ points 11/4/10 (Imported by P.R. Grisley)
2004 Quinta do Noval Late Bottled Vintage Port - (Unfiltered; bottled 2010) Dark opaque ruby. A mélange of fresh fragrant floral scents of carnations, spice, black pepper and grenadine syrup are delightful. As good as the nose is, the palate is even better, packed with gobs of glycerin and densely concentrated mouthfilling berry intensity featuring redcurrant and spicy raspberry flavors accentuated by cocoa powder. This 2004 is fleshy, lithe, with mild mannered tannins, loads of acid and seemingly near perfect balance. The finish is fruit filled, quite long and drying, but there's a distinct spirity quality which held firm (and hot) for the four days I paid attention. It is possible that with another year or two in the bottle, the heat will fully resolve. A very well-made Quinta do Noval LBV, yet it's not in the same league as their amazing 1994 or 1997 efforts. Drink now or through the balance of this decade. 91+ points 11/4/10 (Vintus Imports)
2004 Quinta de la Rosa Late Bottled Vintage Port - (Unfiltered; bottled 2008) Initially there was an unpleasant metallic note, along with cedar, mocha and vibrant ripe raspberry aromas. Fortunately a few days later the odd scent was far less distracting. Medium weight, soft and easy-to-drink the palate focused on the interplay between ripe raspberry and tart cranberry fruit. The flavor profile and especially the length of the finish improved dramatically over several days and even the level of tannins gave more of an indication that this had excellent long term potential. This LBV needs plenty of air to show its best. 2004 Quinta de la Rosa will be best from 2012 and for a decade thereafter. 89+ points 11/4/10 (Vinum Wine Importing & Distributing, LLC)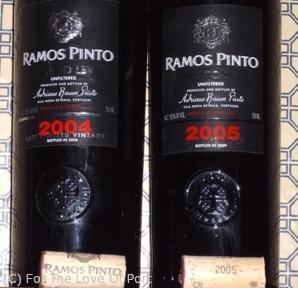 2004 Ramos Pinto Late Bottled Vintage Port - (Unfiltered; bottled 2008) Nose of fresh violets, crushed grape skins and minerals. Full and quite viscous, smooth and succulent. Great density but simple and primary, with a bit of heat in the middle. It improved the second and third day with the alcohol integrating for the most part, but still apparent on the finish. Serious tannins lurk just below the surface and are more prominent after swallowing. The aftertaste delivers flavors of blackberry and chocolate which melded well and lingered long. It'll drink well now but will be best through 2018. 91 points 11/20/10 (Imported by Maisons Marques and Domaines)
2005 Ramos Pinto Late Bottled Vintage Port - (Unfiltered; bottled 2009) Delivering a bouquet of fresh lavender, herbs and a very fresh element that is hard to describe. The palate exhibits chewy plum and boysenberry fruit, with more elegance, although it is not quite as big as the 2004 version in terms of weight. What it lacks in concentration, it makes up for with grippy, chalky tannins and a delicious, harmonious long lasting aftertaste. Unquestionably the finest young Ramos Pinto LBV I've ever had. This should age well for 15-18 years as the structure is near-perfect. A great LBV effort! 92+ points 11/20/10 (Imported by Maisons Marques & Domaines)
2005 Niepoort Late Bottled Vintage Port - (Unfiltered; bottled 200) Reticent nose early on, well into the 2nd day before I noted anything aromatically. Grapy and boysenberry nuances emerged but little else. Medium-full weight, soft and fluid in the mouth with a hint of heat in the middle and finish. The upside was the gorgeous texture, velvety smooth and round in its elegance. A bit sweet in style with good acidity and refined granular tannins. Overall it was well-balanced, a bit on the simple side and the finish was of medium length. Normally I am a big fan of the Niepoort LBV's, but this version did not captivate my senses. The 2005 Niepoort will drink best now through the end of this decade. 88 points 11/4/10 (Martine's Wines Inc.)
2005 Gould Campbell Late Bottled Vintage Port – (Filtered; bottled 2010) Spicy scent with fine purity of grape and a bit hot early on, but it blew off after a few hours. Framed by boysenberry, tar, herbs and an assortment of black fruits, there is a distinct sense of enticing freshness. Good acidity, velvety tannins and a hot streak in the mid-section and finish which were evident even two days later. It fleshed out nicely with a medium length berry laden aftertaste. Will drink best from 2011 to 2017. 90 points 12/13/10 (Ex Cellars Inc.)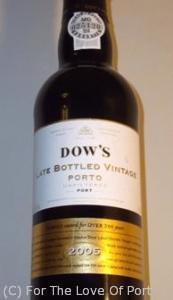 2005 Dow Late Bottled Vintage Port - (Unfiltered; bottled 2010) It is a rarity to find an Unfiltered LBV from Dow and just as rare to find it had a T-stopper instead of a driven cork. Ethereal perfume leaps out of the glass with intensity driven by spicy black pepper, cassis, cedar, minerals and black licorice. Corpulent and chewy, filled with a briar patch of dark wild berries, and the pepper which carries over from the nose. A very fine Dow LBV with excellent symmetry and a stuffed mid-palate. This Port is built for long term cellaring with ripe, lively tannins and vivacious acidity that led to an ultra-long finish. This is the best Dow LBV since the suave 1995 version hit the market ten years ago. It can certainly be enjoyed now, but will drink beautifully for a full two decades, possibly even longer. 93+ points 11/4/10 (Premium Port Wines, Inc.)
2005 Quinta do Portal Late Bottled Vintage Port - (Unfiltered; bottled 2009) What a fine exotic nose accented by violets, spice, mocha, Sultana raisins and fragrant black cherry fruit. Crude oil richness, (yet not jammy) the captivating concentration of fruit is impressive for LBV. The Portal is so massive at this stage that it's almost intimidating, yet elegant to the core due to the round, polished tannins and prolific acidity. It shows both power and class with an everlasting aftertaste; the stuff dreams are made of. Possibly the finest young LBV I've ever opened. Make sure to decant it for at least four to six hours, or cellar for another two years when this may be more ready for prime time. It will drink better by the 2nd or 3rd day after it has been opened, if not the second week thereafter. You can stick a case in the cellar for a good decade or two, as it's a really mind-blowing infant of an LBV! 94+ points 11/4/10 (M Imports, LLC)
2005 Poças Late Bottled Vintage Port - (Unfiltered; bottled 2010) There was a funky, chemical and rubber smell present and I'm not sure if this was a typical bottle, fortunately some dark cherry fruit shined though. The palate shows a similar odd nuance derived from the nose, with the addition of stewed plums although there are excellent structural components in place. Densely concentrated and so mouthfilling that it belies the LBV category in favor of Vintage Port. It is the polar opposite of the remarkable Poças 1994 LBV, but again, it was apparently a flawed bottle. The tannins are ripe and powerful and the finish is extremely long. I could not find a back up bottle in time for this article. Not Rated 11/4/10 (HGC Imports)
2005 Graham Late Bottled Vintage Port - (Filtered; bottled 2010) Scintillating scents, fresh and pure with ripe plums, freshly crushed grapes and intense black pepper. Medium-full weight, the mid-palate stuffing and solid structure is well developed, yet the aromatics create the real fireworks. Dark wild berry fruit is rather pleasant and offers the same black pepper overtone that was apparent on the nose. 2005 Graham's LBV provides solid structure and medium length finish. Consume now to 2016. 89 points 11/4/10 (Premium Port Wines, Inc.)
2005 Quinta do Crasto Late Bottled Vintage Port - (Unfiltered; bottled 2009) Another fine LBV effort by the folks at Crasto. A unique mélange of blackberry, herbs, cocoa and pine provides a multifaceted profile. Full and rich, primary and dry, this is a really well-made 2005 exhibiting loads of acidity and round tannins. Great purity of fruit with boysenberry and blackcurrant flavors dominating and a smooth texture to sex it up. Although both the nose and palate are stunning, the finest feature is actually the extraordinary length of the finish. Drink after 2012, or cellar for up to two+ decades. 92+ points 11/4/10 (Broadbent Selections Inc.)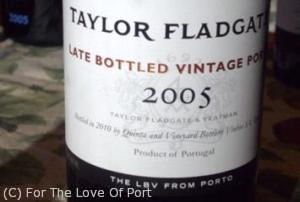 2005 Taylor Late Bottled Vintage Port - (Filtered; bottled 2010) Aged for a full six years and one of only a few Filtered LBVs reviewed here. For the first three days the aromatics were tight and quite unforgiving, but emerged to showcase scents of tar, cinnamon powder, black raspberry and cocoa. Blessed with unctuous, full-bodied blackberry and licorice flavors with a dry edge, the tannins were moderately astringent and the finish was long and hot. I prefer Taylor's 2003 LBV which shows more concentration, cut and overall complexity although the 2005 LBV is solid too. Drink now through 2018. 90+ points 11/4/10 (Kobrand)
My Top 5 of the LBV Tasting
1. 1994 Poças
2. 2005 Quinta do Portal
3. 2005 Dow
4. 2000 Quinta do Crasto
5. 1995 Smith Woodhouse
Please note: This feature originally appeared in the 3/15/11 issue of Sommelier Journal magazine – an essential guide for wine professionals in the USA. It is included here with minor modifications to the format and photos that originally appeared in the SJ magazine.