Two years later, I finally returned to the "place of my roots" and two weeks in Portugal was exactly the tonic my spirit needed. Unlike past trips to the wine lands of Port, this would be very different. It was my first opportunity to guide a small group, along with my friend and travel business partner, Mario Rui Ferreira. It was easy to be successful, as we only had to allow our guests to experience the natural magic along the various parts of the Douro River and of course, try a few samples of Port nectar along the way.
As soon as I stepped off the plane in Oporto, I felt a sense of connectedness, as if I belonged here. After quickly unpacking, I decided to fight the overwhelming desire to sleep and instead walked along the "cais" (waterfront) of the Ribeira district, with its majestic views of the Port Lodges in Vila Nova de Gaia, just across the Douro. I roamed looking for a restaurant where I could feel comfortable and unhurried, while dining alone. Looking in the window of Presuntisco, (located in Oporto at the Rua Cais da Ribeira, 9. I knew I had found the "right" place to dine.
The restaurant staff made me feel right at home. Small at six tables and twenty eight seats, this eatery is fairly new, although their stone walls originated from an old medieval fortress that once stood there 600 years ago. The owner, Joaquim Granja, who hails from the town of the same name, exudes old world charm. He suavely and genuinely greeted both tourists and regulars alike and this is the type of restaurant where you can soak in the ambience while enjoying the diversity of regional specialties and a finely tuned wine list.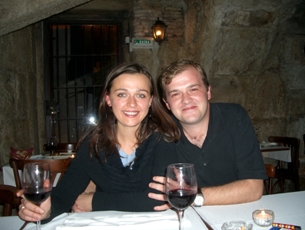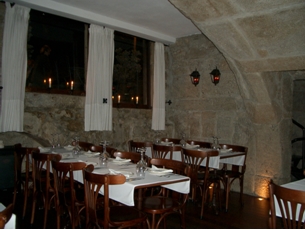 Along came some generous appetizers from the kitchen. Dates that had been wrapped in ham and gently baked, and a quiche-like dish that is much more delicate, with delicious sausage and egg baked together. I began my vinous exploration with a glass of Porto Dalva White Port. It showed a nose of toasted almonds, baked apple and offered up a medium body and a hint of sweetness that finished nice and dry. Lightly chilled this was a great way to start the evening. 88 points (10/21/05)
Next I ordered a bowl of Caldo Verde, a rustic potato and cabbage soup here in Portugal and especially up North. Here it was served "cooked to order" and steeping hot with a delicious thick slice of Chaurisco sausage and excellent bread baked from scratch. No seasoning is needed as the kitchen nailed it, and it was as good as any version of this soup that I've ever had. As an accompaniment, I had a glass of 2004 Arca Nova Vinho Verde. With its light effervescence, Granny Smith apple note and Bosc pear flavor. all supported by bracing acidity, yet in a nice rounded package. Not as green as most Vinho Verdes I have had, this was delicious and paired perfectly with my soup. 89 points (10/21/05)
The main course arrived, baked cod with roasted fingerling potatoes along with string beans and carrots that were sautéed in a garlic butter sauce. The accouterments were all a pleasant addition but the Cod here was truly the centerpiece. It is not often that I get excited by Bacalhau. It is one of the typical regional staples and in the next week I would have this fish nearly ten more times, each cooked in different style. But this took first prize in my book. The cod is the specialty of the house and who can resist that? Sauteed onions were atop the enormous and thick center cut fillet, adorned with bread crumbs then baked until the top became encrusted, which offered a great crunchy texture juxtaposed to the moist and tender fish. Mr. Granja, sensing I enjoyed wine, suggested a glass of 2001 Cabeca do Pote Vinho Tinto (Douro red) – by S. Jaoa Pesqueira. It was medium ruby in color but light in style. This red was a gentle blend of Touriga Nacional and Tinta Roriz, which made for a surprisingly delicate cuvee, with earthy and generous red berry fruit reminiscent of a Pinot Noir in style, but not flavor. Uniquely Douro flavors were soft, very approachable and made for a pleasant drink with the delicious cod. 87 points (10/21/05)
I could not wait any longer. It was time for Serra de Estrella cheese, my favorite of all Portuguese cheese and something I have craved since my last visit two years ago. It is next to impossible to find in Seattle and costs $40 per pound when it is available. Gooey and orgasmic, this molten cheese makes the finest French Brie seem like eating pointless calories. Served with black currant and walnuts as a garnish, this is made to be consumed with excellent dessert wine. Presuntisco has a very nice dessert wine list that specializes in the Ports of Dalva, which in the USA is known as Presidential Port and is made by the parent company, C. da Silva.
I decided to try a nice pair. First, the C. da Silva 40 year old Tawny – orange/amber in color with a nutty almond note, a touch of orange peel and exotic spices, which finished like a dry but fruit-filled Amontillado Sherry. Finely balanced and although there was a touch of alcohol on the nose, it did not prevail on the palate. This was a very tasty well-tuned 40 year old Tawny that is a great example of this genre. 93 points (10/21/05)
And now it was time for something completely different. This really jumped off the page of the wine list. I found out that Presuntisco was actually part of the Dalva Port operation and their Lodge was located upstairs in an adjacent building. So for the grand finale, I decided to try the 1952 Porto Dalva White Colheita Port - I will admit that I didn't even know that White Colheita Port existed, so I was most fortunate to have this 53 year old as my first experience. It was a very dark amber color, more brown and initially was reminiscent of a Verdelho styled Madeira. Nice caramel and pekoe tea flavors gave way to an expansive multi-faceted finish laced with toffee. 94 points (10/21/05)
After my last glass, Mr. Granja showed me around the Dalva Lodge. Upstairs was a fabulous kitchen and beautifully appointed private dining room which seats thirty guests and is available to groups who book ahead. It offers a dynamic view of the Douro River, the famous bridge Ponte Dom Luis and the Port Lodges of Vila Nova de Gaia. Additionally, they stock 500 wines, many great Douro red offerings as well as their deep lineup of old and new Dalva Ports.
The next day I discovered a fantastic Port wine bar Vinologia, La Maison des Porto, (located on Rua Sao Joao no 46, Oporto) which is a very small but ultimately impressive bar of the Porto kind. If this was near my home, I'd be broke and homeless. Although it is a "bar" they consider themselves as a real "Port Wine School" offering more than 200 different bottlings of Port, with the best selection of Port by-the-glass in Oporto. Gustavo Duhard, the manager and son of the proprietor pointed out that Vinologia is a truly international place, and showed me the numerous signed guest books they've kept since their opening. The Port paraphernalia is crammed into every conceivable nook and cranny. I love this place!
Gustavo's father, originally from France, is a quieter more pensive gent and a fellow Confrade of the Port Wine Institute's "Confraria" (brotherhood). The "bartender" is an affable young Swiss guy named Cristophe and is fluent in at least a half dozen languages. He is well on his way to mastering the mysteries of the plethora of Ports in this establishment. I found all three men extremely well versed in Port, but it was Gustavo that impressed me with his encyclopedic knowledge of small producers and off vintages. Vinologia specializes in mostly small if not obscure Portuguese producers that few people in America have ever heard of. Admittedly, there were a few that I had no knowledge of and was glad to have Gustavo guide my tasting, as he grasped the depth of my passion and desire to explore.
I knew I'd be returning that evening for an extended tasting, so I only tried one great Port that afternoon:
Quinta do Romaneira Porto, Over 40 Years Tawny (which is the nomenclature used in Portugal for what we in America call a 40 year old Tawny). The color was of cola or light coffee, with a fabulous nose of dates and chestnuts while providing a medium body weight, albeit feeling lighter on the tongue. Dry and smooth, with golden raisins, caramel and crème brulee on the palate. The aftertaste literally lasted for minutes and is one of the finest 40 year olds, in memory. 95 points (10/22/05)
That evening, I returned with Stephen who had just arrived and was one of the gents from our tour. This was going to be a great initiation into the various styles of Port. I handpicked six unique wines, five of which were from producers I was unfamiliar with and hoped they'd make for an interesting tasting. Gustavo poured two extra Ports that he said we must try and discussed the specifics of the wines from producers that we were not familiar with. Along with a trio of Canadian friends, Matt and Sheila Blackman and their adorable three year old daughter Madison that I had met during my earlier visit to Vinologia, we spent the next few hours tasting and evaluating these eight Ports.
2000 Quinta da Prelada LBV – the actual Quinta was established in 1757, yet they were growers for other Shippers until very recently. In fact, they are the latest of the new breed of independent Port producers, having marketed their own label for the first time this year. Medium ruby color with a lighter rim, a nose of Kirsch and primary grape, the Prelada delivered promising young flavors of strawberry with a dollop of grenadine. It offered generous forward fruit with a medium body and moderate length on the finish. 87 points (10/22/05)
1987 Quinta de Baldias LBV – this Traditional LBV was bottled in 1993 which is impressive as most LBVs tend towards the minimum of 4 years rather than taking on the expense of six years in wood. This effort from Jose M. Barros, showed a very spicy nose with some cinnamon, quite light in body and smooth in texture, a bit simple on the mid-palate with plum and raisin flavors and a rather short finish. 85 points (10/22/05)
1958 Porto Valriz Colheita – bottled in 1984. Light golden color with an intense nose of smoky, charred wood in a campfire and vanilla extract. Soft and elegant with toffee and pralines, smooth on the mouth feel and provides a delicious medium length to the aftertaste. Great nose, tasty but somewhat simple on the palate, possibly due to only two grapes in the blend. 89 points (10/22/05)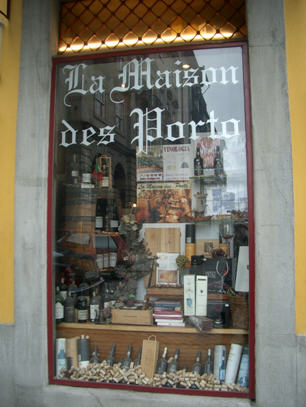 2001 Rol Roi Reserva – "meio seco" bottled in 2003 – Produced by Roseira and Ricou. And only 3,750 bottles produced. A blend of Touriga Nacional, Touriga Franca and Tinta Roriz. From the smallest independent producer in the Douro. Blackberry brandy and cassis with a medium body and a bit grapey. Medium length to the finish. 87 points (10/22/05)
Quinta do Vallado 20 year old Tawny Port – Until a dozen years ago, this producer sold their grapes to Ferreira for their Ports. In '93 they started to label their own wines and a year later began a rigorous replanting of the estate. This Tawny is light tan in color with almonds and orange zest aromatics. Soft and smooth on the palate with candied almond and hazelnut flavors. A fresh and persistent finish. This is a lovely 20 year old and well worth buying. 91 points (10/22/05)
Casa de Santa Eufemia Special Reserve White Port – this white Port includes the grapes from 1972, and was produced by Jose Viseu Carvalho & Filhos, Lda. who own 40 hectares in the Baixo Corgo. Orange/amber color. Amost no spirit showing and this was a fabulous White Port and quite unique. Almond and dried apricot nuances and with terrific balance and a superb aftertaste. 93 points (10/22/05)
2000 Sao Pedro Das Aguas Vintage Port – from SPR Vinhos, Franken Monopole in France. Located in the Lamego area of the Douro, this interesting VP showed dark purple in color and was fully opaque. It had a full body was smooth on the palate and was a bit simple, with a very good finish. A nice surprise, but lacked the structural components to cellar for the long term. Drink now. 89 points (10/22/05)
CJ Casal dos Jordoes "Organic" 10 year old Tawny Port – I was told that this is the only certified organic Port made. I did not get to write much on this one, but did write, "one of the most complex and delicious 10 year old Tawnies I have ever experienced." The fact that it is also organically grown is even more impressive, as is the rich and sumptuous lingering finish. 92 points (10/22/05)
The following night Mario and I met with the group to have dinner and I wanted to share Presuntisco with them. To whet our palates, we began with a tasting up in the Dalva Lodge and had the opportunity to try the following wines:
1975 Porto Dalva Colheita Port – bottled in 2005. Fawn color with a yellowish green tinge on the rim. Notes of unblanched almonds, citrus, leather and toasted coconut. Medium body weight and smooth on the palate, I would have liked to sense a bit more acidity in this Colheita. Moderate length to the otherwise lush and nutty finish. 89 points (10/23/05)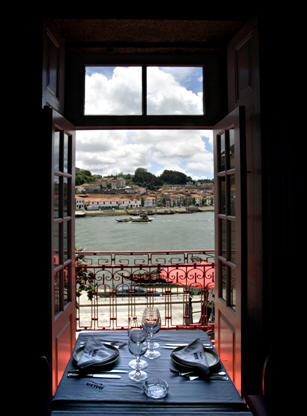 Porto Dalva 20 year old Tawny – bottled 2005. Barely pink-ruby centered with caramel color band towards the yellow edge. The aromatics were somewhat reserved initially opening to show grapefruit and maple syrup with a tangerine peel backdrop. Full-bodied and velvety on the mouth feel, with full throttle, rich and viscous nectar of honey, citrus and pine nuts with an extremely long finish that was rich and silky. 92 points (10/23/05)
1952 Porto Dalva White Colheita Port – bottled in 2005. I was really anxious to see what the others felt about this wine that I had loved, two nights before. Dark amber with a yellow meniscus; this offered a sea mist and lemony, bees wax aroma. Great minerality and Asian spice along with a generous but medium body. Slightly drying on the finish in a Madeira sensuality and shared the length of a great Madeira as well. Not surprisingly, the others were intrigued by their first ever White Colheita and loved the wine too. 95 points (10/23/05)
Dinner at Presuntisco was well received and it was a great way to welcome our guests to Oporto. The next day was the official beginning of the Port tour of duty!
Ferreira
Monday morning brought a sunny day and a beautiful view from our hotel. We got an early start due to our ambitious plans for the day. Our first visit was in Vila Nova de Gaia at the A.A. Ferreira Lodge. We were met by one of the most brilliant and charming women in the Port trade, Ligia Marques.
We were given the historical background of Ferreira and told that it was the first Portuguese family-owned Port Company, originally held by a group of winemakers. The Lodge we were in, had stood for well over 200 years in this place although it used to extend much closer to the waterfront, making it easier to roll the Port "pipes" (casks) off the Barco Rabelos (boats) and directly into the Lodge itself.
Up in the Douro, the 21st Feitoria (or Pombalino stone) was placed next to Ferreira's property in 1758. Ferreira owns 250,000 hectares of which 30,000 are planted to grapes. The parent company of Ferreira (Casa Ferreirinha (Grupo Sogrape) controls many other Port as well as table wine related ventures like the famous Barca Velha. This was Portugal's first premium non-fortified red wine, produced from the grapes of the Douro which was first bottled in 1952. Ligia provided an excellent historical insight into the eminence of Dona Antónia Adelaide Ferreira, a figure so prominent in the Port industry, that no space I can dedicate here could possibly do her legend justice.
As important as Ferreira's history is, the future seems every bit as promising. Quinta do Seixo, Quinta do Porto, Quinta do Caêdo, and Quinta da Leda (in Portuguese, Leda means a place of *joy and divine partying*) are properties that are now relied on heavily by Ferreira. When I asked about the recently finished 2005 harvest at Ferreira's properties, we learned that picking began on the first of September and finished on October 4th. There was very good weather and it rained only one afternoon in mid-September during the harvest itself. The grapes were small, concentrated and blessed with excellent natural acidity. The overall assessment is that the grapes harvested were of very good quality.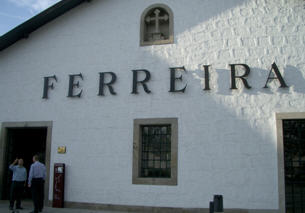 We had the opportunity to try a nice range of Ferreira's Douro wines and Ports in a tasting presented by the Director of Enology for Sogrape Vinhos, S.A., Jose Maria d'Orey Soares Franco. Tasting Port in Vila Nova de Gaia somehow is far more impressive then sitting in my dining room or that of any of my friends. Wait until you see the picture of the view that we looked out upon while discerning the color of the wine in our glass. Simply remarkable!
2004 Quinta da Leda, Vinha do Ribeira – made from 40% Touriga Nacional, 30% Touriga Franca, and 30% Tinta Roriz. Nicely perfumed, dry and slightly tart red berry fruit that has a rustic quality, although it is obviously still quite young and not yet released. A solid, elegant finish offers promise for this wine's future. n/r (10/24/05)
2004 Quinta da Leda, Vinha do Pombal – Touriga Franca makes up approximately 40-45% of the blend, followed by Touriga Nacional and Tinta Roriz both comprising between 25-30% of the cuvee. It shows more reticent aromatics, greater concentration and ripe flavors, offers firmer tannins and structure at this stage and an overall feeling that this is going to flesh out to be one massive wine. Not yet released. n/r (10/24/05)
2003 Quinta da Leda Tinto – a property of 105 hectares in the Douro Superior very close to where the Douro River meets Spain. Originally planted to field blends like much of the Douro, replanting began in 1978/1979 and grape varieties are now segregated. This property's grapes are now the backbone of Barca Velha since Quinta do Vale Meão started to bottle wine (and Port) under their own label. For the 2003, the blend was made up of 1/3 each Touriga Naciona, Tinta Roriz and Touriga Franca grapes that were all picked separately but vinified together. Inky and opaque garnet color. A great whiff of fresh flowers and ripe plums is bolstered by grenadine and blackberry with a gentle kiss of oak. I really enjoyed this baby and although the tannins dominate at this early stage, there is enough finesse on the finish here that this will turn out to be a very nice drink. Don't open until 2007+ 92 points (10/24/05)
Ferreira White Port – I recently had the Lagrima which is the sweetest style of White Port made and it was not to my liking and I'll try another bottle to see if it was possibly an off bottle. On this day, we were trying their most basic White Port and I found some citrus and tropical notes in this wine, which I liked considerably better than the Lagrima. There was an odd banana note here and it was still too sweet for my liking, but had the alcohol in balance and possessed a long finish. 84 points (10/24/05)
1999 Ferreira LBV Port – this is a smooth and easy to enjoy LBV, with a medium body, soft mouth feel, slightly grapy flavors and a touch of alcohol that heats up the finish that otherwise offers good length.
87 points (10/24/05)
2000 Ferreira LBV Port – I enjoyed this significantly more than the '99. It offers an immediately approachable style, with blackberry and plum flavors that are very ripe. The mild tannins and an overall fine structure are in synch with this overt fruit-forward LBV. 90 points (10/24/05)
2003 Ferreira Vintage Port – I liked this go round slightly more than the 2003 cask sample I spent a few days with back in July. It has gained a little weight yet is still medium-bodied. I had a better sense of the structural components and it did not show as hot on the finish. Enjoyable and approachable now. 90 points (10/24/05)
Quinta do Porto 10 year old Tawny Port – this is truly a single Quinta Tawny Port, Light ruby centered with a dark bricking on the rim, this offers not only an overall impressive balance, but a wonderfully smooth palate presence. If that all sounds good, wait until you sense the incredible finesse and length on the finish here. What more can one ask from a 10 year old Tawny? Wow! 93 points (10/24/05)
Ferreira's Duque de Braganca, 20 year old Tawny Port – this was the second time I tasted this beauty within my first 3 days in Portugal. It always has been my favorite 20 year old Tawny Port. Ferreira claims that their costly, yet competitive edge comes from the fact that they blend in a higher average age of old Tawny and therefore it exceeds that of other 20 year olds. Regardless, it hits my sweet spot and I love it. 94 points (10/24/05)
We then went to see the ancient Port cellar within the Ferreira complex. It always amazes me how many buildings there are in these complexes and how large the Lodges really are once you get inside. Over the years, I have had more old bottles of Ferreira Vintage Port than from any other Shipper, the oldest being a bottle of 1830 a number of years ago. However, this was my first time visiting the historic property where Dona Antonia's legacy lives on, which was the perfect way to kick off our week-long exploration. It was wonderful to see the excitement of the folks who had joined us on the tour. The fun had just begun!
Cockburn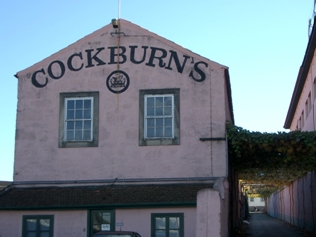 Our next visit was to Cockburn's Lodge, one of the great names in the Port trade. Sorry, but the real pronunciation is Coh-burn (like the actor James), contrary to its spelling. This historic firm was established in 1815 and we were told that they're the largest owners of vineyard acreage in the entire Alto Douro. After a few turbulent decades of being bought and sold numerous times, (along with sister company Martinez Gassiot) the current ownership group is deep-pocketed beverage behemoth, Allied Domecq.
Cockburn owns at least six properties in the Douro that I am aware of, the most famous of which is the gem known as Quinta do Tua, which is in close proximity to the Tua River. Since 1989, they've also owned Quinta dos Canais which grows intensely concentrated grapes, across from Quinta de Vargellas on the opposite river bank. Cockburn will bottle Single Quinta Vintage Ports from these two particular properties. The majority of their holdings are in the Douro Superior and they're located on the North side of the river in the far eastern section of the Douro. Many hectares are planted "vinha ao alta" (in vertical rows, a method first employed by Ferreira) in the remote flat lands far North of the river bank. Cockburn is able to incorporate mechanized farming with the help of tractors in the vineyards, that would not be possible on steeply terraced hillsides elsewhere in the Douro.
Since the late 1970s, they have made great strides in replanting efforts and are one of the most progressive when it comes to planting in varietal blocks to segregate the grape types. In fact at one of their properties, they have100 hectares solely dedicated to Touriga Nacional, which shows a significant commitment to this grape. Lots of credit goes to Miguel Corte Real (Commercial & Viticultural Director), one of Portugal's most brilliant viticultural talents. He is a leading expert in canopy management and clonal selections and lectures at symposiums on these and other vineyard related topics, around the world.
Our group was treated exceptionally well and had an excellent lunch with their management team including Miguel, their General Manager and a few others. We were running short on time but went to see their amazing moldy cellar looking at awe inspiring ancient bottles. I was sad to miss the renowned bottling facility at Quinta de Santo Antonio, but there is always next time.
Cockburn's Port folio -
Light Dry White Port – a fun White to nose, this fortified wine was reminiscent of golden raisins. It delivered delicate peach flavors in an off-dry style with enough sweet fruit that this would pair well with many shellfish appetizers. Gentle and medium length to the finish. 85 points (10/24/05)
Cockburn's "Special Reserve" Port – I have had this wine many times at trade tastings. Spicy raspberry and a mocha nuance show the house style for which this wine in particular has become the standard bearer. A gentle and warming, mostly dry finish persists. It is the number one selling Reserve (this category used to be called "Vintage Character") and world wide sales approach 250,000 cases a year. 88 points (10/24/05)
2000 Cockburn's LBV Port – generous plum and cherry flavors that are smooth while rolling around in the mouth. There is a slight alcoholic heat kick, but otherwise round and polished, this LBV delivers a soft and long finish but again, the alcohol shows up here too. 87 points (10/24/05)
Cockburn's 10 year old Tawny Port – orange-light ruby in color with a beige colored rim. Sweet nose of maple syrup, chestnut and ripe orange. Great aromatics! Medium bodied with fresh ruby fruit and just slightly nutty flavors and a hint of vanilla on the extroverted aftertaste that ends up quite dry in style. 88 points (10/24/05)
Cockburn's 20 year old Tawny Port – just slightly lighter in color towards the center than the 10 year old. This Cockburn Tawny offers fresh and clean nutty nuances on the nose with a bit off toffee. The medium body and soft silky elegance to this delicious wine is really fine and concentrated. The honeyed walnut flavor provides excellent length on the finish with velvety butterscotch on the aftertaste. A nice flavor progression from the 10 year old Tawny and a step up in drinking pleasure. 92 points (10/24/05)
2003 Cockburn's Vintage Port – intriguing nose of leather, cassis and blackberries translate to a smooth palate with medium tannins and ripe, sweet blackberries and vanilla. It has not evolved far from my cask sample early last summer. 92 points (10/24/05)
2003 Cockburn's Quinta dos Canais Vintage Port – 15% of the Canais grapes went into the Cockburn VP. Dark color shows no signs of evolution with a nose that explodes with raisin, spice and chocolate. Easy to approach, with sweet and juicy blueberry and plum flavors. The body weight is medium and the tannins only rear their head upon the finish, which is quite pleasant and persistent. The alcohol has calmed down a bit too and has made this Port considerably more balanced and enjoyable. 92 points (10/24/05)
2003 Martinez Vintage Port – very dark purplish in color and fully opaque. Complex aromas of blueberry, tar, dark chocolate and just a hint of anise. On the palate, ripe and flavor filled boysenberry and blueberry that tends toward the dry side of the spectrum. The structure here is sound although the tannins are quite round at this stage. 2,000 cases produced. 90 points (10/24/05)
2004 Cockburn's Vintage Port – COMPONENT tasting: Touriga Franca – violets stand out with other fresh floral aromatics. Tight knit structure here will offer definition to the eventual cuvee. (10/24/05)
2004 Cockburn's Vintage Port – COMPONENT tasting: Touriga Nacional – more subdued aromas but the dark berry flavors are far more pronounced and sweet. I was surprised that this seemed more elegant and softer than the Franca sample. (10/24/05)
During lunch we learned a great deal more about the history of Cockburn's and were able to have many of our questions answered at this time. At the end of our lunch the tradition of passing around a decanter of "mystery Port" took place. We all had to guess and of course yours truly was first. Given the color and nose of the wine, I felt it was something from the mid-late 1940s. But this was a deftly thrown curve ball. I swung for the fences but looked silly with my swing. In fact, it was a Vintage Port that I never realized existed, as I have never seen the wine itself mentioned or a single tasting note anywhere.
1977 Cockburn's Vintage Port – Say it ain't so! From reading, I knew of Cockburn's decision not to declare their 1977 VP and management chose instead, to utilize their excellent grapes to support their earliest effort to launch and stock up on the now world famous, "Special Reserve" Port. Therefore, I never knew that any bottles actually existed, which made this even funnier. Even if I had, I never would have guessed this wine's age. There were actually 1,500 bottles produced and 900 are now left in the Cockburn cellars, only to be consumed on their premises with special guests. The '77 showed a light ruby with significant bricking on the rim. This is soft, smooth and very elegant with light, dried cherry fruit bolstered by toasty almond nuances that belie its youth. A mature and complex Port, which is not only tasty, but the finish is fabulous and multi-layered. It could have been a contender. 93 points (10/24/05)
After bidding our friends at Cockburn's a warm adieu, we headed back to Mario's old workplace the Port and Douro Wine Institute (IVDP) for a tour and incredible couple of hours seeing their laboratories, tasting rooms and had an informative session with a few of their managers. What I always enjoy most is listening to the methodology that is utilized in blind tasting the wines. There is a panel of seven professional tasters that work individually in evaluating the Ports that are seeking approval. We learned about each of the specific organoleptic (sensorial) qualifications and how the tasters use a computerized data sheet to input their analysis. There is much more to this and it was fascinating to see in person. One gets a significant comfort level when you see all of the checks and balance in place, to ensure that approved wines have been thoroughly screened before the IVDP stamp of approval is given to the specific Port.
Sandeman
As our group had not yet had our fill of Port wine today, it was time to head to the Sandeman Lodge which was now closed to the public. We met up with our friend Ligia there, as Sandeman is part of the Sogrape portfolio since earlier in the decade. It was fun to see our guest's eyes light up when we walked into the Sandeman Port Museum within the Lodge. A "must see" spot in Gaia, this museum has a permanent exhibit but also has new from time to time. In fact since my last visit in 2003, at least half of the objects were new. The historic artifacts that surrounded us here was really eye catching and the more serious you are as a Port enthusiast, the more you appreciate what is in this gallery.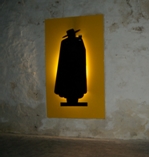 After explaining the diverse artifacts and remarkably well-preserved advertisements, Ligia then guided us through the cavernous Lodge. Our guests had the opportunity to view the massive Sandeman Port holdings in pipe and huge wooden tanks, as well as the ancient "library" of Vintage Ports remaining in the cellar. It was at this point that we were joined by our hosts, Mr. and Mrs. George Sandeman. I have known George for over a decade and find him one of the most refreshing personalities in the Port trade.
He has an irreverent sense of humor, does not shy away from politics and never circumvents a controversial question. He leads the seventh generation of the House of Sandeman (est. 1790) which is also known for its Sherry holdings in Jerez, Spain and wines in Madeira. Before we all sat down to a most enjoyable dinner, we retreated to one of the great old rooms in the Lodge for a fun tasting of some recent Ports. Dinner was excellent as were the accompanying wines. On this night our conversations were so engaging that I did not take notes on the dinner wines, with the exception of course, the Vintage Port which accompanied dessert.
1999 Sandeman LBV Port – I rather enjoyed this LBV and besides just a touch of alcohol protruding, there were bright red fruit aromas and a touch of cinnamon spice. Rich and ripe raspberry intertwined with sweet strawberry flavors, which show a bit grapey on the finish but overall, still quite enjoyable. Round tannins keep this immediately approachable. 88 points (10/24/05)
2000 Sandeman Vau Vintage Port – This has improved since it was a cask sample and the grip is far more pronounced whereas the tannins were reserved earlier in its life. Dark magenta color, floral note with molasses and pomegranate aromas. Great mouthfeel and smooth texturally speaking. Expressive fresh purple fruits, good grip and a longer life ahead than I had expected early on. 91 points (10/24/05)
2000 Sandeman Vintage Port - Swirling aromas of cassis, figs and a spice that I know but can't identify. Smooth and viscous on the palate with chewy black fruits that are ripe, yet not too sweet. It is a well-balanced Port that is impressive today, but will reward patience as the tannins are still quite powerful. Extremely long and satisfying finish. This hits the pleasure zone big time. 93 points (10/24/05)
2003 Sandeman Vintage Port - Dark ruby color. Floral notes, grenadine and spicy aromas are really enjoyable and lead to a palate of intense purple fruits brimming with dense plum and grape flavors that dominate the palate. It shows a very smooth texture in the mouth, with full body and ample tannins to take this for a long ride as does the aftertaste. 91 points (10/24/05)
1967 Sandeman Vintage Port – There is a first time for everything. This gentle giant is one of the very best of the Ports I have had from the lackluster 1967 vintage, which managed to produce a few very well-made VPs. The Sandeman is still in great shape. Due to the lighting it is impossible to tell the color. The aromatics dance out of the glass with ultra-potent, sweet violet and floral notes with a hint of mocha. The flavors of ripe plums, figs and maple lead to a bittersweet chocolate nuance on the extremely long finish. This '67 is a smooth operator with finesse and delivers a super smooth palate presence. This still has a good decade ahead of it too. 93 points (10/24/05)[/fusion_text]