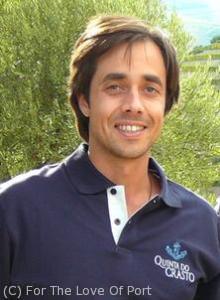 This month FTLOP is proud to introduce you to Manuel Lobo.  Here is Manuel's story:
1. How did you break into the Porto and Douro wine trade and at what age?
My contact with wine started as a child, since my family has been involved with the wine business for many years, both in viticulture and winemaking. From my mother's side of the family we were producers in the Vinho Verde Wine Region, and also in the Carcavelos Wine Region, where we used to produce a "Vinho Licoroso" named by Quinta do Barão. On my father's side we are still in the business of viticulture and also wine production in the Alentejo (Perescuma Wines) and Tejo wine regions (Casal Branco Wines).
I had passion for the viticulture and winemaking very early on, and the opportunity of working during harvests at home was very obvious, so after doing a few harvests I decided that I would like to study winemaking. By the time I was 17 years old in 1995, I chose UTAD (Universidade de Trás-os-Montes e Alto Douro) based in the Douro wine region, to do my studies. I was already a big enthusiast of the Port and table wines produced in this region. Since then I started to gain a deeper understanding for the potential of this unique wine region.
After finishing my studies, I decided to go and work abroad. I did a couple of harvests in Australia's Clare Valley (2000 and 2001), in USA's Napa Valley at Chateau Montelena, (2001). By 2002, I returned to the Douro Valley to work as a winemaker for Montez Champalimaud, Lda. (Quinta do Cotto and Paço de Teixeiró wines). In May of 2007, I integrated with great pleasure and joined Quinta do Crasto, as a winemaker and have been there ever since.
2. What is your favorite style of Douro wine and also Port to drink at home, and can you name two or three of the greatest one's you've ever tried?
For such a great, deep and complex region, it's a difficult question to answer….
Douro Wines:
Whites – The Douro is a very hot region during grape maturation, but with the right terroir, variety, and altitude, I believe we can achieve very high quality whites, with fresh citric aromas, good volume, great minerality, finishing with a pleasant sensation of good clean aromatics, combined with a natural acidity.
I don't like to see in a wine, the lack of freshness, and overripe aromas ...
Reds – The Douro has a great potential to produce high quality reds. My favourite style is a wine that shows great complexity, with well defined aromatics of the typical Douro Valley "terroir", dark fruits, wild bush "Esteva", good minerality. Elegant, but compact structure, very ripe and silky tannins. A wine that finishes with great freshness and excellent persistence.
It must be a wine with all the elements in place to live long and age properly. I don't like to see in a red wine: rusticity, lack of freshness or dry tannins ...
Some of the red wines that have really impressed me:
Quinta do Crasto Vinha da Ponte 2000 and 2007
Xisto Roquette & Cazes 2009
Quinta do Cotto Grande Escolha 1982
Quinta do Côtto Souzão 1974
Ports:
These two Port categories are my favourites: old Vintage Ports and Tawny Ports
For the Vintage Port category when we pick the right moment to open a specific bottle, it's a unique moment that will give me such an enormous pleasure, it is impossible to forget.
My style of Vintage Port contains: Personality, purity, complexity, harmony, freshness, deep and present texture and long persistence on the finish.
Some impressive wines: Constantino 1886 and 1947 Vintage Ports; and Taylor's 1977.
Tawny and Colheitas are wines that the more I taste them, the more enthusiastic I become of this style of Port. My style for these wood-aged categories is: Very complex showing, lifted aromatics of a good combination of fresh nuts, honey and dried apricot. Good volume weight, very polished tannins, with great freshness and persistence. A really impressive wine, that I have had the pleasure of tasting on occasion:
Quinta do Crasto Colheita 1970
3. Besides wines from your own company, what others do you most enjoy drinking?
The greatest thing of being a wine lover is that there is plenty to choose from. I really like to drink and try wines from all over the world; it's also an important role in my wine education. It's truly impressive the quantity of excellent wines that we are able to find in the different wine regions of the world. For my tastes, each style of wine has its own occasion to drink, but I can briefly resume as:
Whites:
From the old world, I 'm always very happy drinking some Montrachet from Burgundy, some Riesling from Alsace, a good Verdejo from Rueda, or a great Alvarinho from Portugal's Vinho Verde Region, (one example: Soalheiro).
New world: Sauvignon Blanc from New Zealand, or a great Chardonnay from the Carneros district of Napa Valley.
Reds and Ports:
Old World: Bordeaux Reds, Ribera del Duero and Priorat from Spain, and of course good Portuguese reds, from Alentejo, Dão and the Douro Valley. (Douro Boys Wines, Niepoort, Quinta do Vallado, Vale Dona Maria, Qtª Vale Meão ; Qtª Sº José, Quinta do Côtto, Wine & Soul, Alves de Sousa, Taylor, Quinta do Noval ... these are some of the interesting producers that maintain my attention).
New World: Chile (Purple Angel – Montes Alfa), Australia (Pondalowie), USA Chateau Montelena Estate Cabernet.
4. What brings you the most joy in what you do within the Douro wine trade?
The potential that the Douro region is showing to produce world class wines is something that gives me a lot of joy and satisfaction and above all, keeps me motivated to work harder, in order to try to achieve perfection.
The Douro wine region is unique in the entire world, and is something that we still need to explore and preserve. The Douro is like a big puzzle that you need to put together with the right pieces. There is still a lot of investigation to do, both in viticulture and winemaking, which I'm sure will provide unique and very interesting results over the course of the next few years.
One of the greatest pleasures that I can have, is when someone tastes a wine that was made by me and really appreciates it. That delivers a sign and satisfaction that I am waking up every morning for a good reason.
5. Would you please share one piece of unique trivia or historical information about your company that would be new to FTLOP readers?
Something that I really believe In is the Douro Identity. Quinta do Crasto decided in 2008 to start an investigative study, to try to achieve the genetic classification of the old vineyards, in order to save the genetic source of all the vines that that integrates the old vineyards.
To provide a very brief introduction, there are five stages:
A. Visual classification of the vines
B. Sampling and analysis of genetic material
C. Propagating genetic material
D. Planting vineyard(s) with all identified sources of genetic material
E. When vines die, replacing them with new vines containing the exact same genetic source
At the moment we are still in phase A and B, and so far in our Maria Teresa vineyard we already have identified and recorded 36 different grape varieties.
Higher % - more representative:
Lower % - less representative:
Touriga Nacional
Tinta Roriz
Touriga Francesa
Tinta Amarela
Malvasia Preta
Tinta da Barca
Cornifesto
Moreto
Alicante Bouschet
Grand Noir
Preto Martinho
Tinta Bairrada
Português Azul
São Saul
Periquita
Rufete
Tinta Bastardinha
Casculho
Mourisco da Semente
Mourisco Tinto
Moscatel Hamburgo
Tinta Barroca
Tinta Carvalha
Tinta Mesquita
Bastardo
Ferral Roxo
Tinta Pomar
"Tinto Desconhecido"
Tinto Cão
Tinta Francisca
Malvasia Rei Preta
Gouveio (White)
Rabigato (White)
Diagalves (White)
This is serious and long investigative study that will take some time to conclude, but in my opinion is also something that will assure that the Douro's identity will be preserved.  Within the Maria Teresa vineyard, in total there are 52 blocs (or parcels) to study in a vineyard of 4.7 hectares.
6. Which individual has been your greatest mentor and how have they inspired you?
My wife Teresa and my two daughters Teresa and Maria do Carmo, inspire me every single day and give me the strength to follow my passion and my dreams.
My mentors are my parents, by the values and educational principals that they have instilled in me.
7. What is the greatest challenge facing the Douro wine trade today?
To be able to achieve the recognition deserving of being one of the most respected wine regions in the world.
8. Can you share one new project or improvement that your company is involved with?
We just launched a new project and invested in time for the 2011 harvest. It is a totally new winery, name Quinta do Querindelo, encompassing 9 hectares of old vines and it will be used specifically for the vinification of wines from Quinta do Crasto's top old vineyards. There's a winery facility with small fermentation vats, (able to ferment five tons in each vat) with all the necessary requirements that these 100 years old vineyards deserve. We are excited and believe that with these new conditions we will be able to explore more deeply, the great potential that these unique vineyards can deliver.
9. What can the industry do to improve the promotion and education of Port and Douro wine and grow market share in the ever evolving beverage marketplace?
Wine tourism is one of the answers. The Douro wine region is so impressive that if we can create the necessary conditions to convince tourists to come and visit us, I'm sure they will never forget this wine region, and become more serious Douro enthusiasts, as well as Port and Douro wine lovers.
Another very important way is for all Port and Douro wine producers to promote their wines together in the international marketplace. A good example of this type of success is demonstrated by the Douro Boys and their working together closely to promote one another's wine, which is good for the region, as well as the individual companies.
As we have learned, the wine market is becoming more competitive, so visiting markets, presenting wines, organizing wine events, being present at important wine fairs etc., is an obligation nowadays.
10. What non-wine activities do you enjoy?
Spending my free time with my wife and kids. Enjoying hunting, horseback riding, and cooking.
The FTLOP series, Port Personalities In Focus, alternates with A Question for the Port Trade every other month. In Focus concentrates on bridging the gap, introducing readers to people who are not usually in the media's spotlight, with some license to occasionally "interview" someone that is. In Focus brings you candid comments, personal perspectives, and a better understanding of the people inside the trade. From sales and marketing professionals, to master blenders, winemakers and vineyard managers, to distributors and importers, owners and managing directors; In Focus will introduce you to Port personalities who work at small family-owned operations to the largest wine companies in Portugal. We hope you'll benefit from meeting the people on these pages!