It was a brilliant, sunny day when we arrived at Quinta do Mourão, just down the river and around the bend from Peso da Régua in the heart of the Douro's Baixo Corgo. The panorama above was taken facing Northwest-ish from the main house with the Aquapura Douro Hotel on the far left and westernmost outskirts of Peso da Régua on the far right. It makes the area look deceptively flat, but that's because Quinta do Mourão sits right on the edge of what was probably a very old flood plain before the Douro was dammed. Behind the house the terrain begins to rise, giving a more familiar look to the vineyards in the rolling hills of the Baixo Corgo.

Quinta do Mourão has been owned by the Braga family since it was purchased by father Mario in 1972, but its history dates much further back – it is listed on Baron Joseph James Forrester's famous 19th Century map of the alto Douro. The main house and chapel are believed to date back to the 16th Century, and considerable work was needed to bring them back to serviceable condition. The winemaking and aging was all done in an adega under the main house until a new winery was completed east of the main house in 2002. Long-term aging for their tawny Ports still occurs in an old armazem west of the main house and across highway N222.
The family owns 4 other Quintas, and if you have eaten at D.O.C. then you have probably seen one of them. The picturesque village across the river from D.O.C. in Folgosa is called Covelinhas, and the Quinta overlooking that village from the west (your left) is Quinta da Poisa. That is where the core of the 10-yr old White Port's grapes come from.
Enough history! Our tour began at the main house with a quick introduction. We then piled into a couple of cars and a flatbed work truck for a ride up to the armazem since our modern and very comfortable motor coach would not have been able to navigate roads that exist purely for work purposes. All the better for an adventure!
The armazem is a very old building. Parts of its walls and floors appear to be made from schist, like so much else in the Douro. The rest is concrete or larger rocks, all the better to help maintain a consistent temperature for Port storage. The Toneis or at least the ones down in front which a visitor might see, all have fancy frontings that make them look old, sturdy, and even elegant.
We began our sampling at the left end of the building from Tonel #6, which looked to my untrained eye to be ~10,000 liters in size. (Not too bad, as it and the others all turned out to be ~12,000 liters.) Miguel told us that it is a blend that's around 12 years old which he uses as the base wine for the S. Leonardo 10 Year Old Tawny Port.
Just a couple of steps away was our next stop, Tonel #8. Miguel explained that this is a 1984 Colheita that serves as the mother wine of the S. Leonardo 20 Year Old Tawny Port. The group sort of fell silent as we tasted it, because it was amazing. I asked Miguel why he didn't just bottle it straight because it was so good, and he replied with a twinkle in his eye, "this way it lasts longer."
As we returned to the mid-point of the armazem and the main entrance, we also reached our next destination. Tonel #9, the mother-of-all-30-yr-olds. Or at last the ones that come from Quinta do Mourão. Tonel #9 contains a 1972 Colheita which was interesting to many of us because Ports from 1972 are relatively rare. As good as Tonel #8 was, Tonel #9 blew it away. There's something about tasting straight from the cask at the Quinta. We took turns tapping the precious liquid within and talking casually with Miguel and amongst ourselves, enjoying the gorgeous day. After 15-20 minutes we loaded back into the cars and the work truck and headed back down to the main house.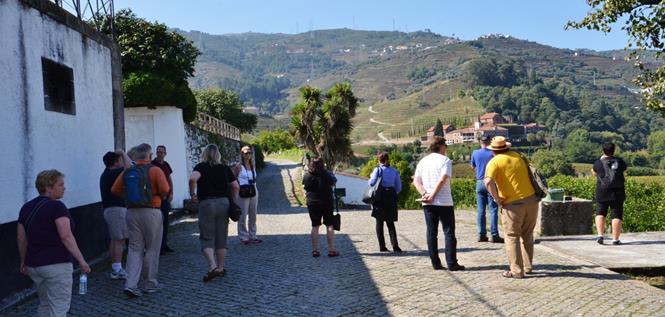 We toured the winery, which was busy with the harvest. It is a very modern facility typical of those that have been upgraded or built in the last 15-20 years. Modern steel tanks hold the product of the stone lagars until it is either ready for bottling or transfer to the larger wooden Tonels in the armazem.
Waiting for us at the main house on a patio with an adjacent (mostly) shaded walkway was a typically-Portuguese array of appetizers and a chilled glass of the S. Leonardo 10 Year Old White Port. It was refreshing and paired very well with the appetizers. This was all meant simply to carry us through until lunch was ready, which it soon was.
Lunch consisted of caldo verde followed by a slow-cooked pork dish in a large cast-iron pot with rice, and the S. Leonardo 10 Year Old Tawny Port and 20 Year Old Tawny Port. These impressed me as easily top tier within their categories. Having some familiarity with slow-cooked pork, I scrounged around in the pot for the smaller crispier bits and was rewarded for my efforts. Absolutely delicious, and the saltiness of the pork provided the perfect complement to the sweetness of the Port.
Part of the way through lunch I returned to the table to re-fill my glass with 20-yr old, but Miguel stopped me. "Wait, wait," he said. "I have another bottle." I must have looked confused because there was still plenty of Port in the bottle I was holding, so he said "here, give me your glass," and he disappeared into the house. He returned moments later carrying (and concealing) another bottle and a glass of Port, which he handed back to me. He waited expectantly, so I tried it and my eyes probably rolled back into my head. Whatever it was, it was superb and clearly a notch or two above the 20-yr old I'd just finished. He grinned and revealed a bottle of the S. Leonardo 30 Year Old Tawny Port. This exact scenario played out again ~15 minutes later when I returned for another glass of 30-yr old (and he returned with a bottle of the S. Leonardo 40 Year Old Tawny Port), and then one more time after another ~15 minutes when I returned for another glass of 40-yr old. I was pretty convinced we were done when I returned for more 40-yr old, so actually managed to pour a small amount before Miguel could stop me. This time he just had me wait, though, and went to talk to Roy.
Miguel then explained that he had two very unique Ports for us to try. As you all know, the IVDP only allows sales of Tawny With An Indication Of Age in four categories – 10, 20, 30, and 40 (or "over 40" in the US). But what if they had more categories? What would a 50-yr old taste like? What would a 60-yr old taste like? As Miguel put it, "they won't allow me to sell it, but that doesn't mean that I can't make it!" These two bottles had no labels… just a simple "50" or "60" in white ink at the bottom. These were so over the top that we pretty much fell silent while tasting them.
Dessert eventually emerged – a huge plate full of Pastéis de Nata. This is a must-have any time you visit Portugal, as there is hardly any dessert that is more Portuguese. They are little custard-like pies that have had the top toasted like a crème brûlée. Wonderful!
But Miguel wasn't done yet. While we were enjoying the Pastel de Nata, Miguel went into the house to get one last bottle. It was similar to the "50" and "60", but this one's small hand-written label had 3 digits. Miguel explained that the mother wine for this special bottle came from 1895, and that the average age was over 100 years old. There really are no words, but I've given it a try in the TNs below.
I would like to thank Miguel and Roy for a wonderful visit. Tawnies are my favorite kind of Port, and the Ports of Quinta do Mourão are in my opinion the greatest expression of what a Tawny Port can be. Getting to try the S. Leonardo lineup at the quinta where they are made, and getting to talk to Miguel about their history, was an honor and a privilege.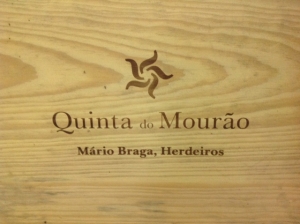 Tasting Notes: Quinta do Mourão, September 30, 2014
Tonel #6, directly from cask
Tonel #6 is a roughly 12-yr old blend that serves as the base for the S. Leonardo 10 Year Old Tawny Port. Medium dark red-brown with red highlights. Aromatic spirit, soft red fruits, some black cherry, and something like the pith from an orange on the nose. The palate is smooth and well-integrated. Very sweet, but with great acidity to keep it in balance. Something cola-like – Lisa says Dr. Pepper and I can't disagree. The overall impression is much closer to a 20-yr old than a 10-yr old, which shows through in the finished product. 93 points.
Tonel #8, directly from cask
Tonel #8 is a 1984 Colheita that serves as the base for the S. Leonardo 20 Year Old Tawny Port. Yes, the S. Leonardo 20-yr old starts with a 30-yr old Colheita. Medium dark amber-brown with orange-red highlights. Butterscotch, bourbon vanilla, and Kraft caramels on the nose. The palate exhibits orange peel, Christmas spices (but without the sweeter ones like clove and allspice), more butterscotch, and something between a fresh apricot and a dried apricot. Also light brown sugar and possibly some toffee. The Kraft caramels return on the finish, which is unusually long for a "merely" 30-year old tawny. The finish tails off with Granny Smith apples, which is always pleasant for me. Truly outstanding – I wish this were bottled and sold as-is. 96 points.
Tonel #9, directly from cask
Tonel #9 is a 1972 Colheita that serves as the base for the S. Leonardo 30 Year Old Tawny Port, and was the first wine made by Miguel's father, Mario Braga. At 42 years old, no wonder S. Leonardo is many people's standard by which all other 30-yr olds are measured! Dark brown with orange-red highlights, somewhat cloudy in the glass. Signs of leather and varnish are beginning to show on the nose, along with bourbon vanilla, dried apricot, and faint caramel. The palate is impressive and mouth-filling. Huge amounts of residual sugar, but kept in check by almost Madeira-like levels of acidity. The result simply overwhelms your palate without hitting you in the face. Notes of spiced orange peel, toasted brown sugar, toffee, dark caramel, and perhaps faint anise. Extremely long finish, provided you're capable of not taking another sip long enough to experience it. Which is difficult. 98 points.
S. Leonardo 10 Year Old White Port, bottled 2014
Light golden color, very clean and crisp appearance. Wonderfully floral with just a whiff of lemon pledge on the nose, along with some peach and some papaya. Sweet entry backed up by excellent acidity. Faint tropical fruits are delivered by a creamy texture. There's an interesting toast-like note in the mid palate. Artisanal honey and Meyer lemon linger briefly on the finish. 92 points.
S. Leonardo 10 Year Old Tawny Port, bottled 2014
Appears more tawny in the glass than is usual for a 10-yr old – the red is starting toward the orange side of things and the purple is long gone – but it is still a medium to medium dark tawny color with red highlights. The nose is mellow and smooth showing hints of strawberry, cherry, and soft red raspberry, but with a solid tart apricot foundation. Big and full in the mouth. Very unctuous and mouth-coating. Blood orange, apricot, spice. Great acidity. Nice, long finish. 93 points.
S. Leonardo 20 Year Old Tawny Port, bottled 2014
Medium-dark brown. Brown sugar, orange peel, vanilla, and faint caramel on the nose. Darkly sweet entry backed by acidity, then some cherry and brown sugar. Faint cloves and possibly cinnamon in the late palate carrying over into the finish. A new standard in the 20 Year Old category for me. 94 points.
S. Leonardo 30 Year Old Tawny Port, bottled 2014
This is the age at which the S. Leonardo lineup really begins to shine, in my opinion. I've always found the appearance to be a bit out of character for the age, though. It's a medium tawny without the red I'd normally associate with that description, so it seems light and airy for a 30-yr old. Orange peel, cinnamon, cardamom, possibly some pipe tobacco, and some dust on the nose. In the mouth it is full and smooth, creamy, and softly sweet. The acidity of the finished blend is not at the level of the '72 Colheita from which it is derived, but is sufficient. The late palate/early finish shows a not-quite-fully-caramelized caramel-like quality. Excellent finish. 95 points.
S. Leonardo 40 Year Old Tawny Port, bottled 2014
Color is almost gone, as this Port shows primarily brown tones in the glass. Think of luxurious, dark, polished wood and you're probably in the right ballpark. A bit of mahogany does hint at some color. Leather, faint pipe tobacco, and faint varnished wood on the nose give it an aged feel. The palate is expansive, powerful, and mellow all at the same time. Creamy, very full texture. Beautifully integrated sugars and acidity. Meyer lemon, candied blood orange, toasted brown sugar, deep toffee, bourbon vanilla, and candied dried apricots all show at various times while you're sipping. The finish isn't as long as some of the others, but still what I would consider to be long. The mouthfeel is simply luxurious. 97 points.
Cask Sample, "50", bottled 2014
I'm always a little slower than everyone else at tastings, so by the time I started on the "50" others had moved on. When Vic saw the look on my face as I stared at this glass in my hand, he leaned over and said "leave room." I looked at him incredulously and he simply offered a tip of his glass as a toast. Deep, dark, rich brown and cloudy in the glass. The nose is intense and complex. Dark brown sugar, leather, old varnished wood, bourbon (without the vanilla this time), and candied lemon. The palate is just as intense – candied orange peel, caramelized brown sugar, richly buttered caramel, and candied dried apricots. The sugar level and acidity are both higher than the 40-yr old, remaining in perfect balance but with even more oomph. The finish is epically long and even. This is magic in a bottle. 99 points.
Before I get to the last two Ports, I have to explain my use of the 100-point scale a bit. I don't try to figure out a number to give to each Port as I taste it, but rather I use words to describe it first. I've then assigned those words to various ranges on the 100-point scale. "Good" (or similar terms such as "Okay" or "Fine") means something in the 80-84 range, and can be interpreted as something I'd drink if you handed me a glass, but that I probably wouldn't pour for myself nor would I take a second glass if offered. It's good, but one's enough. "Very Good" is 85-89, and sure I'll have another if offered, but I probably won't ask for one. "Excellent" means 90-93, and may I have another? "Outstanding" represents 94-96, and is as high as I go for most wines. I'm going to want to know where you got the bottle so that I can get some for my own cellar. This represents the peak of mechanical perfection in winemaking for me – there are no flaws, there's nothing to nitpick, it's made as well as it can be made. "Magnificent" covers 97-99 and requires that there be magic in the glass. Something about the Port has to sing to me; call to me. These are Siren wines that lure you in. They are rare, and they are incredible. As you've seen above, we'd just had two.
Which leaves only one number. I've labeled it "Perfect" on my scale, but that isn't correct. Perfection is impossible because it implies that there can be no equal. Instead, what I require before I award a 100-point score is that the Port alters my perception. "I never knew Port could be like this!" I want to be speechless. I want to forget that there's anyone else in the room. I want to just sit there and absorb the feelings, smells, flavors, and emotions. I want it to blow my mind.
Cask Sample, "60", bottled 2014
What can I say? Vic was right. If the 40-yr old is turned up to 10, then the 50-yr old is turned up to 11 and the 60-yr old is turned up to 12. Imagine, if you will, reducing a pot of loose leaf Assam tea (which has a slightly reddish hue when brewed) until it is almost a syrup and you'll be pretty close to what this looks like in the glass. Very deep, rich, rare wood brown in color. Murky. The nose is full of leather, cigar box, old varnished wood, bourbon, brown sugar, blood orange, and spices like cinnamon and cayenne pepper. The mouth feel is incredible – silky and luxurious, mouth-coating, unctuous. The flavor comes in wave after wave and echoes the nose, adding orange Creamsicle and a variety of intriguing and complex grain-like impressions (wheat, steel cut oats, brown rice) which add considerable depth. The viscosity leaves a coating throughout your mouth, but especially on your tongue. The finish just doesn't stop. Minutes later – 10 minutes later! – you can still taste it as if you'd just taken a sip. Consider my mind blown. 100 points.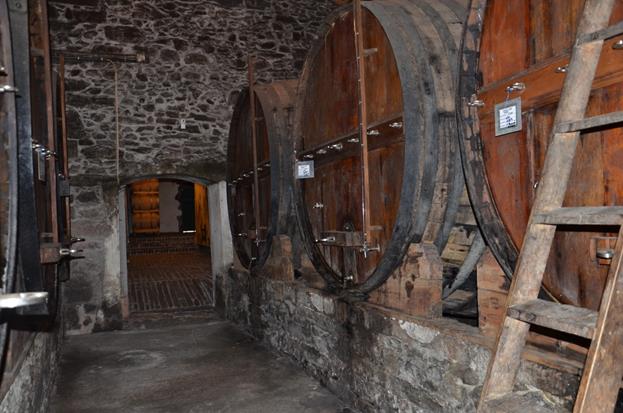 Cask Sample, "100", bottled 2014
The mother wine for this blend comes from 1895 and the average age is just over 100 years. It just keeps getting… "more." Thicker, darker, more powerful. More intense. More crazy. The 100 almost looks like molasses in the glass, but it isn't that thick. It is opaque, though. Opaque like a brand new just-bottled Vintage Port. The legs are crazy – the Port practically sheets off the glass rather than form legs, and the viscosity is so high that they take 10+ seconds to disappear. Legs are normally pretty clear and just show a reminder of the Port's actual color, but these stain the glass a mahogany or burnt umber. The nose reveals aged and brewed molasses, buckwheat honey, supple very old leather, maybe some varnish, pipe tobacco, cigar box, steel cut oatmeal, and candied citrus. Much of that is echoed in the palate, which has the texture of heated honey. It makes me think of what the syrup used to make Coca Cola in a fountain must be like intensity-wise. A small bottle of syrup makes gallons of Coke. This isn't something you drink, it's something you sip in tiny little sips so that your brain can have any hope of keeping up processing the smells, flavors, and feelings. As it turns out, yes it is possible to have your mind blown twice in a row. 100 points.
For the record, that makes three for me. The first was a 1906 Brunheda Colheita, so all three have been very old tawnies.