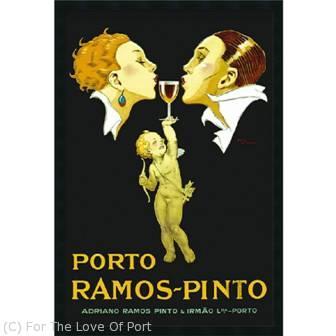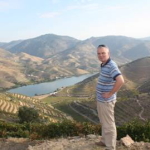 Roy's Note: Bjarne Mouridsen is a Danish freelance journalist and writer specialized in culture and Portugal. He works for DR (Danish Broadcasting Corporation), different newspapers and magazines. Bjarne has just released a book about Portuguese culture and has his own blog called "Portugal – my second native country". Bjarne is of course a big Port lover as well, and often writes about Port. He is a dedicated member of the Vintage Port Club in Denmark. Please do have a look at his blog, although it is in Danish: Portugal - mit andet hjemland (Portugal - My Other Homeland)
A slightly decadent kiss! I have to admit that was exactly one of the main reasons, why Ramos Pinto turned out to be one of my favourite Port Producers.
It started a long time ago, when my knowledge of Port was still superficial. Of course I had visited the caves in Vila Nova de Gaia, when I went to Portugal the first couple of times as a backpacker. And normally I chose Port, when it was offered together with desserts at dinners and parties. But I had not really enjoyed Port yet, and I knew nearly nothing of the various categories, although I could see that there were different colours.
Then I started going to wine tastings, and one of them included Port. I found the Port good, but what really hit me, was the plastic bag that I was offered along with some handouts. A little naked Cupid was raising a glass of Port between two faces in profile, meeting in a kiss over the rim of the glass. They really had style with white collars and shiny hair on a black background. One had short and curly, ginger hair and was wearing an earring. The other had pomaded brushed-back hair, caricaturist features and eyes with long eye lashes. Both were wearing lipstick. They seemed a bit decadent and androgynous, so I was wondering if it truly was a man and a woman. And I asked myself, if Port aroused desire or if it was the other way around?
I kept the bag for years. It was beautiful in its simplicity. It was fascinating and seductive. It was different, aroused curiosity and triggered associations: The Roaring Twenties, the world of the Parisian cabarets and Toulouse Lautrec, F. Scott Fitzgerald "Tales of the Jazz Age" and the life of Sebastian Flyte, in Evelyn Waugh's "Brideshead Revisited". And I soon found out that the painting on the bag was in fact not unique at all, not when it came to art, culture and Port.
"Art and culture is very important for Ramos Pinto." Ana Filipa Correia told me some years later, when I went back to Vila Nova de Gaia to learn and taste more. Ana Filipa was responsible for the archive and cultural activities, and she showed me piles of old letters and dusty documents from a trunk, somewhere in that beautiful yellow building right next to the Douro.
"There is a lot of work to be done," she added with a smile. Over the course of the next couple of years, Ana's work was to read and record all documents and make them accessible for historians, oenologists, biologists and historians of art. Besides that, the firm wanted to create a museum for visitors.
Afterwards she showed me the old offices. Paintings, posters, old furniture and walls covered with panels of blue azulejos (Portuguese tiles) displaying naked women with clusters of grapes and fauns riding on bulls or playing pan-pipes. Not even the toilet was without decorative tiles!
Today the tour around the museum is official with tourist guides telling stories in different languages followed by a glass of Port or two in the tasting room. Nevertheless, it is still worth the effort to spend an hour in this historic Port lodge. One can imagine exactly how the former offices were, and the tour gives a hint of how the need for effective marketing and the love of Port and art may all synchronize.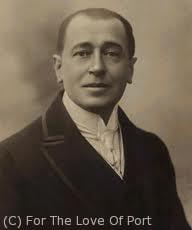 In 1880, the young Adriano Ramos-Pinto founded the Port firm, focusing his sales and marketing efforts on the important emerging Brazilian marketplace. And he soon succeeded with the Port called Adriano, which was a bit better and more expensive than the labels Brazilians used to buy and drink. It added to his success that Adriano knew how to brand his label. He made small advertising gifts like corkscrews, calendars and pipes for his costumers. And when they visited the office, they were seated in a special chair, a sort of throne, raised a bit above the other chairs. A place of honour!
When he wanted to create posters which advertised the label, he summoned famous or even some unknown artists, both from abroad and from Portugal. As an amateur artist himself, he knew about art in the time of the fin de siècle, and he was very critical as well. If he didn't like what he saw, he refused to use the artwork. It is told, that Toulouse Lautrec was among those who had been refused.
A colourful palette of artists contributed to the large assortment of poster art, created in the first few decades of the 19th century. Amongst them, a roman banqueting scene with semi-nude women, a Douro landscape with a lovely peasant girl squeezing the juice from grapes into a cup held by a faun, and a high-kicking can-can dancer with a row of Port bottles below her. There were religious themes too, like the Three Wise Men by the Italian artist Matteo da Angelo Rossotti. In the poster the three Kings do not bring gold, incense and myrrh, but cases of Port, and they are led by half naked girls. Another Italian, Leopoldo Metlicovitz, made two posters with religious themes. The Temptation of St. Anthony, where the old Saint can barely resist a glass of Port held by a naked girl; and Adam and Eve, together with a snake holding a glass of Port in its mouth.
Nudes, mythology, religion, wine and lust! For Adriano Ramos-Pinto it was all the same – Os Vinhos do Porto de A. Ramos Pinto são uma tentação. The key word is temptation. As all the readers of this newsletter know, a glass of Port is tempting. And so are naked women, as they provide an effective image of desire as well. The aim was and still is to convince people through these images, to drink Ramos Pinto Ports and suggesting it will bring them similar temptations. But these advertisements by Ramos Pinto went further and were more provocative than the other Port companies.
This slideshow requires JavaScript.
A poster by Leonetto Cappiello is showing a giant with a huge bottle of Port in his arms. He nearly steps on small figures running around with tiny bottles. It is like Gulliver on the island of the Liliput, and the text tells us, that Adriano is "O Maior de Todos", the greatest of them all. Another poster portrays a white girl, dancing with a black man who is wearing full evening dress and a top-hat.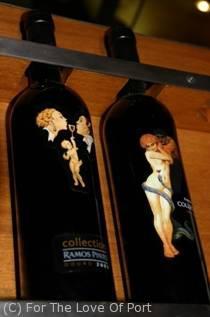 Over the years, some of the images from the paintings, including The Kiss, have found their way onto the wine bottles as well. Recently, Ramos Pinto has created a new range of Port bottle labels using some of their old posters, including Adam & Eve, for the Collector Reserve series. Although the original artwork is more than one hundred years old, it is still rather useful today.
Besides the posters and the other artwork, Ramos Pinto is engaged in culture in various ways. Adriano ordered a large and lavish fountain, which was donated to Rio de Janeiro. The firm published books like Don Quixote, by Cervantes and Portugal's own famous epic poem, The Lusíads by Luiz Vaz de Camões, which tells the story of how Vasco da Gama sailed out and discovered much of the world. And the museum in the Port lodge in Vila Nova de Gaia is not alone. On the opposite end of the Douro, in close proximity to the Spanish border, another museum opened in 1997 at Ramos Pinto's Quinta da Ervamoira. Here the focus is not just art or the history of the company, but the history of mankind overall.
It is a long trip upriver to Ervamoira in the Val de Côa, so you do not just drop in unannounced. You have to be invited. With friends from The Vintage Port Club of Denmark, I travelled the entire length of the Douro Valley by train, all the way eastbound to Pocinho (which is the last stop in Portugal). Upon arrival, a couple of vans picked us up, and we drove off, rocking and rolling on schist and granite, but surrounded by the most beautiful landscape and vineyards, spread throughout softly curved ranges of hills.
Quinta da Ervamoira is a rather new Quinta for wine production. José António Ramos Pinto Rosas, the grandson of Ramos Pinto's founder, discovered the place which was not being used at the time. Unfortunately the owners did not want to sell the property, but the revolution in 1974 was followed by a period of unsteadiness and fear of expropriation among the landowners, so they finally decided to sell the property (originally named Quinta de Santa Maria which had only been used for cereal crops).
Soon Ramos Pinto engaged the young and newly educated oenologist, João Nicolau de Almeida as their winemaker. He was the nephew of the owner and son of the renowned winemaker, Fernando Nicolau de Almeida, who had created Ferreira's (if not Douro's) most famous table wine, Barca Velha.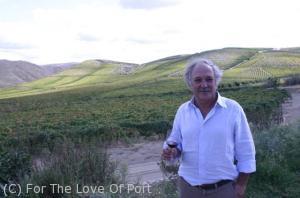 It is João Nicolau de Almeida who welcomed us, showed us around at Ervamoira and invited us for lunch afterwards on the veranda with a beautiful view overlooking the vertically planted vineyards (vinha ao alto) and the almond trees. It was here that João studied and selected the five key grape varieties, which today, are the most important cultivars utilized in Port production.
"The foundation of Ramos Pinto has always been two big pillars, wine production and culture – and both have a long perspective. The culture evolves during the years, as well as the Port improves, when it is stored in the cellars," João explained to me, while sharing a glass of chilly Lágrima, (a sweet White Port) poured from a bottle which had a portrait of Jesus on the label. Again the artwork possesses a reference to religion.
João showed us around the entire museum, which exhibits photos, old pottery and archaeological findings from the Val de Côa. Some of the findings are from the Stone Age; while others were from the Roman Empire. During that time, a road leading from Madrid to Oporto passed through the valley.
"The first archaeological findings were discovered in 1993. Because of that, you may wonder why that up until 1996, they were planning to construct a big dam here in the valley, so the entire area, including etchings from the Palaeolithic age and this Quinta, would have disappeared under water," Joâo said. Fortunately the government eventually decided to halt the plan, and in 1998 UNESCO designated the valley as a World Heritage site. Today Ramos Pinto shows their gratitude within the confines of their museum, and in addition they are contributing to the continuous excavations in the valley.
João Nicolau de Almeida looks grateful with the result, and why not? Quinta da Ervamoira is indeed a World Heritage site, and if you taste the company's 10 year old Tawny from Ervamoira – one of the only Single Quinta Tawny Ports with age – you will agree. It is like a seductive kiss, as is the one on the painting above me right now. And no, it is not the old plastic bag from years ago. It is a new poster which I brought back all the way from Ervamoira to Denmark, as a wonderful memory of that extraordinary day spent with João in the Douro.
Article and photos by Bjarne Mouridsen © January 2012