This my twentieth year since first visiting the Douro, has provided me pause for thought. While looking back on two decades of visits to Northern Portugal, I've taken time to consider all of the people that I have met in the Port and Douro wine trade. It has also allowed me to sit back and realize how fortunate I have been to bear witness to the myriad changes that have taken place in Porto, Vila Nova de Gaia and especially the Douro region. A most monumental transformation that comes to mind has been the exponential qualitative advances in the Alto Douro's DOC wine production, even more dramatic than those of Port wine. And that, is saying a lot.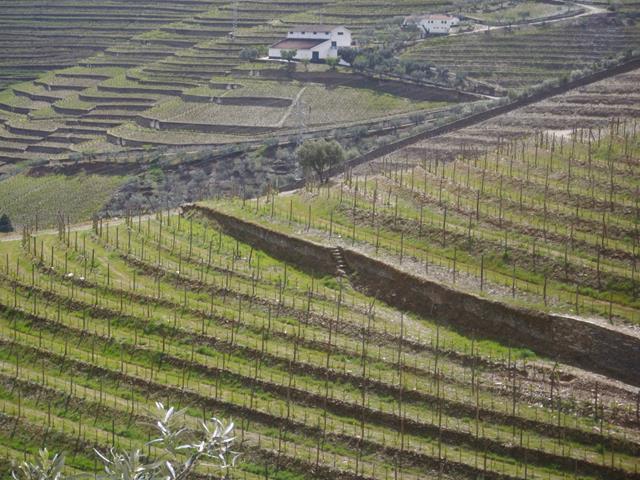 The Early Days
Beyond the iconic Barca Velha which launched back in 1952, only a few pioneers began making still wines in the Douro during the 1970s and 1980s; the majority of which were rustic and simple, some even insipid. Things began to morph when Portugal joined the European Economic Community in 1986, and later, when EU investment along with swift regulatory modifications created new opportunities for Douro grape farmers. Grape production in the region had solely been earmarked for Port wine for three centuries. The newly established prerogative for Douro grape producers to bottle and market their own Port up in the Douro, (if they owned Beneficio rights) rather than just selling grapes/wine to the large well-known Port firms, historically based in Gaia. It was a game changer that brought the real beginnings of the region's renaissance.
When I first visited the Douro in mid-1994, there wasn't a single hotel to be found upriver and none of the Port shippers were talking about the embryonic stage of a table wine industry, no less oeno-tourism. The few non-fortified wines that existed at that time were mostly experimental, with learning curves as steep as Douro's terraced vineyards. Back then, Douro wines were virtually unknown outside of Portugal, with very few exceptions.
Awakening
Forward thinkers like Fernando Nicolau de Almeida, Miguel Champalimaud, Dirk Niepoort, Cristiano van Zeller (and a few others), were early pioneers in producing non-fortified wines from Douro grapes. A few of these individuals, along with consulting oenologists from other countries helped fledgling producers in the region. The new wave of University of Trás-os-Montes and Alto Douro trained oenologists as well as the arrival of the new millennium, brought forth the modern day table wine revolution and it has continued to evolve ever since.
I believe that the increased frequency of consolidations within the Port trade, (especially from 2001-2008) influenced some small and mid-sized Port grape/wine suppliers to convert their business models and become producers, utilizing their own quinta and/or brand names. That said, there were many good reasons, mostly spurred on by innovation and potential economic opportunity in the Douro, for the sheer volume of new producers and further development of vineyards. Of the region's quarter million total hectares, slightly more than 45,000 ha are covered by vines today; farmed by approximately 40,000 owner/growers.
More Recently
The quality of Douro wine has steadily improved over the past decade. While there were several really well-made Douro reds from vintages such as 1999, 2000 and more so in 2001, (far less consistent in the rain-soaked harvest of 2002 and the ultra-hot 2003). I consider 2004 the first "benchmark" vintage for many producers. Since then, there have been quite a few very solid years for DOC reds: 2005, 2007, 2008 and especially 2009, come to mind.
The crop of bottlings from 2011 that I've tasted so far, have been consistently delicious early on and show great upside potential too. A great year for reds, worth trying early, but 2011's will be worth holding on to. I greatly prefer to drink Douro reds with at least five years of age and which is why I find the 2009's are showing so well lately. Many of the better 2011 Douro wines have the raw material and structure to age for at least 15-25 years, and best bottlings, even longer.
The emergence of Douro white wines over the past decade has also been rather dramatic and the quality continues to ratchet upwards as the years go by. I am a huge fan of Douro whites from 2005, 2007, 2008, 2010 and 2011. I've only had a handful from 2012 so far, and most were quite good too. Although I prefer some of the Douro whites that age well, right now a vintage coming into focus and easy to find in the marketplace would be whites from 2010. They are the real deal, a worthy mix of 2008's freshness and 2005's minerality.
For a long time, all but a few Duriense focused solely on red wine production and Port. The prevailing logic was that the Douro climate was not as well suited for white wines due to oppressive heat during the long hot summer months. However, since 2007 there continues to be more whites being produced in vineyards planted in the Douro Superior, at significantly higher elevations; at which cooler temperatures prevail, enabling proper acidity levels to be achieved.
2004: A "Benchmark" DOC Wine Vintage & Its Growing Conditions
I've been buying Douro red wine since the 1996 vintage was first launched and whites since the 2005 vintage. My cellar's makeup has changed and Douro wine now takes up more space than all of my French, Spanish, German and Italian wines combined. As I drink down my stocks from those countries, most of that space winds up being replaced with Douro wine and bottles from other Portuguese wine regions too.
Obviously, I love the character of the Douro, as in most cases the grapes are the same varieties used for Port production, so it's no surprise. When 2004 Douro reds were released, smart people purchased more widely than ever before, as it was a unique and possibly break out year for Douro quality across the board. I remember trying some of them from cask during our very first Port Harvest Tour and was convinced these would be spectacular down the road.
Now, at merely a decade of age, some of the '04 DOC wines are just beginning to hit their stride, while others are still showing extremely young, not unlike Vintage Ports of a similar age. I enjoy following the class of 2004 along its trajectory and see the upside for the best of these wines still a decade or more away from being at their best. The technologies of Douro wine production came of age with 2004, and met Mother Nature for a roller coaster ride as harvest approached.
In some cases, the 2004 Douro vintage was fraught with irregularities and problems that arose, as you'll read in detail below. But more importantly, the decision on when to pick at harvest time was a critical factor and grape peril awaited those that made the wrong choice.
That being said, in my opinion, 2004 reds presented the greatest cross-section of Douro wine excellence upon release. At least for any modern day Douro vintage.
After the spectacular and dry harvest of the overtly warm 2003 vintage, the next few months saw lots of rain showers. Then as if someone turned off the spigot, the first half of 2004 was marked by exceptionally dry weather with cool temperatures during the springtime. The Symington's reported that Quinta do Bomfim, from January to the beginning of May, had only miniscule amounts of precipitation, which equaled below 50% of the ten year average for that time frame.
This dry spell had an impact on the bud break and flowering throughout most of the Douro region. Fortunately, there were ample quantities of rain in the fourth quarter of the previous year. Due to the vertical inclination of the schist in the Douro's vineyards, the vine's roots are well-equipped to meander thirty to forty feet deep down below the surface, to reach whatever reserves of water remain in order to provide liquid mineral nutrient nourishment to the vines.
In May, things really started to change as the temperatures climbed and the sun was constant. There were still no signs of rain and lots of uncertainly loomed heading towards the hot summer months. July brought on temperatures that exceeded 100 degrees Fahrenheit and with the impending August bake, a modicum of concern turned to anxiety as temperatures exceeded 110 degrees F. in the Douro, as they had the previous year. Growers were hoping that things would be different from 2003, which was great for Port, but challenged by Douro wine over-ripeness.
For extremes, there are few wine regions on earth that get as hot as the Alto Douro. In rare instances the Douro Superior, which encompasses properties such as Quinta de Vargellas, Meão, Vesuvio and Canais, amongst others, will occasionally reach temperatures approaching 115 F; and on very rare occasions slightly hotter.
Clearly, the rain dances practiced each evening throughout the Douro seemed to speak to the Gods, as during the 2nd week of the month approached, there were three consecutive days of rain and another couple of days of precipitation later that month. In fact, more rain fell in August of 2004 than any previous August during the past century! Rejoicing took place and copious amounts of Port are rumored to have been consumed throughout the region.
Almost as important as precipitation was the reduction of the heat, as temperatures leveled off and a crop that was destined to produce tasty shriveled raisins instead would now proceed in a more natural and slow progression, with longer hang times.
Slowing down the physiological ripening of grapes is a good thing in the Douro, especially when Mother Nature cooperates.
From Lemons to Lemonade
Decisions were made by individual growers and by the Port shippers if they were to chance picking early in September to avoid "Oidium" (a fungus that causes powdery mildew on grapes) or gamble that the weather would improve and allow the grapes to reach fruition with proper sugar levels. Those that were willing to gamble on the side of patience, were rewarded by unseasonably warm temperatures (about 85 degrees F.) and a dry Indian summer prevailed, providing perfect picking conditions.
The grapes were harvested a few weeks later than average, but in most cases, just prior to the downfall of serious rain that took place early in the 2nd week of October. Disaster had been averted and physiological ripeness was achieved and in some cases the grapes were slightly overripe, better for Port; but for Douro wines, not so much.
Lower than normal yields were seen in the majority of the Douro Superior and Cima Corgo sub-regions, however, the level of color extraction was reported to be very deep by a number of prominent producers that are reviewed below. Additionally, one of the more important dynamics of the harvested grapes is the critical balance of the acidity to sugar levels and in 2004; this was the strong suit of the vintage, evidenced in part by the majority of the wines. What seemed like a potentially disastrous harvest turned out for many, to be exemplary!