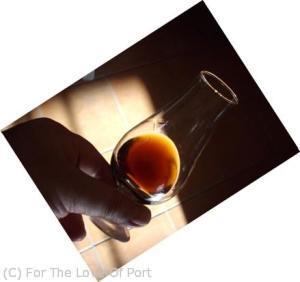 Vintage Port seems to attract the majority of the attention from wine writers and critics, yet the category only makes up 1-2% of all Port wine produced. They age well in the bottle, throwing a "crust" or sediment and may take decades to reach maturity. On the other hand, Tawny Ports which are aged in wood never seem to receive the same degree of recognition, yet they have several significant advantages over their bottle-aged brethren, especially for food-service applications.
First and foremost is their shelf life; a Tawny Port will drink well once open, far longer than any Vintage Port and that difference alone makes them very valuable for wine list placements by-the-glass and sitting on the shelves of a restaurant's back bar. Secondly, tawnies do not require decanting to remove sediment which makes their pop-n-pour charm quite user-friendly for the bartenders and wait staff. Additionally, Tawny Port is one of the easiest pairings with a multitude of dessert dishes and therefore, should be an easy sell for the service staff. Last but not least, the wholesale pricing of most Tawny Ports is quite reasonable, making this category of Port a no-brainer.
First let's define what a Tawny Port is and then we can examine some types of Tawny Port and get a much clearer picture of how they compare and contrast. Next we can discuss the proper way to serve and store these dessert wines and also explore what types of food pairings work best. Then I'll offer up suggestions for some of my personal favorites and provide tasting notes as well.
What is a Tawny Port
Tawny Port is a sweet or medium-dry dessert wine made from red grapes grown in Northern Portugal's Douro Valley, fortified with grape neutral spirit (brandy) and aged in wood casks. Prolonged wood aging is the key ingredient that differentiates Tawny Port from bottle-aged Ports such as LBV (Late Bottled Vintage) and Vintage Port. It is vital to start out with excellent grapes in order to withstand the rigors of extended wood-aging, maintaining fruit flavors and supple structure. Beyond having great grapes to work with, the success of a Tawny is very much dependent on the quality of the "mother blend" which is used to maintain a Port shipper's "house style" when blending in the younger juice. As a Tawny Port oxidizes in cask, the color of the wine slowly evolves from a purplish-ruby color to a lighter topaz-amber-brown.
Miguel Côrte-Real, Commercial & Viticultural Director of Cockburn's remarks, "A good old Tawny is a wine made by at least two different generations, not only by just one and is really made to invite the Port lover "for a second glass." "It's like a kind of "solera" because to keep the house style we can only sell (every year) a small percentage of the entire blend. There is always a "reserve" that we call "Reserva Mãe" (Mother blend) that stays for the next years."
Each shipper chooses their own aging regimen and what type of vessel to use. Most select huge old neutral oak vats, known as "balseiros" (vertically situated casks) or "toneis" (which are casks lain horizontally) containing tens of thousands of liters. These casks have extremely fine pores and gently allow for slow oxidation to take place, minimizing surface contact with the oak, enabling the Tawny to retain freshness of fruit, tannin structure and preventing the introduction of too much oak character at this young stage. Racking takes place once or twice annually to allow inspection of the wine and to further introduce oxygen to the Port. After several years the juice is transferred to smaller Port casks known as "pipes" (or pipas) containing 550 to 600 liters. In these pipes, the transition from ruby to tawny takes place as the fruit mellows, developing secondary aromatics and also flavors of raisins, dried fruits and nutty nuances, while retaining acidity and tannins. Although old neutral oak is used here too, the surface area contact between Port and wood is greatly increased in pipe. This has a greater affect on the Port's phenols through polymerization and esterification and produces the desired Tawny qualities and color.
Evaporation rates are typically in the 1-3% range and can be minimized by controlling humidity in the cellar. The process of topping off (known in Portuguese as "o atesto") is not regulated by the IVDP (Port & Douro Wine Institute) but the vast majority of producers use the same lot of juice for this. However, I do know of some "less traditional" producers that prefer to use younger Port to "refresh" their Tawnies, which enhances the body weight and adds a bit of structure to the more mature juice, providing a fresh lift from this mix.
As João Nicolau de Almeida (winemaker & Managing Director of Ramos Pinto) eloquently puts it, "Vintage is a wine. Tawny is a Port wine." He continues, "Vintage is a wine because it comes from a single year and we try to keep all the red fruit favors in the bottle exactly like a red wine but, in this case, fortified. Tawny is a unique culture of wine making in the world. The majority of Ports sold around the world are Tawnies."
It is important to note that the blending of a tawny from the grapes of various harvests requires a vastly different skill set from typical winemaking acumen. It is not something that can be easily learned by reading books or taking a course in an oenology program. The role of the "master blender" is steeped in centuries old tradition and the art of blending is passed down from one generation to the next, as is the "house style" of a Port shippers' Tawny.
Almeida pontificates, "These Tawnies are alive like people. We cannot leave them isolated in a lost desert. We have to take care of them. Sometimes they need air, so they go for a walk or get sick and need care. The young wines get married very easily, the old ones are more difficult to blend and so we have to be patient and wait longer." "It's like having the keys of a piano (= different lots in the cellar) and you have to play your music. You have to include part of your personality, into the character of your music (blend). You can learn to make your own symphony throughout your entire life."
Types of Tawny Port to Include on a Wine List
Although there are some inexpensive "basic" Tawny Ports which are kept in wood for three years, sometimes labeled as "Fine Tawny" -- these generally don't find their way onto wine lists and are quite simple and rarely that satisfying. An occasional Tawny Reserve, (cask aged a minimum of seven years) will appear on hotel and restaurant's lists and they are typically quite tasty while offering very solid value for customers. Some of my favorites in this category are: Quinta do Portal, Ferreira's Dona Antonia Personal Reserve, Churchill's, Poças and Graham's The Tawny.
There are specialized sub-categories under the wood-aged Port umbrella, (e.g. Garrafeira) but we'll solely focus on the two crème de la crème Tawny types which have the most caché for sommeliers: Tawny Port "with an indication of age" and also Colheita Port (pronounced: cuhl-YAY-tah).
Tawny Port "with an indication of age" is what most Tawny aficionados seek out. Basically they come in four flavors: 10, 20 and 30 year old … and "over 40 years old" (only in the USA is this last Tawny marketed as just "40 year old" for legal reasons I won't bore you with). The following are basic retail price guidelines which will vary from state-to-state and by producer:
10 year old = $18-$32
20 year old = $28-$55
30 year old = $60-$90
40 year old = $95-150
The consistency of the particular house style is the primary goal of the winemaker and master blender, along with producing a wonderful wine year after year. As mentioned earlier, they rack the wines and have a chance to inspect them, once or twice a year. That is why these tawnies do not have any sediment and their clarity is remarkable, and generally these will not improve with age in the bottle. In fact, all bottles must list the date of bottling and I believe, 'the fresher the better.'
Peter Symington, responsible for winemaking and blending over the past 45 vintages, (Graham's, Dow's, Warre's and others owned by the Symington Family Estates) explains, "House style is all important; here is where the blender's skill comes truly in to play. The blender must make a wine which remains constant. The blender has to set aside every year wines which will eventually reflect the required style. As the years go by these different blends of different ages have to be married together so that gradually the blends become similar to the desired house style. I learnt this skill from my father, John, who spent a life-time in the Port trade. He in turn had learnt this art from his father Andrew James, who was blending old Tawny Ports in the 19th century. We still have some old Tawny Ports made by him, and the 1882 being one of the oldest. This is where experience really counts; it is not easy to identify wines at a very young age that will emerge decades later as magnificent yet pale old Tawny Ports. I was very grateful to have been able to learn in this way."
The older these tawnies get, the more concentrated they become due to the further oxidation and greater evaporation over time and this is why they seem sweeter, even though a younger tawny may have originally exhibited the same Baumé. The ages mentioned are not the minimums allowed in the bottle, but they are typically the average age of the blend. Since the IVDP has not clearly stated specific parameters for the age of these tawnies, interpretations vary. Some producers do not look at these four specific indications of age as an average but their versions try to emulate the sensorial impressions that they believe a 10, 20, 30 or 40 year old Tawny Port should look like and taste like. I've never been a fan of the looseness of this nomenclature, but I don't see a clarification being made any time soon.
These wines offer a smooth and silky mouth feel, intensity along with flavors and aromas that vary from nutty to citrusy, caramel, nutmeg, chocolate and liquefied butterscotch. I'll describe each type and then list a few brands that I believe are great ambassadors and worthy of list placements:
10 Year Old Tawny Port: offers good value but quite a few don't exhibit enough evolution and remain too ruby in style. There are exceptions but the majority need more time in wood for the secondary nuances to really develop and the mouthfeel to change substantially. Nonetheless, there are several which stand out in a crowd. Roy Recommends: Quinta da Romaneira, Quinta do Portal, Ferreira's Quinta do Porto, Ramos-Pinto, Niepoort and Quevedo.
20 Year Old Tawny Port: is what great Tawny Port with an indication of age is all about! The color matured to a Tawny state, the tannins softened, layered nuances dance on the palate, and complexity along with stunning texture is well understood after the first sip. More importantly the QPR is in synch with the quality of the juice. Roy Recommends: Ferreira's Duque de Bragança, Vista Alegre, Sandeman, Warre's Otima, Taylor, Poças and Cockburn
30 Year Old Tawny Port: although I'm a fan of this genre, most examples are eclipsed by the quality and value of their 20 Year Old sibling. Several do not provide the freshness and acidity to keep them from seeming cloying. Best examples can deliver extraordinary drinking pleasure, bordering on hedonistic. Seek them out. Roy Recommends: San Leonardo, Vista Alegre, Niepoort, Offley, Dow and Poças.
40 Year Old Tawny Port: At the upper echelon choose between elegant sex appeal vs. ethereal and voluptuous vivacity. Either style works depending on your mood, but select carefully given the pricing. Roy Recommends: Kopke, Quinta do Noval, Taylor, Quinta da Romaneira, San Leonardo, Graham's, Quinta do Portal, Vista Alegre and Sandeman,
Peter Symington provides further insight: "It is important to note that we also use very good parcels of wines made from some grapes bought from some of our very best farmers, with whom we have been working, in most cases, for generations. Most members of my family also farm their own Douro vineyards. I use wines from these estates as well for our old Tawny Ports. These too can be magnificent and gives me and my tasting team a unique 'pallet' of different wines with which to work.
In the past we, and all other Port houses, used to occasionally buy parcels of well aged Tawny Ports from farmers in the Douro. But fewer farmers make their own wines today. I was responsible for proposing to my family that we build a special lodge in the Douro to age a part of our stock of old Tawny Ports. This was the first purpose-built lodge for old Tawny ever built in the Douro. It is important to note that my family has today 17,300 wooden casks with old tawny Ports (mostly in our lodges in Gaia); this is a very substantial investment for the future. The variety and quality contained in these casks is a priceless asset."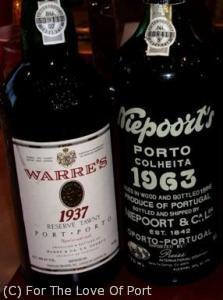 Colheita Port is a single vintage-dated Tawny Port (all grapes are from one harvest) which is aged in wood. In Portuguese, the word "Colheita" means "harvest" and can be construed therefore, to mean vintage as well. Colheita must be aged in cask at least 7 years, but may spend as many as 50 or more years maturing in wood. Look for the date of bottling on the front or the back label along with the words "matured in wood" or "aged in cask" -- both of which are further clues that this is not a Vintage Port. Colheitas can offer excellent value as they're usually less expensive than similarly aged Vintage Ports. There's even less Colheita bottled than Vintage Port, typically only 1% of all Port produced in any given year.
Although the IVDP does insure that characteristics like the flavor profile and color fit within certain parameters for Tawny Ports with an indication of age, they're not as strict for Colheitas in this regard. Colheitas are aged in pipes but may also age solely in balseiros and toneis with aguardente (neutral brandy) added sporadically to maintain the alcohol level of 20%. In terms of topping off, it's a common Colheita practice (unlike other types of tawnies) to refresh with younger Colheitas although traditional producers often choose to use the same lotes to top off. Some producers believe Colheitas age in the bottle and others think this is totally false. To me, it really depends on the producer. This is a controversial discussion point amongst serious Portophiles. The jury is still out.
In 2007, for my 50th birthday, I hosted a historic Colheita tasting with a couple of bottles going back to 1815 and nearly half of the 30 bottles shared were from the 19th century. Additionally, there was a surprise horizontal tasting of nine bottles of Colheita from the exalted 1937 vintage. You can find a detailed report of my World Class Colheita Celebration here on the FTLOP Blog if you are interested in probably the most prolific Colheita tasting ever held; this will provide a fun read.
It should be noted that there are also White Colheitas, the oldest I've had from bottle, was a 1917 Niepoort which was a marvelous drink and I've also enjoyed the 1952 Dalva Golden White Colheita. These have a beautiful flavor profile and extraordinary aromatics and although it is a rare category, they're really worth seeking out.
As you can see in the picture, there are some Colheitas from the 1800's that are still aging in small oak barrels in Vila Nova de Gaia. It is not uncommon to encounter small holdings of really old Colheitas when visiting the Douro too. At the same Port Lodge in Gaia, I also was fortunate to taste and 1863 White Colheita side-by-side with a 1863 Colheita (from red grapes). Neither of these 3 barrel samples, have ever been bottled and the only way to try them is by visiting in person. Colheitas change dramatically during their extended time in cask and take on flavors of dried fruits, nuts, citrus and exotic spices, while becoming very smooth and complex the older they get. However, there are many older bottles available today and the pricing is very solid.
Here are the Colheita producers I would recommend, listed alphabetically:
Andresen, Barros, Borges, Burmester, Cálem, Dalva, Delaforce, Ferreira, Kopke, Niepoort, Offley, Poças, Quevedo, Quinta do Noval, Ramos-Pinto, Rocha, Royal Oporto, Smith Woodhouse, Warre, Weise & Krohn.
To Serve and Protect (Your Tawny Port)

Serving a Tawny Port is easy, as it just requires the proper stemware. I find the best bang for the buck is the Riedel Vinum Port glass which can easily be found online, but there are other less expensive versions that would work better in the foodservice arena. Look for a glass with similar dimensions and aperture as the picture at left: Height and Capacity: 6 1/2"H, 8 1/2 oz. should do the trick nicely.
I prefer to serve Tawny at room temperature or just slightly chilled, and find that pouring Tawny over ice tends to conceal the multi-layered flavors and don't recommend that practice. Vintage Port may be too heavy to drink during the warm summer months and Tawny is a lighter bodied wine and when chilled, makes for a wonderful summer beverage. In France, Tawny is served as a very popular aperitif (France is the #1 Port market in the world!) whereas the people in most other countries choose to drink it after the meal and along with dessert. But like most wines these days, rules are being broken all the time.
There is some controversy as mentioned, how long a Tawny with indication of age can last once the bottle has been opened. I defer to Peter Symington who recommends, "Aged Tawny Ports are not designed to age in bottle and therefore should not be kept in a cellar for further ageing. As they have always lived in an oxygenated atmosphere they do not deteriorate quickly when opened and can be kept for a month or so after being opened." If a restaurant venue can't sell the contents of a bottle in an entire month, it is not the fault of the Port. The good news is that almost all Tawny Ports (but not Colheitas) utilize a T-stopper which makes it very easy to reseal the bottle.
Nothing can incrementally boost tips like the following suggestion for the service staff: Offer clientele flights of "A Century of Port" or try the tag line, "100 Years of Tawny" and offer a taste of each of the 10-20-30-40 year old tawnies by either offering all from one specific Shipper or even more fun is to pick one of the best producers from each specific age category and have something really special to ante up. The only thing that could possibly enhance the post-prandial Port pleasure would be adding the perfect dessert accompaniment. I find that Tawny Ports go well with almost any dessert but I really love pairing them with either coffee and/or vanilla ice cream, crème brûlée or crème caramel, a bowl of mixed nuts, fresh berries with a Sabayon sauce, a multitude of mild flavored cheeses, pecan pie, butterscotch pudding, almond tarts, apricot bread pudding, or that ole' New Orleans favorite, Bananas Foster. Or try this crazy combo that we do at home: light oven-warmed fresh figs sliced and slathered with peanut butter … the perfect foil for a great glass of 20 Year Old Tawny Port, believe it or not! As you can see, Tawny Ports are totally menu friendly and for that reason make for an easy sell at the end of the meal. Last but not least, for those of you who enjoy smoking or selling a great cigar, forget about single malt scotch; as Tawny Port absolutely provides the quintessential pairing and is almost a guarantee for a 2nd glass if not a third.
One final service tip: if you really want to extend the shelf life of a tawny, make sure to recork the bottle and put it in the refrigerator at the end of the night. It may provide an extra few weeks of life to the bottle and certainly will keep it fresher.
Tawny Port Tasting Notes
10 YEAR OLD TAWNY PORT:
Quinta do Portal 10 Year Old Tawny Port – Portal's Tawny Ports always deliver and this 10 Year Old is no exception; quite a tasty little number. It is definitely in my top couple of Ports in this category. Light maple in color with a tawny meniscus, it features fragrant scents of almonds, dates and vanilla bean. Delicate but with enough weight to be taken seriously, I find the pronounced fig and walnut profile impressive, made more so by the elaborate acidity and silky texture. Sophisticated, seamless and seductive with a lingering praline nuance on the finish. 93 points
20 YEAR OLD TAWNY PORT:
Ferreira's Duque de Bragança 20 Year Old Tawny Port – Is there a better 20 year old Tawny Port made than this? I was recently challenged while in Oporto by a talented young Manager of a wine shop, to pick the best of the 20 year olds. He put his favorite up against mine in a blind taste off with our group of guests. I nailed the Duque as my favorite, although his 20 year old was also very good. Actually it was a unanimous vote (blind) for the Ferreira. This is a stellar Tawny with a maple syrup hue and yellow rim. A core of dried apricot, orange blossom, a memory jogging antique-shop-mahogany-scent and bread pudding with raisins deliver a complex aromatic profile that is hard to stop nosing. Each sniff brings new fragrances to the Port party. The infusion of viscous sweet nectar along with exotic ever changing flavors finishes as long as a romantic good night kiss. 95 points
30 YEAR OLD TAWNY PORT:
San Leonardo 30 Year Old Tawny Port – Bottled 2008, but if I remember the story correctly, there was only one pipe of this wine which I believe originated in 1972. Dark amber color with golden edge. This was better the second and third day after it was opened, it really needed a lot of air time. Delicately perfumed nose of ripe peaches, dried apricots, almond paste and golden raisins. Although delicious right at cellar temperature, this gains heft as it warms up and I like it cool but not cold, to maintain the lovely acidity level, but also to enjoy the thick nectar like quality of this 30 year old. Smooth and creamy texture which is a bonus feature after tasting this beauty, filled with dried fruits, pralines, ripe nectarine and lush caramel. Talk about complexity, the finish on this wine is nothing short of incredible with a lingering and complicated aftertaste that rivals most great Madeira. Maybe the finest 30 year old Port, period ... but I'd certainly like to have this side by side with the Vista Alegre 30 in a great taste-off. Wow, I never tire of this wine! 95 points
30 YEAR OLD TAWNY PORT:
Vista Alegre 30 Year Old Tawny Port – This was obviously a Tawny Port or a Colheita. All I can tell you is what I see, smell and taste. A dark orange-amber color with apple green edge. This beauty has an evocative mélange of scents ranging from toasted coconut and orange peel, to latex paint and dried apricot. A hedonistic Port, (I did write down: 30-40 years of bottle age) light to medium bodied and luxuriously textured, the acid-fruit synch is near perfect. Marmalade and butterscotch envelop the palate, with an intense and complex aftertaste. An excellent Port and whether a 30-40 year old Tawny, (or Colheita) or not ... it is stunning regardless. The "reveal" did not shock me at all, as this is one of the 2 or 3 best 30 year olds I've had any number of times at Valegre or at Vinologia. 95 points
40 YEAR OLD TAWNY PORT:
Kopke 40 Year Old Tawny Port – 2009 Sammamish Tawny Fest - 2007 bottling. The Kopke took the Portal up a notch and showed some serious scents of marzipan, citrus, pipe tobacco and nuttiness. In the mouth it was rich and generous with very solid levels of acidity, keeping the sweet nut flavors in check. By the second day this had really come into its own and although it gained no more weight, it certainly seemed even more complex and also far smoother and sumptuous to roll around the tongue. Of all three 40 year olds this was the only one to show zero hints of spirit, which was appreciated. It also offered extremely long length with a nutty praline edged aftertaste. 95 points
Quinta do Noval 40 Year Old Tawny Port – 2009 Sammamish Tawny Fest – bottled in 2002 - this was a fun way to start off the evening. Dark cola color with a tawny rim. Walnut liqueur with maple notes really showed the complexity of the bouquet. Along with a fairly light smattering of VA there was a fine pecan essence which created even greater intricacy. The palate was rich, dense, sweet, nutty, chewy and smooth ... but also provided a good deal of heat as I've found the Noval 40 year old often does when first opened. Medium weight (for now) and it improved dramatically the second day as I saved a glass to evaluate. It not only put on some more weight but the acidity and balance seemed to be more focused. An outstanding 40 year old that should be decanted for several hours before consumption. 95 points
OLD COLHEITA PORT:
1968 Porto Quevedo Colheita Port – bottled in 1999 which was a fun discussion point during the presentation to a very Port-curious group of Seattle Sommeliers @ The Corson Building. Dark, cloudy and maple in color with some bricking on the edge and red glints in the center. Medium body weight but showing more richness on the palate. There was a focused precision that was palpable in his Colheita and the 103 degrees probably kept this from showing its best. Notes of nectarine, walnut, alcohol and caramel made for an intense bouquet. Great texturally with a long finish and gorgeous aftertaste with a hint of mint and eucalyptus that was unmistakable. Some noted root beer which I did not perceive, but the vibrant acidity kept things harmonious. 93+ points
1952 Dalva Golden White White Colheita Port – From C. da Silva with a 2008 bottling date. I never tire of this particular Port and was happy to share it with my brother for the very first time. It was showing beautifully after a breathtaking grouping of white and red Burgundies with a serious group of wine lovers in Colorado. Dark amber-orange in color, the nose itself is worth the price of admission, with a genteel toasty coconut and praline edge, some overripe pineapple and bright mandarin orange influence. An impressive half century old Port with great intensity on the palate as well, with enough acidity to keep the sweet nutty and citrus flavors in check. There is also a truly sublime and sensuous mouthfeel leading to a complex and lingering aftertaste. An absolutely stunning impression is left on the salivary glands, reminiscent of a stellar bottle of Madeira. I must get more of this before it is gone for good! 96+ points
1937 Warre's Colheita Port – 2009 Sammamish Tawny Fest - Brick red-orange hue with a broad golden edge. Intense notes of gingerbread, toasted almonds, mace and citrus. Very full-bodied with a smooth and creamy texture. Nutty with a praline-hazelnut profile along with roasted nuts and light citrus backdrop and an aftertaste of burnt sugar and toffee. The only knock on this Colheita was the surprisingly modest length to the finish. Otherwise, it offered plenty of complexity both aromatically and on the palate and was one of the finest Ports we tasted this evening. "Sensuousity" in a glass! 96 points
This slideshow requires JavaScript.