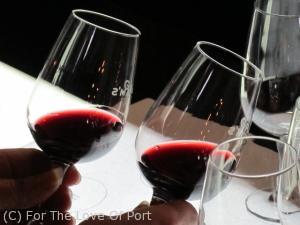 For those who are just beginning with Port wine exploration or even for the serious enthusiast, this is a very solid category of Port. Here are 3 good reasons for buying this type of Port regardless of your level of wine knowledge or discretionary income.
1. Value for the Money
Between a basic Ruby Port and LBV, comes this fine category of what used to be called "Vintage Character Port". It was ultimately deemed by the trade to be too confusing to consumers. In 2005, nomenclature changes took place and the IVDP renamed this category Ruby Reserve (and/or Reserve Ruby). Pricing on these Ports is quite reasonable and provides a LOT of drinking pleasure in a Port that should sell at retail within the $12-$18 range. On a given evening or at a time when Vintage Port, TWAIOA (Tawnies with an indication of age) or a fine glass of Colheita is not possible, or even something less expensive is desired -- these Ruby Reserve Ports make for very easy sippers and are also great to cook with.
2. Quality
Why open a Reserve Ruby when you can get a far more serious Port by opening a Vintage Port or 20 year old Tawny, (to name just two other great categories of Ports)? It is simple. you don't eat steak every night because it would lose its speciality and become routine. Diversity is good. Same with this category of Port too, mix it up on a weeknight after a rough day at work, or pour a glass to enjoy with your dinner.  What is better than just having a glass of Port while surfing the web, watching a fun flick on TV or listening to some fine music?
3. Convenience
On a moment's notice you can pick up a bottle at a wine shop or even most grocery stores that have a wine section. Then again, you may keep some bottles of Ruby Reserve/Reserve Ruby (terms are interchangeable) at home as "cellar defenders." Within this category of Port you really don't have to worry about sediment unless you've forgotten a bottle for a decade or more, at which time there may be some small amount of sediment that has precipitated out. Regardless, this is the kind of Port you can open any time you'd like, without any prior thought or preparation. It is best served just a few degrees cooler than room temp, so I suggest putting it into your refrigerator for 5-10 minutes, (unless it was removed from a temperature controled wine cellar). If you prefer and/or time does not permit prior planning at all, simply serve it at room temp. These Ports don't need much air time, although I have found that some can be slightly spirity early on. By the 2nd or 3rd day nearly all will improve slightly, often gaining a little more body weight and they may seem more well-balanced and with greater depth.
Reserve Ruby Ports
Here are a half dozen tried and true bottlings to seek out, in no particular order: