The machine in the picture is a tangential filter which is used in the enormous Port warehouse and production facility for Gran Cruz in Vila Nova de Gaia. Its main function: the cleaning and microbial stabilization of wines.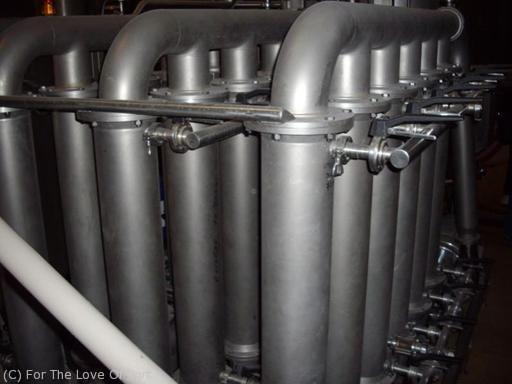 This equipment is specifically used to filter liquids of its small impurities that remain in suspension ... in this case ... after transfilling the wine. The external surface is made of stainless steel.
Instead of membranes of organic material, the basis of these filters consists of thin membranes that have great advantages over the classical method of filtration. For example, it can handle filtration for large volume flows of liquid. These tangential filters with ceramic membranes (with a total of 2,000 capillaries per stainless steel tube) will last 3-5 times longer than membranes made of organic material;
They also have excellent mechanical strength, can stand up to high temperatures and sterilize with steam;
Easy cleaning: Detergents may be used without any problem, since these filters are very resistant to acidic and basic environments and solvents;
In summary, this system allows for large scale filling, filtering, draining, rinsing and washing in an
automatic cycle that can handle up to 350,000 liters in 48 hours. You won't see this type of equipment unless visiting a high volume producer of wine.