In Japan, the art of sword making is revered as a sacred art. So much so that the best swords ever made are considered national treasures and cannot leave national territory. One could argue that Port wine should be treated equally. However, depriving the rest of the world from its liquid splendor would be utterly selfish. And so it is that some fortunate few are able to taste wonders worthy of the ancient gods.
This strange introduction has a purpose. In Japan, the reverence is not only directed at the creations but also at their creators. The best swordsmiths are honored as living national treasures. If such a distinction would ever exist in Portugal for winemakers, António Agrellos would figure among those very select few. It is not every day that one has the opportunity of having the undivided attention of such a man, and to talk openly about so many aspects of Port and Douro wines.
Again, as with João Nicolau de Almeida, this was not an interview, but a very engaging talk between one wine lover and a wine master. My role is solely to try and capture the essence of António Agrellos in words, and to present it to you in such a way that may do him justice. I truly hope that my memory and my inspiration do not fail or fade away before the end.
António Agrellos was born in Porto and has lived here ever since. Port wine ran in his family for generations before him, and so it comes as no surprise that the Douro has always exerted a particular fascination for him. But winemaking was not his first career choice. After finishing high school, he went on to study architecture. However, with the Portuguese revolution came troubled times within the faculty, with political turmoil disrupting study plans.
These were times when politics were all that mattered for most students, but he felt differently. At this point, he paused to reassess his career choices. He then realized that most of the family talks revolved around wine, that all his friends were from the wine world and that he himself felt inescapably drawn to wine´s mysteries. Besides, the reputation of the Bordeaux wine school was far-reaching, and one of his friends, João Nicolau de Almeida, had just returned from there. He figured it would be a unique opportunity to learn from the best and also a much welcome change for the better compared to the post-revolution chaos.
Most curiously, even if he was in Architecture, he had to attend several science classes, including organic chemistry. As a result, he was granted equivalence to those subjects and entered directly to the second year at Bordeaux, which was where the actual winemaking and viticulture subjects were taught. During that year, he also completed the wine tasting subjects, which were normally taught in the third year.
He returned to Portugal and started working as a winemaker in 1978 at Real Companhia Velha, under Frederico Van Zeller. He then worked for five years at Casa Ferreirinha, under Fernando Nicolau de Almeida, father of João Nicolau de Almeida and creator of the mythical Barca Velha. In his own words, he was fortunate enough to have worked with two of the three greatest Port wine masters ever: Frederico Van Zeller, Fernando Nicolau de Almeida and Bruce Guimaraens.
When asked whether it was nature or nurture that made him the winemaker he became, he likes to think that nature must have had a role. After all, five generations of winemakers in the family must be a result of a particular talent for wine. Moreover, being raised inside the wine world does give you a head start. But this does not diminish the admiration he nurtures for his masters, nor the gratitude he feels towards their teachings.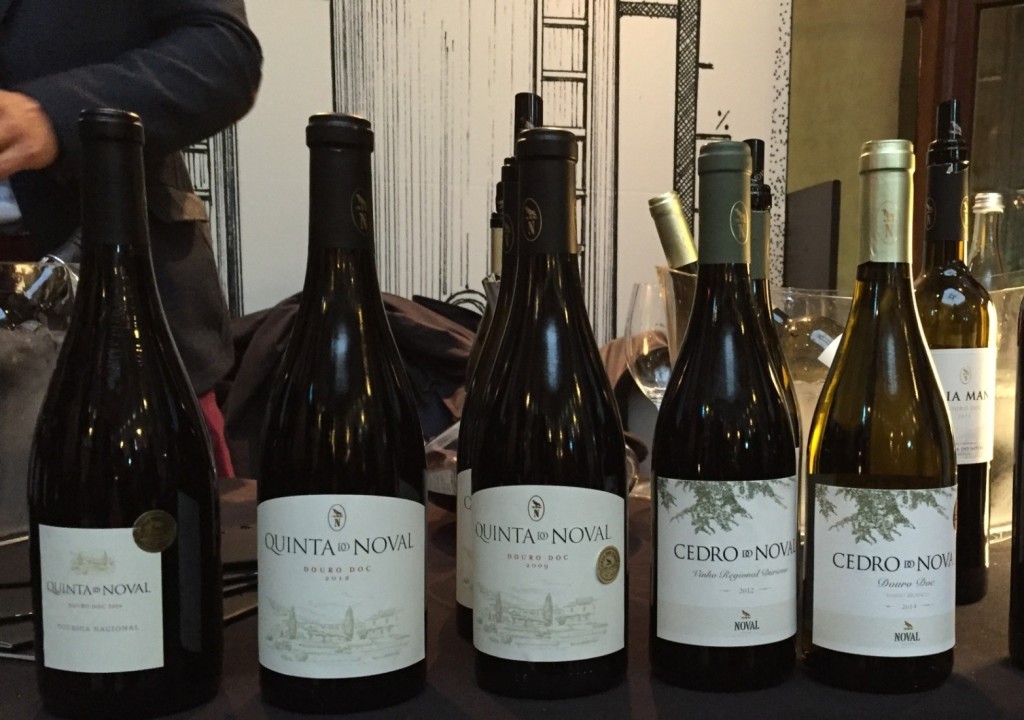 After five years at Casa Ferreirinha, he returned to his family´s vineyards in São Mamede do Ribatua, where they had a joint venture with Sandeman. During that time he learned much about the business side of wine, and this experience was vital for the role he would later assume.
Through Van Zeller, he was invited to become winemaker at Quinta do Noval. Those were hard times at the Quinta, which was long past its glory days. The wines were not nearly as good as those from the 1960s and '70s, and the priority was, as has always been, Vintage Port. This left little room for exploring other paths. Quinta do Noval was eventually bought by AXA, the insurance company in 1993. Fortunately, AXA understood that Quinta do Noval was capable of producing truly special wines, and that quality, not quantity or profit, should be the priority.
This decision ended up by joining Christian Seely on the managing side, with António Agrellos as the head winemaker. At this point, António Agrellos launched a challenge to the wine-savvy Christian Seely, "Let me have the liberty to oversee the renewal of the vineyard and we will produce marvelous things". To this Christian replied, "Do as you wish, and as long as I like the wines, we will sell them."
Thus began a long process of reviving Quinta do Noval, one of the best vineyards in the Douro, with a legendary parcel of ungrafted vines unaffected by Phylloxera, whose grapes give birth to the most iconic Vintage Port -- Quinta do Noval Nacional. Under António Agrellos, Quinta do Noval recovered the former glory and reclaimed its rightful place among the best Port producers. Just as an example, since he became the wine director, he achieved 100 points at Wine Spectator not one, but four times with Vintage Ports. This does mean something, even for those who disdain ratings.
Most importantly, Quinta do Noval is a single estate, with much smaller production than the big Port wine companies, in a very competitive market. And why is this so important? The big companies have hundreds of hectares of vineyards to choose from, and when they declare a Vintage, they can combine wines from different vineyards to create their vintages. In slightly "lesser" years, sometimes they produce Single Quinta Vintages, which are produced from grapes of only one vineyard. So, in a sense, there is a tendency to look upon Single Quinta Vintages as being a step below a proper Vintage. Well, to put it quite simply, this view is obsolete and potentially wrong. Within these same big companies, there are numerous examples in contrary, like Quinta do Vesúvio, Quinta Senhora da Ribeira, Quinta de Vargellas, which produce beautiful top-range Vintages which in recent years have been gaining "independence" and reclaiming their rightful place among Port wine royalty. And, of course, there is Quinta do Noval, which by definition only produces Single Quinta Vintage Ports of a quality second to none.
But how does a smaller producer survive within such a competitive market? The answer was given without hesitation: by never ever compromising quality and by keeping the standards very, very high. Quinta do Noval cannot compete through volume, so in order to be viable, it needs to be able to consistently be up there with the very best.
Quinta do Noval is best known for their Vintage Ports, especially the Noval Nacional, only produced in very, very special years from one parcel of ungrafted vines that have resisted Phylloxera. But they also produce spectacular Colheitas and blended Tawnies with an indication of age, as well as Douro reds and whites. So, the question arises: how does he choose what goes where?
The answer is in the grapes. Generally speaking, in every vineyard there are some parcels that, for whatever reason, produce consistently better grapes than the others. But on top of this there is enormous variability between years, and thus much of the winemakers work during vintage is done by tasting the grapes and assessing their ideal point for harvest. This is an art form in itself, not something that can be done by looking at the chemical analysis.
At this point, a lot of other factors come into play. The secular rules that govern Port making and Port trade do not allow the production of Port wine from all the grapes in a given estate, nor from every estate. To avoid flooding the market with Port wine, the total quantity of Port wine to be produced is set by the governing body, IVDP (Instituto do Vinhos do Douro e Porto). Within this limit, the authorization to produce Port wine (called Benefício) is attributed to each vineyard as a percentage of the total production capacity of that vineyard. Given the variety of terroirs in the Douro valley, a classification system was devised by which the vineyards were classified from A to F, with A vineyards being the best for Port wine production. Even the best classified vineyards are only attributed a Benefício of 50%, meaning that only half of the total production can be used to make Port wine.
In António Agrellos' view, the Beneficio is an outdated and unfair system, but at the same time a necessary evil. Eliminating the limit on total Port wine production would result in the flooding of the market with cheaper and lesser quality wines, in search of quick profits and could perhaps jeopardize Port wine´s future. However, he feels that the best vineyards, (letters A, B and C) should be allowed to produce Port wine at full capacity and only in those years where the combined production of these vineyards was not enough for the market needs, would the authorization be extended to the others. This would, however, result in the loss of a significant source of revenue for a lot of small Duriense growers with vineyards graded D-F. The socio-economic impact would be huge, he reckons, and so these producers should receive compensations for the loss of income. But he feels that this measure would allow an increase in Port wine quality that could ensure a better future for the region.
But back to the vineyard and to what goes where. An estate such as Quinta do Noval can only turn about half of their whole production into Port wine. What happens to the rest then? It was only in the last 20 years that the producers started to think seriously about producing non-fortified wines. Until then, the best grapes went for Port wine and the others were not important. In the last 20 years the landscape has changed dramatically. In the vineyards best suited for Port wine, like Quinta do Noval, it would of course be a sacrilege not to save the best for Port, but even in these vineyards there are a lot of fantastic grapes that due to the Benefício, cannot be turned into Port wine. Proof of that is the widespread acclaim that the reds produced here have been achieving. Other vineyards are perhaps better suited for reds and whites than for Port, and these are now being carefully and skillfully explored. The result is the uprising of Douro red, confirming the region´s potential for these wines.
Will Douro reds achieve a widespread and undisputed acclamation as some of the best reds in the world? António Agrellos thinks they will, now that the days of overly extracted and excessively wooded wines are over and that the quest for elegance is being actively pursued. The whites will get there too, in time, but he is definitely more a fan of red wines, so this is where he will focus his attention.
Now let me take you back to Port wine, bearing in mind the winemaker's dilemma. At Quinta do Noval, only the best of the best go into producing the Vintage Ports. Then, there are Ports which, due to their structure, will undoubtedly last and therefore will handle long periods of aging in wood. These are saved for Colheitas and Tawnies. Building a Tawny Port with an Indication of Age is, according to António Agrellos, like playing piano. A melody is composed of different individual notes, with the whole being much more than the sum of its parts. To make a Tawny, the wines must be carefully chosen to build a beautiful melody. Some wines, however, are a melody by themselves, and stand out from the rest. These are released as Colheitas. We happened to be drinking 2000 Quinta do Noval Colheita during this conversation, and I couldn't agree more with the statement.
What, then, is the invisible thread linking all these different wines together? António Agrellos describes this beautifully: Wines, you see, must age like women. They must remain elegant and retain a whiff of youth in them.
António Agrellos is also head winemaker at Quinta da Romaneira since 2004, which is another iconic property in the Douro Valley. Curiously, I had the opportunity to taste some of the new reds from this estate at Essência do Vinho just a few weeks before meeting him. Therefore, I felt it was fitting to write about these wines in a bit more detail below. The terroir at Quinta da Romaneira is particularly suited for Douro wines, especially reds, which tend to be very elegant and less powerful than the ones from Quinta do Noval. In an endless pursuit of better wines, António insisted on testing other grape varieties not traditionally planted in the Douro valley, like Syrah and Petit Verdot. Some of these experiments did not work out so well, as with Cabernet Sauvignon; yet both Syrah and Petit Verdot are definitely keepers.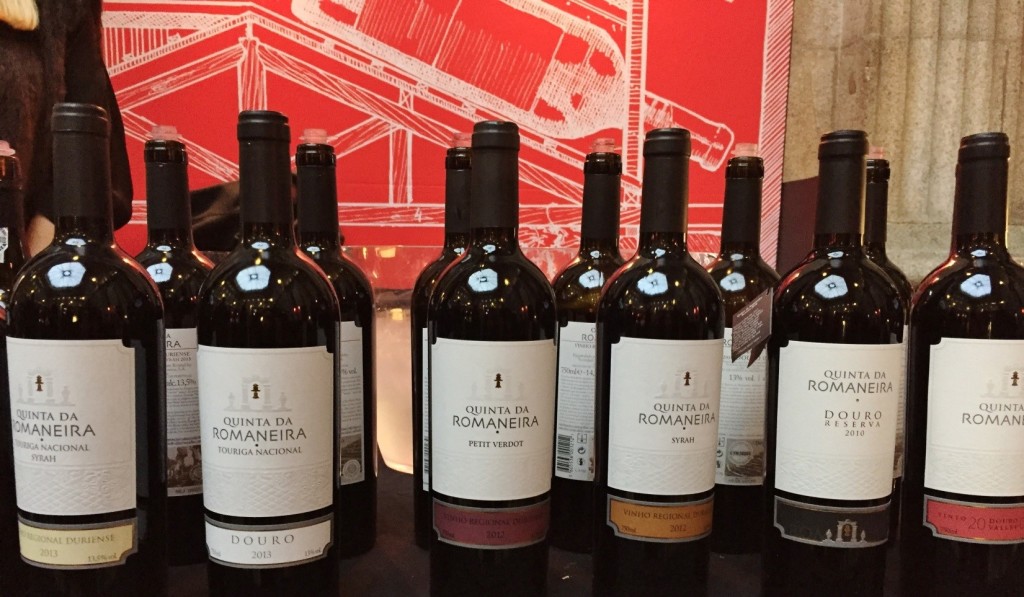 The problem, however, is that even if the wines turned out to be properly good wines, they cannot be sold as DOC Douro wines because they are produced from unauthorized varieties of the region. This, he feels, is an obsolete view that not only does nothing in favor of the Douro but also hinders creativity. In the end, there is so much variety in the Douro Valley that there is no such thing as a prototypical "Douro" red wine, and as such, the quality of the wines should matter more than the grape varieties.
With this said, António does have favorite grape varieties, Touriga Nacional and Touriga Franca were the first ones he mentioned. He also thinks that we still have not found the best Tinta Roriz clones, but once we do we will see the real potential of that variety.
António feels that the new generation of winemakers is bringing a much needed fresh take on Douro reds and whites, and will be a keystone in pushing the region forward. He reckons, however, that these young producers could and should do much more field work like the one made by João Nicolau de Almeida, as there are many grape varieties yet to be properly studied. He has no doubt that if there was a generalized interest in pursuing this, the end result would be a much richer landscape regarding wines, as the Douro Valley is probably the most versatile wine region in the world, and certainly one of the best. Where else can top reds and whites be produced, alongside sparkling wines, Moscatel and Port?
What was António's greatest achievement? To have been able to restore Quinta do Noval to its former glory and to have produced some truly great wines. But he is still not satisfied. He believes he can achieve 100 points in a Douro red. I will certainly enjoy each try.
Oh, I almost forgot. I did not resist asking one final question, "Do you think you have been able to make a Port as good as the 1963 Noval Nacional? The answer, for all of those who, like me, were eager for it: "Yes, I honestly believe that the 2011 Noval Nacional can be that wine." May you all have the privilege of drinking one of those bottles, when the wine comes of age.
And, for those of you who are still in the mood for reading a few more lines of my creation, you will find the tasting notes for Quinta do Noval and Quinta da Romaneira red wines that I was able to taste during Porto's recent wine festival, Essência do Vinho: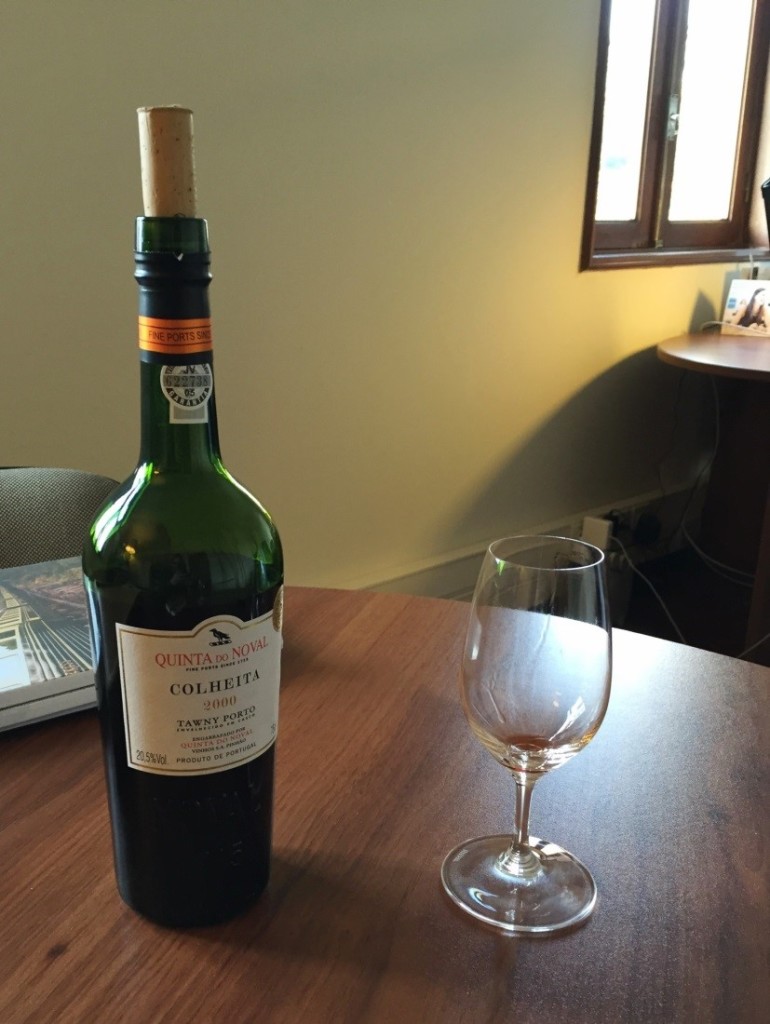 Sino da Romaneira 2011 (red)
Made from Touriga Nacional (25%), Touriga Franca (25%), Tinta Roriz (30%) and Tinto Cão (20%), this wine was aged for 14 months in 225 L oak barrels.
A bit closed on the nose, more floral and peppery than fruity. On the palate it is medium-bodied, balanced and very well integrated. A great bargain for the price (at less than 10 Euros/bottle in Portugal, I have to agree with João Paulo Martins, only those who do not appreciate wine, will not like this one).
Quinta da Romaneira 2009
Made from Touriga Nacional (50%), Touriga Franca (40%) and Tinto Cão (10%), this wine was also aged for 14 months in 225 L oak barrels. Elegant bouquet more floral and peppery than fruity, on the palate it is medium-bodied, fruity, poised and elegant, with a very nice acidity and velvety tannins. Like the style, and is aging quite well.
Quinta da Romaneira Reserva 2010
Made from Touriga Nacional (55%) and Touriga Franca (45%) and again aged for 14 months in 225L oak barrels. More expressive than the others, showing a more floral and fruity character on the nose. On the palate it is more structured but remains very elegant and poised, with very well integrated tannins and a long and peppery finish. A truly great wine wine.
Quinta da Romaneira Syrah 2012
Again aged for 14 months in 225L oak barrels, this is a lovely Syrah, with exuberant red fruits on the nose but also a peppery and leathery character, on the palate very elegant, with round tannins.
Quinta do Noval 2009
Made from Touriga Nacional (50%), Touriga Franca (40%) and Tinto Cão (10%), this wine was aged for 18 months in 225 L oak barrels. Completely different in style from the Romaneira wines, more concentrated, dark fruits and pepper on the nose. Full-bodied and tannic, with very well integrated wood, it is one of those grand Douro wines that will age beautifully and is now only in its youth.