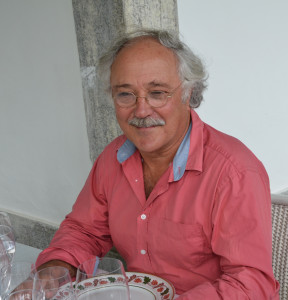 "You look typical Alencar! Fit for the drawing and for the statue!"
Translated from "Os Maias", by Eça de Queirós
It was a cold and rainy morning, one of those that lend itself to introspection and to putting life into perspective. His smile, though, was warm and welcoming. And could it be any different? For outside the window, there it stood, in all its awe, the mighty Douro River and the riverside Porto, in its granite poise. That, I dare say, is "a room with a view", a novel in itself.
But this man was not made inside this study, or contemplating this view. The man we honor today has reshaped the Douro with his hands, his knowledge and his will. And through this, he ascended to the nobility of wine.
I am not a journalist, and this was not an interview. If anything, I am a writer, and all writers like a good story. In this one, I tried to capture the essence of this great man, and that invisible thread that guided his choices and decisions. I hope to present you with at least a reasonable drawing (and, in case you are wondering, I did not even try to aim for the statue).
João Nicolau de Almeida was born into a wine family. His mother was from the Ramos Pinto family, and his father was the great Fernando Nicolau de Almeida, the master behind Barca Velha, that iconic Douro wine. He was born in a time when the Douro was far, far away from Porto. So far away that, during vintage, his father would go up river to return almost two months after departure.
Curiously, that was not why he chose to dedicate his life to wine. He was planning on taking a major in economics, until one family dinner changed his plans and his life. For in that dinner his father told him that, were he to pursue oenology, he would be sent to study in France. In those days, France was a world away and the stuff of legends, and this in itself was an irresistible allure for a young man.
Bordeaux was the center of the wine universe at that time, with the wine school following in the footsteps of the seminal works on wine by Louis Pasteur (yes, the same man who invented the vaccine against rabies and the pasteurization of wine and milk). There he discovered chemistry, biology, viticulture and oenology, all working together to produce that liquid work of art called wine. He avidly and eagerly absorbed them all, and despite several invitations to pursue doctoral studies, all he wanted, was to bring back all that knowledge to Portugal and the Douro.
He returned a couple of years after the revolution, in 1976, and was shocked upon realizing the striking contrasts between France and the Douro. He came back to find an impoverished land, without decent roads, where each vineyard was a microcosm in itself, mostly isolated from the next. Apart from Barca Velha and a few other wines, Douro wine was mostly non-existent and only Port wine mattered. To make things worse, only the Port shippers in Gaia were allowed to bottle and sell Port wine, but not the vineyard owners up in the Douro. This resulted in a schizophrenic situation in which there was almost no connection between viticulture and wine, (even though this sounds strange, as they are intrinsically linked, this connection is not always true or automatic). Moreover, there was little knowledge on individual grape varieties, and even though there were great vineyards throughout the Douro, knowledge of the reasons behind this was surprisingly imperfect in its limitation.
In this setting, João Nicolau the Almeida set on a path to almost reinvent the wheel. He created three exploration poles, one in each sub-region of the Douro valley (Baixo Corgo, Cima Corgo and Douro Superior) and another fourth exploration pole to test altitude's effect on the grapes. He asked his father and a couple of other masters to select twelve different grape varieties from the more than eighty that were believed to exist in the region, and went on to study those varieties in the four exploration poles. From vine to wine, he gained an invaluable knowledge of the grapes, the wines and the Douro region.
Preliminary conclusions of his works were presented at the University of Trás-os-Montes e Alto Douro in 1981, and were the subject of much debate and controversy. As it happens, in 1983 the World Bank returned for the second time in history to Portugal, due to a huge financial crisis. As part of the stimulus package, a huge investment was made to modernize and expand viticulture in the Douro valley, resulting in the planting of 2500 hectares of vineyards. Given the otherwise scarce systematic knowledge of grape varieties, the seminal works by João Nicolau de Almeida were used as a basis for that program. Therefore, he is responsible for the reshaping of the Douro valley. The outcome would definitely have been much different had he followed another course.
But his role in reshaping the Douro does not end there. Traditionally, the vineyards in the Douro Valley had been planted for centuries, on precipitous slopes. However, at Quinta das Murças, there was one vineyard where the vines were vertically inclined. This was most unusual, and so he decided to study the advantages and disadvantages of this arrangement. From his conclusions, unless the inclination is above 45 degrees, this vertical arrangement allows better irrigation, less erosion, facilitates infection control, greater yields (increased planting density while maintaining low yields per vine to ensure grape quality) and greater efficiency through mechanization. This arrangement was, therefore, introduced in most of the newly planted vineyards owned by Ramos Pinto, and has been kept that way ever since.
During his long career at Ramos Pinto, João was the first to experiment with different types of aguardente (grape neutral spirit) which are used to fortify Port wine. Moreover, he succeeded in reviving the Vintage Port house style at Ramos Pinto, better known for their tawnies. When asked to compare both styles, he refused. But João does not resist adding that, according to his father, a Vintage is a wine, a Tawny is Port wine. And I have to agree, in that if you are given a great vineyard and a great year, you will be able to produce a great vintage. But for tawnies this is just the start of the adventure, as patience, tasting and blending mastery all come into play to achieve a great tawny. João feels tawnies are the future of Port, but this future is endangered by the need for quick and painless profit, as opposed to long-term investments.
Asked what is his favorite Tawny? "Ramos Pinto 20 Year Old; definitely."
João was also partly responsible for the uprising in Douro wines, since the launch of Duas Quintas took place in 1990. For this wine, he combined the grapes of two vineyards, Quinta de Ervamoira and Quinta dos Bons Ares. The warmer and drier climate of Quinta da Ervamoira allowed greater grape maturation, bringing in the structure, balanced by the freshness and elegance of the grapes coming from Quinta dos Bons Ares, where the climate is cooler and rainier. This wine has remained an icon of Douro wines throughout the years. Actually, now that I think of it, Duas Quintas 2009 was the wine served at my wedding. Since 2008, they have also produced a white version, with the Reserva having achieved high praise ever since the very first vintage.
And what lies ahead for Douro wines? There is still much work to be done, but the Douro Valley is perhaps the location in the world with the greatest diversity in terms of grape types, soils, exposure, climate and altitude. Taking advantage of all these conditions and balancing them correctly will produce more and more masterpieces in the years to come. Douro reds (with few exceptions) are in their teenage years, all that needs to be done is to polish the diamonds, making the wines more elegant and refined, less flamboyant and full and marked by wood. The whites are still lagging behind, but João is confident that we will get there in the next decade.
To our delight, João Nicolau de Almeida will maintain a role as a consultant for Ramos Pinto. But, more importantly, he will be dedicating most of his time to a family project in the Alto Douro region - Quinta do Monte Xisto. In his words, Quinta do Monte Xisto is located in an almost perfect location, with south and north-facing slopes, as well as different altitudes, making it possible to find the perfect balance between sweetness and fruitiness on the one side and freshness and acidity on the other. Here, he and his sons were able to put into practice all that accumulated knowledge on grape varieties, viticulture and winemaking to produce truly top-notch wines. They opted for "vinha ao alto" (vertically inclined rows of vines) and they meticulously selected the grape varieties, in some parcels even going back to the ancient tradition of utilizing "field blends". However, this time this was done in a carefully planned way and not, as sometimes happened in the past, almost randomly. But then again, could it be any different with João Nicolau de Almeida?
Quinta do Monte Xisto is an attempt at going back to the roots, to the vineyard, and to the purity of the connection between man and earth. Without pesticides or herbicides, the wines are made, almost literally in the vineyard, tasting the grapes and selecting them on the spot.
It is as if João Nicolau de Almeida is trying to apply the same principles he has inherited from his father, the strict and relentless pursuit for an unattainable perfection, but going one step further (or one step back). Because truly great wines are made in the vineyard.
As you can imagine, this story would not be complete without the appearance of wine. Curiously enough, my conversation with João was accompanied by nothing more than coffee and water, as we both knew that there would be an opportunity to taste some good Ramos Pinto wines later that afternoon, at Essência do Vinho. This is the biggest wine event in northern Portugal, and it is held once a year, in February.
I will finish this post with the tasting notes from the Ramos Pinto wines I tasted at Essencia do Vinho, (I did not taste the whole lineup) and with a heart-felt praise to a great man, João Nicolau de Almeida. Cheers!
Duas Quintas Reserva Tinto 2013
This wine was made from Touriga Nacional, Touriga Francesa and Tinta da Barca. The grapes from Ervamoira were vinified in granite "lagares" and the grapes from Bons Ares in cement and wood. Malolactic fermentation was performed in wood and the wine was aged for 16 months in new and second year oak barrels.
Dense and dark red coloured, on the nose it is mostly marked by Touriga Nacional (violets), followed by red fruits and an earthy, vegetal scent. On the palate it is very balanced, very far from those overly extracted wines; the tannins still sharp but fine-grained and elegant. A great Douro red by all means and standards. And it will keep getting better and better with age, (as I recently confirmed with the 2007 vintage).
Duas Quintas Reserva Branco 2014
This wine was made from four different grape varieties - Viosinho, Rabigato, Arinto and Folgazão (Terrantez) - only 25% of which, was fermented in wood. After fermentation, the wine was aged in oak for 9 months. On the nose there are hints of peach and citrus, as well as white flowers. On the palate the wine is delicate and elegant, with a much welcome freshness and acidity and just the right amount of oak. This is definitely the way to go for Douro whites, less wood, more acidity and not overly fruity. A great wine!
Ramos Pinto Vintage Port 1997
Oh what a vintage! Beautiful red and black fruits on the nose, rich but elegant on the palate, all very well integrated, and with a sweet but not cloying finish. It's quite difficult not to fall in love with this wine.
Ramos Pinto 30 Year Old Tawny Port
As a disclosure, I have a sweet tooth, and there was only one bottle of this tawny on display and I know the 20 Year Old Tawny Port very well, so I opted for this one instead. But I do not like to taste old tawnies at wine tastings. These are wines for introspection, to be tasted in a quiet and peaceful environment, to help put things into perspective. Dark amber in color, nuts and caramel and a hint of spice on the nose, full and sweet on the palate, with a welcome acidity livening up the wine, even if just a bit less than I would have preferred. Still, a fantastic tawny by all standards, and actually the last wine I tasted during the event.