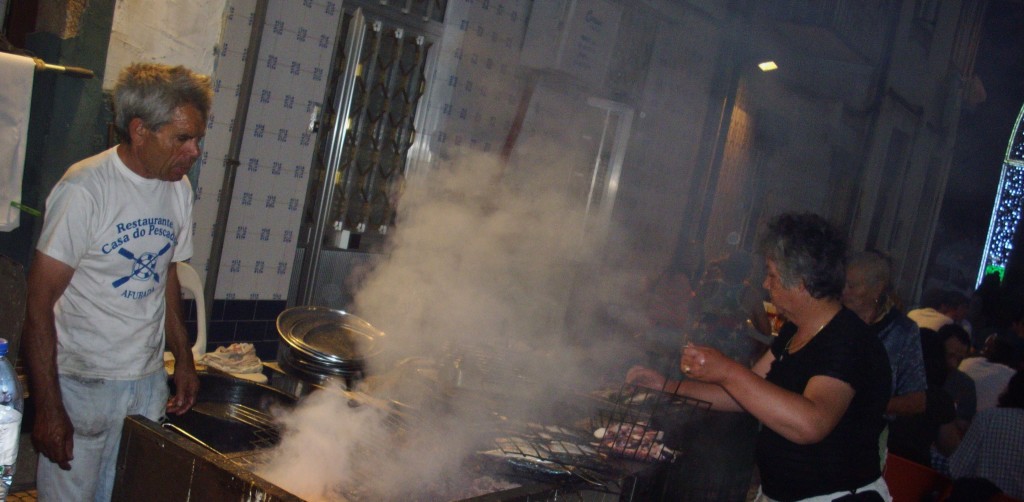 Portugal has always been a country of fisherman and sailors. Being the westernmost country in Europe, and with an extensive coast, the sea has always been our companion.
We have crossed oceans and time to unveil its secrets. We have had our skins darkened and hardened by the sun and salt. We have fought and lost and conquered and perished, we have rejoiced and we have cried. We have risked our lives in cold and wild tides, under rain and sun to capture one of the sea's biggest treasures -- fish. We have, and will, do it over and over again.
Not only have we been blessed with the freshest fish, we have also perfected the art of cooking it. Among the thousands of ways to prepare fish, nowhere will you find grilled fish as good as in Portugal. Grilled to perfection, succulent and still tasting of the sea, it is a real feast for the soul.
It also happens that we not only have fantastic fish, but also fantastic sushi. In Portugal, as in other countries around the world, sushi restaurants have been proliferating like marshmallows, most of them being Chinese-owned and with dubious quality. There are a few exceptions everywhere, and in Portugal these exceptions are due to a couple of interesting facts. After the Second World War, there was an immigration wave of Japanese people into Brazil, especially to the São Paulo area. This was how sushi was introduced to Brazil. Decades later, between the end of the 20th Century and beginning of the 21st Century, with the exodus from Brazil to Portugal, a few Brazilian chefs trained in the art of sushi by the Japanese came to Portugal, bringing their knowledge with them.
As a result, there are both fantastic fish and sushi restaurants in Portugal. Here in Porto, the best fish restaurants are mainly located in the Matosinhos area, near the fish market and, fortunately, they are too many to mention here. As to sushi, there are a handful of restaurants in the Porto area worth mentioning: Terra, Góshò, Ichiban, Kyoto and Romando, (the latter in Vila do Conde). Personally, my wife and I are regular customers at Terra.
For me, grilled fish and sushi scream for white wine. Specifically, for Vinho Verde, a particular Portuguese controlled appellation coming from the Minho and Lima regions, located in the northwest part of the country. The climate there is colder and rainier than in other parts of the country, being particularly suited to produce white wines. The white grapes grown in the region are mainly Alvarinho, Loureiro, Avesso, Trajadura and Arinto. The resulting wines are known for their dryness, distinct minerality and citric zestiness, in addition to white flower notes (in case of Loureiro, for example) and tropical fruits (in the case of Alvarinho).
Alvarinho has long been considered the queen of the grape varieties, and in truth it is royalty, with its sumptuous aromas and mineral poise, as well as a fantastic aging ability, not inferior to Riesling. More recently, other varieties have begun to reclaim a much deserved prestige, especially Loureiro.
For me, there is nothing more pleasurable than the salted sea flavor of the grilled fish tempered by the citric minerality of these wines, cleansing your palate and you soul. As to sushi, the same citric character goes perfectly with the raw fish and, together with the minerality, counter-balances the sweetness of the rice. I particularly appreciate sushi with a drier wine, particularly from the Avesso variety (Covela makes a fabulous one), and also with Loureiro (Quinta do Ameal being my favourite).
But, in truth, this whole post is a bit of mischief, because if you are not planning to come to Portugal, you will be missing out on these delights. So, both take the opportunity to come or, at least, buy yourself a nice bottle of Vinho Verde and give it a try! Do not be shy to ask Roy or me for advice if you need it.