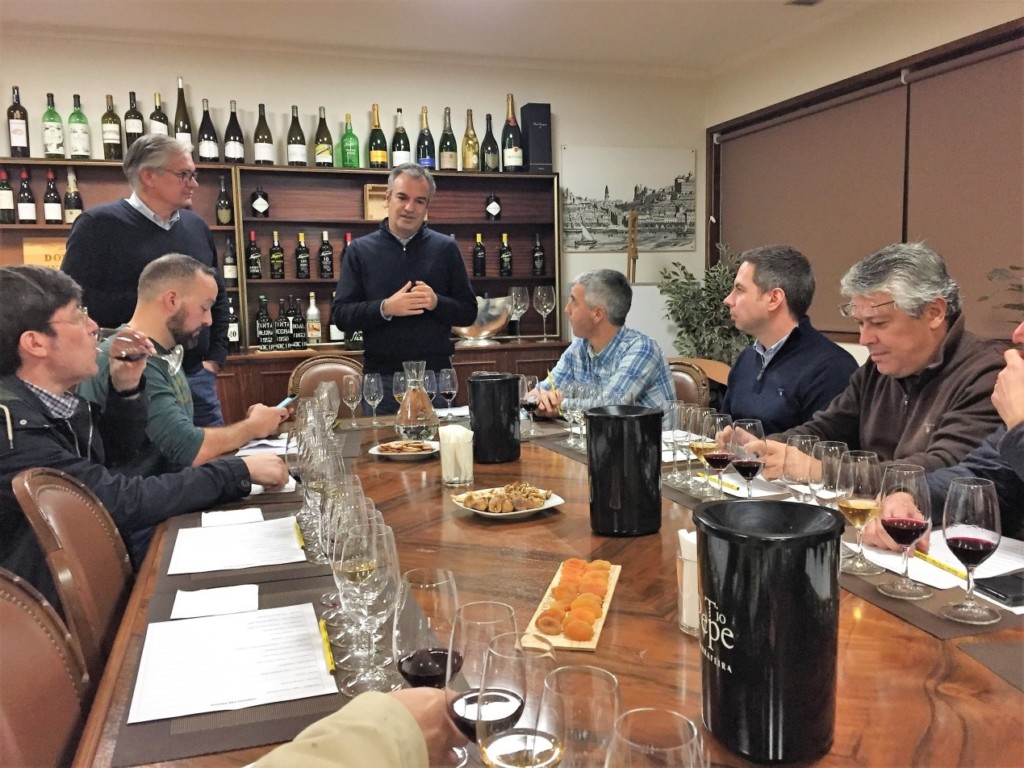 The title of this text is a bold statement, I am aware of that. And, as all bold statements, it will surely raise some eyebrows. Yet, I stand proudly by it. In my view, Barbeito is currently the best Madeira wine producer, and the reason behind the hype around this producer is almost entirely due to Ricardo Freitas, the chief winemaker.
I had never met Ricardo in person until very recently, despite the fact that I visited their winery at the end of the 2015 harvest. Had I gone there one day earlier, I would have met him. Still, and this is one of the things that sets Barbeito apart from other producers, I was spectacularly well treated, and after a thorough guided tour, I was offered a memorable tasting dating back to a 1795 Terrantez, which was beyond description. This is the Barbeito way: doors wide open and corks ready to be popped, out of love for the wine and purely for the joy of sharing it. It is so much more than business to them, contrary to what happens (and what I personally witnessed) with some other producers. And you can taste it in their wines.
But let´s get back to Ricardo and how I finally met him. Again, Luis Candido from Tio Pepe, a must-go winery in Porto, decided to organize a special Madeira tasting together with Ricardo Freitas. And so it was that on a cold and rainy afternoon, me and 13 other people were fighting our way through a horrendous traffic jam, with most of us arriving more than 1 hour late for the tasting. Oh, but you do know you are in for a good one when you see people coming from other cities just for the tasting, as well as Michelin-star chefs and chief winemakers of other great Douro houses. And with good reason.
Ricardo Freitas is a disconcertingly humble person, despite having every reason not to be so. He describes himself as an apprentice when it comes to Madeira wine. This is not false modesty, it´s genuine, and it´s born out of a profound passion for the terroir and the wine. He has a very down-to-earth, hands-on-approach to wine, from negotiating grapes to actual winemaking and blending, he does it all, and keeps trying new things all the time. Insatiable, he wants to make better wines from year to year, and seeks to obtain a perfect balance between sweetness and acidity in all styles of Madeira. That is why he built a new winery, with two distinct zones - a warmer zone (zinc roof) where the evaporation is higher, favoring the concentration of sugars; and a cooler zone (cement roof) where evaporation is lower, favoring freshness and preserving acidity. But it doesn´t end there.
The wines are regularly tasted and, according to their evolution, casks are changed from one area to another, and from top to bottom (or vice-versa), to modulate their aging process and tune them to perfection. This is, in my view, what really sets them apart from other producers, the balance in every wine. In the words of Ricardo Freitas himself: "That is why my Sercial is the sweetest of them all - even if still dry - and my Malmsey is the least sweet of them all".
And yet, despite all of this, he keeps a distinctly humble attitude, asking for feedback even from us who have little (or nothing) of value to add. He truly is one of a kind. For me, this man belongs to the nobility of wine.
For this tasting, and reflecting his ever-experimenting nature, Ricardo decided to surprise and challenge us to think beyond the traditional Madeira wine grapes: Sercial, Verdelho, Boal and Malvasia (Malmsey). This tasting was mainly focused on Tinta Negra, the only red grape variety used in Madeira wine, beyond Bastardo. Tinta Negra has always been relegated to a secondary role, and is mainly used in blending entry-level wines. But Ricardo is a believer in this particular variety, and wanted to demonstrate that great Madeira wines can be produced from it.
The tasting consisted of four flights. My notes on each wine are presented below; in the order they were tasted.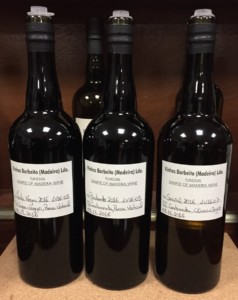 First Flight
This first flight consisted of cask samples of the 2016 vintage, which was a good vintage, in a year without excessive heat or rain. So, balanced wines are to be expected. Not these samples of course, they're still too young, but it was just so that we could taste Madeira in the making.
Tinta Negra 2016: Lagar/Prensa Vertical
Initially closed, iodine and orange zest, then it opened up and smells of grapes. Alcohol still not integrated with the fruit, highly acidic.
Bastardo 2016: Prensa Vertical
In 2007, Ricardo convinced one producer to replant Bastardo, which used to exist in Madeira, but was extinct post-Phylloxera. Ricardo believes this grape, as well as Tinta Negra, has great potential to produce great wines.
On the nose, iodine and strawberries. On the palate, still not integrated, similar to the sample above, but drier. Would love to taste this one in a few years time!
Sercial 2016: Cascas
On the nose almost smells like a "late harvest", with a dash of iodine and salt added in. On the palate it is off-dry, and surprisingly it is already elegant and well integrated. Still not drinkable of course, but it will be a great wine for sure.
Second Flight
This flight was dedicated to the "Ribeiro Real Project". This project started when Ricardo was challenged to bottle a series of Tinta Negra casks from 1950-1954, which had not been cared for properly and were left to age in a hot environment. This led to a brutal concentration of sugars, with the wines reaching 6.5-7 baumé.
The challenge here was to blend (refresh) these wines with younger ones, to bring them back to life again, while keeping the distinct characteristics of each one of the grapes used in the blend. This resulted in a series of stunning 20 year old Madeira wines from Sercial, Verdelho, Boal and Tinta Negra.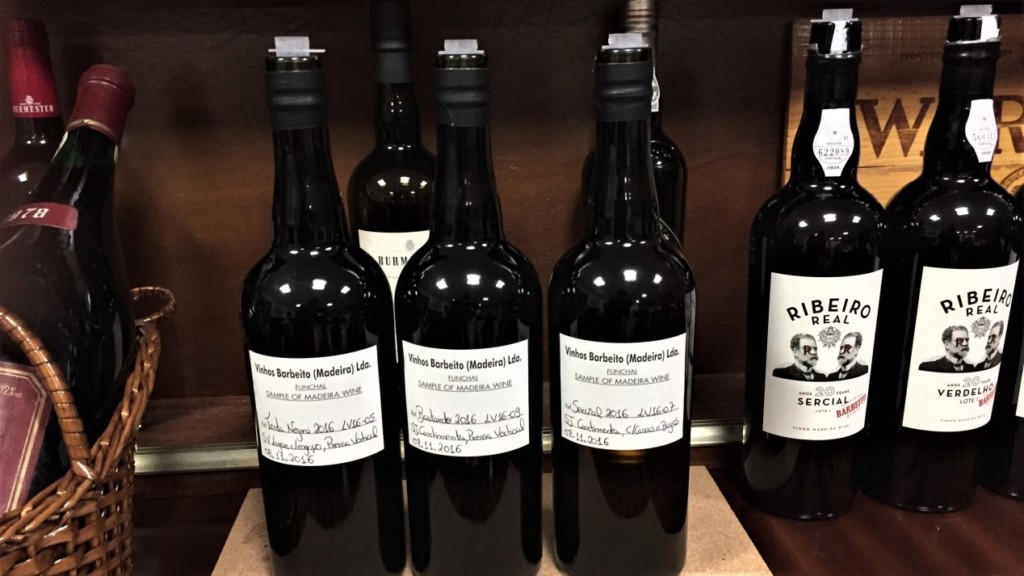 Sercial 20 Years Old
This blend contains only about 5% of Tinta Negra. On the nose, quince and orange peel, along with caramel and dried fruits. On the palate, dry (almost off-dry), salty and acidic, very balanced and poised. Retains all of what is expected of a Sercial, with a nice twist, more to my liking (I have a sweet tooth after all).
Verdelho 20 Years Old
On the nose, iodine, dried fruits and wood, as well as a more herbal undertone. On the palate, dry, fresh and elegant, with a nice vibrant acidity. Classic Verdelho.
Boal 20 Years Old
On the nose, initially some sulfur that dissipated in about 10 minutes. Then, iodine and caramel, along with dried plums and a touch of wood. On the palate, very, very elegant, with a well-marked acidity that balances the sweetness perfectly. This was the one I bought when I visited their cellars in Madeira, and what a great wine this is!
Tinta Negra 20 Years Old
On the nose, caramel, nuts, apricot and fig. On the palate more structured (as expected from a wine made from red grape), great complexity, initially medium sweet and then the acidity kicks in bringing it alive. This was the first time I tasted it, and it was actually my favorite of the lot.
Malvasia 20 Years Old (not Ribeiro Real)
On the palate, sweet but not overwhelmingly so, with a nice acidity punching in to balance the wine, (it's Barbeito after all). Still, not my favorite, the others are more elegant.
From this flight, I have to mention the Sercial for the welcome twist (for my palate anyway), the Boal as the confirmation of an outstanding wine and the Tinta Negra as the most surprising, showcasing the great potential of this variety. I would most definitely recommend the latter, for those who are still in doubt.
Third flight
This flight took us to Madeira heaven. And by this I mean that from this point onwards, we were in the presence of some of the greatest wines in the world. Period.
Sercial 1992 Frasqueira
This was actually the first Frasqueira bottled by Ricardo, of his own making, so you can imagine how deeply he feels about this wine. On the nose, notes of exotic wood, caramel, figs. On the palate, very smooth and elegant, dry and acidic but on the (very) good side. Literal quote from my notes: "Even I like Sercial this way!"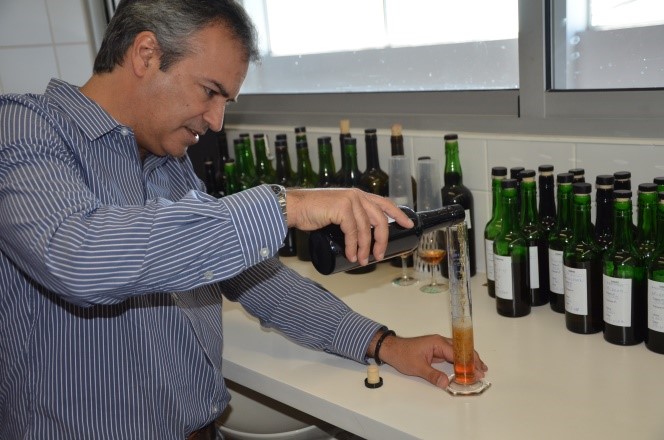 Boal 1995 Frasqueira
On the nose, caramel, raisins and also a bit of orange zest. A beautiful balance between the sweetness and the acidity, all very composed and elegant. Honestly, I was not expecting to like the Sercial so much, but still, this is a bit more to my liking.
Malvasia 30 Years Old "Vó Vera"
A blend from Malvasias between 30 and 70 years old, this is a very complex wine, both on the nose and on the palate. Notes of smoke, wood, caramel, fig and peach, and on the palate very much alive, with a decadent sweetness offset by a salty acidity that keeps you wanting for more. And when you find a wine this refreshing, it is really saying something about the man who made it!
Malvasia 40 Years Old "Mãe Manuela"
A blend from Malvasias over 40 years old, with components dating back to 1880. On the nose, peach, hazelnut, honey and dried figs. On the palate it is decadent and opulent, but then the acidity comes in and makes it unbelievably alive and dry towards the end. This wine is truly something else!
Well, what can I say about this flight, given my natural tendency to like the sweeter wines? If I had to choose, I would go for the Boal 1995 Frasqueira, for its elegance, and the Vó Vera, for its freshness. Even if, for me, the decadence of the Mãe Manuela is irresistible.
Fourth Flight
Tinta Negra 1952 (bottled 1997)
On the nose it is very concentrated, iodine, toffee and smoke and a hint of orange zest. On the palate it is powerful, concentrated and with a high acidity, perhaps too powerful to my taste.
Tinta Negra 1950 (bottled 1997)
Even more iodinated notes, along with smoke and toffee. It appears younger than the previous one, and a bit unbalanced towards the acidic side.
At this point, I confess palate fatigue had already settled in, especially after those last two Malvasias. Therefore, it was hard to take notes, especially in the last wine. Also, compared to the suppleness of some of the previous wines, I was not particularly drawn to the two Tinta Negra, which I felt too powerful and concentrated. My opinion might have been different if I had tasted them in a different order, or on another day. Still, I do feel that Tinta Negra has a great potential, as demonstrated in the Ribeiro Real project, and in other wines Ricardo has made in recent years, (the Tinta Negra 2005 is simply stunning, for example). However, having been relegated for so many years means there is still a huge way to go in regards to mastering its subtleties. I expect Ricardo to get there, and I believe that in 20 years time we will be drinking fabulous Tinta Negra Frasqueiras made by him.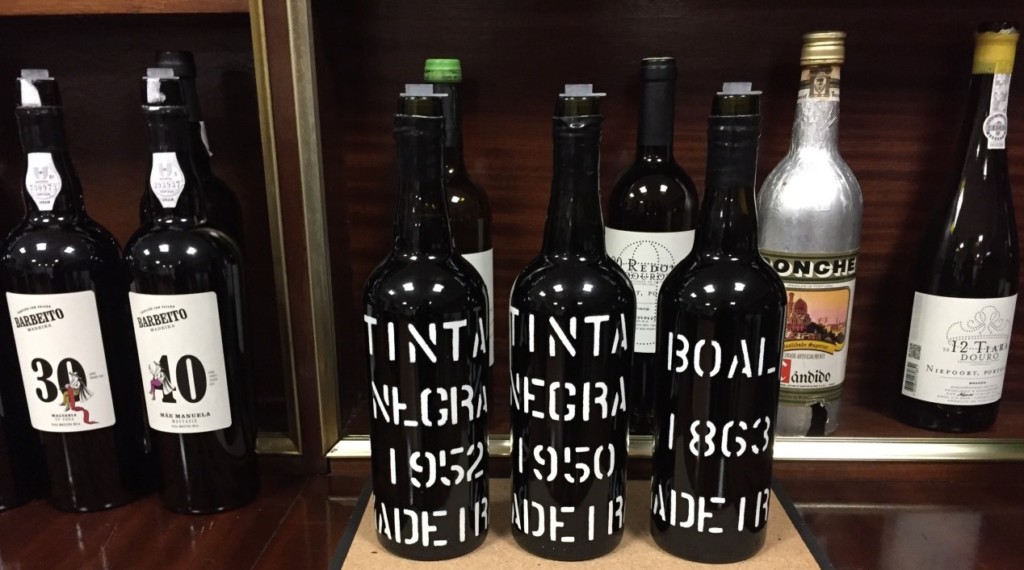 And on this note, we reached the last wine of the day. And what a wine it was …
Boal 1863
Decadent, overwhelming and surprisingly alive, still vibrant with acidity… I just sat back and enjoyed the ride. It´s not every day you get to drink a piece of history.
I am really at a loss for words, and as I read through my tasting notes, I cannot help but feel both privileged and nostalgic, as I know that this was probably the only time I will get to taste some of these wines. On another note, it was also one of those days I sat back with a glass of wine and said to myself: I am proud to be Portuguese! Port, Madeira, Moscatel…we simply can´t be beaten when it comes to fortified wines.
Long live Madeira, and Barbeito, and Ricardo Freitas!