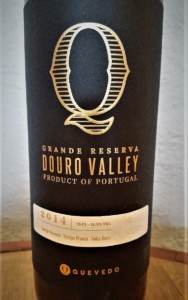 By Rune Gustavsen
When my wife Emmy and I participated in the 2016 FTLOP Port Harvest Tour 2, we visited Quevedo. After having tasted many different Port wines, we all received a surprise during dinner at Quevedo's quinta near São João da Pesqueira.
Oscar Quevedo presented a new bottling of red wine: 2014 Quevedo Grande Reserva. At the time, none of us had ever heard about this new wine, and after having tasted it, at least half of the group (including myself) jumped up and wanted to buy some bottles. However, Oscar mentioned that it was not possible yet, as the wine needed a full year of aging in the bottle; meaning it would not be released for sale until the spring of 2017.
Since then I have not forgotten about Quevedo's Grande Reserve wine. Emmy and I did a private tour in Porto and the Douro in May of this year. Before visiting, Oscar Quevedo confirmed that the GR would be ready for release in time for our Douro trip. We visited Quevedo on 15th May to buy a few bottles.
As part of the plan to further develop the Quevedo brand, they hired the talented winemaker, Teresa Batista late in 2013 to be in charge of the winemaking for the Douro wines at Quevedo.
2014 was her first vintage, and I must say that the 2014 Grande Reserva is a very good start. During our visit, Claudia Quevedo introduced us to Teresa Batista. The two of them and Quevedo's Marketing employee Maria Chataignat brought fresh samples of the 2015 Grande Reserva, directly from cask. The 2015 was bottled in May 2017, and will be released for sale after one year of bottle aging (circa spring 2018).
We ended up having a very interesting tasting/comparison between 2014 and 2015 of the Grande Reserva. Some may say it is unfair for the young 2015. However, if I had to choose, I actually preferred the 2015 slightly more than 2014.
Quevedo is growing grapes at six different quintas. The 2014 Grande Reserva was based on grapes from Quinta da Alegria (located in Cima Corgo close to the river and has the railway going through the quinta) and Quinta das Mos (located in the middle of Douro Superior partly direct on the river front), while the 2015 was based only on grapes from Quinta da Alegria.
With Grande Reserva, Quevedo has taken a step up in Douro wine quality, and I look forward to following their developments. For both the 2014 and 2015 vintages, Quevedo has produced 2,000 bottles. If there is increased market demand, they could easily ramp up production for future vintages.
My tasting note of the 2014 Quevedo Grande Reserva (made after we returned to Norway) is posted on the FTLOP website under Portuguese wines.
Tasting note 2014 Quevedo Grande Reserva Douro red
Decanted 2 hrs. I recommend 2 - 2.5 hrs as it opened during the interval around 1.5-2.5 hrs. Dark purple colour. Deep appealing aroma of berries (especially blackcurrant) along with minerals, all in a subdued way. Medium to full body. Taste is powerful, elegant, quite a mouthful with a lot of berries. Tannins are "coming out" as the wine is opening. The acidity is becoming more noticeable towards the end, however in an acceptable way. A bit dry at the end. The wine is well-structured and there is a good sweetness/acidity-balance. Medium to long aftertaste. 92 points.