FTLOP is proud to introduce Bento Amaral to our readers, who is the Director of Technical Services and Certification for the Instituto dos Vinhos do Douro e do Porto (IVDP). Bento was recently promoted to manage the wine laboratories and other services for the Institute, but he also remains active on a regular basis with the IVDP's tasting panel too.
1. Please share some information about your life and how you wound up working in the Port and Douro wine trade and at what age?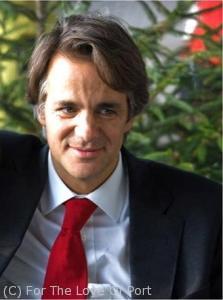 I was born and raised in Porto and currently live in Matosinhos with my wife, Carmo. We married in 2007 and we're a very happy couple. I also have an older sister and younger brother, and I am 44 years old. I studied food technology at the Catholic University in Porto. I spent the last year of my schooling, (my 5th year) at the Faculté d'Oenologie de Bordeaux. I was fond about wine before that, but it was there that "I fell in love".
I'm quadriplegic since 1994, due to an accident that occurred while I was involved in body surfing. At that time, I intended to go to Australia to make wine, as I wanted to be a "flying winemaker" and it would allow me to realize my dream of traveling to a lot of countries around the world. After some difficulties in finding a job due to my disability and after working for two years at Microsoft, I landed a fantastic career opportunity and have also been teaching classes on wine tasting at the post-graduate level, at the oenology section at Catholic University in Porto, where I'm a member of the alumni.
When I was 30, I learned about a great position that was available at the Instituto do Vinho do Porto (before it became the IVDP). As I had been organizing weekly wine tastings at home with several winemakers from the Port wine trade, my connections were good. So my first full-time job in the wine trade was the Director of the tasting chamber of the Institute in 1999. With my passion for wine and background teaching, this seemed like a perfect fit and so I applied and have spent the subsequent fourteen years in this role, until my recent promotion in November.
So I've realized my dream to travel around the world, and I'm an invited speaker at various events (this year, I think more than 30 times). The main subjects are: motivation, overcoming obstacles, and resilience. I think you'll understand better if you watch this brief video My Life is My Message, a TED Talk I gave in Porto in 2011 (in Portuguese with English subtitles).
This year, and due to the insistence of some people who attended my conferences, I've written a book about my life, where I've tried to pass along these same values. My book is not translated to English and it's not about wine. I think there's about 10-15 pages where I mention my work. I don't think there's any reference of my book in English.
2. What is your favorite style of Douro wine and also Port to drink at home, and can you name two or three of the greatest one's you've ever tried?
My favorite Douro wines are the red Grande Reserva with a huge ageing potential, full-bodied but with "soft" tannins. The quality of the tannins is something that Douro winemakers are managing better nowadays. At home I drink some Douro wines, but I also try to drink wines from around the world in order to have an idea of what other countries are doing well and it really helps in my learning. It also provides me with a broader knowledge and greater standards for then judging Douro wines.
Regarding Port wines, I usually drink very old Tawny Ports at home and sometimes some Vintage Ports, preferably with 25 years of age, or more.
I'm happy to have tried more than a dozen of the greatest wines produced in the Douro region. But due to my professional position, I'd prefer not to mention brand or producer names. However, age-worthy and balanced very old wines is what I prefer to drink. These wines have "seen" the history of humankind for years and are still delicious and continue to improve, which is something I would like to happen with my life; that with the passage of time I'll gain wisdom. On the other hand, young wines like the 2011 Vintage Ports, (with a huge potential for aging and are wonderful at this moment) but they'll continue to drink well after I have died, impress me by the quality they have at birth, but also because they'll still have the same quality, but with different characteristics.
3. Besides wines from Portugal, what are a few other wine types that you most enjoy drinking?
I love wines from Piemonte, (Barolo and Barbaresco) and Burgundy (red and white). As I've spent some time studying in Bordeaux, I've an "emotional connection" with the wines of this region and I drink them quite regularly. But usually, I prefer elegant wines to powerful ones.
4. What brought you the most joy while you were managing the IVDP Tasting Panel?
Having the opportunity to taste all the Douro and Port wines that were going to be released in to the market. And it should be noted, that all of the wines put before the panel are tasted blind, (so we don't know the brands or companies that produced them). It is my hope, that with my job, I can help to increase the quality of these wines, and ultimately, to help consumers to gain more pleasure when they drink still and Port wines from the Douro region.
5. Would you please share one piece of unique trivia or historical information about the IVDP that would be new to FTLOP readers?
In 1999, the Tasting Chamber of the IVDP was the first in the world to have an ISO accreditation like a laboratory. This means that we have a strict control not only of the wines, but as importantly, a way to interpret the accuracy and consistency of the tasters. There's a daily statistical analysis of each tasting panelist's results and on average, 10% of the samples are repetitions to check how they are performing in their organoleptic tasting.
6. Which individual has been your greatest mentor and how have they inspired you?
There are several, such as João Nicolau de Almeida, by his "artistic" way of interpreting wines as well as for his humility, (one of the major characteristics that a taster must have). Another example of a mentor is Dirk Niepoort, for his vision, enthusiasm and passion for wine. Finally, I want to make a reference to everybody who works around the wine, who devote their lives to producing it, from the small producers and winemakers, to managers of the large companies. I have huge respect for those who invest a year of their lives, (every year) working to produce the best wine that is possible with its own conditions.
7. What is the greatest challenge facing the Port wine trade today?
In my working area, I think it's to bring young people, (less than 40 years old) to try and enjoy Port wine. Our effort goes in finding new ways and moments of consumption in order to captivate these young consumers.
8. Can you share one new project or improvement that the IVDP is involved with currently?
Last year we began a new project mainly directed to restaurants, but this program is also suitable for final consumers and it consists of promoting and teaching in a very simple but efficient way, the diversity of Port Wine categories. The IVDP is involved in organizing lots of tastings that explain the different types of Ports, service temperatures, moments of consumption, cocktails, matching Port with food, the history and so on. The complexity of Port (and also its beauty) is due to a long history of research of new wine styles and the most interesting ones have survived for decades, or centuries. We're very enthusiastic in sharing this great world of Port and Douro with everyone.
9. What non-wine activities do you enjoy?
I love reading, going to the beach, sailing (I've been a Paralympic sailor), snow skiing, being with friends and also relaxing and thinking. In sports, some of my most important results:
Unofficial world record for disabled snow skiing (in 2000 - 120 km/h)
World champion of disabled sailing – Access Liberty (2005)
In 2004, I've been to Australia (my dream!) in a world championship (2nd place) for sailing
2008 – 3rd in the sailing world championship in Singapore
Paralympics 2008 – Beijing: 9th place - sailing
Bento Amaral hosted the FTLOP Port Forum Guest Corner in October 2013. The Forum conversation will give you much more insight about his experience with the IVDP and of course about Port and the Douro.
The FTLOP series, Port Personalities In Focus, alternates with A Question for the Port Trade every other month. In Focus concentrates on bridging the gap, introducing readers to people who are not usually in the media's spotlight, with some license to occasionally "interview" someone who is. In Focus brings you candid comments, personal perspectives, and a better understanding of the people inside the trade. From sales and marketing professionals, to master blenders, winemakers and vineyard managers, to distributors and importers, owners and managing directors; In Focus will introduce you to Port personalities who work at small family-owned operations to the largest wine companies in Portugal. We hope you'll benefit from meeting the people on these pages!