ROY'S NOTE: Rune Gustavsen is a long time Port lover who lives in Drammen, Norway. He and his wife Emmy have joined us on three consecutive Port Harvest Tours and it was wonderful to watch how their knowledge of the Douro region increased and their Port palates grew more open to some new styles which had not previously been in their wheel house. Rune's fine article on sharing ten bottles of twenty year old Tawny Port with his family during the recent Christmas holiday includes a down home style and a fine set of tasting notes and photos. I am sure you will benefit from taking the time to read his article.
When Roy Hersh learned about my proposed tasting, he asked if I would be willing to write a Guest Corner article based the tasting we planned for Christmas Day. It was an honor to have such an opportunity. As a long time subscriber, it is nice to be published here.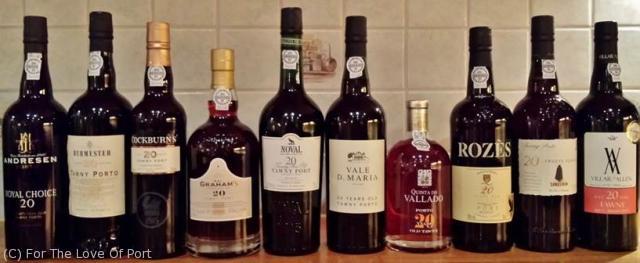 My background as a Port wine fan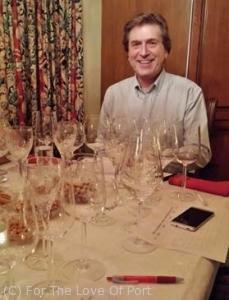 As a young man (24 years) working for a Norwegian ocean shipping company, I visited a customer outside Birmingham, U.K in September 1979. During the dinner that evening at an old mansion, the host asked towards the end of the dinner whether I wanted to taste port wine. I am sure it was Cockburn's, and I think it was Special Reserve. Immediately I said to myself that this is something for me. Upon return from that trip I informed Emmy, (we had married the month before) that I had tasted a wonderful type of wine.
During that job, I traveled a lot around the world, and on each return to Norway I brought home a bottle of port, either from the tax free shop or from a wine shop wherever I had been visiting. About 1990, the interest became more serious, and I started to read whatever I could find about port. So the deep interest has now lasted 25 years!
How to get the family interested in Port?
Port wine interest involves building up a cellar, keeping many bottles for a long time, and it can be expensive. Fortunately Emmy liked port, and the more I learned … she developed the interest as well.
We have three kids Therese (33), Marie (31) who is married with Kenneth (32) and Alexander (29) who is partner with Camilla (29) have all found that port is something for them. That makes it easier with gifts for birthdays and Christmas!! We have had many private tastings at our home in Drammen, and at our summer house in the south of Norway.
Vintage / LBV / Ruby vs. Colheita / Tawny
My platform in the port interest is with the vintage and therefore ruby-style. The more I understood the vintage and the variations from year-to-year and all the knowledge that was put into the work of making vintage ports, I became more and more impressed and astonished. Economics and marketing is my professional background, and I am still wondering how the port companies can sit on such huge stocks of vintage ports. The inventory turnover is very low and the financial burden must be enormous. It is fully understandable that when the Douro wine revolution started around 2000, then this helped the port wine producers to have a faster turnover of their total finances.
For many years I have been very skeptical of tawny / colheita, probably because I have never been a person who liked spirits. Often when I tasted tawny/colheita it has been pop-and-pour situations where I have been hit in the face by an aroma overshadowed by the alcohol. However, during the three FTLOP Harvest Tours (see below), I have developed a much better understanding of the tawny / colheita-concept and do like it much more than before. But still the Vintage / LBV-style is my favorite. As both Emmy and most of the kids including their partners are leaning towards the tawny / colheita- style, it means that the cellar must include sufficient selections of both styles (ruby and tawny)!
The importance of FTLOP Harvest Tour 2010 / 2011 / 2012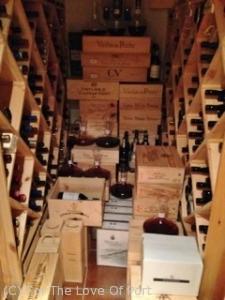 Emmy and I participated in three consecutive FTLOP Port Harvest Tours, and they were all great experiences. To taste so many ports in one week (in each of the tours it was 100+) and also Douro-wines (in each of the tours 40+) is giving a fantastic opportunity to compare the styles and find out what is of most interest. Both Emmy and I have a much clearer picture of our preferences of port styles and producers, and similar for the Douro-wines, than before our first tour in 2010.
Before the 2012 Harvest Tour, Roy gave me the opportunity to suggest those Port Lodges in Vila Nova de Gaia and Douro- based quintas that we would like to visit. I presented six places, and on that tour we visited five of them (Krohn cellar in Gaia, and in the Douro we visited with: Wine & Soul/Pintas, Vale Meão, Noval and Crasto)! The service and selection of visits including restaurants provided by Roy and Mario are excellent, and we can recommend to all FTLOP readers to join them, at least once in your lifetime.
Christmas 2013
We are fortunate that our three kids and their partners and the two grandchildren move into our house from 23rd to 26th December. In Norway, Christmas Eve 24th is the big evening when the presents are given out and opened after the dinner, which this year took place early evening after the grandchildren had fallen asleep.
In order to serve several preferences we had two nice bottles:
1977 Gould Campbell vintage port in magnum bottle 150 cl
1982 Maynard Colheita in 50 cl bottle
1977 Gould Campbell vintage port (magnum)
Having tasted one of these bottles before with an excellent result, we had a short time when these magnums were available at the state monopoly here in Norway. I managed to get hold of six of them, of which one was consumed on Christmas Eve this year. They all seem to be in perfect condition. This vintage port was bottled just a few months before we were married in August 1979, and that is giving us some grand perspective. This port had never seen the light of day during our entire marriage of 34 years! Viewing the product from that angle is giving even more respect to the producers.
Decanted for 9 hours prior to being consumed. I checked it every 2-3 hours, and found out (like it was with the first bottle) that during the first six hours this GC 77 was a very nice vintage port rating at 91 - 92 points, but not more. During that first six-hour period it was medium dark red colour, powerful aroma of berries (raspberry) and oak, and also hints of spirits. Full body. Quite smooth taste, but actually too powerful at that stage. Some dryness / bitterness towards the end. Medium to long aftertaste.
Here is the final tasting note, showing the greatness of this vintage port:
9 hours decanting. Medium dark red colour with a tiny touch of brown. Very pleasant aroma of old wet cellar, berries with sweet background (cherries?). Full body. The taste was smooth as velvet. Powerful in a nice way where we could enjoy the deep complexity of this port. Berries were still there, tannins in a noticeable and pleasant way. Long aftertaste. The bottle was consumed during a period of 3 hours (i.e. at the end it had been 12 hours decanting), and it performed excellent throughout that 3 hour drinking period. 95 points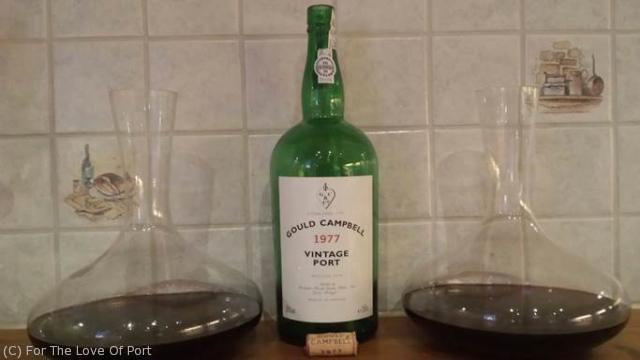 1982 Maynard Colheita 1982 (50 cl)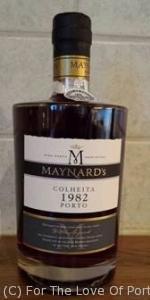 This label is owned by Barão de Vilar. I have been informed that the label Maynard is being used especially for the U.S. market. Could it be that the port itself is originating from Andresen, as the wine maker is Alvaro van Zeller?
Bottled 2012. Decanted 1.5 hrs. Transparent brown colour with actually a touch of red in spite of being 30 years old. Powerful aroma showing something smoked, almonds and hint of bitterness. Full body. Taste is powerful, smooth, nuts, wood and fruit.   Slightly on the sweet side. Nicely balanced with acid integrated in a good way. Very nice 30 year old colheita. 92 points
Tasting of port wines is tradition during the Christmas holiday
It is normal for us to have a tasting of port wines with the family during the Christmas days. This time it was 20 years old tawnies. I have had this theme in mind for more than two years and have kept some in reserve. In view of my family leaning more towards tawnies than vintages, there were great expectations to this tasting. The selection of the 10 different producers was not done with a significant plan, but had developed more by accident over a couple of years.
Dinner before the tasting
It is important to have sufficient food in the stomach before doing the port tastings.
For dinner we had venison, and have found that one of our favorite Douro wines, 2009 Quinta do Manoela Vinhas Velhas (Wine & Soul) complement the flavor of venison.
I have previously posted tasting notes in the Tasting Note Data Base of FTLOP, giving 95 points, which is a very high score for me for a red wine.
The Twenty Year Old Tawny Port bottles to be tasted
Producer, Brand, Bottle year, Bottle size
Andresen, Royal Choice 20 year old tawny, 2011, 75 cl
Burmester, 20 year old tawny, 2010, 75 cl
Cockburn's, 20 year old tawny, 2012, 50 cl
Graham's, 20 year old tawny, 2013, 75 cl
Quinta do Noval, 20 year old tawny, 2013, 75 cl
Quinta do Vale Dona Maria, 20 year old tawny, 2012, 75 cl
Quinta do Vallado, 20 year old tawny, 2013, 50 cl
Rozes, 20 year old tawny, 2013, 75 cl
Sandeman, 20 year old tawny, 2011, 75 cl
Villar d'Allen, 20 year old tawny, 2010, 75 cl
Bottling years: 2010 (2), 2011 (2), 2012 (2), 2013 (4)
Bottling took place in roughly the same period. As 20 year old tawny should indicate minimum 20 years and consist of 2-3 vintages mixed together, it means that the ports were from vintages in the period 1988 - 1992.
20 year old tawnies are "manipulated" as most producers try to have a 20 year old tawny which is recognizable from year-to-year (house style). For the colheitas, which are grapes from just one specific year, there are many more variations. Due to the mixing and "manipulation", we were quite curious to find out whether these ten bottles had significant differences. It was a challenge, as the tawnies are within a slim tasting range, and full concentration was needed. However, as you will see below, the results were quite clear.
All bottles had been stored in our temperature controlled wine cellar for a period varying from a couple of months to three years.
Due to a very beneficial price at the airport tax free shops, the Graham's 20 year old tawny is well known to all participants, and probably this particular tawny out of all of them had been tasted/ consumed the most. However, in this blind tasting it was only our son Alexander who managed to pick out the Graham's.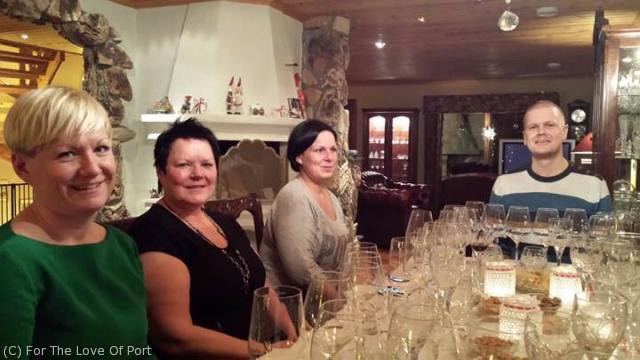 How the tasting was performed
The eight participants, (7 family members + Kristina, who is a friend of the family) knew which ten products we were going to taste, as they had received a list with the producers name before we sat down to evaluate. But they did not know which tawny was in which decanter.
I did all the opening of the bottles, numbered all the decanters and placed all ten decanters in our wine cellar, where they remained for about 2 hours, alone in the dark (all at the same time).
The tawnies were presented in two flights, each containing of five ports. The participants noted colour, aroma and taste in the usual way. We spent sufficient time for each flight, so there was no rush. Comments were given by the participants on the way, as they preferred.
There were no "bad bottles", and as far as I could judge, they were all in excellent condition.
At the end of the whole tasting each person gave 3 points (for the best), 2 points (for the second best), and 1 point for the third best.
The results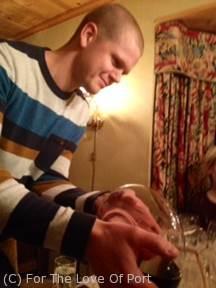 The results showed that the group divided the 10 bottles into three different groups (no such separation had been agreed on beforehand). There were three products that were clearly the preferred ports during the tasting, as they received many more points than the others. I am also including Graham's in that first group (making it four), as the product score was above 90 pts.
Andresen
Sandeman
Quinta do Noval
Graham's
Then there was the middle group:
Cockburn's
Quinta do Vallado
The least preferred were:
Rozes
Burmester
Quinta do Vale Dona Maria
10. Villar d'Allen
Andresen Royal Choice 20 year old tawny
Bottled 2011. Decanted 2 hours. Medium brown colour. Exciting delicious powerful aroma. Bitter nuts in a good way, cigar and tea leaves. Full body. Powerful in an acceptable way, fresh, smooth, caramel is opening up more and more, dried fruits and some hints of perfume.
94 points
Sandeman 20 year old tawny
Bottled 2011. Decanted 2 hours. Medium brown and transparent colour. Interesting and appealing aroma of wood, cardamom and perfume. Full body. Smooth, sweet style influenced by the spices, and it is sitting well in the mouth. Nice tannins. Well balanced. Medium length finish. 93 points
Quinta do Noval 20 year old tawny
Bottled 2013. Decanted 2 hours. Relatively dark brown colour, but still a hint of red colour. Aroma of flowers, oak and nuts. Well balanced / structured. Smooth, "no noise" at the start of tasting, but then it is exploding in the mouth with a lot impressions. Some tannins towards the end. Very long aftertaste. High quality 20 year old tawny. 92 points
Graham's 20 year old tawny
Bottled 2013. Decanted 2 hours. Relatively dark brown colour (cognac). Aroma of nuts, spices and oranges. Full body. Powerful taste with strong tannins at the start of the tasting, but then mellowing a bit and becoming round and pleasant towards the end. Long aftertaste. 91 points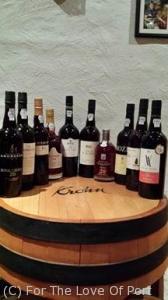 Cockburn's 20 year old tawny (50 cl)
Brought home from FTLOP Harvest Tour 2012. Bottled 2012. Decanted 2 hours. Medium to light brown colour. Aroma of wood, citrus and semolina pudding. Full body. Quite smooth at the start of tasting, but then afterwards the tannins were more dominating. Some dried fruits. Overall on the sweet side (caramel) and at the same time, too much acid. No signs of wood or nuts. Medium length aftertaste. Seems to be in balance, but not so well structured. 87 points
Quinta do Vallado 20 year old tawny (50 cl)
Bottled 2013. Decanted 2 hours. Pale brown colour. Dry aroma with hints of medicines. Full body. A bit unfinished, no elegance, a lot of "noise", no nuts, weak "personality". Medium to long aftertaste. 85 points
Rozès 20 year old tawny
Bottled 2013. Decanted 2 hours. Slightly oxidized. Medium brown colour. Aroma of wood in a subdued way. Medium to full body. Quite round, spirits, nuts, caramel. Strong tannins in the middle and the last part of tasting. Medium to long aftertaste. 85 points
Burmester 20 year old tawny
Bottled 2010. Decanted 2 hours. Darker brown colour. Aroma of bitter nuts and citrus. Full body. Quite round style at the start with touch of caramel, but then showing lime, minerals and some bitterness. Long aftertaste. 85 points
Quinta Vale Dona Maria 20 year old tawny
Bottled 2012. Decanted 2 hours. Medium brown with a touch of red. Aroma of medicines, malt, bitter nuts and hint of flowers. Full body. Quite tough tannins in the middle part, mellowing towards the end. But the tannins and medicines are overshadowing the taste of this tawny. Medium to long aftertaste. 83 points
Villar d'Allen 20 year old tawny
Bottled 2010. Decanted 2 hours. Product is made at Quevedo based on Villar d'Allen recipe / instructions. Dark brown colour but still with a hint of red. Aroma was not appealing, showing sulfur. Full body. Powerful, sharp and then fading away quite quickly. This tawny could have benefitted from a longer decanting period. Furthermore, it could be on the way to be out of balance. 80 points
Concluding comments
This tasting gave some interesting conclusions. Andresen is continuing to keep the strong positive impressions we have from this brand for tawnies and colheitas (not for the vintage ports and LBVs). Both from many bottles consumed of various Andresen products here in Norway, and also during the visit to the Andresen cellar in Gaia during the 2010 FTLOP Port Harvest Tour.
Sandeman was a pleasant surprise. Except their white ports, I have been skeptical to a lot of their regular tawny/ruby products. Emmy and I have had two other bottles of this Sandeman 20 year old tawny and it is showing the same nice performance.
Quinta do Noval was kind of expected to be good. We have had their 20 year old tawny before several times, and also many of their colheitas from early/mid 90s and they all show very well.
Disappointments? Vallado, Dona Maria and Burmester had big problems in matching these other producers.
On its own there are several of these 20 year old tawnies that would do it better than in this tasting. However, when being part of a bigger group, and being compared with better products, then the difference became more evident. This goes especially for Burmester and Villar d'Allen, which I have tasted before.
Which other 20 year old tawnies would be interesting to test at another tasting:
Calém, Dalva, Dow, Ferreira, Fonseca, Krohn, Niepoort, Ramos Pinto, Taylor, Tedo.