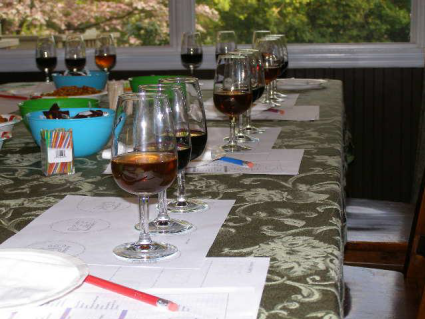 Article and photos by John Musnuff © August 2016
So you find yourself enjoying Port — maybe with a few friends, but feel uneducated. A Port Tasting Club can do a lot to acquaint you and it is not hard to form a tasting group in your area with some thought, planning and determination. You may even make a few new Port loving friends too.
I started a Port Tasting Club in 2008 and it's been a lot of fun. We've met 55 times, consumed 240 Ports and have learned a lot together. But success was not easy, so I am writing this brief to share my experiences, avoid some pitfalls and to convince you that you too can do this if you want to. The focus will be on starting a club for newbies, on a budget, although I hope everyone can benefit by reading this.
The advantage of a Port Club is that it enables a collective Port wisdom and shared experience. While serious tastings are often quiet, our group encourages just the opposite. If someone says they taste blackberry and leather, you'll be sipping again to see if you perceive those flavors too. The other positive thing a group has to offer is that it allows the participants to open and taste several bottles at once, thereby better understanding the differences through comparing and contrasting the Ports at hand.
Leadership
Initial success depends on the leader/organizer being determined — it takes a leader, (or two) to succeed. Someone who is determined to make the venture successful. The first thing a leader needs is a mission statement; which clarifies what he or she envisions the Club will be and can achieve, so there are no ambiguities. Our Club's mission statement: A Port Tasting Club to allow us to learn about Port and share time with friends. And we also allow for non-Port wine tasting events on occasion, just to keep it fresh.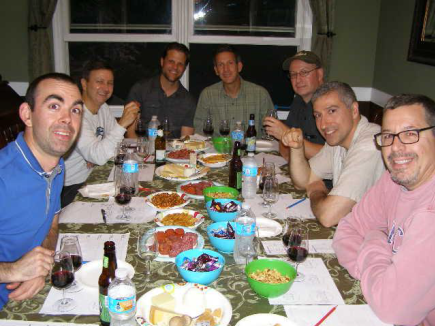 Membership
The ideal size is 8-10 people (you can start out with less and increase the size over time, but that's not ideal since the point is to learn together). With fewer members, it's hard to get enough bottles and/or funds to do it well. If you have more than ten people, your tastings may wind up being unfocused, with multiple conversations, instead of one. We have 13 members now and find that we struggle with the size.
Who you ask to join, is incredibly delicate, and requires a lot of forethought. All participants should optimally be people that you like well enough to see regularly, are 100% enthusiastic and open to learning. Anyone who is not 100% "in" during the early going will just drag it down. Experience is not necessary, but at least having an interest in Port, is important for the group dynamic to flourish. So choose your members wisely!
Before enlisting members, what worked for me, initially, was entertaining guests and gauging who would be a good fit. I started by organizing a casual tasting and had a couple of LBVs on hand and encouraged everyone to try them. By talking it up and seeing which guests enjoyed the Port, when I thought we had more than a half dozen people who were seemingly into it, I sprung the idea of a Port Club. Once you get started and word spreads, you'll have no problem filling the roster; just establish a maximum number of members right from the beginning. It will help to avoid problems down the road.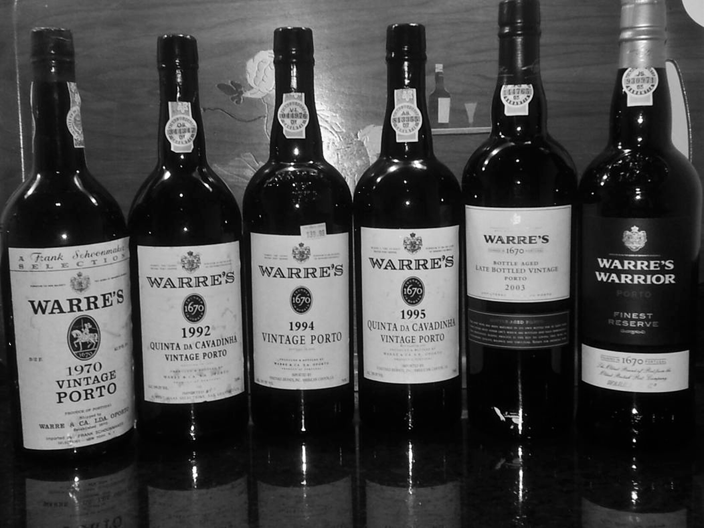 Key Elements
Meeting Schedule: Meetings should be held on a regular basis, as it keeps the momentum going, which is vital for the success of the group. If too frequent, there will be burn out; too few and it will be hard to sustain momentum. We do every six weeks.
Venue: The most economical way to manage the Club is to have all members take turns hosting the group in their homes. By choosing a restaurant or other venue to hold "meetings" – the additional cost will decrease the Club's ability to afford more or better Ports.
Bottles: figure on approximately ½ bottle per person, and round up if an odd number.
Glasses: suggest purchasing a case, or two. In the USA, Marjorie Lumm glasses are about $2.75/stem (3 dozen/case., #9909, the INAO glass) plus shipping. The Lumm glasses are shaped like a Port glass and they are both durable and dishwasher safe.
Score Sheets: standardized sheets make running a tally of each participant's (and group) scores, easy for future reference.
Placemats: essential if you'll be tasting several Ports in a flight, as it will allow for proper placement of all glasses and identification of their contents, thereby eliminating any confusion. There are very nice score sheets and placemats available from Julian D. A. Wiseman (search FTLOP's forum for his name or placemats). Blind tasting is made very simple too, just by numbering the glasses in the same order they'll appear in the flights.
Hydration: drinking water is very important during a Port tasting, to limit dehydration that will lead to a hangover. Have lots of chilled tap or bottled water available.
Blind or sighted: blind tasting makes for a more honest assessment and the reveal is fun. Sometimes we know what's in the line-up, sometimes not. We mix it up depending on the host, the theme, etc. just to keep it from being mundane.
Food: since our tastings are casual, we have a wide array of cheeses, nuts, chocolate, fig spread, bread, etc. It's good to have a couple of members responsible for bringing these items, or the leader should assign this to each host.
Presentations: from brief discussions to power point presentations, they are effective. Not everyone may be aware of the Port theme of the night, so it's helpful at the beginning of your event, to provide information to the group. You may be able to have a wine rep come in, (usually at a minimal cost) which can be very helpful. Don't be afraid to talk to the local brick & mortar retail shop owner or wine reps in your area who can provide intel.
Tools: Have a good corkscrew on hand (The Durand, is awesome for old or difficult cork extractions) or use a pair of Port tongs. Also have cheesecloth, decanters, spit cups, dump bucket(s) and a clean empty wine bottle to double decant if the original is compromised.
Hosting: depending on how the group decides to handle the cost of each event, the host may be responsible for providing all of the above … including the Port … or the group may prefer to split the entire cost of each tasting. Given the vastly different themes and their inherent costs, the latter methodology may make more sense; but this can be decided when the group agrees to the "rules of the road" in one of the first meetings. The host should be responsible for ensuring they have enough clean Port glasses, and the bottles for the tasting and then opening and decanting, etc. at the appropriate time. The host provides the food and water as well. After the meeting, the host is reimbursed for the budgeted amount, unless the group has decided each host should pay for their own event.
The first couple of meetings will set the tone for the future, so carefully consider the precedents that will be set. After the leader / organizer is selected, it really helps to get everyone's input when deciding on the "rules of the road"… as that will help eliminate disagreements later on. It is important to decide in advance of the group's next get together, what the theme will be. That way everyone has the chance to buy/bring a similar style or aged bottle of Port, from the same category (see: "purchasing Port" below). Whether tastings are organized by year or producer or Port category, horizontals or verticals, it can be a lot of fun to mix it up and have unique themes. Communication is the key using text/email/phone. As each individual decides what they will bring, they can announce what they are planning to buy so there are no duplicates.
Assessing the color of an aged White Port and a Vintage Port.
Finances
This is a very important consideration when trying to find common ground with Club members; keeping purchases to something that all members can afford. Some group participants may be able to afford the likes of LBVs, while others would be open to a horizontal tasting of Nacionals. To keep things congenial, this should be discussed up front, right after the group is selected.
The higher your entry fee and monthly dues, the better the financial health of the group will be for the long run. But make sure you have consensus from the group, so everyone is on board.
Club Structures
A most critical choice is how to structure your club. Below are two examples, each has its positive and negative elements. Of course, the traditional "bring a bottle" always works, but being a beginner club, it may not be practical. Here are two unique scenarios:
#1: The High Bridge Port Club was structured with each member paying an initial entry fee. That covered glassware and a few other items and also gave us a cash reserve from which to purchase ports. Two of us are the buyers for the club, and from this stock we try to generate themes for the meetings (such as: 20 Year Old Tawny Ports). For each meeting, all attendees pay a fixed amount. Thus for each meeting, the overall budget is the amount to be collected against the cost of the Port that night, plus food and water. The downside is that there's only one buyer, so others will not have the opportunity to learn that function. Additionally, last minute no shows can be a problem, so our rule now, is that any individual who cancels after the Ports are decanted, must pay in full.
10-14 members
One time entry fee
Fixed price per meeting
There are 8-9 tastings held per year
All guests pay the same fee
Inventory allows themes to develop, and if a bad bottle, it can be readily replaced
#2: Thomas V. another FTLOP forum participant, (from Denmark) started a Club with a friend. They initially began by creating a Facebook page, and then invited anyone who was interested to show up at a venue for a tasting. Over time, many interested people learned of their Club, so Tomas wound up using an application process, with the following parameters:
Cap of 30 members at any given time
A one-time membership fee, which costs the equivalent of roughly 50 dollars
4-6 official tastings are organized per year
Each tasting has its own budget. They work on a zero sum principle, but they make sure there is a small overhead for each tasting
No bottles are purchased until they have received payments from all members
Members have priority in attending the tastings
The cost of wine is split between the quantity of participants for a given tasting. Attendance is limited to either 15 or 30 attendees per event
There are 4 cl Port pours per bottle / person. So when there is a 15 slot tasting, they have an overhead of 15 cl per bottle, (for spillage and/or an extra sip at the end of the tasting)
If members don't fill the event, guests will be invited, in order to maintain the 15 / 30 rule
Guests pay between 10-20 dollars more per person for the tasting, than members
The above plan works quite well, yet its downside is collecting all payments prior to procurement of the Ports; as it takes time to amass the proper bottles. Also, membership does not guarantee a spot in tasting events, it just provides a priority.
Purchasing Port For Your Club
At more serious tastings, members bring a bottle from their cellar. For a Club of Port "newbies", this is not practical as you are trying to organize themes on a lower budget. Therefore, we only have a couple of people involved in the Port procurement process. This tends to work quite well.
It's too difficult to have the entire group involved in buying, unless it is a more established group, or contains older or wealthy people or if everyone has their own Port in a cellar or storage facility. If it's a group of those new to Port, or young members, then limit the number of buyers.
Keep in mind you are buying Ports to cellar for short-term drinking, which is quite different than your own cellar strategy. In an ideal world, you'd have a large budget and could buy cases of things to drink over the years, so the strategy in that scenario is very different, (e.g. what happens when someone moves away?). Buying for a small group on a budget has its challenges:
Trying to buy for a specific Port theme.
Waiting for delivery (cannot always ship due to weather).
Auction lots often involve many bottles and of the same wine, when you likely only want one.
The Meeting
While no one really spits out wine at our gatherings, (hence the ½ bottle/per person) there are cups available should anyone choose to do so. Still, it is easy to get palate fatigue quickly. We frequently pre-pour the glasses and keep the amounts small, (after the evaluation part of our "tasting" there will be time for revisiting each glass). Usually, due to size limitations, we do two flights of three glasses, with a break in the middle, or three sets of two.
As we taste, we discuss what aromas and flavors we perceive; along with the structure of the wine and the mouthfeel. The dialogue is helpful for both the beginners and those a bit more advanced in our group. Everyone keeps their own score sheet. At the end of the tasting, we figure the WOTN (Wine of the Night; usually scored on a 3-2-1 basis with "3" for the best) and then if blind, we have the reveal. This makes learning to "score" wine and evaluate it more closely an important part of learning for our group. Even beginners don't mind participating in scoring with such a simple system; where they would likely be intimidated if we used 100 points.
A note about scores: There is no right or wrong scores. It's all a personal preference of taste and quality, so never think members aren't "getting it" just because they disagree with you, or the experts. It's great if someone keeps a running tally of all the results, both scores and WOTN. We keep this information saved in a spreadsheet, which makes for a great reference down the road.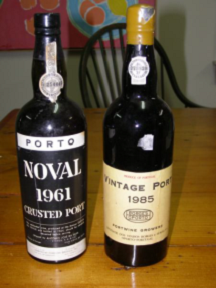 Guessing Games
Trying to guess "blind" what's in the glass, before the reveal, is incredibly difficult. Even the experts fail far more often than not. Our group has decided to never do it; it's nearly impossible and failure is inevitable, which will accentuate one's feeling that they don't really understand wine. Maybe some are better than others about guessing vintages, but guessing producers is usually futile. We are here to have fun and enjoy the group dynamic and learn about Port together, so a more casual and less geeky approach is the best … for our Club. You may have more advanced members in yours, so do what the majority of group members feel is suitable.
I hope this basic primer on creating a Port tasting Club has been a beneficial and enjoyable read. Many of the preferences may be particular to our group, but they've been included to provide you with a reference point, and your group members may have a very different take on the specifics. My sincere recommendation is to remain flexible and always open to all suggestions from your group members. But most of all have fun and don't let the group get too competitive!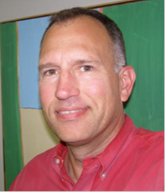 John Musnuff has been a fan of Port for 10 years and formed a Port Tasting Club in High Bridge, New Jersey, in 2008. Their club meets about 10 times a year. John hopes to visit the Douro quintas and vineyards someday, and taste as many Ports as possible. He is a commercial real estate appraiser and is a Member of the Appraisal Institute (MAI) as well as a Certified Tax Assessor. John lives in Hunterdon County, NJ with his wife and children.