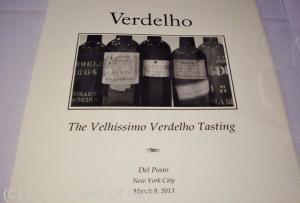 Upon walking down the stairs leading from the main dining area of Del Posto to the lower level banquet rooms, an ethereal fragrance greeted me and instantly brought a smile to my face. The beautiful torrefacted essence of well-aged Madeira filled the air and for the next six hours, it would be a part of our being during the grand and historic Verdelho tasting.
The bottles were all shipped ahead of time and arrived at least a week in advance from all points across the USA and across the pond from our British guests. These individuals are all serious Madeira aficionados and several rank amongst the world's most notable collectors of the island's nectar.
Mannie Berk, America's leading authority on Madeira and owner of The Rare Wine Co. received the shipments and took responsibility for decanting all of the bottles with the exception of one that was being hand carried by Richard Mayson (already decanted). Mannie began decanting nearly a week ahead of this event, on the previous Sunday morning. That way all bottles had a minimum of one week to rest after shipment, and an additional week in decanter prior to the actual tasting.
With eighteen bottles of historic Verdelho in front of us, spanning vintages from 1890 back to 1748, we all realized this would likely be the greatest compendium of Madeiras from this proud grape that we'd ever encounter. Possibly the finest and oldest lineup of Verdelho bottles ever assembled.
The Genesis of the Velhissima Verdelho Tasting
By Roy Hersh
Earlier in the autumn of 2012, Mannie Berk and I discussed continuing the momentum and exploration begun last year with the precedent setting Transcendental Terrantez tasting. We mulled over the idea of an annual series of Madeira events, seeking to assemble the "best-of-the best" remaining bottles from around the globe for each of the Noble grapes of Madeira. While we may return for Sercial at some point in the future, Verdelho seemed like the next great grape to consider.
Planning began and we decided to stick with the same weekend and play it forward exactly one year, landing on Saturday, March 9th 2013. We approached all of our guests from last year and gave them first right of refusal. Nearly two thirds of them were in attendance again this year, along with several new guests, all of whom are avid Madeira enthusiasts. After such an outstanding performance in 2012, it was decided that the Del Posto restaurant would remain our venue of choice for Velhissimo Verdelho.
By early this year, the collaboration was in full swing and with our guest list, dining venue and date carved in stone; it was time to seek out the greatest bottles of Verdelho ever compiled for this singular tasting event. Following scouring cellars near and far, a comprehensive assemblage of eighteen bottles of ancient Verdelho had been successfully amassed.
Bottles ranged in age from 1748 to 1890, with the vast majority considered to be pre-Phylloxera era. For those like me who believed we'd never taste any wine older than the 1760 H.M. Borges Terrantez last year, we had high hopes for the eldest bottle at this year's event, which put into a historical perspective: On April 1st 1748, the ruins of Pompeii were found. Using a more appropriately focused prism, the prior day that year, a killer earthquake rocked Madeira and claimed four lives, while destroying many homes and churches in Funchal and throughout the island.
We are grateful for the generosity of all participants, and looked forward to sharing a remarkable afternoon into evening with like-minded Madeira lovers. Velhissimo Verdelho, made for a memorable Madeira party and we were humbled that these bottles provided great pleasure for our knowledgeable guests. Moreover, the continued focus on historic tastings of venerable Verdelho and the island's other grapes, will further enhance the image of Madeira as one of the world greatest wines!
The Participants
Mannie Berk – Connecticut
Timothy Bird – California
David Boobyear – UK
Paul Day – UK
Marco Defreitas – Connecticut
Joe Dougherty – New York
Roy Hersh – Washington
Eric Ifune – Nevada
Andrew Jones – Cayman islands
Mark Lee – California
Bob Maliner – Florida
Richard Mayson – UK
Kevin Mendik – Massachusetts
Steve Pollack – California
Jens Quistgaard – Washington
Steve Shapiro – Maryland
David Spriggs – California
Bob Stern – Pennsylvania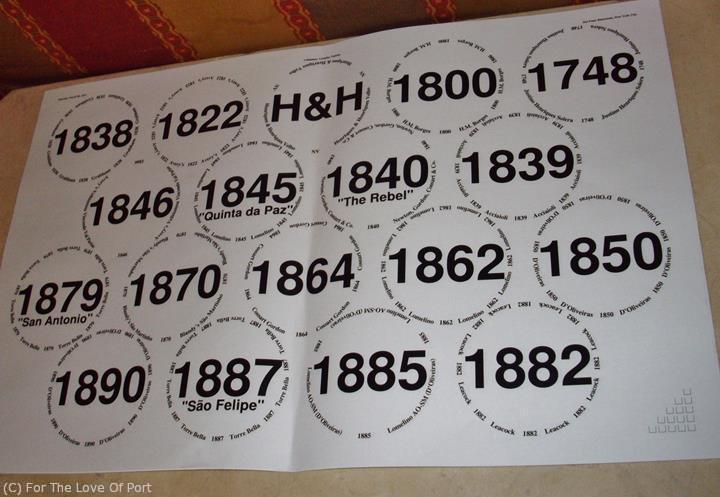 Roy's Note:
On the following pages, you will find detailed information from Mannie Berk and an in-depth article on the Verdelho grape by Richard Mayson.  My tasting notes for each of the 18 Verdelho bottlings represented on the placemat above, are included later in this article. They are broken into six flights of three wines, beginning with the 1890 and winding up with the 1748, exactly how we tasted them.
Historical information is included and was written by Mannie Berk for each of the bottlings. His text will be in italics and have the initials MB next to it. Mannie has also included auction sales data from Noel Cossart's book: Madeira the Island Vineyard, 2nd Edition, The Rare Wine Co., 2011.
The tasting notes as well as the historical perspective and auction information, plus the Mayson article will only be visible to FTLOP newsletter subscribers.
Reexamining Verdelho
By Mannie Berk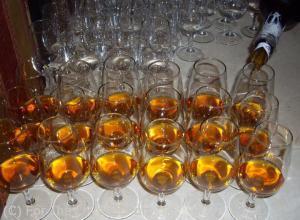 As with last year's Terrantez tasting, this is a unique opportunity to explore a significant part of Madeira's history through the lens of a single grape variety.
Verdelho, like Terrantez, played a major role in Madeira in the 18th and 19th centuries. But while Terrantez was incredibly rare, Verdelho was so abundant that many have underestimated its potential for greatness.
As Richard Mayson observes, prior to Phylloxera, two-thirds of Madeira's vineyards were planted to Verdelho. It was considered a workhorse grape, rather than a rare and noble grape, and as a result its name rarely graced labels. Instead, it worked behind scenes in the 18th century producing wines ranging from modest New York and India Market to prestigious London Particular blends.
In the nineteenth century it continued to work anonymously. The vast majority of Madeiras shipped in barrel to American connoisseurs, for example, were undoubtedly based on, if not entirely of, Verdelho. The more "noble" varieties of Malmsey, Bual and Sercial were rare, just as they are now.
Phylloxera arrived in Madeira in 1875, and soon the Verdelho vineyards began their precipitous decline. First, as the Phylloxera-ravaged vineyards were replanted, Verdelho was largely replaced by Tinta Negra Mole. And then, as the 20th century progressed, there were other casualties, such as the loss to residential development of most of the magnificent São Martinho and Torre Bella Verdelho vineyards.
The Verdelhos in today's tasting represent many legendary examples. And they are a fair representation of some of the world's greatest private Madeira collections and estates, which bear names like Blandy, Leacock, Goelet, Cossart, Torre Bella and Val Pariso.  There is even a bottle that had once belonged to the late Stephen Gaselee. We are also reminded of the contributions that merchants—like Ronald Avery and Sam Aaron of Sherry's in New York—made in the 1950s and 1960s in keeping great Madeira in the public eye.
Not every wine that Verdelho produced was great or deserved to be aged. Only the best were kept, singled out to be preserved, in Noël Cossart's words, "as a 'nest egg.'"  It is a testament to their longevity—and the value their owners placed on them—that they have survived until today.
The Verdelho Grape
Richard Mayson
Verdelho was the principal grape variety on the island before the twin plagues of oidium and phylloxera. From the 1870s onwards there was a seismic shift with high yielding, disease-resistant grape varieties largely ousting the classic varieties. Negra Mole has been chief beneficiary of the upheaval but until as recently as the early 1990s, well over half the island's wine production came from so-called 'direct producer' and hybrid varieties introduced from North America. Imported as rootstock to protect the traditional European (Vitis Vinifera) varieties from phylloxera, the direct producers yield well and are disease resistant.  Following Portugal's accession to the European Union in 1986, it became illegal to bottle wine made from hybrids and direct producers.
The quality of the Madeira wine grapes has improved immeasurably over the past fifteen years and the vineyards, although fewer in number, are better tended than at any time since the middle of the nineteenth century.  Although only one of the Madeira shippers has any vineyard of their own, the main producers are working quite closely with individual growers to improve the quality of their grapes.  The legal minimum ripeness for grapes destined to produce Madeira wine is 9º baumé but in practice this has only been rigorously enforced by the authorities since 2004. There is now a real incentive for growers to produce a smaller but better quality crop.
Once categorized as 'noble', 'good' and 'authorized', the official classification of Madeira's vinifera grapes has been simplified into two categories: recommended and authorized. The varieties that predate phylloxera and still produce the best and most sought-after wines are collectively referred to as either 'classic' or 'traditional' varieties.
The following grape varieties are currently permitted for the production of Madeira wine:
Castas recomendadas / Recommended Varieties:
Brancas/White: Sercial, Boal (Bual), Malvasia Cândida, Terrantez, Verdelho.
Tintas/Red: Tinta Negra Mole, Bastardo, Tinta da Madeira, Malvasia Roxa, Verdelho Tinto.
Castas autorizadas/Authorised Varieties:
Brancas/White: Carão de Moça, Moscatel de Málaga, Malvasia Babosa, Malvasia Fina, Rio Grande, Valveirinha, Listrão e Caracol.
Tintas/Red: Tinto Negro, Complexa, Deliciosa e Triunfo.
Verdelho
Until phylloxera ravaged Madeira's vineyards, Verdelho accounted for two thirds of the island's vines. There seems to be no knowledge of how Verdelho reached Madeira but recent DNA parentage analysis suggests that there could be a parent – offspring relationship with the French variety Savagnin which may belong to the Pinot family (Robinson, Harding and Vouillamoz, 2012).
Noel Cossart notes that Verdelho was once known as Vidonia (Vidonho) although this is disputed by Alex Liddell in an essay in the appendices at the end of his book.
Verdelho is susceptible to bunch rot and coulure. Its yields are low and it is an early ripener, although in Madeira it is picked mid-harvest. Verdelho was not particularly highly regarded as a variety until early in the twentieth century when it was promoted from being merely 'good' to 'noble' under the old grape variety classification scheme (see above). It is currently one of the five white varieties to be 'recommended' (as opposed to 'authorized'). Verdelho performs well on Madeira in cooler conditions, either at higher altitudes on the south side of the island. In 2010 47ha were cultivated. There is some particularly good Verdelho grown at Raposeira in the south and on the north side it is found at Ribeira de Janela, Porto Moniz, São Vicente and Ponta Delgada. The grapes produce moderate levels of sugar (10º - 12º Baumé) and have characteristically high levels of acidity. In the course of writing this I have been looking back at my tasting notes to find any common varietal characteristics in Verdelhos ranging from 10 year old blends to vintage wines back to 1822.  Much depends of style, some being richer and others drier with a few tending to rancio (a characteristic of one producer). However the words 'tea leaf', 'gunpowder tea' frequently crop up in my notes on the aromatics with 'citrus peel', 'lime', 'grapefruit' and occasionally 'marmalade' being the common expressions of flavour.
There is currently more Verdelho growing on the Azores (60ha in 2010) than on Madeira and in mainland Portugal (93ha) where it does well in the Alentejo (viz Esporão). There has long been confusion between Verdelho and Gouveio in the Douro but it has now been proved that these are different varieties. Apparently there is some Verdelho growing in Savannières in the Loire but I have never come across it knowingly in a wine. Verdelho is now mainly planted in Australia where it was introduced to make fortified wines in the early nineteenth century. There are now over 1,700 ha planted, mostly in the Hunter Valley or Riverina.
There is also a pink variant of the Madeiran Verdelho, Verdelho Roxo, while a grape named Verdelho Tinto is still found in the north west of Portugal but appears to be no relation (Robinson et al).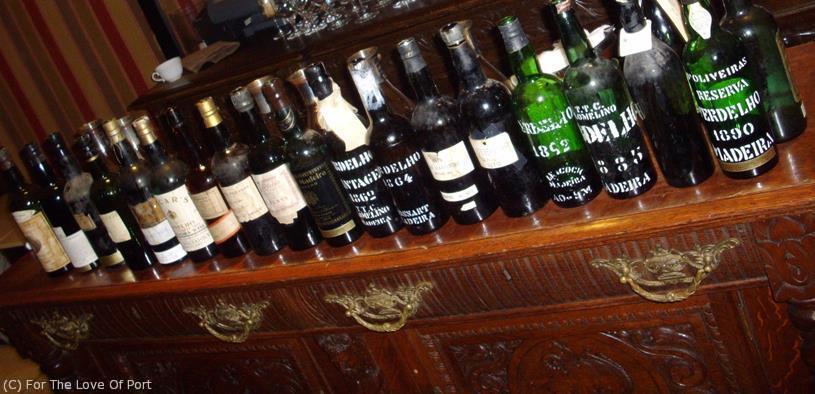 The Distribution of Madeira's Vineyards Today
Richard Mayson
There is still no official register or cadastro of vineyards on Madeira and Porto Santo but it is estimated that there are currently around 1800 hectares of vineyard on the island, split between 1900 growers. With an estimated 14,000 plots, the average size of a vineyard holding is a tiny fraction of a hectare. Instead of talking yields in international terms of hectolitres per hectare, individual growers often speak of kilos per square metre. Average yields are high, the grapes swollen by irrigation. The maximum yield permitted by law is 80 hectolitres of grape must per hectare although this is frequently raised to nearly double this amount.
Vineyards have been cultivated in much the same way for hundreds of years. Older vineyards are supported on latadas, low pergolas about a metre or so in height under which other crops such as potatoes, cabbages and beans are frequently grown. Apart from the fact that metal or timber has replaced bamboo, the following eighteenth century description of a typical Madeiran vineyard would apply today:
One or more walks a yard or two wide, intersect each vineyard … along these walks, which are arched over by lathes about seven feet high, they erect wooden pillars at regular distances to support a lattice work of bamboos, which slopes down from both sides of the walk, till it is only a foot and a half or two feet high, in which elevation it extends over the whole vineyard.
The vines are in this manner supported from the ground, and the people have room to root out the weeds which spring up between them. In the season of the vintage they creep under this lattice-work, cut off the grapes, and lay them into baskets: some of the bunches of these grapes that I saw weighed six pounds upwards.
Although the latada system seems to suit some varieties (Malvasia Cândida for example) most of the vineyards planted over the past fifteen years are trained on to vertical cordons (referred to locally as espaldeira). These vineyards are planted at a higher density (4,500 plants per ha as opposed to 3,000 in traditional vineyards), tend to be larger in size are much easier to cultivate. However the latada system is still the only way to cultivate vines on vertiginous slopes on the north side of the island, some of which have an inclination of 65%.
As recently as the 1960s, many of the finest vineyards were to be found in the western outskirts of Funchal and in nearby Câmara de Lobos. Pico de São João (St. John's Hill), São Martinho and Santo António were all important grape producing areas, noted for the quality of their predominantly sweet wines. These names sometimes appeared on bottles from nineteenth century vintages (e.g. San Martinho). As the city of Funchal has grown these areas have been taken over by housing, although a few small plots of vines can still be found in the midst of buildings at Santo António and there is a new vineyard at Santa Luzia planted in 2003 by my brother-in-law Andrew Blandy. This includes all the major varieties (including Terrantez) and has recently been leased to the Madeira Wine Company.
The town of Câmara de Lobos itself was once at the centre of the Torre Bella estate and was reputed to by the site of Madeira's first vineyards. This large estate was broken up after the 1974 revolution and much of the land has now been built on. The poios (terraces) that remain above Câmara de Lobos (up to an altitude of about 200m) have largely been colonized by bananas.
Vineyards on the south side of the island are found up to an altitude of 900 metres, the highest being at Jardim da Serra where the best Sercial is still grown. The majority of the island's vineyards are now to be found above Câmara de Lobos at Estreito de Câmara de Lobos. The main variety here is T Negra Mole but there are small plots of Bual and Verdelho in the deep, sheltered valleys of Marinheira, Vargem, and Jesus Maria José. Quinta das Romeiras above Estreito is one of the larger estates to remain intact, belonging to the Araújo family.
Further west along the coast, good vineyards are to be found at Campanário where a plot of Bual can be seen below the church and immediately above the road tunnel that now takes the via rapida from Funchal to Ribeira Brava. Nearby Quinta Grande is one of the most fertile parts of the island where vines mingle with vegetables and other crops. Caldeira, as its name suggests, is hot and very productive. Above the old main road (Estrada Nacional) at Ribeira do Escrivão is Madeira's largest single vineyard with ten hectares of vines belonging to wine shippers Henriques & Henriques. This is different than any other vineyard on the island having been laid out by Miguel Corte Real, a viticulturalist working for the Port shipper Cockburn on the mainland.
The terraces, which have been bulldozed from the hillside, are known as patamares and rise up to 750 metres above sea level. The vineyard is mostly planted with Verdelho and Sercial but seems to be hampered in cooler years by its high altitude.
There are few vineyards on the south coast between Ribeira Brava and Ponta do Sol, much of which is too shear for agriculture and the coastal zone around Lugar de Baixo and Madelena do Mar is mostly given over to bananas which are reputed to be the best on the island. At Arco de Calheta, so called because of the natural amphitheatre facing southeast and out to sea, bananas form the dominant crop with just a few vineyards in between and some good Bual being grown here.
Between Arco de Calheta and Estreito de Calheta are some of Madeira's best vineyards, covering the well-exposed lombos or headlands that slope down from south-easterly flank of the Paúl da Serra. Plots of vines on Lombo do Doutor, Lombo do Salão, Lombo das Laranjeiras, Lombo dos Reis and Lombo dos Serrões produce good grapes, particularly Bual. The narrow Santa Catarina valley nearby produces both grapes and sugar cane.
One of five government-run experimental vineyards can be found at the appropriately named Quinta das Vinhas at Estreito de Calheta. Over 100 grape varieties can be found here including foreign varietals such as Cabernet Sauvignon, Merlot, Chardonnay and Chenin Blanc as well as indigenous Portuguese grapes and varieties from Madeira and the Canaries.
West of Jardim do Mar, the island is too cool and windswept for bananas but there are plots of cereals, vegetables and vines. Vineyards at Raposeira 600 metres or so above Paúl do Mar produce some of the best Verdelho. Sercial used to be grown on Fajã Grande and Fajã Pequena but these narrow coastal platforms have now been abandoned. However the land around Ponta do Pargo is relatively level compared to the rest of the island and is still intensively cultivated, producing apples, sweet potatoes and cereals.
With the decline in viticulture on the south on the island, the valley of São Vicente north of Ribeira Brava is now second only to Estreito de Calheta as the main area for grape growing. This whole area has been given new economic impetus by the construction of a road tunnel under Encumeada linking the north coast with the south, which puts São Vicente within a 40 minute drive of Funchal.
Vineyards on the lava slopes around the communities of Ginjas, Feiteiras, Lameiros and Lanço above the town of São Vicente are extremely productive. Ninety five percent of the production is Negra Mole but there is also a small quantity of Verdelho. Although sheltered from the northerly wind, the area is considerably cooler than on the south side of the island and there are few vineyards above 350 metres.
The village of Seixal, west of São Vicente on the north coast, has the steepest and most spectacular vineyards on the island, like hanging gardens cascading into the sea. Seixal is known for Sercial whereas the adjacent communities of Ribeira da Janela and Porto Moniz traditionally grow Verdelho.  is now the principal variety in all three villages, grown on tiny plots shielded from the ocean by windbreaks made from branches.
The villages east of São Vicente towards Santana used to produce huge quantities American hybrid grapes (mostly Jacquet). With the exception of the steep sided valley of Boa Ventura (mostly planted with direct producers), most of these vineyards have been either abandoned or replaced with European vinifera varieties.
There is an impressive new vineyard at Ponta Delgada producing Verdelho and Arnsburger as well as Cabernet Sauvignon and Merlot. At Arco de São Jorge there is an experimental vineyard with a number of different clones of Malvasia and Verdelho.  Further west, the towns of São Jorge and Santana are the source of Malvasia de São Jorge, the principal variant of Malvasia growing on Madeira. The largest vineyard here is the five-hectare Quinta do Furão, an unusually flat property on the cliff top which was laid out by the Madeira Wine Company in the 1980s, but was sold a decade later.
There are few vineyards on the east side of the island which becomes progressively arid as you near Ponta de São Lourenço. A 6 hectare vineyard at Caniçal has been planted with Touriga Nacional, Touriga Franca, Trincadeira, Merlot and Cabernet Sauvignon, varieties which may be suited to the hot, dry climate.
Grapes from the island Porto Santo have always been included in Madeira wine and were once favoured by wine makers due to their high natural sugar content. But due both to long-term shortage of water and coastal development, vineyards have been largely abandoned. There are still a few vines growing in the sand at Vila Baleira and in the centre of the island where there is a government funded experimental vineyard.  A large area of vines was lost with the construction of the airport in 1960 which, having been subsequently extended, covers the much of the central part of the island.
The principal grape growing on Porto Santo today is Listrão. It used to be fermented dry on the island then shipped to Madeira to be blended with Sercial or Verdelho.  This practice has all but ended and most Listrão is now made into very ordinary dry white wine, sold off to visitors in the summer months. One taste is quite enough! Barros e Sousa are now the only company to produce a fortified Madeira wine from Listrão.
Velhissima Verdelho Tasting Note & Historical Information
(MB) = Mannie Berk
(RH) = Roy Hersh
First Flight: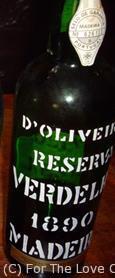 1890 D'Oliveira Verdelho (MB)
Verdelhos from the parish of São Martinho have long enjoyed a high reputation; in 1896, the New York Madeira merchant Charles Bellows singled them out from the other Verdelhos on the island for their "wonderful perfume."
João Pereira D'Oliveira was one of the São Martinho growers who produced fine Verdelhos in the late 19th and early 20th centuries. He founded the firm that is today known as Pereira D'Oliveira and which still possesses some of the Verdelhos he made. Including among them is this 1890, which can still be found in barrel in D'Oliveira's Funchal lodge. The old D'Oliveira Verdelhos stand out not only for their power and deep color , but also because they are likely to have all been born from the same vineyards in São Martinho.
1890 D'Oliveiras Verdelho Vintage Madeira – Bottled approximately 15-20 years ago from grapes grown in the vineyards of São Martinho. Dark maple optic with a broad golden edge and greenish tinge. A well-defined bouquet reveals mahogany, clove, VA, roasted espresso notes along with black tea, zest of lemon and caramel. Lots of descriptors emerged as this 1890 continued to morph in glass. Medium weight, loaded with glycerin and richly textured, this Verdelho is propped by racy acidity and delivers a slightly sweet profile. Concentrated flavors of caramelized pecan, citrus and bitter nut skin provide complexity throughout its youthful showing. Exuding D'Oliveiras typicity, this Verdelho ends with a persistent sweet toffee and lemon custard infused finish. 93 points 3/9/13 (RH)
1887 Torre Bella Verdelho "São Felipe" (MB)
By the 18th and 19th centuries, the descendants of João Afonso Correia are estimated to have owned as much as half of the island. And in 1812, they earned the right to be called Visconde de Torre Bella, a title befitting Madeira's biggest landowners.
The Torre Bella estate encompassed a great deal of the island's prime vineyards, including sites in Câmara do Lobos, Ribeira Brava and Campanário. At one time, it even included the great Malmsey vineyards at Fajã dos Padres. But by the end of the 1980s, the family had almost died out, with just one direct descendent, Susan, the Viscondessa and Condessa de Torre Bella, surviving.
In November, 1988, most of the Torre Bella Madeiras of Susan's sister Ann, (who'd died in 1986) were sold at Christies in London. According to the Christies' back label on these bottles, the wines were "blended, re-bottled and recorked in the family Frasqueira in Funchal in April 1987" under the supervision of Captain Ogilvie Fairlie, Ann's husband. The wines sold at Christies are labeled mostly as either Verdelho or Tinta Negra from single harvests: 1877, 1879, 1905 and 1950.
As for the wines belonging to Susan, Bob Maliner purchased "the remaining bottles in her personal collection" in 1992 in a private sale. Like Ann's bottles, Susan's bottles are of varying shape and size. When opened for the tasting, the corks were tiny, no more than 3/4" in length.
1887 Torre Bella "São Felipe" Verdelho Vintage Madeira – Likely in bottle for about the past forty years, was Mannie's conclusion. Medium maple color with ruby glints in the center and a greenish-amber edge. Early on some ethyl acetate and vitamin pill odors emanated from the glass, but mostly blew off. The Torre Bella probably could have used even more time in the decanter. A mélange of refined scents comprised of roasted coffee bean, grilled pineapple, rock candy, spearmint and butterscotch arose, but high-toned notes remained as well. Full-bodied and Sercial-like in its utter dryness; silky and vinous with flavors of coconut, marzipan and a smoky bitter espresso appeal. Piercing acidity intertwines well with the tart flavors and led to a lingering, well-sculpted edgy finish.  91 points 3/9/13 (RH)

1885 Lomelino Verdelho (MB)
A rare post-phylloxera example, of unknown origin, with just two bottles known to have appeared at auction.
1885 Lomelino Verdelho Vintage Madeira – Considered an "endangered species" as only two previous bottles of this Verdelho have ever turned up at auction.  Light mahogany hue with a pale golden-green meniscus. Swirling idiosyncratic aromas of Cracker Jacks, salted caramel popcorn, a reductive soy note, beef bouillon cube, honeyed bees wax and orange pekoe tea provide a unique silhouette. Medium weight and exhibiting a duality of dryness followed by sweet impressions and a very smooth palate presence. With nearly 40-50 years of time in the bottle, there was rusticity and a savory edginess present. It was slightly lacking a drop more acidity which would've provided even greater interest and verve. A distinctive praline note added charm to the sweet and harmonious medium-long finish. 92 points 3/9/13 (RH)
Second Flight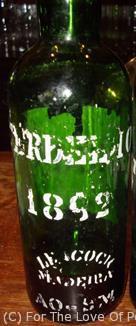 1882 Leacock Verdelho AO-SM (MB)
Until the 1970s and 1980s, D'Oliveira's main business was as a partidista, supplying other shippers with wine. And so this is actually a D'Oliveira wine—and presumably from the same São Martinho vineyards as the 1850 and 1890 D'Oliveira. It appeared under various other Madeira Wine Association/Madeira Wine Company labels, including Blandy, Cossart Gordon and Lomelino. This bottle was shipped to the U.S. by Leacock's agent, World Shippers, in the late 1980s or early 1990s.
1882 Leacock "AO-SM" Verdelho Vintage Madeira – AO = Anibal D'Oliveiras an early owner of Pereira D'Oliveiras with vineyards owned in SM = São Martinho, which is just west of Madeira's capital city of Funchal. This Leacock frasqueira delivered a split decision, (like or not) amongst our guests. It was the darkest wine of the tasting (see front row in the photo below), some felt it may have been adulterated by adding caramel coloring during its production. The bouquet possessed fragrant caramelized onion, torched sugar, saline, baked peach and toffee notes that delivered a knockout punch to the proboscis. Full, soft and silky, this Verdelho exhibited medium sweetness and generous flavors of lime, salted caramel and a distinct smoky walnut nuance along with citrus acidity focused in its core. The viscous espresso imbued finish lingered long which added even greater complexity. 94 points 3/9/13 (RH)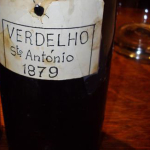 1879 Torre Bella Verdelho "San Antonio" (MB)  See 1887 Torre Bella Verdelho "São Felipe."
1879 Torre Bella "San António" Verdelho Vintage Madeira – Light tawny-amber hue with lime green meniscus. A full arsenal of aromas began with lifted notes of VA and freshly sanded oak, then Frangelico, dried peach, glove leather, ending with a dollop of coconut extract. Elegant in its exquisitely soft, sensuous mouthfeel, but otherwise somewhat simple. Medium weight, round and dry entry that turns sweet and smoky in a hurry. Accented by grapefruit and lime juice upfront, the flavors evolve to exhibit crème brûlée, marzipan and caramel drenched apple pie with solid length. All good, but the acid deficiency on the back end detracted from what could have been a serious contender. 90 points 3/9/13 (RH)
1870 Blandy São Martinho (MB)
A prized Blandy family wine, produced just before Phylloxera. We've long  been curious if there's a connection between this wine and the São Martinho wine sent in barrel on the ship HMS Challenger during its famous expedition of 1872-1876. After its voyage onboard, the Challenger Madeira was returned to the island where it was bottled. Presumably it was vintaged in about 1870 and was also a Blandy family wine.
In 1896, the New York Madeira merchant Charles Bellows singled out São Martinho Verdelhos from the others on the island for their "wonderful perfume."
1870 Blandy's "São  Martinho" Verdelho Vintage Madeira – Richard Mayson brought this to a tasting at my home, after dinner the first time we met, early in May 2003. This bottle was also Richard's, from the late Richard Blandy collection, (his father in law) and showed every bit as brilliantly a decade later. Recorked three times after it was bottled in 1893, (1953, 1960 and again in the summer of 1996 when it was rebottled as well) from one of the last vintages before phylloxera ravaged the island's vineyards. Just slightly darker than the 1879 Torre Bella with a maple-orange optic and broad amber-green apple edge. Tantalizing accents of sandalwood, torrefacted notes, beef broth, white peach, hints of VA and a distinctive heady scent of sea breeze created an evocative elixir. The complexity intensified on the palate, propped up by concentrated savory flavors, dried dates and figs, honey, walnuts and bracing acidity that bordered on razor sharp. Ultra smooth from the first sip to the enduring ending, this was unquestionably the finest Verdelho in the first two flights. 95 points 3/9/13 (RH)
Third Flight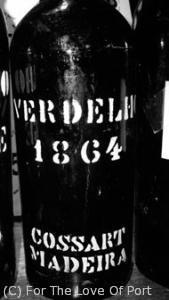 1864 Cossart Gordon Verdelho (MB)
This is the only 1864 Verdelho-labeled vintage Madeira we've seen. It also doesn't seem to have been released under any of the other MWA/MWC brands. Just nine bottles are known to have appeared at auction.
1864 Cossart Gordon Verdelho Vintage Madeira – Lightest appearance of the 3rd flight, medium orange-amber color and golden rim. Only 9 bottles have ever appeared at auction; this spent very little time in wood, (circa 20 years in cask) and then it was likely stored in demijohn. Scented bouquet with sweet notes of apricot and nectarine, pecan, tea, toasted almond and leather. Others seemed to like this more than I did. Medium-full bodied, viscous and graceful across the tongue, but the mid-range seems a bit shallow. There's plenty of acidity here to keep even the most ardent acid freak happy. A lemony-grapefruit dry impression initially, it faded to a bitter nutty edge with dried tropical fruits and marmalade that prevailed. Nicely balanced overall, structurally excellent and with lovely length, but I just did not sense the level of complexity, given the rest of the components of this Cossart Verdelho. 92 points 3/9/13 (RH)
1862 Lomelino Verdelho (MB)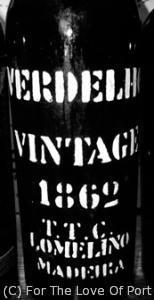 While 1862 is best known for its Terrantezes, a small amount of Verdelho was produced by the Madeira Wine Association—appearing under at least three different brands: Lomelino, Blandy and Avery's. This is a rare wine, with a combined total of only five bottles noted at auction under the three labels.
1862 Lomelino Verdelho Vintage Madeira – One of the truly scarce wines at the tasting, only five bottles have shown up at auction, encompassing several labels under which this Verdelho had been bottled. Medium dark cherrywood tone and a broad yellow rim. It's an ethereal elixir, elusive and engrossing in its aromatic profundity with powerful whiffs of mahogany, chestnut, glove leather, herbs, roasted espresso, and beef bouillon. Mouth filling and hedonistic texturally, round and rich, savory and dry up front, but backfilled with sublime sweet flavors of ripe peach, candied hazelnut and apricot marmalade. The overwhelming intensity of the acidity refreshes the palate and attacks the salivary glands in a way that too few Madeiras ever achieve. Blessed with extraordinary balance and a finish that never quite did, one of the truly great Verdelhos I've ever experienced. 1862 was a lauded year for Terrantez and apparently a venerable vintage for Verdelho too; as this earned my top rating of the entire tasting and superlatives only go so far in describing its gorgeous essence. 98 points 3/9/13 (RH)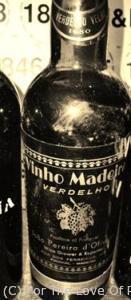 1850 D'Oliveira Verdelho (MB)
The oldest Verdelho still available from D'Oliveira, from a year that coincides with the firm's official date of founding. This bottle is from the family's private collection, having been bottled in the 1960s or 1970s.
1850 D'Oliveiras "Family Reserve" Verdelho Vintage Madeira – I've been fortunate to have tasted this Verdelho a half dozen times when visiting the island, as it's the oldest Madeira I've tasted there, with some still remaining in cask. But this is a 40-50+ year old bottling, and one I've never tried before. The 2nd darkest wine present at our event, full on coffee color with a greenish edge and specks of floating sediment apparent. Scintillating smoky scents explode from the glass along with notes of white peach, golden raisins, VA, figs and marzipan. A riveting profile! The palate is no slouch either, viscous and concentrated, with precision and nerve from the electric acidity possessed by this 1850. Full throttle intensity, framed by flavors of crème brûlée, dates, roasted espresso, Satsuma and a sweet hazelnut finish that carries on for minutes. In any given tasting this would be absolutely extraordinary Madeira, its only fault was in immediately following the mind-blowing 1862 Lomelino … otherwise, it was fantastic! 96 points 3/9/13 (RH)
Fourth Flight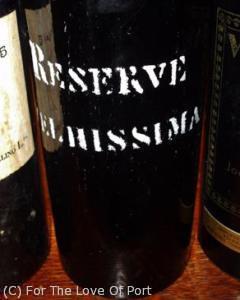 1846 Avery's Verdelho Reserve Velhissima Visconde Val Pariso (MB)
In the 1950s and 1960s, Avery's was perhaps the richest source of very old and great Madeira in the world. From the time he joined the firm full-time in the 1920s, Ronald Avery kept his customers well-supplied with claret, Burgundy and Sherries, but then in the 1950's he emerged as the great source of Madeira for British and American collectors.
Most of his wines are believed to have come from one of two sources: the Madeira Wine Association and the estate of the late Stephen Gaselee. By the late 1960s, with little old Madeira left to buy, Avery wound down his Madeira business.
This famous wine came from Visconde Val Pariso's estate in Porto Moniz, on the northwest corner of the island. It was a prized wine in the Avery's portfolio of rarest Madeiras. In 1960, Ronald Avery wrote to California collector Roy Brady: "This is the finest Old Madeira that we have and it's very unlikely there will ever be another one to approach it in quality available."
1846 Avery's "Velhissima Visconde Val Pariso" Verdelho Reserve Vintage Madeira – Averys of Bristol, a well-known UK retailer since 1793; sourced Madeira, Sherry and Port amongst other wines for its clientele. Medium dark shade of amber-tawny with a narrow golden-green edge. A scorched earthy nose hinting more towards Sercial with citrusy grapefruit pith, VA, iodine, saline and old wood overtones -- that I liked. Light in weight, with tart, hot and sharp volatile impressions, leather, lime, grapefruit and resinous flavors; Ultra-dry, fading fruit until the bitter-sweet medium length finish. The 1846 Visconde Verdelho from Madeira's quaint town of Porto Moniz had a sterling reputation, yet this one (bottled circa 1940-1950) failed to live up to it, in my opinion. 88 points 3/9/13 (RH)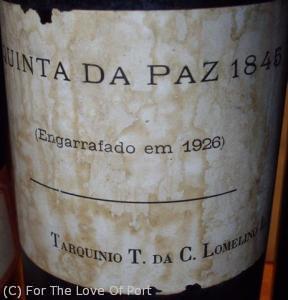 1845 Lomelino "Quinta da Paz" (MB)
Lomelino's 1845 Quinta da Paz was among the most important wines in William Leacock's Madeira collection, sold at Christies, London, in December 2010. Produced on the estate of Joseph Phelps, an important early British shipper, a stock of this wine came into the possession of the Leacock and Blandy families when Lomelino joined the MWA in the 1930s. It had been rebottled by Lomelino in 1926.
In 1971, Graham Blandy gave each of his children two bottles, calling them "museum pieces." He also noted that the wine was "probably Verdelho." Prior to the William Leacock sale, only seven bottles were known to have ever appeared at auction: at least two came from Blandy children and two more from Tom Mullins, managing director of the Madeira Wine Association. These bottles brought among the highest Madeira auction prices for their time.
1845 Lomelino "Quinta da Paz" (thought to be) Verdelho Vintage Madeira – Rebottled in 1926 as depicted on the label along with "Tabquinio T. da C." which is seen on some newer stenciled bottles as: TTC Lomelino. Only my 2nd time ever tasting this wine. Medium dark orange-amber with greenish-gold meniscus. It appears as a very old austere wine, my first sniff reminiscent of newsprint and a musty antique furniture shop. Later it blossomed in glass, proffering fragrant pecan pie, a green leafy note, assorted baking spices, plus treacle, cinnamon and low level VA. The palate presented sweet torrefacted flavors closer to a Bual: brandy infused bread pudding, butterscotch, fig, hazelnut and apricot preserves cloaked in a velvet wrap. The acidity was a bit light for this level of RS. An elegant and seductively smooth finish prevailed, but overall, the previous bottle I tasted of this Verdelho delivered on a significantly higher plane. 94 points 3/9/13 (RH)
1840 Newton, Gordon, Cossart & Co. "The Rebel" (MB)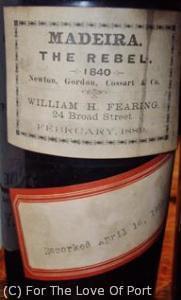 This wine is most probably Verdelho and a rare surviving example of the glass-aged Madeiras popular in the United States in the nineteenth century. It came from the Goelet collection sold at Morrell & Co. in New York in 1999. The collection was extraordinary because it represented the buying and connoisseurship of at least four generations of Goelets, at one time the second wealthiest family in New York.
The wine presumably came to New York on the ship, The Rebel. It is not clear whether 1840 is the date of importation or the vintage. But if it's the former, the vintage is probably in the vicinity of 1838.
The label also bears the name of William H. Fearing, a wine merchant who for decades  sold Madeiras to wealthy New Yorkers on behalf of William Neyle Habersham of Savannah. The February 1889 date on the label is presumably when Fearing transferred The Rebel from demijohn into bottle. The bottle was recorked on April 16, 1919, only a few months before the arrival of Prohibition.
1840 Newton, Gordon, Cossart & Co. "The Rebel" Verdelho Vintage Madeira – Assumed to have been bottled in February 1889 from demijohn, recorked April 16, 1919 and likely named for the ship that brought it to NY. It was sold again, at a Morrell & Co. auction a century later. Light golden color with a straw gold rim, this was a polarizing bottle. The nose seemed flawed early on, with lots of chemical bottle stink, it only partially blew off two hours later. Beneath the funky Elmer's glue, emerged pleasant scents of maple, crème anglaise, cedar and leather along with loads of VA. Better on the palate, while exhibiting little in the way of Verdelho character, the tropical fruit appeared to be fading. Viscous and silky texturally and offering medium length on the finish; it was rather hard to wrap my brain around this particular Madeira. I can only assume this was an atypical showing that had nothing to do with the amount of time in decanter. 83 points 3/9/13 (RH)
Fifth Flight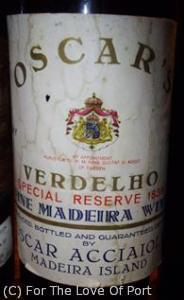 1839 Acciaioly Verdelho (MB)
Oscar Acciaioly represented the last generation on the island of one of Madeira's oldest families. Descended from the Dukes of Burgundy, the Acciaiolys arrived in Madeira in the early 1500's and reputedly brought the Malvasia Babosa grape to the island.
When Acciaioly died in 1979, his remaining wines were divided into two parts. One part went to his second wife, who in turn sold them to Mario Barbeito. The second part went to his sons Michael and David, who consigned them, in their original state with original labels, capsules and corks, to Christie's in London. This bottle is from the Christies stock.
1839 Acciaioly Verdelho "Special Reserve"Vintage Madeira – My contribution to the party; the bottle was purchased from an individual who bought it from Christie's auction house several decades ago. Dark maple color with a greenish-gold edge. Accessorized by a myriad of intense fragrances of quince, orange marmalade, mahogany, VA, sea salt and a dollop of singed caramel. A sexy if not slutty version of Verdelho framed by deeply concentrated, velvety textured and refined flavors of tangy lemon meringue, Amaretto, ripe nectarine and salted toffee. This 1839 Acciaioly was as unctuous as any Malmsey, but the bittersweet core is balanced by laser focused acidity which provided cut and tensity. The lip smacking sweet and enduring finish of liquid crème caramel went down easy. 96 points 3/9/13 (RH)
1838 Avery's Verdelho ex-Stephen Gaselee (MB)

This bottle was originally sold in September 1977 at Christies, London, and then again at the Graham Lyons sale at Zachy's in 2008. The bottle has a "Grabham-style" label on the front and the remains of an Avery's label on the back.
Because of the simple black and white front label, some would assume this to be a Michael Grabham Madeira, since the label style is often seen on bottles with his provenance. However, the presence of one of these labels more likely indicates that the wine passed through the Madeira Wine Association, where the labels were printed, perhaps in the 1950s or 1960s.
Ronald Avery believed that this wine came from the great British Madeira collector, Stephen Gaselee. In 1985, Avery wrote to Roy Brady that it was "certainly" so.
Gaselee, who worked at the British Foreign Office, and lived from 1882 until 1943, was considered the greatest private Madeira collector of his day. Between 1919 and 1939, he visited Madeira each winter. Over the years, he made friends with all the best families—whether they were Portuguese or English—and so he was given or sold wines that no one else had. André Simon once wrote that "some of the Madeira notables sold to Gaselee some priceless wines which they would not have let any wine-merchant buy for sacks of gold.
1838 Avery's Verdelho Vintage Madeira – Medium tawny hue with garnet sparkles at the core and a greenish-gold meniscus. A riveting aromatic assemblage of caramelized onion, Courvoisier, maple bacon, freshly buttered brioche followed by an elusive spicy character and oxidative whiff. Light and delicate, off-dry with old school Verdelho typicity and charm; immediately impressive in its seamless and delicious good nature. Spicy, smoky chestnut, torched brown sugar, slightly tart Key lime and peach preserves complement the graceful velvety mouthfeel that delicately caresses the palate and melds with the ample acidity in this beautifully balanced Madeira. An opulent, smooth, nutty citrus persistence prevails. 95 points 3/9/13 (RH)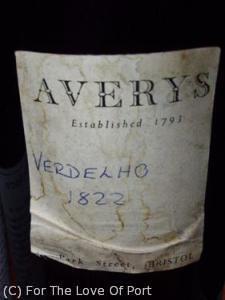 1822 Avery's Verdelho  (MB)
Avery's stock of 1822 Verdelho has been the source of some confusion over the years, since the vast majority of bottles were clearly labeled "solera," but the occasional bottle has not been. Are they different wines? This bottle is one of the few whose label does not say "solera."
1822 Avery's Lomelino Verdelho Vintage Madeira – Solera or not? That is the question. Medium dark orange-amber colors with a golden-tawny rim. A polarizing Madeira as some loved this and others … not so much. An initial sulfur scent blows off rather quickly and a more enticing character emerges with generous notes of fig, toasted almond, zest of lemon, vanilla bean and bouillon cube. Full, rich and rather sumptuously textured with custard smoothness and a seamless glide across the palate. The excellent transparency and penetrating acidity enliven the meaty and citrus core, propped by an expansive cashew nutty nuanced harmonious finish. My question to the group was: "Does it really matter if this is actually a Solera or not, as ultimately, what does it change?" From my experience, not many discerning Madeira palates can tell the difference. 93 points 3/9/13 (RH)
Sixth Flight
NV Henriques & Henriques Velho Verdelho (MB)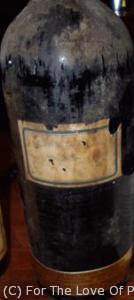 Alex Liddell's 1998 book, Madeira, made famous the four ancient, yet undated, Madeiras that Henriques & Henriques have had on their list for years. Liddell called them the "Heavenly Quartet," thanks to their wonderful quality. But what isn't widely known is that these four wines were simply the most abundant of a larger group of wines that date back to before H & H's founding in 1850.
While the Heavenly Quartet has been continuously available for sale for many years, there are a number of other H & H wines from the same period that long ago vanished from H & H's inventory. But like the Leacocks and Blandys at the Madeira Wine Association, Peter Cossart, H & H's longtime managing director, took examples of the greatest wines out of the company inventory for his personal collection. His son John inherited these wines on his father's death in 1991. And on John's death, the collection was sold by John's children to The Rare Wine Co.
The bottle we're tasting today belonged to John. Its age is indeterminant, but John believed that this group of wines was already considered "old" when H & H was founded in 1850 and some may date to the late 18th century. Like the other wines in the John Cossart collection, this wine was aired for about six months in demijohn, before being rebottled and recorked in late 2011.
n/v Henriques & Henriques Velho Verdelho Vintage Madeira –  Only my second bottle from the "Heavenly Quartet" this ancient Verdelho spent about a half year refreshing in demijohn prior to being rebottled and recorked in 2011 following John Cossart's untimely death a few years ago. Educated speculation would date this wine circa 1820, or as early as the latter part of the 18th century. Medium caramel color with a straw yellow rim, decanted for 48 hours. Tightly coiled early on, coaxing helped to deliver inviting notes of baked apple and pears, sea salt, apricot, cashew and cinnamon sticks. Light weight, delicate, smooth and medium-dry stylistically, with penetrating acidity, this H&H gracefully portrayed a venerable Verdelho with precision and complexity throughout. The salty hazelnut aftertaste lingered for minutes and the overall balance of this sleek and seductive Madeira was superb.95 points 3/9/13 (RH)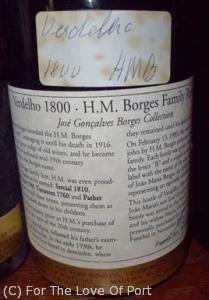 1800 H.M. Borges Verdelho (MB)
This was one of several very old Madeiras Henrique Menèzes Borges left to his three children on his death in 1916. According to family legend, H.M. considered these wines to be his best and instructed his children not to sell them. The Madeiras eventually went to one son, João Maria, who on his death in 1989 bequeathed them to his six children. On February 13, 1989, the wines were all bottled from demijohn by H.M. Borges personnel in the presence of the Borges family. The wines were divided equally among the children.
Little is known about the origin of these "Borges family wines," except that they are believed to have been acquired by H.M. somewhere around the turn of the 20th century. Though the dates are those given by H.M., they should be considered approximate. Twenty-three bottles of the 1800 Verdelho were bottled from demijohn in 1989, with each child receiving three or four bottles.
1800 H. M. Borges Verdelho Vintage Madeira – Upon his death In 1919, Henrique Menèzes Borges left this and other Madeira wines to his son. When his son died in 1980, bottling took place in 1989 from old demijohns, and 23 bottles were produced and divided amongst Henrique's grandchildren. Medium sunset orange color with a tawny-gold meniscus. A sweet and lively spirited bouquet of dried dates, golden raisins, violets, VA and honeyed bees wax provide the lifted aromatic fireworks. Medium-full, rich, elegant and smoky on the palate, the profile of tart citrus fruits, apricot preserves and sweet pecan pie shows a bit too much heat in the middle and finish, albeit with loads of crisp acidity. The flavor intensity and length of the finish were underwhelming and I believe that the fruit is just beginning to dry out, so drink up over the next ten to fifteen years or so.90 points 3/9/13 (RH)
1748 Justino Henriques Verdelho Solera  (MB)
This wine was shipped to the U.S. in the mid-1960s. A good part of it (and perhaps most of it) ended up at Sherry Wines & Spirits on Madison Avenue—a predecessor of Sherry-Lehman and then extremely active in selling old Madeira.
According to Justino's back label, the wine been acquired from João Alfredo Faria, "an important landowner in Funchal." In a 1967 ad in the New York Times, Sherry proclaimed that "the entire contents of the 1748 cask were recently bottled, interrupting a 200-year slumber. It consisted of only 700 bottles, some of which has found its way to Sherry's."  The price: $29.75 a bottle or $340 a case. It's a measure of the Madeira market's weakness—as well as the number of bottles Sherry's probably bought—that, three years later, this Madeira was still being advertised at $29.75 a bottle.
1748 Justino Henriques Verdelho Solera Madeira – Bottled and shipped to the USA in the mid-late 1960's and sold for just under $30 at the time. Medium dark maple hue with lime green rim, and cloudy appearance. The bouquet is the significant strength of this 265 year old bottle of Madeira. It possesses musty and vegetal notes, but also some cinnamon, clove and other assorted baking spices and a reductive teriyaki fragrance emerged. The flavors of this old bottling told the story of a Madeira past its prime with fading fruit and it's a bit disjointed. A few guests in the room did find the love in this Verdelho, while most of us did not. The distinct flavors were mostly of stewed fruits, savory notes and a sweetened apple butter as well. There was a modicum of acidity still present, but not enough. I wondered what this had been refreshed with over the years, but we'll likely never know the rest of the story. The finish was short and overtly sweet like an apple cider. It was a wonderful experience to try a bottle of Madeira this old, but a real shame that we did not get to drink this 20+ years ago. 80 points 3/9/13 (RH)
Epilogue
The Saturday afternoon spent tasting these venerable bottles of Velhissima Verdelho, was fun and educational for all of us. It is not every day that you have the opportunity to try 18 consecutive bottles of Verdelho, the youngest of which was 123 years old. Getting into the numbers, the total bottle age of the wines we shared was just shy of 3,000 years old, with the average per bottle reaching 165 years of age. It's humbling to even consider, in retrospect, no less to view the historical perspective of when these were vinified in addition to their own storied past.
Our group selected the 1862 Lomelino, 1839 Acciaioly and 1870 Blandy's as the three best wines of the tasting, respectively. Special thanks to Mannie Berk, Robert Maliner and Richard Mayson, along with the wine, kitchen and banquet service staff at Del Posto.