This month FTLOP is proud to introduce you to Carla Tiago, who is the talented winemaker at Quinta S. Luiz, since 2007. This beautiful property is where the Port and Douro wines of Kopke are grown and vinified along with some others in the Sogevinus portfolio.
Here is Carla's story:
1. How did you break into the Port and Douro wine trade and at what age?
I was raised in a small village in the Northeast region of Portugal – Peredo dos Castelhanos - where my father owns a small vineyard. Later, when I was involved as a Biochemistry major and the time came to choose an internship, bench work in a wine company sounded the most attractive. During 2005, I did the internship in a lab at Sogevinus and when it finished I asked Pedro Sá (Sogevinus' head of winemaking) if I could join the harvest in Douro. The following months were determinant to absolutely understand that I had a true passion for wine, Port and everything related to them. This took place back when I was 29 years old and it was a life changing experience!
2. What is your favorite style of Douro wine and also Port to drink at home, and can you name two or three of the greatest one's you've ever tried?
I very much enjoy cooking and welcoming friends and family around the table. On these occasions we always try new wines, and of course, Sogevinus wines are a definitive presence. I prefer wines with some irreverence, when we are challenged by the first taste; those are the ones that I keep coming back to, just to make sure that the feeling is the same! Within these parameters there are 2 wines that keep surprising me: Casa Burmester White 2010 – it has an excellent acidity and very well developed wood character that lasts after the first contact; Kopke Vinhas Velhas Red 2008 – for its sparkle and complexity that persists until the last drop. Regarding the Port Wines, I am without question, a Tawny girl. There are very few gustatory sensations comparable to a good old Tawny. I am lucky to work at one of the companies that have the largest stock of old Tawnies and having the opportunity to take part in wonderful wine tastings is priceless. The perfect balance between the sweetness and the sharp acidity enclosed by details of herbs, dried figs, dried nuts, tobacco and slight hints of iodide make me elect one of the best blends ever made at this company: Barros' centenary celebratory blend.
3. Besides wines from your own company, what others do you most enjoy drinking?
I love trying new wines and I am deeply curious about what's been doing in other Portuguese regions. Every day there are new wines on the market coming from really interesting projects. I also drink wines from abroad, mainly European wines – France, Italy and Spain. However I like to be surprised by wines from the new world and it's important to know what's happening out there.
4. What brings you the most joy in what you do within the Douro wine trade?
Continuous challenge. Witnessing the vine life cycle, starting the wine cycle at the cellar, watching the aging process in the tasting room and holding that taste inside a bottle. Every day is different and routine is renovated every day.

5. Would you please share one piece of unique trivia or historical information about your company that would be new to FTLOP readers?
Sogevinus owns 4 traditional and historic Port wine shippers: Kopke, Burmester, Barros and Calém. They all have an extremely rich past. Kopke was founded in 1638 and it is the oldest Port wine company; Burmester was created in 1750, 6 years before Douro become the first demarcated wine region in the world. Almost a century later appears Calém, (in 1859) and Barros was created later in 1913, which makes this year the 100th anniversary of Barros. Four houses that were founded in 4 different centuries and that have been expanding and carefully taking care of their wines, preserving their profile and taming the market.
Four years ago one of the grandchildren of Frank Bohane, one of the Kopke CEOs in the beginning of the 20th century, visited us. She brought a picture of her mother sitting on the porch of the main house and she asked to take a photo at the exact same place. We chatted for quite some time, and she shared family stories in a way that it felt like a pleasant journey back into the past. Before she left, she offered us a burned CD with movies from the 1930's that we were able to observe how the work in the cellars and the vineyards was carried out back then. Moments like this tie us to the origins and remind us of how important it is to preserve the past and honor the work of past generations.
6. Which individual has been your greatest mentor and how have they inspired you?
There are 2 persons that are responsible for the fact that I work with Douro wine. I started working with them and although Douro has always been present in my life they were the ones showing me its full potential. Francisco Gonçalves hired me and with his enthusiasm and determination he showed me a new world where every day it is possible to make more and better wine. Ricardo Macedo has a rare ability of turning everything into an easy and manageable effort, and he can put up with me on a daily basis. With them, I started tasting wine and gaining new insights; they both motivated and inspired me and awoke the wine passion in me.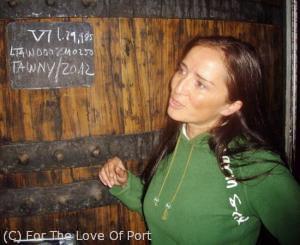 7. What is the greatest challenge facing the Douro wine trade today?
Nowadays, Douro is a well-established reference worldwide. Douro is not only the region where Port wine vineyards grow, but it is also the place where remarkable wines are produced. At the moment the biggest challenges are to strengthen these facts, to promote the region and the wines and to share the passion and effort necessary to preserve this land tailored by man. It is important to advertise Douro in such a way that its value and unique terroir is acknowledged.
8. Can you share one new project or improvement that your company is involved with currently?
Douro is one of the very few wine regions worldwide that has tremendous potential for bio-diversity because it has large natural habitat areas. Sogevinus is committed to preserving the biodiversity, since it's the best asset that any wine region can possess. To pursue this goal we joined the project Eco Vitis, which attempts to boost a broader use of sustainable practices in Douro vineyards to create quality products without disturbing the environment. By preserving these rare resources, we are simultaneously protecting against vine pests and decreasing the use of pesticides. Utilizing these green practices, we increase the economic and environmental sustainability of our wine industry and we save the natural landscape too. At Quinta de S. Luiz two methods are being applied to control European grapevine moths; while reducing pest damage and minimizing the environmental impact. One method introduces natural antagonists, whereas the other one is based on pheromone mating disruption. The results are remarkably positive.
9. What can the industry do to improve the promotion and education of Douro wine and grow market share in the ever evolving beverage marketplace?
In addition to a continuous focus on quality wines, Port wine companies will have to be increasingly willing to open their doors in Portugal and spread their word internationally. Above all, we will have to be more and more persistent in promoting and raising awareness about the best we do around here, both Douro and Port wines.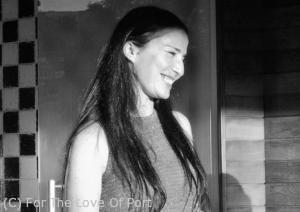 10. What non-wine activities do you enjoy?
I love traveling and whenever I can, I jump onto a plane or into the car and head to a different place. When I come back my reality readjusts, it's a permanent mutation that does not change the reality core – I am very Portuguese and a northeasterner. On a daily basis, I like simple things such as spending time with friends and family, drinking a coffee at dusk in a terrace while reading the newspaper, or watching the sunset from Aguda beach. Going to a live concert from an unknown band or reading a book from the endless pile of books that I want to read. And once again, traveling around the world, even if I'm just sitting around a table chatting and sharing ideas.
The FTLOP series, Port Personalities In Focus, alternates with A Question for the Port Trade every other month. In Focus concentrates on bridging the gap, introducing readers to people who are not usually in the media's spotlight, with some license to occasionally "interview" someone who is. In Focus brings you candid comments, personal perspectives, and a better understanding of the people inside the trade. From sales and marketing professionals, to master blenders, winemakers and vineyard managers, to distributors and importers, owners and managing directors; In Focus will introduce you to Port personalities who work at small family-owned operations to the largest wine companies in Portugal. We hope you'll benefit from meeting the people on these pages!