This month FTLOP is proud to introduce you to Xito Olazabal who is the wine and Portmaker at the historic property of Quinta do Vale Meão, originally owned by Dona Antonia Adelaide Ferreira. Xito also makes the wine at his cousin's property at Quinta do Vallado. It was Xito, that talked his father Vito, into going it alone in the late 1990's and they went from grape growers to wine producers.
Here is Xito's story: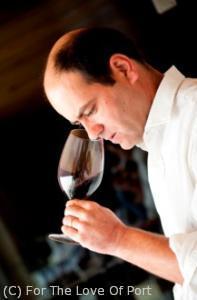 1. How did you break into the Porto and Douro wine trade and at what age?
When I was a kid my father took me frequently to Ferreira and I was fascinated by everything: my grandfather Fernando at the tasting room, the machines in the lab, the big old wooden vats, the bottling machine, love to ride the fork lift, the tunnels with lots of spider webs and the smells.
I took part in my first vintage at Ramos Pinto when I was 15 years old and since then I have never missed one. So it was a natural thing to study enology at Vila Real University (UTAD). I started to work officially in 1993 at Quinta do Vallado, which had a large stock of old Ports.
2. What is your favorite style of Douro wine and also Port to drink at home, and can you name two or three of the greatest one's you've ever tried?
I drink much more tawny (10 and 20 years old) than Vintage Port. I think this type of Port is really great at the end of a meal. But the king of Port is the Vintage.
It is difficult to say what was the best I have ever tried, but I really like the freshness of the 1970's Vintages. The Anderson 1900 and 1910 are both outstanding Colheitas. One of my favorites is a very very old Tawny Port (more than 100 years old) from Vallado. It is going to be released by the end of the year.
3. Besides wines from your own company, what others do you most enjoy drinking?
I became more interested in Vintage Ports when I made the 2000 Quinta do Vale Meão, (our first Vintage Port which is aging beautifully) and since that year I have tasted almost all of the other Vintages Ports. From my point of view, some of the Vintages Ports of the last decade will be the greatest ever.
Recently I have tasted a lot of tawnies from other shippers, mainly the 30 and 40 years old. I was really surprised by the Graham's 40 years old; it was fantastic. Because I am in contact with Dirk Niepoort frequently, I have a chance of drinking a lot of old and excellent stuff from Niepoort.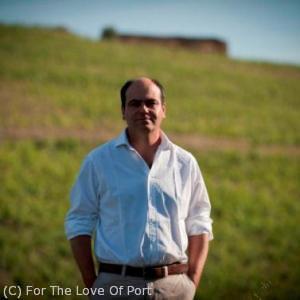 4. What brings you the most joy in what you do within the Port and Douro wine trade?
The harvest time when you have to make a lot of decisions. Additionally, the art of blending requires you to make a lot of decisions.
5. Would you please share one piece of unique trivia or historical information about your company that would be new to FTLOP readers?
We decided at Vale Meão to expand the fermentation area. During the construction we discovered the foundations of our lagares went deep into the ground. So we took the earth around the pillars and made a concrete ceiling on the top of them. Now we have a 100 square meter room below the lagares to store bottles of wine. Thanks to Dona Antonia Ferreira who always made the buildings with great quality and planned for the future .
6. Which individual has been your greatest mentor and how have they inspired you?
I always thought I was a self-made man, but that's not true. A lot of great people influenced me in very different aspects. My father (Vito Olazabal), Gulherme Alvares Ribeiro (from Vallado), my grandfather (Fernando Nicolau de Almeida), my uncles (João and Ricardo). All of them have inspired me in different aspects, not only in winemaking and tasting wines, but also on how to properly manage a company. Also dealing with people, and of course, taking the best of our life in this planet.
7. What is the greatest challenge facing the Port wine trade today?
Convincing the consumers that Port is unique and great.
8. Can you share one new project or improvement that your company is involved with?
We are finishing the expansion project of our winery, building new offices and a beautiful new tasting room. Because we have kept every year Ports to age, we decided to buy 14 wooden vats and transform the Barca Velha winery into a sort of Port Lodge. In the near future, Quinta do Vale Meão will release our first aged Tawny Port.
9. What can the industry do to improve the promotion and education of Port and Douro wine and grow market share in the ever evolving beverage marketplace?
This is a very good question and I am not an expert on that matter. It is difficult to explain the Port wines to the new generation. A lot of people don't want to buy a wine to keep in the cellar for a long time. Maybe some changes have to come from within the industry.
One way is to bring more people to the Douro. Tourism is growing quite fast. Maybe we have to promote the Port wine at our home, as it will be much easier to explain, and I think if we work in the right direction, the synergies with the dry wines will help a lot.
10. What non-wine activities do you enjoy?
I love to play golf. So every time I have a chance, mostly during the weekends, I go to Oporto Golf Club, the oldest golf club in continental Europe, which was founded by the British Port Shippers.
The FTLOP series, Port Personalities In Focus, alternates with A Question for the Port Trade every other month. In Focus concentrates on bridging the gap, introducing readers to people who are not usually in the media's spotlight, with some license to occasionally "interview" someone that is. In Focus brings you candid comments, personal perspectives, and a better understanding of the people inside the trade. From sales and marketing professionals, to master blenders, winemakers and vineyard managers, to distributors and importers, owners and managing directors; In Focus will introduce you to Port personalities who work at small family-owned operations to the largest wine companies in Portugal. We hope you'll benefit from meeting the people on these pages!