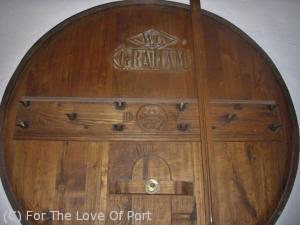 During the past year, the Symington family has been immersed in a major renovation of their Gaia-based Graham's Port Lodge, last renovated in 1890. It officially opened to the public in 1993, and a year later I had the opportunity to visit their visitor's reception area for the very first time. I have witnessed lots of improvements over the past 18 years, (e.g., their new Vintage Port wine cellar) however; a major overhaul is currently underway, which will modernize the face of the Graham's Lodge for future generations.
In recent years, when guests visit the Lodge, they were able to take a tour of the entire behind-the-scenes operation, guided by professional multilingual staffers. They're extremely adept at providing a thorough overview of topics ranging from vineyard locations to specifics about vintages and various types of Port as well as interesting factoids, for example the Graham's Lodge contains 3,500 casks with over 4,000,000 L stored including bottles back to 1868. But most importantly, the guides at Graham's are amongst the friendliest in the business.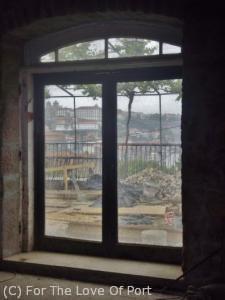 Having been fortunate to visit the Graham's lodge on three occasions in 2012, it was fascinating to view the progression of the construction first hand, two of the visits made were specifically for that purpose. The first time I visited, (late spring) my observation mostly provided a basic perspective of the project and deconstruction process, with some fortification of the foundation taking place. But it was very interesting to see the space that was going to be remodelled and get a clear picture of the scope and nature of the entire multi-faceted project.
As Porto and Vila Nova de Gaia continue to increase in popularity for tourism, naturally the Port lodges and tasting rooms have become the centrepieces of the area, along with an impressive quantity of fine dining establishments and brand new hotel properties that have helped to clean up the face of the area to some degree. The changes are monumental, even in just the past five years I have seen tremendous growth in the area. Remaining an optimist, I have hopes that the old world charm will remain intact for generations to come.
The Symingtons are astute observers of the changing landscape and exponential growth in Porto and Gaia tourism. During 2010, they began to lay out a master plan and investment strategy for a major renovation of the Graham's Lodge; which would ultimately deliver an extraordinary experience and many new features for their future visitors. Utilizing the internal talent of Luis Loureiro, the company's own architect was put in charge of this historic project. Construction commenced in November 2011 and progress has been swift ever since. During my most recent visit, I was astonished by how quickly things had progressed in the course of a few months.
Once completed, the lodge's new name will be, The Graham's 1890 Lodge. The Graham's family of Scottish descent, founded in 1820 by William and John Graham constructed a significantly larger building to support their new Lodge which required far more space than the original structure.
The Symington family is completely overhauling the new space and creating a modern and comprehensive Lodge to accommodate their guests in the future. Here is a thumbnail sketch of some of the new features and I sincerely thank Miguel Potes, Communications and PR Manager of SFE, for assisting me with these details and lots of the information used in this article:
Visitors will enter by a roomy new reception area where they will be checked in and then shown into an auditorium where a video will introduce them to Graham's.
Graham's Museum: adjoining the reception hall, there will be a brand new Graham's museum which will explain the history of the Symington family's long involvement in Port, as well as the history of Graham's. The underlying theme is, the story of two Port families: the Graham's and the Symingtons. Moderately sized, the museum will be beautifully appointed and will include unique artefacts on display. For example, there is a set of calibrating measures, dating from 1770 that were used both in the Douro Quintas and in the Gaia Port Lodges. Besides artefacts and documents there are objects linked to the Port trade, as well as to the Graham and Symington families. There is also a sequential display of Port's journey from vineyard to bottle, from the Douro Valley to the Gaia Lodge, (please see below for details of some of the items included in the museum).
One level below the museum, visitors will enter the working area of the Lodge. Not a great deal has changed here and visitors will be able to experience what a working Port lodge is all about. Some modifications have been made to deliver the feeling of the Graham's original 19th century Port Lodge; reintroducing earth floors and typical Portuguese cobbled corridors in some of the main passageways. Lodge floors were traditionally left with earth floors so that these could be hosed with water in the hotter summer months in order to keep the ambient temperature as cool as possible. Besides the thousands of maturing casks, holding everything from Graham's Six Grapes to Graham's 20 Year Old Tawny and the old single vintage dated tawnies, (Colheitas like 1961, 1969 and the Diamond Jubilee 1952) visitors can also access the Vintage Port cellars where Graham's legendary vintages of the 19th and 20th centuries are kept under lock and key, behind wrought iron gates (visible but just out of reach!).
Following the guided tour through the Lodge, visitors will then be shown into the renovated tasting room, where they can take a load off their feet to taste a range of Graham's Ports (several combinations, or 'Port flights' that will be offered). Here visitors can quietly sip away, attended by knowledgeable staff on hand to clarify any queries concerning the Ports they're drinking.
The Vintage Room: for a more exclusive and complete experience, the more discerning visitor can choose to access the Vintage Room, where a different level of Port tastings will be provided in a more tranquil and comfortable atmosphere. The beautifully decorated room, with a touch of understated English elegance will allow the visitor to taste premium and super premium Graham's Ports, including some older Vintages and Colheita Wines, difficult to find elsewhere. Port and food pairing will also be offered (different foods with different styles of Port).
Visitors exiting either the tasting room or Vintage Room will then be shown into the all new shop which is much roomier and pleasant than the one it replaces. The shop is set very much in the old Lodge building, adjoining the lodges' main stone facade, whose large windows light up the shop with natural light, as well as offering magnificent views over the twin cities of Porto and Gaia, and the River Douro. The design of the new shop will be much more interactive and 'hands-on', there is no counter separating customers from the bottles, as was previously the case. Customers can wander around casually, and pick up bottles at their leisure. Friendly staff is on hand to answer any questions. A great new feature is that the new shop will build on the convenience of a home delivery service, (for those visitors preferring not to carry their purchases home with them).
Tired and hungry after all that wandering around the Lodge? Why not enjoy a light meal in the completely new tapas bar, or better still, a full meal in the new 'VINUM' restaurant? Both of these adjoin the shop and are extremely attractive. The setting is very much the Lodge ambience itself. Off to one side, once seated at their table, guests can view the endless rows of Port pipes separated from the restaurant by a very clever and discreet metal and glass screen. On the opposite side there is the large bulk of the lodges' granite walls. Original large iron columns support the attractive Riga pine timbers and roofing. In short, a very atmospheric surrounding in which to enjoy meals with some wonderful wines. The VINUM restaurant also features a very attractive outdoor seating area, on the terrace adjoining the main Lodge façade. This terrace has what will certainly be one of the best views of any restaurant in Gaia or Porto. Given the Graham's Lodge location on very high ground (the vast majority of Port Lodges are built along the river front), it commands sweeping views of the old medieval quarters of Porto and Gaia, as well as the iconic Dom Luis bridge over the Douro River.
This view is spectacular both during the day and at night, when all the medieval landmarks are beautifully floodlit. This terrace can furthermore be enjoyed in all weathers as a well-designed 'conservatory' type structure is being built, so come rain or sunshine, VINUM'S patrons can always take in the remarkable vistas. The photo of the terrace is from my visit in June. You won't believe the difference today!
So when does this all kick into gear? I have been in touch with Paul Symington, who along with other family members has been involved in every design decision along the way. Paul meets at least once per week for updates and a full walk through of each specific area.
Paul puts things into perspective:
"On Monday 12th November we open most of the renovated Graham's 1890 Port Lodge. The restaurant and wine bar will open in early February (the restaurant staff are currently being trained and the menus tested). Our objective with this project was quite simply to offer a superb experience for any visitor to Vila Nova de Gaia, but without detracting in any way from the fact that the Lodge contains 3,700 oak casks (pipes/pipas) of Port and the equivalent of a further 2,300 pipes in oak tonels and vats, and is therefore a working lodge that contains the vast majority of our most valuable Tawny Ports and a significant quantity of our Six Grapes and LBV as they are being aged.
"Visitors will see our Lodgemen and Coopers working every day in the Lodge amongst the casks and vats as they visit. For several years I have been very proud to see comments on your site and elsewhere that highlight the quality of our guides and the visit. Several years ago I resolved that our guides would have a really professional training and that visitors would be treated like professionals and not just numbers to be pushed through the system. I am delighted that this investment and strategy has resulted in the quality and reputation that we now enjoy. The renovated Lodge will strongly enhance this position. Other Lodges get a lot more people, but we specialise in individuals and smaller groups. (This year, despite being in the middle of extensive building work, our Graham's Lodge was again nominated the best of all in Gaia by an independent body commissioned to send 'mystery visitors' to all the Port Lodges open to the public).
"I am immensely proud of our renovated Lodge, its superb reception area, the small cinema, the museum, which contains an incredible range of old family and company documents and photographs that date back to the early 19th century and more. We also open on Monday the special 'Vintage Room', where visitors can opt to have a special tasting of our finest and rarest Ports with a highly trained professional taster in a quiet and exclusive environment. This room is one of the finest tasting rooms to be found anywhere. The new wine shop also opens on Monday.
"Just a special additional note: I have decided that we should also exhibit in our museum a very special and rare artefact. This is one of our family's most valuable possessions. It is the personal watch belonging to the last Queen of Portugal. The Royal Watch was made by Patek Philippe of Switzerland in 1887 for Queen Maria Pia of Portugal. My great grandfather Andrew James Symington acquired the watch at auction after the abdication of the Portuguese Royal family in 1910 and presented it to his wife, my great-grandmother, Beatrice de Carvalhosa Atkinson. Sadly, Beatrice died in 1916 aged just 46 and the watch has been a treasured family heirloom since that time. This watch has been kept in a high-security safe since 1916, only once being removed to be shown at a special exhibition in Geneva in 2009 of Royal watches made by Patek Philippe. At the time Patek Philippe sent a senior director of their company to come personally to Porto to get the watch as it was too valuable to entrust to a freighting company. He then personally bought it back some months later when the exhibition closed. This watch is now on view in a specially built high-security safe in our new museum. It is part of my family and Portugal's history."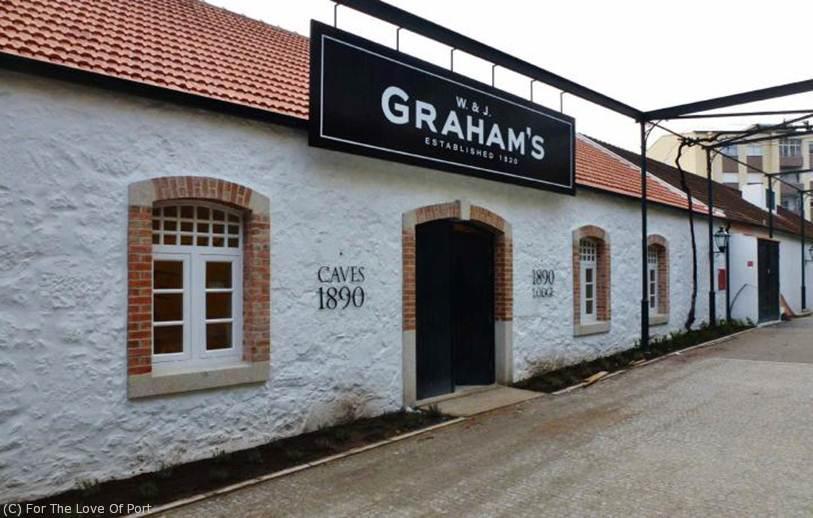 Graham's Museum Collection
Symington ancestors – Atkinsons
Wellington Passport: 1814. Document signed by the Duke of Wellington (Marquis of the Douro, Viscount Wellington, Baron Wellesley of the Douro) in the last year of the Peninsular War, requesting unhindered passage for JOHN ATKINSON, Beatrice Atkinson's grandfather. (Reproduction).
Residency Permit: 1848. The Portuguese residency authorisation issued to EDWARD ATKINSON, Port Shipper and son of John Atkinson and Beatrice Atkinson's uncle. His signature is visible in the lower left-hand side of the document.
Power of Attorney documents: 1854/1855. Power of Attorney made over to EDWARD ATKINSON, granting him full authority and powers to manage the Port firm of Smith Woodhouse and Co. This prestigious company was later acquired by Graham's and in turn by the Symington family.
Andrew James Symington and Beatrice de Carvalhosa Atkinson

Residency Permit: 1898 - 1918. Andrew James Symington's Portuguese residency permit: 1898 with renewals up to 1918. The document illustrates Portugal's transition from a monarchy to a republic (1910).
AJS's first car and one of the first cars in the Douro, a Daimler Landaulet. Photograph dates from 1913 and shows AJS at the wheel, leaving his house in Oporto very probably on his way to the Douro.
Christmas card: 1915. Sent by 'Mr. and Mrs. AJ Symington' in 1915 – to friends in Canada.
Beatrice de Sousa e Barros Leitão de Carvalhosa Atkinson. Photo taken in the year she was married to Andrew J. Symington (1891). One of her ancestors, the 2nd Viscount of Santarém, was Principal Minister of the Portuguese Realm in 1827. Beatrice descended from a long line of Port Shippers, dating back to the English Consul in Oporto in 1652, appointed by Oliver Cromwell.
Andrew James Symington ('AJS'): shortly after his arrival in Portugal in 1882.
Identity Card: 1938. Andrew James Symington's Portuguese Identity Card: his place and date of birth are shown – Glasgow, Scotland, June 28th, 1863 — the year that produced one of the finest Vintage Ports of the 19th century.
AJS enjoying a glass of Port at his Douro Quinta, 1934.
Andrew James Symington's British Passport: 1905.
AJS in 1923.
Andrew James Symington – Douro producer and Port Shipper
Smith Woodhouse (SWC) Port Ledger. Transactions between SWC and 'A J Symington' and 'Symington & Co' (1893, 1898), illustrating AJS's status as an independent wine merchant.
Quinta do Bomfim Harvest Records Book (1928 – 1955). Top right: an entry by AJS with an overview of the 1934 vintage. His initials can be seen bottom left ('AJS') next to the entry date: November 8th – 15th, 1934.
Lithograph of Quinta do Bomfim. One of the Symington family's principal Douro Valley properties, in the early 20th century.
Symington family, 2nd and 3rd generations
The twins John and Ronald Symington, born in Porto in 1900. Upper: in 1909 dressed in the Douglas tartan, the Symington clan. Lower, the twins shooting in the Douro in 1963.
Maurice and Edgar Symington, born in Porto in 1895 and 1892. Above and below: Maurice and Edgar attired in Douglas tartan, the Symington clan (photos: 1898, 1901).
Michael Symington. Top left: aged 6 with his grandfather, AJS, and his younger sister, Ann (1931). Below: in the 'sample room' tasting Port in 1950, aged 25.
Eileen Symington: Maurice's wife and Michael's mother. Her family had been partners in Kopke, another traditional Port company.
Symingtons on a walk in their beloved Douro vineyards, 1935.
Symingtons' Douro Quintas vintage records book.
Michael Symington at Quinta do Bomfim (1935). Michael (right) with his brother, Bobby, at Quinta do Bomfim.
John Symington's 'Notes on Port Wine' (1948). "In memory of my Father, A. J. Symington, who taught me about Port".
John Symington, RAF (1941 – 1945)
Just like his father and brothers, John was passionate about the Douro and was much relieved to have survived the war as an RAF officer and to eventually return to his beloved vineyards.
Lithograph of the Symingtons' Senhora da Ribeira vineyard. Here, AJS and his family spent many happy times. (Below): excerpt from the vintage records book in which John rejoices on his return to Senhora da Ribeira, following World War II military service.
Maurice Symington WWI
Maurice Symington: France 1915 – 1918. Lieutenant (then Captain) M.M. Symington, Royal Field Artillery and British Mission, Portuguese Corps.
Maurice Symington campaign medals: 1914-1918. 'Mentioned in Despatches' clasp (right hand-side medal) for "gallant and distinguished services in the field".
'Despedida' (Farewell) letter, June 1916. The letter that would have been sent to his parents, if killed in combat: "Dear Father and the rest of you, This is my despedida to you, for if you get this I shall have been killed..."
Captain Symington's Field Gun unit, Battle of La Lys, 1918
Mentioned in Despatches confirmation, 1919. Signed by 'Secretary of State for War': Winston Churchill.
Letter from close friend and comrade in arms: Bernardo Leal. Congratulates his friend Maurice on being awarded the Ordem de Avis and in turn thanks him for congratulations received on his own award of the British Military Cross, one of Britain's highest decorations for gallantry and very rarely awarded to foreigners. Photograph on the left: Maurice (left) with Bernardo (lower centre).
Maurice in the trenches: 1915. Two photos that Maurice sent to his parents with messages, including a birthday greeting to his mother (photo on the right).
Ordem Militar de Avis Award. Maurice was awarded Portugal's highest military decoration, the Order of Avis, for services rendered as a liaison officer between the British and Portuguese Armies.
Portuguese Order of Merit, 1971. Maurice receives on behalf of his family, the Portuguese Order of Merit, in recognition of Warre & Co's three hundred year existence in Portugal, the oldest British Port company (and a sister company to Graham's).
Maurice at the São Salvador do Mundo viewpoint (Douro Superior)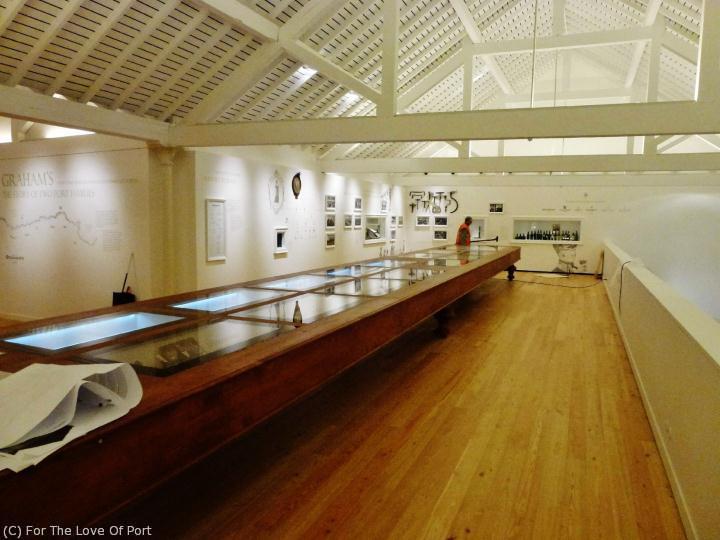 The Graham's 1890 Lodge
Period photographs of the 1890 lodge: 1895 – 1915. (From the Graham's archives).
Original building contract for the Graham's 1890 Lodge. This is the original Portuguese language contract for the lodge's construction, signed in 1890.
Cover of folder holding 1890 Lodge Documents
Contract for the building of the Graham's 1890 Lodge. English translation of the original Portuguese document. This lodge (wine cellar) replaced the previous lodge, which Graham's had outgrown.
Graham's Quinta dos Malvedos - 1
Graham's Ledger (1907 – 1925). Entries on the right – 'Malvedos Vine Planting' attest to Graham's ambitious expansion of its Douro Valley vineyard (1908 – 1918).
Early 20th century leaflets and postcards depicting Quinta dos Malvedos
Bank notes used for paying workers. Portuguese currency (dating from 1911) used to pay pickers during the vintage at Malvedos.
Graham's vintage 1899 record book. Registers the wines made at Quinta dos Malvedos and other Quintas from where grapes were purchased and where Graham's Port was made.
Graham's Quinta dos Malvedos – 2
Blueprint showing the layout of the Malvedos vineyard in 1925. The total area of Malvedos in 1925 was 43 hectares, of which 8.6 ha was planted with vines. In 2012 it had increased to, respectively, 156 and 89 ha. In the early 20th century, Malvedos was also a sizeable producer of olive oil and almonds. The red line shows the limits of the property at the time. The key indicates the location of: (A) the Quinta house; (B) the farm manager's house; (C) the olive press building; (D) winery (treading tanks or lagares); (E) wine storage.
Malvedos viticulture and meteorological data cards (1930s – 1950s). Regularly posted from Quinta dos Malvedos to the company offices in Vila Nova de Gaia.
Period photographs of Quinta dos Malvedos: 1895 – 1925. (From the Graham's archives). (a). Malvedos's own railway loading platform, alongside the winery (barrels about to be loaded onto wagons). (b). Panoramic view of Malvedos from the opposite bank of the River Douro. The house and winery are visible in the far left of the picture. (c). The house surrounded by stone walled vineyard terraces.
Graham's Quinta dos Malvedos - 3
Architectural plans for the extension to the Malvedos house (1920)
The Malvedos House, photographed in the early 20th century, before the 1920 rebuilding
Cover of the draughtsman's detailed drawings for the house extension
Graham's Port shipments and labels, late 19th/early 20th century
Graham's Wine Shipments Book: 1896 -1898. Records supply of Ports to customers all over the world, from Bombay to Stockholm, Rio de Janeiro to Adelaide (Australia), Liverpool to New York and many more.
Original Graham's Port labels from 1892 – 1912. From top to bottom: 1892, 1897, 1896, 1902, 1912.
Original Graham's Port labels from 1897 – 1919. From top to bottom: 1917, 1900, 1905, 1897, 1917, 1916.
Graham's Port orders and labels, late 19th/early 20th century
Graham's Wine Orders Book: 1921 - 1923. Above the book is a complete set of contemporary labels corresponding to the Graham's range of Ports, as supplied between 1890 and 1928. The labels can be cross-referenced to the graphic symbols drawn in the column marked "Bung Marks". (see key to identification on the left hand side of this display case)
Graham's advertising/promotional material, first half 20th century
Graham's promotional placards and brochures of the 1920s and 1930s. The brochure, top right, shows the Graham's family arms on the cover and the dates 1809 – 1932: this attests to Graham's other interests in Portugal, principally textiles and wood pulp. The company had one of the largest and most modern textile mills in Portugal. To this day, the area in Oporto where the mill once stood (now a residential area) is known as the 'Graham's neighbourhood'.
Graham's Six Grapes – Queen Mary I Inaugural Cruise, 1936
R.M.S Queen Mary I Maiden Voyage Menu. The dinner menu, dated May 1936, indicating Graham's Six Grapes as the Port served with the dessert course on the maiden voyage of the Queen Mary. In 2004, on the maiden voyage of the Queen Mary 2, Graham's Six Grapes was again served as the dessert accompaniment.
Contemporary Graham's Six Grapes label. Six Grapes label identical to the one in use at the time of the Queen Mary's inaugural cruise.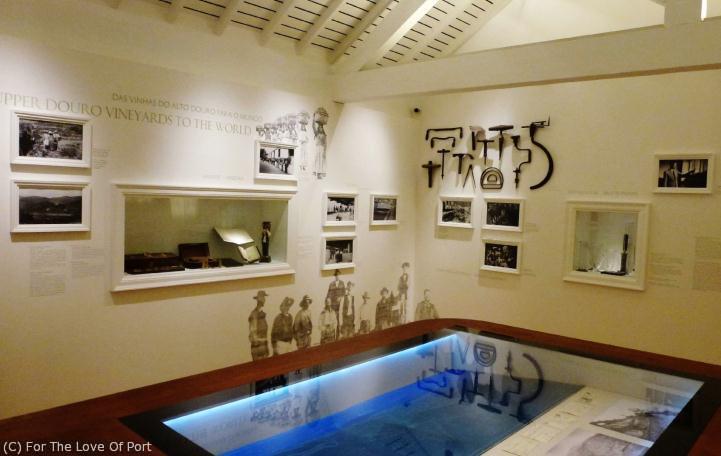 Graham's associations with historic figures
Edward, Prince of Wales (later King Edward VIII) visits Graham's. In 1934 the Prince of Wales visited Graham's pavilion in the Portuguese Colonial Exhibition in Oporto (1934 - 35).
The King of Portugal plants a tree at the lodge – 1908. In November 1908, the last King of Portugal, Dom Manuel II, visited a Symington family Port lodge and planted an oak tree, which was thereafter appropriately known as "The King's Oak". His father King Carlos 1 and his older brother, Prince Luis Filipe had been assassinated in Lisbon on 1st February 1908.
Sir Winston Churchill: a Graham's Port fan. Prime Minister Winston Churchill pictured at Nº10, Downing Street during the Second World War. One of his closest friends, F.E. Smith (Lord Birkenhead), famously commented:"Mr. Churchill is easily satisfied with the best."
Sir Winston Churchill: purchases of Graham's Port. The Churchill papers held at Churchill College Cambridge show that Sir Winston Churchill always purchased Graham's Port for his country home at Chartwell in Kent and for his London residence. He only bought a case of another Port marque on one occasion in his lifetime. The invoices from famous London Wine Merchants, Randolph Payne and Hatch Mansfield record the supply of Graham's 'Vintage Character' (Six Grapes) throughout the 1930s.
Graham's associations with current world figures
John Major, British Prime Minister: Quinta dos Malvedos, 1993/1994. Sir John Major spent two consecutive summers at Quinta dos Malvedos, while British Prime Minister; what better or more peaceful place to recharge his batteries?
Graham's 1961 Colheita Port. The Symington family offered President Barack Obama a bottle of Graham's 1961 Port to celebrate his 50th birthday (2011). The President thoughtfully sent the family a thank you letter.
Windsor Castle, 18th May 2012: Royal Toast. The Queen hosted virtually all the world's reigning Royal Families at a Diamond Jubilee lunch at Windsor Castle. The Royal Toast was made with Graham's 1952 Diamond Jubilee Port.
Graham's Diamond Jubilee 1952 Port. A limited edition launched in 2012 to commemorate Queen Elizabeth II's Diamond Jubilee (1952 – 2012).
Buckingham Palace Letter. A letter from Buckingham Palace thanking the Symington family for presenting the Queen with Graham's 1952 Port.