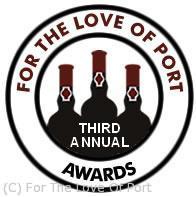 FTLOP's award categories for the BEST OF:
Ruby Reserve Port
Late Bottled Vintage Port
New Port Product
10 Year Old Tawny Port
20 Year Old Tawny Port
30 Year Old Tawny Port
40 Year Old Tawny Port
White Port
Colheita Port
Vintage Port – current release
Douro White Wine
Douro Red Wine
Hospitality & Tourism
Career Achievement Award
Listed below are the winning selections from the 4th Annual FOR THE LOVE OF PORT Awards, in an assortment of "Best of" Port & Douro related categories. Congratulations to all the winners!
Ruby Reserve Port: Taylor's First Estate
Late Bottled Vintage Port: 2009 Quinta de la Rosa
New Port Product: Kopke 375 Anniversary Special Edition 1940 Colheita
10 Year Old Tawny Port:  Quinta do Portal
20 Year Old Tawny Port:  Bulas
30 Year Old Tawny Port:  S. Leonardo
40 Year Old Tawny Port:  Casa de Santa Eufemia
White Port: Vieira de Sousa - Old Golden White
Colheita Port: 1937 Niepoort
Vintage Port (Current Release):  2011 Dow's
Douro White Wine: 2012 Conceito Vinho Branco
Douro Red Wine: 2011 Quinta Vale D. Maria "Vinha da Francisca"
Hospitality & Tourism: Quinta de la Rosa
Career Achievement Award:
João Rosas Nicolau de Almeida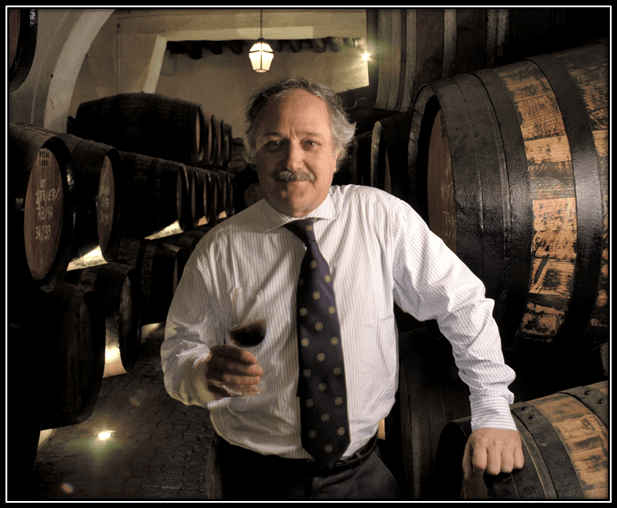 Managing Director & Head Winemaker of Adriano Ramos Pinto, Vinhos, S.A.
When considering the winner for this particular award, I could not think of any active member in the Port and Douro wine trade that has had greater overall impact on the entirety of the Douro region for the past nearly four decades. Therefore, this year's Career Achievement Award deservedly goes to João Nicolau de Almeida.
In reality, there are many other reasons why João came to mind when considering this honor, in recent months. He has served in a broad range of professional posts in the Port and Douro wine sector: from the Agricultural Merit Order of the Portuguese Republic, to the Port Wine Brotherhood's Chancellery, and AEVP (Association of Port Wine Companies), to ADVID (Association for the Development of Douro Viticulture) to name just a few. But although these service roles were extremely important, while João simultaneously managed one of the more prominent Port and Douro wine companies, there are two and arguably three specific achievements that have profoundly left an imprint from the entreposto in Gaia all the way upriver to the Spanish border.
1. João worked closely in conjunction with his uncle José Ramos Pinto Rosas, to research the indigenous grapes of the Douro to ascertain which would ultimately deliver the best outcome for Port and Douro wine production. João believed that the region's 80 combined white and red grapes, approved for use in Port was too broad in scope for the study. Although it is widely written and believed that João focused on just 5 main grape types, in reality he selected a dozen red varieties to experiment with and did so by planting them in all three sub-regions of the Douro in the late 1970's. He did eventually narrow the scope further and came up with five red grapes. The empirical evidence and technical results were reported in a formally prepared case study that was presented by José and João at the University of Trás-os-Montes and Alto Douro (UTAD, Portugal's finest oenology school) in 1981. The comprehensive experimentation determined that five specific red grape varieties, Touriga Francesa, Touriga Nacional, Tinta Roriz, Tinta Cão and Tinta Barroca resulted in excellent Port and DOC red wine production. In addition he prescribed an additional three varieties for whites: Arinto, Viosinho and Rabigato. Today, many quintas focus on these same five grapes, but there are plenty of exceptions and some winemakers have been using Tinta Amarela, Sousão, Bastardo and others as well. But those 5 grapes, whether fermented separately as some producers do, or co-fermenting them as a blend … there is no question, João planted the seeds and after he and his uncle delivered their now famous presentation, the World Bank allowed 2,500 new hectares of vineyards to be planted in the Douro. A pretty significant coup!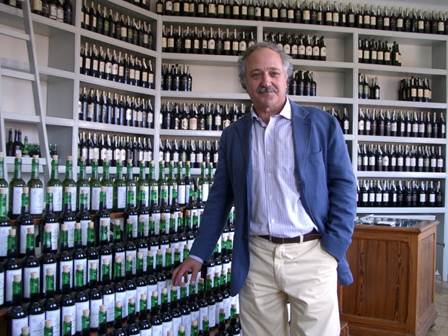 2. Another result from João's experimentation with Douro reds at Quinta de Ervamoira, would change the face of the Douro forever. Vineyards in those days were made up of mixed plantings of mostly old vine cultivars in what must have seemed like chaos, but these low yielding beloved Douro field blends had been the norm for farmers replanting their vineyards for centuries. João sought to improve the reduction of erosion in the old socalcos (traditional hand built schistous terrace walls) and on the less steep terraces and also wanted to see if mechanization in the vineyards was going to be possible. Quinta do Bom Retiro was the first to employ the use of patamares over 40 years ago, (horizontal terraces with widely spaced and in most cases, just two rows of vines that hug the contour of the vineyards' slope). At Ervamoira, João became the first man to use vertical planting of vineyards, in less steeply sloped vineyards, which is called Vinha ao Alto. Vine density was improved, better yields were realized, labor costs were reduced, and the ability to have mechanization in the vineyard was achieved; all have been a huge plus throughout the region. Whether João learned these techniques while working in Bordeaux or dreamed them up for the Douro, I am not sure; but they were a game changer!  He also lays claim to being the first to do block planting and I believe this was also achieved at Quinta de Ervamoira. Today, the old-vine field blend vineyards continue to disappear, (to my dismay) and block planting has been all the rage for several decades now. During the harvest of 2013, David Guimaraens told me that he believed that nearly 70% of replanted Douro vineyards have moved to block planting. I was shocked to learn that there had been such a huge swing as that. Progress!
Those who know João have seen the playful side and sense of humor of this gentleman.
3. Fight the good fight!
While the story has been written in nearly every book and article about João, Ramos Pinto or Quinta de Ervamoira, I shall keep it very brief. But it is yet another great testament to the character of the man that is João Nicolau de Almeida.
During the construction phase of the Côa dam, not far from Ramos Pinto's prized Ervamoira, there was little question that the rise in the Douro River's water level would dramatically affect the vineyards of the property and put a significant amount of vines below the river's surface. João Nicolau de Almeida complained bitterly to the government, wrote letters, was on TV and became a very controversial individual in the Douro, and in fact, across Portugal. He was fighting to save his family's recent investment and love of this property which he had helped his uncle renovate. The fight boiled down to electricity in the local area vs. a vineyard.
Unfortunately, the power company behind the dam held a lot of power and the government was unwilling to budge. Louder pleas were directed at anyone who would listen, and it seemed that Ervamoira would be forever modified by the river running through it. But with a final "Hail Mary" a discovery was made nearby of rock etchings dating back to the Palaeolithic era and the newly elected Portuguese government decided to immediately halt any further construction on the dam. UNESCO stepped in and declared the Vale do Côa etchings as a protected World Heritage site. Today there is a park and museum to showcase it. Had it not been for João's perseverance and fortitude, the outcome would have been very different.
humor of this gentleman.
Jorge Rosas, Roy Hersh, João Nicolau de Almeida several years ago.
A few other quips and historical perspectives: It should be noted that João is one of the few men that maintains both titles as Winemaker and Managing Director of a major Gaia-based Port & Douro wine shipper. More often than not, prominent Port companies separate these two positions; the Managing Director typically coming from the financial/organizational side of the firm.
As a young man, João set off to study Oenology, Agricultural Chemistry and Tastings at the University of Bordeaux, as in reality, there was no formal oenology training in Portugal at that time. Afterwards, and following a stint in military service, João joined his family's business as Technical Director of Ramos Pinto in 1976. Early on he was involved in both the viticultural and oenological side of the company and in addition to Port, he was making some of the best early examples of red and white Douro wines. His first red wine was produced in 1990 and that was followed by his first white Douro wine in 1992, Duas Quintas.
A little known fact is that João also had consulted for the Roquette family very early on, just two years after Jorge Roquette and his wife Leonor took the helm at Quinta do Crasto in 1981.
João's favorite vintage overall is 1945, but it is the 1963 Nacional which he says was the greatest Vintage Port he has ever tasted.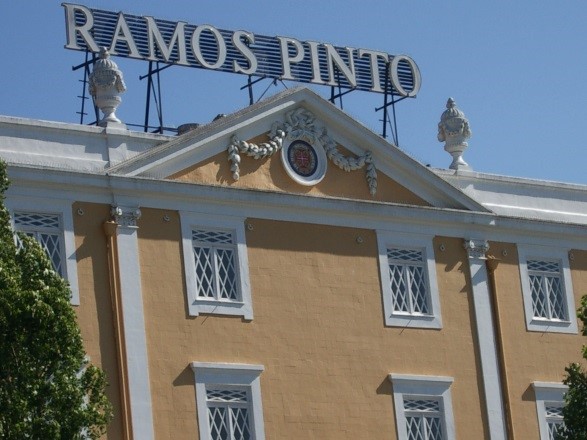 ADRIANO RAMOS PINTO