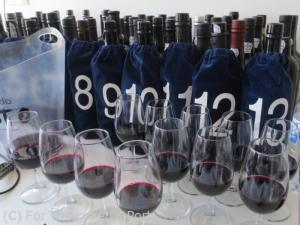 Each year when the Port producers announce their releases – whether classic "declared" Vintage Ports for their benchmark brands, or single quinta and second label Vintage Ports in the in-between years – Roy reviews the offerings and when there are a significant number of releases and the wines are of a noteworthy quality, he prepares a Vintage Forecast.
Each Vintage Forecast includes:
notes on the harvest conditions, drawn from both his own observations from visits to the Douro as well as the producers' harvest reports
an overall assessment of the character and quality of the Vintage, including a discussion of pricing and cellar-worthiness, in light of both short term drinkability and longer term ageing potential
discussion of tasting methodology
detailed tasting notes for each of the Vintage Ports
As a rule, Roy tastes blind from finished bottles, though his notes scrupulously record exceptions for non-blind tastings at shows or other special events, and indicate cask samples.  The notes include detailed colour, aroma and flavour profiling, an assessment of structure and ageing potential, and a final score on a 100 point scale.  As Roy himself comments,
After 25+ years as a Port lover, having tasted many thousands of bottles of Port, I can keep an open mind when evaluating them and can certainly rate Ports that do not fit the profile I tend to like most, wearing a more objective hat in that regard. I learned that skill from putting together wine lists, where I would avoid my own personal preferences in order to place wines on lists I was creating, knowing they'd be better appreciated by the consumer.
All of the Vintage Forecasts (which appeared in Newsletters at the time of release) are now available as PDF downloads from a new Vintage Forecasts page under the Essentials item in the menu bar at the top of the every page.
All our readers can download PDFs for the years: 2000, 2003, 2004, 2005, 2007, 2008 and 2009.  The 2011 Forecast, released as part of Newsletter 79, is also available as a PDF from the Vintage Forecasts page, but is exclusively available to Subscribers only – be sure to log in to have access.
Not a FTLOP Subscriber yet?  Visit our Subscribe to FTLOP page for full details of the Newsletters which include exclusive subscriber-only content and special buying opportunities for Port, Madeira and Douro DOC wines.  Additionally, Subscribers have full access to restricted content here on the site, such as the 2011 Vintage Forecast document and all of Roy's tasting notes in the FTLOP Tasting Note Database.