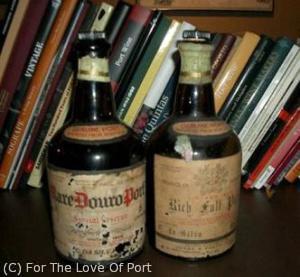 Typically related to the wines of the region, this month's Question for the Port Trade took a different tack, focusing on a slice of tourism instead.  In recent years oeno-tourism has expanded exponentially in northern Portugal and we hope this will provide some guidance for those of you visiting for the first time, or looking to try something innovative on your next visit.
What is/are your favorite restaurant(s) in the greater Porto and Vila Nova de Gaia area?
Gustavo Devesas, Market Manager, Symington Family Estates
Making a choice like this is never easy as we definitely have a great selection of restaurants, but those where I've never been disappointed and am always pleasantly surprised by the quality of the food, service and atmosphere in my city are:
Restaurante O Gaveto in Matosinhos - authentic classic food, attentive service, family-owned and managed by a fantastic father and two sons team - best fresh fish and sea food in Porto with a very good wine list.
For a cozy atmosphere with the family/friends: Restaurant Oporto.
For originality and innovation: Casa de Pasto da Palmeira, O Cometa and O Paparico.
But for the real taste of Porto and a fantastic experience definitely Cervejaria Gazela deserves a visit in Praça da Batalha - an iconic place in the city and probably the only restaurant in the world that closes on weekends.
Luisa Borges, Oenologist, Vieira de Sousa
My answer is simple; the restaurante is "A Margarida".  It is a very typical restaurant in Leça. They serve great fresh fish.
Pedro M. Branco, Proprietor, Quinta do Portal
The restaurants I go to most often are the following:
DOP; for haute-cuisine
Cafeína, for relaxed environment, very good food
Líder and Inês do Aleixo; for traditional/regional food
Tito 2,  S. Valentim and Dom Peixe for fish and seafood
Jorge Moreira, Oenologist at both Quinta de la Rosa & Real Companhia Velha
I have two favorites DOP and also Pedro Lemos.
Rute Monteiro, Sales Manager, Quinta do Noval
It's hard to pick one favourite restaurant in the area because it depends of so many factors! But if I am to pick one I will pick Gaveto in Matosinhos because it's one of the few places I can be sure I will drink both Port and Madeira at the right temperature and will find all kinds of fresh seafood and fish almost everyday. If you're lucky enough, you'll get a bonus of fine canned fish from selected Portuguese producers!  All good reasons to come and visit Porto, right?
João Paulo Martins, Author, Portuguese wine journalist and critic
No doubt, for me right now, the best restaurant in Oporto is Paparico.
Gonçalo Devesas, General Manager of the Dalva Port Lodge (C. da Silva)
My favorite restaurants are:
O Paparico – The décor and cozy atmosphere are inviting, the staff always keeps an eye on every guest and they are really polite.  They also offer a wide range of Portuguese wines and spirits, and excellent food.
DeCastro – I enjoy the concept of sharing a variety of delicious appetizers with a lovely view of the Douro River.
Luisa Olazabal, Sales & Marketing Director, Quinta do Vale Meão
As far as Restaurants are concerned I will choose two: DOP and Paparico.
João Alvares Ribeiro, Vice President, Quinta do Vallado
For fish – in Matoshinos: Pecadosinhos
For "sophisticated food" – in Porto: DOP, also XIS
"Tipical" food – (Roy's note: the use of Tipical for a restaurant = authentic regional cuisine") – in Porto: Adega do Pacheco
Carlos Flores dos Santos, Co-owner, J.H. Andresen, Sucrs. Lda
Cafeína
Terra
Shis
Adega S. Nicolau
O Carteiro
Restaurante 17º
Pedro Lemos
There is no particular order in this short list – it always depends on your mood, what kind of food you are looking for, etc.
Dirk Niepoort, Winemaker and Proprietor, Niepoort Vinhos, SA
My favourite restaurants are two; GAVETO in Matosinhos and PAPARICO in Porto
The most famous and a very good one is DOP in Porto. PEDRO LEMOS is also very good.
João Nicolau de Almeida, Managing Director and Oenologist, Ramos Pinto
For fresh fish Lusíadas; for sophisticated cuisine, DOP.
Joana Pais, Press Relations Manager, Sogrape Vinhos, S.A.
I'd go traditional and say "Adega São Nicolau", in Ribeira. For the traditional food, for the place, for the home-feeling!
Bento Amaral, Tasting Panel Coordinator, Instituto dos Vinhos do Douro e Porto (IVDP)
I would say that I have three "Michelin style" favourite restaurants for special occasions: The Yeatman, DOP and Pedro Lemos (this last Chef has opened a new one in Praça de Lisboa that I haven't tried yet).
Even if they don't have a good wine list, I also enjoy going to "Casa de Pasto da Palmeira" which is a more relaxed style.
George Sandeman, Board Member, PR & Institutional Representation, Sogrape Vinhos, SA
As far as "personal favorites" in the area, mine is a small family owned place just down the street from Ferreira called "Dom Luis". It is family owned; the mother cooks and her two enormous sons serve. The food is uncomplicated, tasty, and good quality traditional. And it's not expensive!
Miles Edlmann, Director of Production, Valle Pradinhos
Canelas de Coelho - great location in the Baixa just off Aliados with late-night opening, an intimate atmosphere and a quirky tapas-style menu. Very cool service and a fantastic selection of wines by the glass. All restaurants should be like this.
Churrasqueira Cidade - right opposite the Combatentes tube station. A life-saving take-away for when know you are going to arrive home late and don't have the energy to cook (although it also has plenty of seating). Purveyors of some of the best rare beef in the city and irresistible spare ribs, but don't overlook the Espetada de Polvo.
Miguel Potes, Senior Marketing Manager, Symington Family Estates
Whilst there are lots of interesting restaurants out there in the greater Porto – Gaia area, if I could really only pick one it would be Chef Rui Paula's, DOP in Porto.
As I'm sure you know, Rui Paula began his career as a chef and restaurateur in the Douro, first with the Cêpa Torta in Alijó and then with the much more ambitious DOC restaurant in Folgosa do Douro. The latter, in particular, has become the benchmark for restaurants in the Douro Valley.
I love the DOP restaurant on many counts: the food, the impressive wine list, the attentive and friendly professional service and the contemporary, cosmopolitan decoration, which is inviting and comfortable. I also love the part of town in which DOP is located, the Largo de São Domingos, right in the centre of Porto's old medieval quarter and just off one of my favourite streets in the old town — the 'Rua das Flores'.
Rui Paula's modern interpretations of traditional Portuguese dishes, drawing particularly on inspiration from Porto's own gastronomic heritage is exceptional. Every visit to the DOP is a unique experience. Being the sweet tooth that I am, the quality, variety and creativity of Rui Paula's desserts are really special and, of course, so many of them lend themselves so well to be accompanied with Port!
You only asked me to name one restaurant but I feel I should also mention an old favourite of mine: the 'Cafeína' in the Foz area of town. It's been around quite a while now, but unlike many restaurants in Porto, which start with a bang and much promise and then slowly fade into obscurity, the Cafeína has kept its understated charm and stylish ambience, as well as the quality of its cuisine of course. Better for smaller groups.
Tomás Roquette, Oenologist, Quinta do Crasto
Porto is becoming a city that everyone wants to visit in Europe and there are a lot of options for good restaurants. I particularly like the traditional Portuguese cuisine and for that I will recommend Adega Sao Nicolau in Porto's Ribeira (by the river).
Sandra Marques, North America Export Manager, Sogevinus Fine Wines USA, Inc.
Your question brings me good memories when I still lived in Portugal.  I really love the traditional Portuguese gastronomy, so my choices are between "Casa do Aleixo" famous for the octopus (Polvo) with rice; "O Lider" for the marvelous baby goat 'Cabrito Assado', or "Confentaria Cunha" for the traditional Francesinha.
Oscar Quevedo, Director of Sales & Marketing, Porto Quevedo
I like very much to go to Terra, near by the Atlantic and Canelas de Coelho in downtown Porto. For a more traditional and great for restaurant for the tripas dish is: O Tripeiro, in Rua Passos Manuel, just above the Rua de Santa Catarina.
José Maria Calem, Winemaker & Proprietor, Quinta do Sogrado / PV Wines
My three favorite restaurants in Porto are:  Shis and also Oporto in Foz; Adega de S. Nicolau by me in Ribeira.
Paul Symington, Joint Managing Director, Symington Family Estates
Some of my favourite restaurants are as follows:
Cafeina. Porto - Always very good, the menu changes regularly, great wine list.
Cometa. Porto - Eccentric, original, slightly mad, but huge character. Like a small French bistro.
Esplanada Marisqueira Antiga. Matosinhos - Some of the best shell-fish anywhere in the world. Great oysters and clams. Great sea-food rice. Great ameijoas a bolhao pato.
Gaveto. Matosinhos - Superb fish and wine list.
Pedro Lemos. Amongst the best cooking in the North of Portugal.
Restaurant Book. Slightly eccentric, but good food and fun.
DOP. Rui Paula is great as is his cooking.
Restaurant O Carteiro. Cheap and cheerful, real food.
A Question for the Port Trade appears in every other FTLOP newsletter, sharing this space with Port Personalities: In Focus.