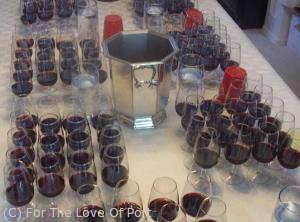 No, this title is not a boring description of me waking up in the morning … it was the order of a two-tasting weekend in WA State with Roy Hersh and a number of his FTLOP subscribers and supporters.
In honor of the 7th Anniversary of FTLOP's website, Roy decided something interesting and special should transpire – and indeed it did!
The first event was a Vintage 1992 Port horizontal, (with an imposter thrown in and a golden oldie to cap off the evening).  The second event was an extensive horizontal of Churchill's Ports.
Once again, this FTLOP event attracted participants from far and wide.  We had four tasters who had travelled from Canada to partake (yours truly included).  Others travelled from California specifically for these events.  The usual WA cadre of Port connoisseurs enthusiastically filled out the lineup.

Event #1 – 1992 Vintage Port Horizontal Tasting
We all convened at a hotel in Issaquah, WA for this excellent and educational event.  Our group was eager to have a look at how these 20-year-olds were performing currently.
The usual question of blind tasting or not was discussed, but ultimately Roy had arranged for this one to be done blind.  He felt this would be a more interesting way to carry out this 1992 comparison.  I'm glad in retrospect that Roy chose this format.  I feel that my tasting impressions accordingly are quite true – uninfluenced by any label bias.
Here are the notes, followed by my score (and then the producer, which was revealed later).
Wine #1:  This wine has a rich, deep nose featuring icing-sugared fruit and a lovely mint/menthol note.  On the palate there is intense dark fruit, licorice, lots of fine tannin and great intensity and persistence.  This is very purple – a bruiser still.  Serious acid spine and a certain noble dryness that leads me to think of Dow's (but it turns out I was wrong). 95 points
[This was revealed to be
Quinta do Infantado.
]
Wine #2:  This is a bit less fresh on the nose than the prior wine – slightly oxidative, forest floor, this seems more mature.  The wine is reddening a bit.  Some baking spice…nutmeg!  Soft and not much tannin showing.  Bit of cherry cough drop.  Nice acid.  There is a hint of caramel – this does show as prematurely advanced – but the Port is not at all dead.  89 points [This was revealed to be Cockburn Quinta dos Canais.]
Wine #3:  The nose of this Port is quite floral/perfumed – I like it.  This is a lovely middle-weight Port showcasing a classy and creamy mouthfeel.  The tannin is well in check.  There is a touch of spirit heat.  Shows some star anise, black cherries and then a bit of toasted walnut on the finish – really lovely.  Should continue to age with grace.  94 points [This was revealed to be Warre's Quinta da Cavadinha.]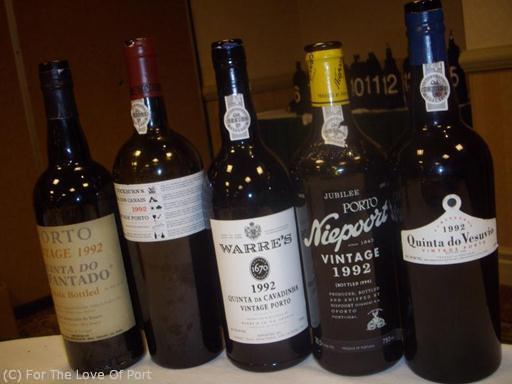 Wine #4:  This is a bit odd, lactic notes, aged balsamic at the forefront, some sandalwood and beef stock.  Strange!  Volatile with some acetone.  Not very good.  80 points. [This was revealed to be Niepoort.]
Wine #5:  The nose of this one shows a bit mute/restrained.  But the palate is more forthcoming.  Fairly high acid.  Barbecue spice, ground coffee, multivitamins and cherry lozenge.  An unusual combo indeed, but not unpleasant.  Not the longest finish.  I did enjoy this Port.  91 points [This was revealed to be Quinta do Vesuvio.]
Wine #6:  The nose of this Port is a bit reserved, showing some dry minerality.  In the mouth, this is a strong wine – deep pitched and featuring nice acids.  It is a black-purple, intense wine.  Long in the mouth.  Wonderful sugarplums, blackberries and cassis compete for attention.  Really enjoyed this one!  95 points [This was revealed to be Taylor.]
Wine #7:  Nice aromas here – floral and sensual.  My, this is a black wine!  Excellent intensity and sweetness.  Blueberry pie, pecans and some coffee.  Nice spicy note too.  Long finish.  Dazzling show.  96 points [This was revealed to be Smith-Woodhouse LBV.]
Wine #8:  The nose on this Port is a tiny bit swampy.  A higher acid Port with some heat in the nose as well.  Some apple skins and a bit of root beer.  Good overall, but not great on this night.  90 points [This was revealed to be Fonseca.]
Wine #9:  This has a very fragrant nose – floral and fresh herbs!  Interesting palate showing at first some meaty/sausage flavours.  Then later the intense mentholated cherry blasts in.  Long finish.  Excellent.  93 points [This was revealed to be an interloper…the 1994 Taylor.]
Wine #10:  This smells older/swampy.  Lacks freshness.  Palate tastes advanced too.  Some nuttiness, caramel corn.  Bit of cinnamon.  What is there is not too bad.  But the group felt there was certainly a problem with the bottle.  Not rated [This was revealed to be Kopke.]
Wine #11:  This has an interesting nose ranging from apple skins to rosemary to bandages.  On the palate it shows as somewhat simple.  But has good sweetness and black fruits.  Nice acids keep it lively and pretty good overall.  89 points [This was revealed to be Delaforce.]
Wine #12:  Another Port with a nice floral nose, middle-weight, nice palate presence and persistence.  Flavours include some well done black fruit and tea as well.  A wine with a smooth mouthfeel.  92 points [This was revealed to be Smith-Woodhouse.]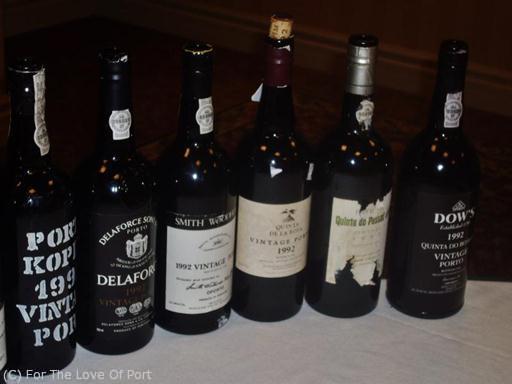 Wine #13:  Unfortunately, this bottle was corked.  Not Rated.  [This was revealed to be Quinta de la Rosa.]
Wine #14:  The nose of this one is offputting to me – stewed tomatoes, vinegar, volatile acidity.  The palate shows malt vinegar.  Yes, there is some good stuff underneath all that, but this is not a wine I wish to try again.  Not Rated [This was revealed to be Quinta do Passadouro.]
Wine #15:  Strong wine with a talc/dry mineral nose.  Tannic, and showing a bit of heat, but generally high quality black cherry fruit and a very good wine overall.  91 points [This was revealed to be Dow's Quinta do Bomfim.]
And for "dessert" (ha!) we indulged in some …
1953 Royal Oporto Colheita (bottled 2006): Showing a wild, complex nose – high toned.  Great acid and long on the palate.  Bright and wonderful…so lively despite the intensity.  Gorgeous with espresso acidity, cedar and fresh caramel.  A real treat!  95 points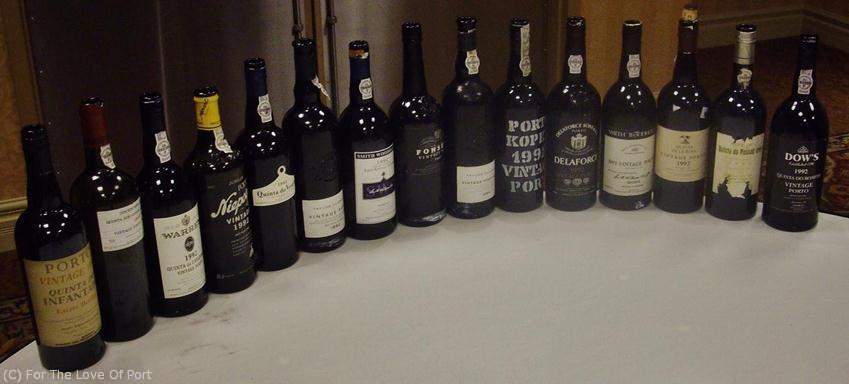 Summary of 1992 Horizontal
This was really interesting – I was thrilled with the performance of a pair of true dark horses in this tasting: The Smith-Woodhouse LBV and the Quinta do Infantado.  Some experienced tasters felt the Infantado was the finest they had ever sampled from this producer.
Of course, some of the predictable greats also performed very well: I particularly loved the 1992 Taylor and the Warre's.
Event #2 – Vertical Tasting of Churchill's Vintage Ports
This special event was held at the lovely home of Port-fanatic, Glenn Elliott (a.k.a. Mr. Tawny) in Sammamish, WA.
Everyone at this event was really looking forward to the opportunity to survey so many Churchill's Ports in one tasting.  Nobody present had previously tried so many offerings from this Port shipper side-by-side.
The Ports were divided into 4 flights, moving from oldest bottles to youngest.  This time the wines were not served blind.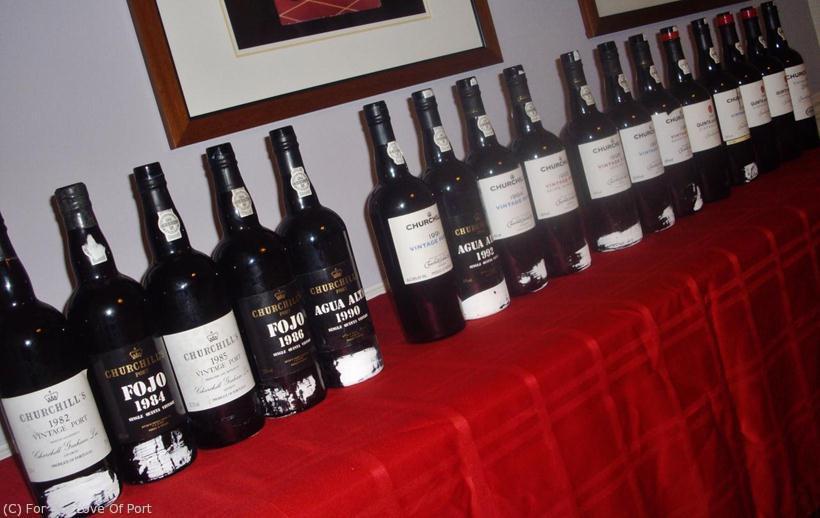 First Flight – 1982-1990
1982 Vintage Port: First sniff shows a light bit of mustiness, but this remains at a low level.  Some spice shows through, sweet cherry jam, apple pie, and a little menthol.  A bit of alcohol shows through.  Fairly short finish.  What was there was decent, but the wine was certainly TCA-affected.  Not Rated
1984 Quinta do Fojo: Some cured tobacco, slightly shy nose, good sweetness, licorice and root beer.  Tasty!  90 points
1985 Vintage Port: Again a fairly shy nose.  This has nice balance and a feminine style.  Acids are still good.  Tannins have mostly now resolved.  Maturing sweet cherry fruit with some cough drop.  A soft wine.  The finish is not long…falls off.  88 points
1986 Quinta do Fojo: A maturing, slightly dusty nose.  Bit of foresty aroma.  Interesting meaty/gamy tastes.  Shows a touch of spirit heat.  Acids are good, but very little tannin left here.  Sweet decay.  Cinnamon hearts candy.  89 points
1990 Quinta da Agua Alta: Deepest wine of this first flight.  Exotic nose…high-toned.  High acid in the mouth with a strong licorice element.  Also showing nice spices, some coffee, and some toffee with nuts.  Bit of spirit heat.  91 points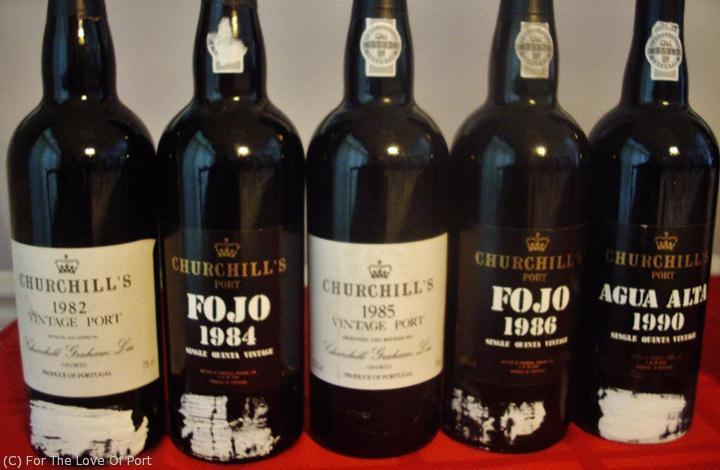 Second Flight – 1991-1995
1991 Vintage Port: Deep rich nose with some cocoa.  This is a broad black-fruited Port…black currants.  Quite dry showing nice minerals and good tannins.  But this also shows a fair bit of heat.  Should continue to age well.  91 points
1992 Quinta da Agua Alta: Herbs and lavender on the nose, but also medicinal.  Palate is a bit simple and one-dimensional.  Cherries at first.  Then some creosote and burnt flavors.  Some heat lingers.  87 points
1994 Vintage Port: This has some Band-Aid on the nose and also some musty aromas.  Good sweet fruit on the palate – raspberries and blackberry jelly.  There is some mushroomy mustiness on the palate too.  This is TCA-affected.  Low level, but it is there.  Not Rated
1995 Quinta da Agua Alta: On the nose, a bit of apple pie and also nice floral smells.  The floral aspect follows onto the palate.  This Port shows good acid, but not much tannin.  The flavors include cherries, licorice, and some black tea that shows up late.  Nice.  89 points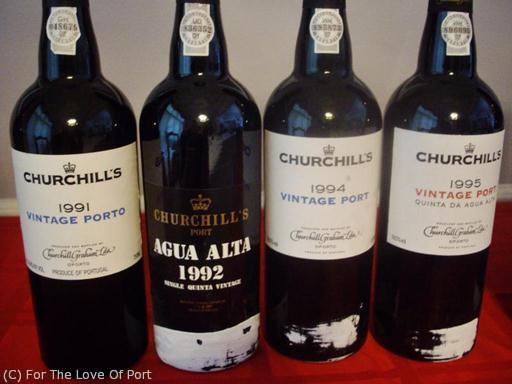 Third Flight – 1996-1999
1996 Quinta da Agua Alta: Very high-toned vinaigrette nose, and sadly the vinegar follows onto the palate.  Something is very wrong here.  VA.  Not rated
1997 Vintage Port: Floral nose showing lovely violets.  Good dry palate with blackberries, cherry candy and some toasted nuts.  Good acids.  Spirit is pretty well integrated.  Lingers on the palate.  Excellent.  91 points
1998 Quinta da Agua Alta: Almost no nose at all.  But a good palate – nice sweet ripe fruit and some baking spices.  But then the wine is let down by a short finish.  Only good.  86 points
1999 Quinta da Gricha:  Again quite muted on the nose.  But the palate shows better with good black fruits and a bit of star anise.  Somewhat simple and a bit too sweet, but a guilty pleasure.  88 points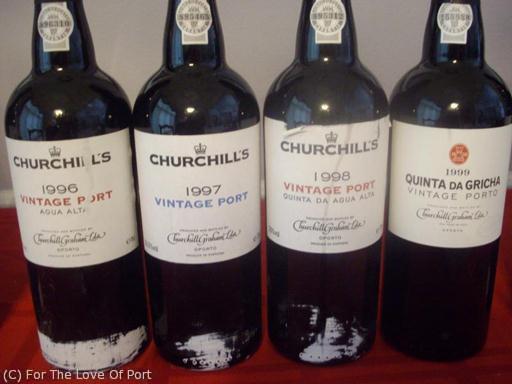 Fourth Flight – 2000-2003
2000 Vintage Port: Dry mineral/talc nose.  Also shows some blackberries on the nose.  This Port has a powerful – almost explosive – entry onto the palate.  A big presence!  Strong acids.  This is an excellent young Port and the best of the Churchill's wines so far.  Lovely licorice on this wine too.  93 points
2000 Quinta da Gricha: Dry reserved nose.  Showing some light floral aspects.  On the palate, this shows sweeter than the VP of the same vintage.  Some cola, espresso and milk chocolate.  Good acids and fairly long finish.  91 points
2001 Quinta da Gricha: Starts with some bottle stink.  Pretty good palate, but certainly not exceptional.  Hot and a tad disjointed.  87 points
2003 Vintage Port: Rich dark nose.  Palate shows strong tannins and acids.  Excellent balance for a young Port.  Powerful blackberries, dark chocolate, and lemon zest.  Some noticeable bitterness – perhaps over-extraction?  I like the potential here.  92 points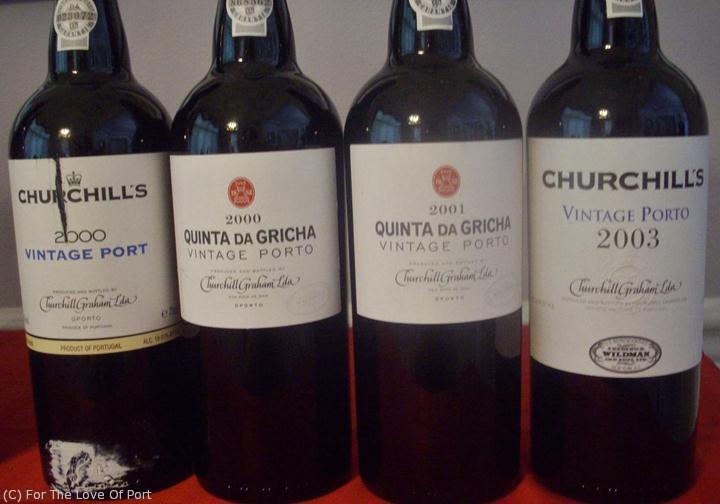 Summary of Churchill's Tasting
As someone who has been frequently pleasantly surprised by the "underdog" in my wine tasting experiences (and even earlier in the weekend at the 1992 Horizontal), I was hopeful coming into this tasting that Churchill's might exceed my expectations.
Unfortunately, in this instance I cannot say that Churchill's over-performed.  As my notes show, many of the wines were quite drinkable; however, this group of Ports cannot compete at the top level with the legendary labels.
On a positive note, the quality seems to be on the upswing – the final flight featuring the most recent wines was for me, quite a bit better than the older Churchill's Ports.  So if this is a trend, I might need to keep an eye on this producer.
Roy's Note: Blair Curtis is a regular contributor to FTLOP's Guest Corner.  A long time Port lover, Blair has been coming to Seattle to join me for Port events for a decade now.  He belongs to the Vancouver chapters of the brotherhoods for both Bordeaux and Burgundy and is involved with the Vancouver International Wine Festival each spring.
Copyright © BLAIR CURTIS, November 2012