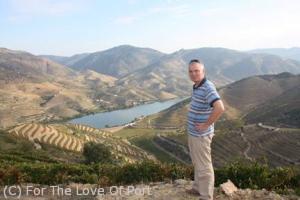 Bjarne Mouridsen is a freelance wine journalist from Odense, Denmark. Having majored in Literature during his university days, it is only natural that his daily work is for DR, the Danish Broadcasting Corporation, where he hosts a radio program on wine. Bjarne is also a fine writer and journalist and recently began a blog site in English named: More Than Wine, (he also creates a more extensive blog in Danish, Portugal - mit andet hjemland).
Bjarne has more than just a passing fascination with Port and Portugal. His new blog has some excellent recent additions including an extensive horizontal of 1983 Vintage Ports; a fine tasting of Douro wines and Ports with winemaker Manuel Lobo de Vasconcellos from Quinta do Crasto. His article on Ramos Pinto appeared in FTLOP's Guest Corner last year.
In 2012, Bjarne was elected to be a member of the board of Denmark's prestigious Vintage Port Club. This esteemed club of Port enthusiasts will celebrate their 25th anniversary next year.
You can follow Bjarne's blog More Than Wine.