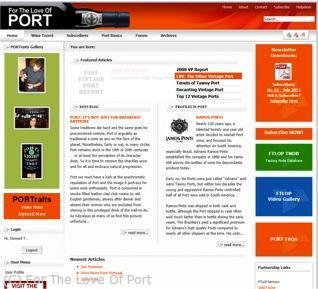 For The Love Of Port Launches New Website
We begin 2014 by simultaneously launching a brand new version of the FTLOP website and this Newsletter Number 79 as well. We released our first For The Love Of Port website in July 2005 and this new iteration will be our 4th in the past 8½ years. Staying current and continuing to innovate is our mission and it was time to modernize FTLOP's site after a four year run. We made the initial decision to create a new site at the end of 2012, began the plan in early 2013, and as of today the new site has gone live, moments after we hit "send" on this newsletter.
For those of you who have been a part of our growth over the years, each successive version of FTLOP's website has been more progressive, with improved functionality and features. Our next generation site offers several distinct improvements that we hope you will enjoy, the biggest is probably giving you all several reasons to come back and visit our homepage …
Additionally you will find:
Platform conversion – Moving from our current template to a modern WordPress to enhance the look, feel and speedy functionality of all content throughout FTLOP's site.
An Interactive Blog - In addition to the best of our past writing, going forward the FTLOP Blog will feature fresh content weekly from a professional writer new to our staff, as well as bringing in content from past newsletters.
Two New Collaborations – An outstanding new resource is featured on our homepage, Derek Turnbull's website, Books About Port is something we are very excited to include on FTLOP. Our Madeira Forum is now featured on Niklas Jorgensen's Mad About Madeira site. His website's devoted Madeira lovers will have easy access to join the debate in our Forum, which should bring us some fascinating fresh knowledge and insights in this area.
Content – Nearly 400 articles on Port, Madeira & Douro wines – the cream of 10 years of FTLOP newsletters – will be easily accessible in our blog stream.  In addition, under "Essentials" and elsewhere you will find pages which bring together all our writing on specific subjects – for instance, our Madeira page, or the Travel Tales page for those of you who want to enjoy at least a virtual escape from your desk or train commute.
Subscriber exclusive content: While all newsletter articles will be accessible in the blog feed, our loyal subscribers can rest assured that plenty of FTLOP's newsletter content will remain exclusive to subscribers for at least a six month period, or longer. While the general public and registered users will see only a brief description or short version of our current articles, subscribers who have logged into the site will be able to see the full article text online.  And as always, thousands of Roy's Tasting Notes are solely available to our subscribers.
Searching for info – A weakness of the old site, but a significant strength of the new one. You'll find everything in user-friendly drop down menus and in reverse chronological order in the blog stream. Additionally, the Blog format means you can click on any "category" or "tag" on an article to see a list of all related content, and of course the general search function on WordPress is one of the best.
FTLOP Favorites – Many of the features you've grown to appreciate are still available … our Tasting Note Database, Forum, FAQ's, Featured Articles, Video Library, and an updated version of our Vintage Port Chart.
Social Media Interactivity – Keep in touch with our Facebook presence right on the homepage and through the feed on the sidebar of every page. Want to see more or make a comment?  One click will take you directly to our Facebook page.
Photo Gallery and Video Library – Our front page now features a showcase of the best images from 10 years of FTLOP.  In coming weeks, we will be bringing in and indexing the full PORTraits and Facebook photo archives – over 4000 additional photos – and creating a special viewing area where you will be able to relax with your glass of Port and watch the show.  We also have brought over our popular Video Gallery and in the future will continue to bring you the best videos about Port, the Douro and more.
FTLOP Forum – Upgraded to the latest version and offering improved security features.
Travel Pages – We've just released details on our new 2014 tours. Wonder what our tours are like?  Read our Travel Tales which will draw together all of our reportage on the FTLOP tours as well as new articles that will feature Porto, the Douro and Madeira.
Meet the FTLOP Team – Our staff has blossomed to seven with the addition of two new members. Read about these familiar individuals on the following pages.
You can access the new site using either  www.fortheloveport.com  or simply  www.FTLOP.com
FTLOP's NEW TEAM MEMBERS
Introducing Cynthia Jenson, the newest member of the FTLOP Team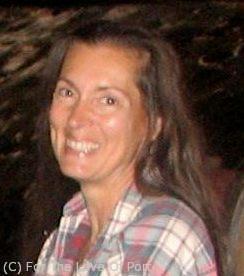 Cynthia and I began discussing the possibilities of her joining our team after she became a free agent this past summer. Since moving to northern Portugal, she spent the past three years as the Graham's blogger working for the Symington Family Estates. Cynthia played a key role in the successful design and launch of the SFE's new and improved The Vintage Port Site. Having gained an impeccable global reputation for her pithy writing style and informative posts on the Graham's brand, Cynthia is a perfect fit for FTLOP's team and a welcome addition in her new position as Communications Director.
Cynthia jumped right in on the creative side with our development team, and was immediately involved in the build out of our own new website which had been planned since the early part of last year. Cynthia has been instrumental in creating the new site's functional structure, archives and providing a wealth of experience in terms of SEO for all of the current content. You will be seeing a lot of Cynthia's work as she is empowered to bring her energy and knowledge of Port and Douro directly to you in the form of a weekly Blog. I am very pleased that there will be a bright new voice added to FTLOP and hope you will warmly welcome Cynthia in her new role!
Cynthia, welcome to FTLOP.  What induced you to work with us?
You mean, besides the prospect of having the chance to taste Ports from all brands, all across the region? Although I hold an Advanced Certificate from the Wine & Spirits Education Trust (WSET) in London, their Fortified Wines module barely scratches the surface for Port, and I knew I needed to understand much more if I was hoping to work in the trade. FTLOP was a godsend, helping me to study up on everything about Port – the makers, their wines, the different types of Port, everything.  I have always been impressed by the incredible breadth as well as depth of information available on the site, and am excited to have the opportunity to contribute to that.
What made you decide to get into the wine and particularly the Port trade?
It was a combination of my passion for wine and particularly viticulture, and my faith in gut instincts and miracles. After 10 years of learning about wine through courses, tastings and dinners at Berry Bros & Rudd in London, as well as the WSET, I decided it was time to see the vineyards and work a harvest. In fact, it was the evening of 30 November, 2007, at a BBR dinner hosted by Jasper Morris MW and Christophe Roumier of Domaine Georges Roumier in Chambolle Musigny.  With the cheese board we had the 1988 Bonnes Mares and that single utterly sublime glass of wine tipped the scales.  Then and there I promised myself that in 2008 I would visit the vineyards of Burgundy and work the harvest cutting grapes.
I spent almost two weeks of July 2008 walking the Côtes de Nuits, the vineyards between Dijon and Beaune, and in September returned to work for Domaine Anne Gros in Vosne Romanée.  I loved every minute of the harvest, of being in the vineyards and handling the grapes. Yes, my back and knees ached unmercifully for the first three days, but it didn't matter, I was simply fascinated by the vineyards and the whole process of harvest and wine making.
The first morning I woke up in England after the harvest, I rolled over and cried, I so desperately wanted to be back in the vineyards. So ... I never did take up the next contract I had been offered in the City of London, but instead began organizing myself and laying plans to live and work in a wine growing region.
June 2009 my backpack and I took off for Burgundy again, where I was accepted to the viti-vinicultural program at the CFPPA, which is required for all Burgundian winemakers. Unfortunately, with the crisis, no French winemaker was willing to hire a non-French person, and without the promise of that essential harvest apprenticeship to start the program, I was unable to take up my place at the school. I was gutted, but moved on to plan B – explore Porto and the Douro – and was prepared to pursue plan C – the Piedmont – if necessary.
After a rather epic overnight train ride from Bordeaux to Porto, I staggered into the sunshine in central Porto and thought dimly that if I headed downhill I would certainly find the river. In fact I found the upper deck of the Ponte Dom Luis and had my first view of the caves of Gaia.
In that moment, I decided to move to Porto. I knew no one in Portugal, spoke no word of Portuguese beyond "Obrigada" and had no clue what I would do when I got here, but... I went with the gut instinct. I returned to England to sell or give away most of my possessions and put the house up for rent, worked the harvest in Burgundy again, spent a few weeks in Denmark with friends and then settled in Porto in November 2009.
Wow.  You say you had no contacts in Portugal – how did you end up working for the Symingtons?
That was one of those miracles. When I left for the 2008 harvest in Burgundy an acquaintance wished me well and said something like, "Do send us the link to your blog."  Although I have been writing all my life, privately, I had never thought of blogging till that chance remark. I scrambled to get a blog established and every night after working all day in the vineyards, I sat up at night to write all about it.  I continued writing throughout 2009 and all my travels.
During the 2009 harvest in Vosne Romanée someone found my blog and posted the link in Robert Parker's wine forum, recommending it as a live, on the ground report of the harvest from the region.  Bear in mind, I was harvesting legendary vineyards like Richebourg, Echezeaux and Clos de Vougeot. My blog hits went through the roof and in fact broke down the site – this was when you had to pay for band width! I managed to get a hold of my domain provider and pay for the additional band width to keep the site going under the crush of traffic.
The link was also picked up in Jancis Robinson's forum and passed around among Burgundy connoisseurs.  It was an incredible lesson in the power of blogging – of providing readers with really engaging writing that was also informative and accurate, in real time.
When I got to Portugal, I decided that with so little actual experience in wine, (two harvests and a stint lugging bottles behind the scenes at the International Wine Challenge 2009) I had to prove my passion and knowledge by some other means – so I blogged my heart out. I visited Essência de Vinho, the wine fair in Porto in March 2010 and chatted with the producers and distributors. I wrote about the fair, about tasting wine and included tasting notes.
I subsequently went to visit Mateus Nicolau de Almeida of Muxagat Vinhos in Meda, who took me to Quinta de Ervamoira as well, and Carrie Jorgensen of Cortes de Cima in the Alentejo. I visited and wrote about the Port Lodges, a wine and food festival in the Douro, and much more. It worked.  One day, through Facebook, I received a message from Rob, one of Paul Symington's sons, saying love your blog, love your writing about the Douro, my father wants to talk with you.
And so, I spent three fantastic years with SFE, focusing first on the blog, which I handed off to colleagues after the 2012 harvest, and from June 2011 began focusing more and more on The Vintage Port Site. But with the departure of the marketing director, Henri Sizaret, this past spring, I felt it was time for me to move on too. I had some other projects I wanted to pursue, and it seemed the right moment to go, and give the new marketing team the opportunity to handle these sites according to their own vision, rather than Henri's and mine.
Out of curiosity, what did you do before getting into the wine trade?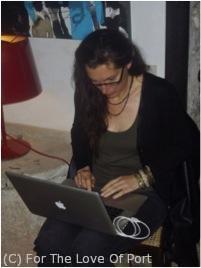 After studying ancient and mediaeval Latin at Brown University, I stumbled into the financial industry in Chicago, New York, Boston and London.  I have traded futures on pork bellies and beans, traded cash market corporate bonds and US Treasuries, been a branch operations manager for a commodities broker, managed budgets and blood drives at a financial services provider (I was really popular there!), and the last 10 years or so in London I was a project manager at Morgan Stanley as well as some smaller banks.
That's quite a switch in skill set, from financial services to wine writing!
Yes, but rather oddly I look back now and realize I was slowly acquiring everything I needed to become a self-employed writer – the project analysis and planning and the financial management skills (even more important the less you have to manage!) particularly. But I also had to learn to write training materials and project proposals and then deliver those presentations live, so it taught me a lot about communicating effectively in different contexts and of course I always had to have the facts absolutely accurate and clearly presented. And in the financial industry I had no choice but to become reasonably tech-savvy.
But now, the only evidence of my past is when I really must organize, I revert to my super-controlling project manager role (as you, Stewart and David may appreciate, after the re-build of the FTLOP site, sorry!), and very rarely, under extreme stress, my language might revert to the rather colorful vocabulary of my trading floor days!
Tell us about what you envision your role will be at FTLOP.
Fundamentally, I am responsible for the FTLOP Blog – the stream of new articles featured on and driving traffic to the front page of the site.  This will be a combination of content from Roy's newsletter articles, including all the fabulous guest authored articles, and my own original contributions.  Much of the Blog content will also be easily accessed via menu items for specific topics – for example you can escape into the Travel Writing or find all the Madeira content on one page if you like.
Whereas your strength, Roy, is your encyclopedic knowledge of the wines and the Port trade as well as your tasting notes, my being here in Porto means I can contribute content focused on Porto and the Douro. I look forward to bringing our readers a steady stream of content about the quintas, viticulture and of course monitoring weather and the progress of the viticultural year, but will also be writing about Porto, Portuguese food, wine, the people involved in the trade, etc.
I am excited by the prospect of meeting more of our readers on the Harvest Tour 2014 too – one of my most vivid memories of my first Douro harvest was of meeting you and Andy Velebil at Quinta do Vesuvio, and taking a spin in the lagar with Andy and some guests who also participate in the Forum, that evening. I look forward to working with the FTLOP team and meeting everyone again in Portugal this year.
Announcing GLENN "Mr. Tawny" ELLIOTT, as our newest Forum Moderator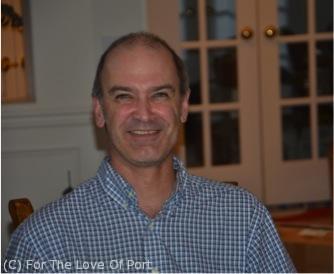 In his new role as Forum Moderator, Glenn will be working alongside Andy Velebil, our veteran FTLOP Forum Moderator. With the new site design and greater promotion as well, we're expecting an increased interest in the forum. Glenn's solid Port knowledge, frequent forum participation and lively personality made for an easy choice, and we're very pleased he said yes!
Glenn is a resident of Sammamish, Washington and was given his first bottle of Port – a half bottle of Ramos Pinto 20 Year Old Tawny – for his 40th birthday and has been hooked ever since. Glenn's personal cellar contains 90% Port; 1/3 of which is Tawny rather than Ruby. That's just one of the reasons why he is known by FTLOP Forum participants as, "Mr. Tawny."
Glenn has visited Porto and the Douro Valley on several occasions and looks forward to his next trip during the 2014 harvest. Glenn's affinity for technology has focused his career as a programmer, game designer and developer, a game producer, and he's currently a Program Manager for Microsoft. Glenn met Roy in 2008 and lives a short distance away; and he has been directly involved in helping with the organization of many of the FTLOP sponsored Port tasting events that take place in the Pacific Northwest. In his spare time, Glenn loves to cook, run half marathons with his wife, and play computer games.
Don't forget you can learn more about the entire FTLOP team - all seven of us - on the Meet The FTLOP Team page.