2013 was a good year for Roy as far as enjoying some extraordinary Vintage Ports.  This year saw the addition of three, yes three, 100 point Vintage Ports to our Tasting Note Data Base (TNDB).  In the previous 19 years together he had encountered only three perfect wines – and in one year, for that matter on one night – he enjoyed three more.  Incredible.
The top 12 wines of 2013 for Roy, selected according to their point scores and listed in descending order from the first three at 100 points:
1948 Fonseca Vintage Port
1931 Quinta do Noval Nacional Vintage Port
1994 Quinta do Noval Nacional Vintage Port
1945 Croft Vintage Port
1931 Quinta do Noval Vintage Port
1808 Vieira & Sousa – Wood aged Tawny Port
1851 Warre's Vintage Port
1927 Taylor Vintage Port
Casa de Ste Eufemia #7 Garrafeira
1945 Taylor Vintage Port
1963 Quinta do Noval Nacional Vintage Port
1945 Fonseca Vintage Port Vintage Port
While tasting notes for these wine can be found in the database, we thought we would feature one special wine here on the blog – the 1931 Quinta do Noval Nacional.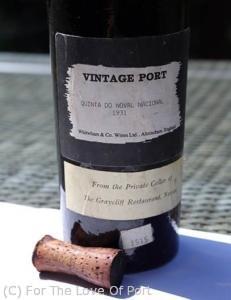 1931 is best known for being the Vintage that wasn't.  The outstanding 1927 Vintage stood out for quantity as well as quality,  with 30 shippers declaring and some shipping as many as 40,000 cases (of a dozen bottles).   Between this supply and the Depression settling in across the world in the early 30's, demand was so low that the 1931 was declared by only a few shippers.
According to Ernest Cockburn, a dry winter was followed by a cool summer, which retarded the development of the grapes.  In September both rain and warm weather finally arrived, though accompanied by a drying East wind.  The Vintage weather was good and the lagares "took a lot of work" – which in those days was a good thing, as this means that the grapes were cool enough coming into the lagares that they had time to work at the treading and extraction without too much heat or too rapid fermentation cutting the process short.  Cockburn also comments that there was great irregularity in the ripeness of the grapes around the Douro, due to the lack of rain during the winter – presumably those vineyards that by some fluke of configuration were able to retain more water in the sub-soil produced better, more mature grapes.  He concludes:
It was gratifying after the poor quality of the 1930's to find the wines at the end of the year showing colour and life, and when they were moved down to Vila Nova de Gaia in the spring they appeared soft, nice and sweet, but they failed to maintain their promise in many instances and by the autumn of 1932 were hard to regard as outstanding.
Noval and Niepoort declared, and Cockburn's bottled a bit of 1931 for their own use.  Michael Broadbent lists another half dozen smaller shippers in his notes for the year.  But, as Broadbent himself expresses it, "Though good wine was made, the towering reputation of this vintage rests on Noval, whose '31 Nacional I have long since considered as the "Everest" of vintage ports.
The bottle of Quinta do Noval Nacional 1931 which Roy tasted and rated a perfect 100 points was opened with tongs, and had a branded cork – a real treasure!  The Port was decanted for sediment and served shortly thereafter.  Here's Roy's tasting note for this legendary wine:
(The colour was) medium-dark burgundy-red and it had a broad pink-ruby edge. Immediately apparent was the intensity of the aromatics, with rose petals, grenadine, torched sugar and plums so fresh and lively. Some serious horsepower here with bright, crisp black cherry and darker flavors of prune and molasses, ultra-smooth, viscous and beautifully textured. There are tannins still present here too, not yet refined, they're actually still exhibiting a decent amount of grip and the acidity is perfectly aligned with the fruit. This Nacional admirably demonstrates the fluidity and excitement of a Maserati Quattroporte handling hairpin turns in the Italian Alps. It just happens to taste a lot better and takes a lot longer to finish. A truly perfect and singular Vintage Port, and finally … I really do understand what the fuss is all about. ~ 100 points ~ 5/6/13
Subscribers can log in to see all of Roy's tasting notes in the TNDB and read his account of An Affair To Remember, the evening when he tasted many of these extraordinary Vintage Ports. Not a subscriber?  Visit our Subscription page for full details of the Newsletters which include exclusive subscriber-only content and special buying opportunities for Port, Madeira and Douro DOC wines, as well as all of Roy's own tasting notes.