Unfortunately ADVID, the Douro viticultural research agency whose statistics I used in my Weather in the Douro update, have not yet published the February statistics.  So, whilst I cannot provide numbers and graphs, I thought I would try to fill you in on roughly what the weather in Gaia and the Douro has been like.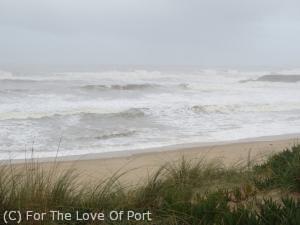 February was rainy – by mid month the Douro Superior already had close to 100mm of rainfall.  From my own notes based on weather here in Gaia, it rained pretty much every day in February till the 15th – when we had blazing sun.  After that, it was mixed – a few days of sun, lashing rain the 21st, but the 22nd was sunny and warm, then back and forth between showers and sunny spells for the remainder of Feb.  To give you an idea, here are two photos taken on the beach in Gaia on 13 February.  At 11:17 I was looking at yeasty seas and a thick, rather sodden mist.  At 11:36 I was looking at a clear sky and a rainbow.  That kind of sums up the month.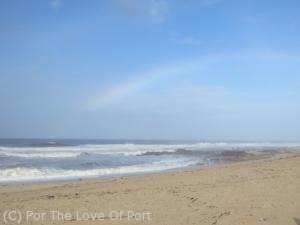 March notes: the 4th is noted in my diary as "rainy and miserable and cold again," but the 8th was warm and beautiful, and we had a stretch of warm, dry, sunny days.  My neighbours were all working in their gardens, clearing the last of the couve galega (kale) and planting their onions and potatoes.  The wine cellar thermometer / hygrometer which lives on a bookshelf in my living room and which had been between 80 – 95% humidity since Christmas, dropped to 60%.  That lasted till 21st March when it turned unsettled again, which is typical around the equinox.  Daytime temperatures had been in the upper teens the first half the month, but since the 21st they have only reached lower to perhaps mid teens.  We have pretty much alternated, again, between sunny days and showery days – or hours.
Today, April kicked off with rain: it bucketed down most of today and tomorrow's forecast shows a little icon of mixed sun and clouds and a yellow warning flag for heavy showers accompanied by hail and thunderstorms.  On the other hand, by next week we should have sun again and temperatures should climb to 25ºC by Friday the 11th.
But all that is in Gaia, less than a kilometer from the Atlantic beaches. Up in the Douro weather follows a "Continental climate" pattern.  In other words, temperatures are more extreme up there – the lows are lower, the highs are higher.  They had frost and some icy roads in December whereas here in Gaia we have had no frost since December (which is when I moved to a tiny house with a lawn so I would know if there had been!).  In five winters I have seen plenty of hailstorms (and not just during the winter) but only once a dusting of snow which melted within the hour though the Douro had several snowfalls the past few winters.  In the summers, here on the coast it is pretty unusual for the temperature to exceed 30ºC but in the Douro they can reach that kind of temperature in the spring, and of course by mid summer and through harvest there's a good chance of seeing 40ºC or more.
That said, the next 10 days' forecast for Régua shows pretty much the same conditions as Gaia, including the yellow warning for tomorrow, and the same pattern of showers through the weekend giving way next week to sun – but only reaching 20ºC by Friday.
In other words, next week I probably really should stick to the beach, but for you, dear readers, I will try to get up to the Douro and get some more news on the ground.