Yesterday was the first Adegga Wine Market to be held in Porto, and it has been a brilliant success, André Ribeirinho and his partners André Cid Proença and Daniel Matos are to be congratulated.
Those of you who follow the Portuguese or international wine scene on line will no doubt be familiar with André, co-founder and Chief Wine Evangelist of Adegga.com.  Just three years after launching the social wine experience site, they held their first Wine Market in Lisbon, in December 2010.  The idea was one of those blindingly simple, radically consumer-friendly concepts that the big enterprises overlook:  why not have a wine show that was friendly, accessible, fun and relaxed, and offered the wines for sale on-site so you could actually take home a bottle or case of your latest discovery?
The first show was a great success, and has been followed by summer as well as December Wine Markets every year in Lisbon, and last year Adegga held their first international Wine Market, in Brussels.  Planning a trip to Europe this year?  Then mark your calendars for the Summer edition of the Lisbon Adegga Wine Market on 5 July, and more Adegga Wine Markets in Copenhagen 11 October, Brussels 15 November, and back home in Lisbon 6 December.
Yes, I really am recommending you make your travel plans around one of these events.
The Adegga Wine Market Experience
The Porto Wine Market was held at the Porto Palácio Hotel, a 5 Star hotel on the Avenida Boavista, not far from the Casa da Musica.  The hotel is known for its commitment to fine wine and dining, with a regular series of producer-hosted wine dinners, and outstanding wine selections at their PortoBeer restaurant and, more unusually, in the Japanese restaurant Gosho.
The venue for the Wine Market was spacious, so there wasn't the swarming and jostling of the big overcrowded events, and there was plenty of comfortable seating available when you wanted to relax with your friends and wine.  And if you prefer to to ham it up with your friends and wine, there was a photo opportunity space too, which was a lot of fun.  The Premium Room was upstairs in the hotel's elegant penthouse bar.  If you could tear your thoughts away from the wines the bar has an outdoor deck which was inviting even on an overcast day with its spectacular view across the city to the mouth of the Douro River.  Finally, the trademark feature of these events is the Wine Market Shop, where you could purchase the wines to take home with you after the event.
André and his colleagues are agents provocateurs when it comes to creatively  leveraging social media and technology for the benefit of the wine consumer – not only with the launch of Adegga.com and its entertaining and informative presence on Facebook and Twitter, but in their development of concepts like AVIN, the ISBN-like unique identifier for wines, and the promotion of QR tagging on wine labels.
The Porto Wine Market  saw the launch of the Smart Wine Glass.  When you enter the show, you are given a glass which is scanned into their system to associate your sign-up and contact details with that specific glass.  At each table at the show you can touch the foot of your glass against a reader which logs your visit.  In a few days, Adegga will send you the information each producer has provided for their wines.  For the consumer, no more juggling handouts with wine glasses, lost business cards, or email or website addresses scribbled down and subsequently rendered illegible by wine stains.  For the producers, the opportunity to provide their visitors with information not just about the wines tasted, but about their whole range and the producer in general, as well as provide a gentle reminder to look for those wines again in stores and restaurants.  The information all comes through your registration for the Adegga Wine Market.  I am looking forward to seeing the notes for the producers I visited.
The concept of the Smart Glass won the team a Wine Business Innovation Award last year in Munich and if you are game to test your Portuguese comprehension, or use an on-line translator, you can read more about Smart. O copo que vai mudar o mundo dos vinhos.
A Few Wines
Personally, I started in the Premium Room, where 8 top table wines and 16 Ports were on show.  Just standing at the table was a rather heady pleasure.  The aromas rising from the decanters just enveloped you, a bit like walking into the winery first thing in the morning during harvest, only the scent was decidedly that of mature Port rather than overwhelmingly young and fruity.
My first tasting was the Niepoort Vintage 1942, a very rare mid-war Vintage, in a one-litre bottle.  The colour was deeply rosy-tawny, the nose very vivid with a slightly candied quality and the taste was one which defied description for me.  It was an incredibly rich, complex melange of a taste sensation and an absolute joy.  Apologies to readers, but I am not a professional critic and not able to parse out individual flavour notes, but focus instead on the fundamental impressions which tell me if I will want to drink this again, and would help me to plan a food pairing.  If you want fuller, more professional notes, Roy has a tasting note for this wine – search the TNDB for 1942 Niepoort Vintage Port (subscribers don't forget to log in for access to Roy's notes).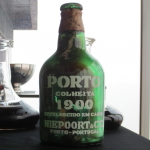 Dirk had also shared another rarity – the 1900 Colheita, bottled, he believes, in 1977.  This had a lovely golden brown colour and my note says "proper apotheosis of a tawny nose."  Again, an adjective defying palate, I was guessing the flavours might be describable as licoricey or richly herbal, but I very emphatically noted "best long smooth finish of the night."  Again, the Tasting Note Database has more detailed notes for the 1900 Niepoort Colheita Port from both Roy and members, though those are for a 1972 bottling.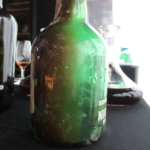 Later in the evening I caught up with Dirk and commented on the bottles themselves, and how clearly you could see the sediment adhering to just the one side of the 1900.  He said the bottles for both of these wines were very old handmade glass, and he specifically asked the sommeliers to save and return the bottles to him, as he wished to re-use them to bottle other wines.  His grandfather had a theory that the handmade glass, with its more textured, rough finish on the inside, captured and held the sediment and made a difference to the development of flavours in the wine over the years in cellar.  At one point his grandfather even trialled using acids to create that kind of texture in modern glass bottles, but nothing conclusive came of his experiments.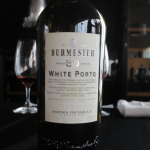 I thoroughly enjoyed a Burmester 30 Year Old White Port, with a charmingly crisp nose, and crisp slow-roasted-citrus palate.  Fantastic acidity and mouth-coating-in-a-good-way finish, this was a real delight.
The Kopke 1964 and Poças 1964 Colheitas I tasted side by side.  The sommeliers had sample glasses of each wine poured, so I was able to nose the two wines individually from those glasses, before tasting one after the other from my own glass.  The tasting experience confirmed the aroma impressions of each.  The Kopke was very fresh and rather simple – an enjoyable wine, but I would not have guessed the age correctly by a few decades.  My notes for the the Poças emphasise the contrast – the word "more" cropping up repeatedly – more golden colour, more complex nose and palate, though also more fresh, and with a really lovely invigorating acidity.   Again, more (!) tasting notes available in our database for both the 1964 Kopke Colheita and 1964 Poças Colheita.
Finally, I tasted two Ramos Pinto Ports I had not had before.  Their 10 Year Old Quinta de Ervamoira and 20 Year Old Quinta do Bom Retiro Tawnies are among my favourites, but I had not previously tasted the Ramos Pinto 30 Year Old Tawny, which was noted as "simply lovely."  That may not sound like much of a recommendation, but I have generally not cared for 30 Year Olds, as they seem to be neither fish nor fowl nor good red herring, so that is high praise indeed, possibly the first 30 Year Old I have really enjoyed.  The 1983 Ramos Pinto Vintage Port showed an intense ruby colour but with a distinct perfectly clear rim, and a lovely concentrated mature rich fruit flavour, black cherry coming to mind, and a wonderful finish.  Follow the hyper links to the TNDB for more notes.

Other Ports shown in the Adegga Wine Market Premium Room for which you can find Tasting Notes in our database:
Barros Edição Especial Colheita 1974  (no notes)
Quinta do Portal Colheita 1994 - Edição XX Aniversário
Burmester Tordiz 40 Years Old Tawny
In the main salon, I tasted some excellent wines from several producers – I won't go into many details here, as I hope to learn more and provide an in-depth discussion of each producer in the future:
Quinta da Foz Torto – their Vinhas Velhas 2011 stood out for me as a classic Douro red, and had me wishing for a table, chair, a good steak and a good friend to share it with.
Wine & Soul – 2011 Pintas Vintage Port – stood out for me as having a wonderfully rich, complex palate but a charmingly supple body, not as thick or cloying as some young vintages can be.   Follow the hyperlink for Roy's note on our Tasting Note Database.
Ideal Drinks is a wine group with projects in the Minho, Dão and Bairrada, which gained attention last December when their DOC Bairrada wine Principal Tinto Grande Reserva 2009 was chosen by the Italian magazine Spirito diVino as one of the top 10 reds in the world, at 98.1 points tying Petrus!  This wine takes the classic Bordeaux combination of Cabernet Sauvignon and Merlot and blends it with Touriga Nacional.  You can learn more on Ideal Drinks' own website (linked above), or if you are game to try your Portuguese, read a review on the blog E Tudo o Vinho Levou.
Altogether, I cannot recommend the Adegga Wine Markets highly enough, and hope to see some of you at future events, in either Lisboa or Porto.