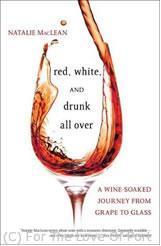 WINE BOOK RECOMMENDATION:  Natalie MacLean provides a great read on wine!
Red, White, and Drunk All Over: A Wine-Soaked Journey from Grape to Glass   Natalie MacLean takes her readers behind the scenes of the international wine world—exploring its history, visiting its most evocative places, and meeting its most charismatic personalities. The book was just chosen as the Best Wine Literature Book in the English language at the Gourmand World Cookbook Awards and has been described as A Year in Provence meets Kitchen Confidential then goes Sideways.
For more information on Natalie, the book, or to sign up for Natalie's free wine e-newsletter, visit the Natalie Maclean website.