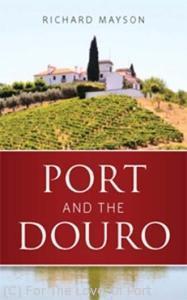 "Richard Mayson is a champion of a wine culture and a fresh and authoritative voice in wine literature" - Hugh Johnson
The third edition of Port and the Douro by Port expert Richard Mayson offers unparalleled insight into the world of Port and Douro wines. From the history of the wine trade in Portugal (the grape is thought to have been brought there by the Phoenicians) to the present day, Port and the Douro offers the definitive inside story of these magnificent wines.
The new edition includes a great deal of new information on the cultivation of the Douro's vineyards. An entire chapter is dedicated to Vintage Port to include harvests as recent as 2011 and information on vintages back to 1844. Vintages have been reappraised to bring them up to date. The structure of the trade has also changed in recent years with withdrawal of the multinationals and the sale and amalgamation of a number of famous Port firms. These are included in the comprehensive directory of Port Producers and Shippers. A new postscript addresses some of the challenges and changes that might affect Port and the Douro in the future. This completely updated edition of Port and the Douro provides a comprehensive study of port and its production making it an indispensable reference guide to the world's greatest fortified wine.
About the author
Richard Mayson entered the wine trade in 1984 and spent five years working for the Wine Society, the world's oldest mail-order wine club. In 1987 he was awarded the Vintners' Company Scholarship and spent three months in the vineyards of Iberia. Now based in the north of England, Richard has been working as a freelance wine writer and lecturer since 1989. His first book, the award-winning Portugal's Wines and Wine-Makers, was published in 1992, followed by a second edition in 1998. He also wrote The Story of Dow's Port, published to coincide with the company's bicentenary in 1998. The first edition of this book, published in 1999, was short-listed for the Andre Simon Award and the second edition, published in 2004, won the Symington Award of Excellence. Richard's book The Wines and Vineyards of Portugal won the André Simon Award for the Drinks Book of the Year in 2003.
Richard has contributed to a number of publications, including the Oxford Companion to Wine and the Larousse Encyclopaedia of Wine. He writes regularly for Decanter and the World of Fine Wine, and lectures to students at the Wine and Spirit Education Trust and Leith's School of Food and Wine in London. Richard currently divides his time between his home and business interests in the Derbyshire Peak District and the Alentejo, Portugal, where he owns a vineyard. In 1999 he became a Cavaleiro of the Confraria do Vinho do Porto.