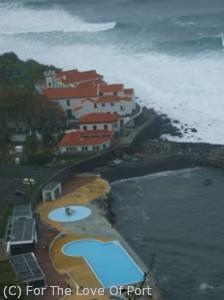 It had long been a dream of mine, to visit the sub-tropical island of Madeira. After guiding our guests through a week of Port related experiences, Mario Ferreira and I would have the chance to spend a few days in sunny Madeira.
Since our time was somewhat limited, we decided to focus our vinous visits with three prominent producers. I have enjoyed drinking young and old Madeira as well as reading about the island and its wines for a long time, but nothing prepared me for the striking natural beauty of the island. It was an exotic paradise and practically overwhelming to the senses, to the point where departing was rather disheartening. I could easily have spent a few more weeks exploring even more of the island.
Indeed, there are numerous commonalities between the islands of Hawaii and Madeira. There are deep and densely forested lush green areas containing indigenous trees and stunningly gorgeous wild flowers, volcanic outcroppings, and of course wild blue ocean surf. But unlike Hawaii, the island of Madeira is covered with hundreds, if not thousands of small vineyard sites nearly everywhere you look. Additionally, there are world class restaurants and resort accommodations, exclusive golf resorts and opportunities for fishing, sailing as well as an abundance of cultural and historic sites.
To get a feel for the lay of the land, the island is approximately 100 km in length and 58 km at its widest point. In reality when driving it, one finds that the island seems much larger than it looks on a map. Funchal, the capital city, is where the international airport is located and unquestionably, Funchal is the major activity center of the island. There are quite a few historic, as well as new and exquisite five-star hotel properties throughout the capital city. In fact, considering the density and small size of the resort area, there are probably more 5* luxury properties than anywhere I can even think of.
Gleaming upscale condominiums are seemingly everywhere and stretch to the highest elevations above the city. Clearly, construction is big business in Funchal and one may wonder just how much land is left there to build on. My initial jaded reaction was that this stretch of the island was an overtly commercialized "Disney-esque" tourist destination with all the trappings for the rich and famous. However, one only needs to drive outside of the Funchal vicinity to realize that Madeira has so much more to offer. The contrast is as striking as the rest of Maui, once you drive outside of Lahaina!
Although it would be easy to become distracted, we did manage to keep our eyes on the prize, which was to find some of the gems of Madeira's wine industry and learn even more about the drink itself. To that end, we centered our attention on the vineyards, grape producers and shippers of the age worthy nectar that is Madeira. Frequently, Madeira becomes far more interesting when it approaches a century in the bottle and can become an ethereal elixir as it nears two hundred years old. Madeira is therefore one of the world's most unique wines. As long-lived as Sauternes, Tokaji and Port wine can be, there is no comparison to the age ability of Madeira. I can't think of a single wine type that is longer lived and come to think of it, I have never experienced a single bottle of cork tainted Madeira; which is even more fantastic considering the often times cheap and small corks used in the majority of bottlings.
A note about harvesting in Madeira
Like vineyards everywhere, there are numerous types of trellising systems. Hand picking of grapes is the norm on the island and most of the vineyards are not difficult to harvest. Then I learned about and had the opportunity to crawl inside a recently picked "Pergola."
As pictured, a pergola is a head-pruned vine, which typically appears in the vast majority of old vineyards on the island. Having seen many a head-pruned vine, this particular configuration was new to me. Consider crawling inside a trellised tunnel of vines and picking grapes off of a 4' high ceiling of vines. Where are the Munchkins when you need them?
If this sounds rather tortuous or even torturous, please consider the number of hours involved in a day of grape picking. Then add some further discomfort to the chore by realizing this all takes place in temperatures that can be understated as "extremely warm." Anybody care to volunteer? It makes my back ache just thinking about it!
Justino's
Our first visit was to Justino's which has been around since 1870 when it was known as Justino Henriques and was family owned and operated. Now it is one of the largest producers on the island and is owned by Sigfredo Costa Campos as well as Porto Cruz (an enormous Port company) and a French mega firm, C.O.F.E.P.P.
We enjoyed our visit and winemaker Juan Teixeira was very generous with the amount of time he spent with us. It was great to taste through a broad range of their Madeiras. I was surprised to learn that they no longer produce any Solera Madeiras but they do have some older "Frasqueira" which equates to Vintage Madeira. . I also found it fascinating that Justino's uses between 800-900 suppliers of grapes, out of about 4,500 growers on the island. They have total stocks of 5.3 million liters, which for a single Shipper is probably the largest quantity of juice in reserves on the island.
There were many other tidbits that we picked up from Juan but I'll include them later in the article. For now, here are my tasting notes of the Madeiras produced by Justino's:
Justino's Old Reserve Fine Dry 10 Year Old Madeira – Not unlike a fine dry Sherry, light amber with a yellow edge. Orange peel and citrus stand out with underpinnings of coconut and almonds. There is a fine thread of acidity and a tart, slightly coarse texture to this entry level bottling with a very dry finish. 86 points (11/3/05)
Justino's Old Reserve Fine Rich 10 Year Old Madeira – Caramel color with a much bigger and rounder mouthfeel. Fresh with less searing acidity than the "Fine Dry"above and more to my liking. This was certainly more focused and overall more satisfying, with medium length to the aftertaste. 88 points (11/3/05)
Justino's 10 Year Old Sercial Madeira – Basically, this is a blend of vintages using the vinification of a single grape variety. Orange color with an ultra-dry citrus edge along with a nutty nuance and a fabulous fragrance of honey and roasted chestnuts. It showed a lighter body which was soft and elegant, a solid core of acid and a really tasty medium-length finish 90 points (11/3/05)
Justino's 10 Year Old Verdelho Madeira – I admit that I am a sucker for a Verdelho as along with Terrantez, this is my favorite Madeira style. I find the off-dry nuances and complexity of Verdelho to really deliver exactly the aromatics and flavors that I love in great Madeira. This version begins with an orange color that fades to tawny. Absolutely lovely with great intensity of beef bouillon notes and rich, viscous toasted almond and spice on the palate. The finish was long and smooth and off-dry and had me smiling. This is a no-brainer. 91+ points (11/3/05)
Justino's 10 Year Old Boal Madeira – Dark amber with orange/yellow meniscus. I can certainly wrap my mind and tongue around the sweeter styles of Madeira as well. This was a rich, vinous, intense, smooth Boal that showed some praline and caramel flavors and a sumptuous finish. The acidity is anything but shy here and provides the intensity and backbone to this unctuous juice. 92 points (11/3/05)
Justino's 10 Year Old Malvasia Madeira – Deep amber in color with a yellow rim, this is my favorite of the four 10 year olds we were presented. Toasty and complex with a significantly sweeter profile, the mouthfeel was rich and viscous with butterscotch and liquid caramel that was as exotic as it was sweet. Great length and this represents a great bargain! 93+ points (11/3/05)
1995 Justino's Colheita Madeira – Medium amber hue with a yellow edge. Provides a Malmsey sweetness level with a fine attack of acidity that delivers big, rich and dense flavors of toffee and a distinct candied nut nuance. Aged in ancient, used Brandy barrels. This Colheita is an enjoyable young wine that shows promise and nice balance at this early stage. 90 points (11/3/05)
1996 Justino's Colheita Madeira – Identical in color to the 1995. I preferred this to the '95 and what differentiates it is not only the slightly richer and sweeter style but more so the grace and stylishness of this bottling. It is also in possession of a lighter wood influence and has more body weight and an even longer finish. Fine potential for improvement as it shows all the right stuffing. 92+ points (11/3/05)
n/v Justino's Old Reserve Terrantez Madeira – So far this was my favorite Madeira in the Justino's lineup. More tawny in color with a drop of orange on the edge. Lush and chewy caramel and a buttery nuance with hazelnuts that made for a complex cocktail. Such elegance in an off-dry style with enough sweetness to balance off an intricate note of bittersweet cocoa powder that really added to the drinking pleasure. I was told that this was identical to the Madeira that goes into the Broadbent 50 year old Terrantez, which is good news since that will hopefully, be easy to find in the USA market. The Justino's version is sold to the USA and Japanese market. This Terrantez is well-endowed with waves of flavor that provides a memorable and persistent finish.  94+ points (11/3/05)
1964 Justino's Boal Vintage Madeira (Cask Sample) – What a fun wine to try and a nice way to end our tasting. Dark chestnut colored core with a yellow rim. Spicy with an Orange Pekoe tea and praline scent. Light in body style and still a bit rough around the edges, but shows promise for the future. It is such a toddler at this stage and with some time once bottled, this has plenty of room to improve. Overt wood influence which was not too surprising but dominant at this stage. Good length to the aftertaste. 90+ points (11/3/05)
Madeira Wine Company
What a fantastic visit we had at MWC, which is a partnership between the Blandy's family and the Symington's of Port fame, (Graham, Dow, Warre et al) two esteemed wine families that joined forces in 1989. As you can see from the picture the Madeira Wine Company consists of four very well known Madeira shippers that are all under one umbrella today.
The various "brands" of these individual shippers, remain intact today and can be found around the globe. MWC is located in central Funchal but they purchase grapes from a large assortment of growers and their production facility is impressive, as is their winemaking team. Cossart Gordon was established in 1745, before any of the other Shippers in the MWC stable. Leacock's was formed next in 1760 and both Blandy's & Miles in 1811 and 1814, respectively.
The MWC visitor's center is away from the production facility and must be seen if visiting the island. They maintain four coopers on their staff and if you are fortunate to be there at the right time, you can watch them in action. There are stocks of old Vintage Madeiras available for sale going back to the early part of the 20th century and the prices are reasonable, considering the quality and age of the bottlings. Their museum is well appointed with many unique pieces and should not be missed. Bring your camera too!
Mario and I were treated exceptionally well by the management at MWC and we were shown not only the production facility and provided with a great tasting, but we also were able to see some of the remote parts of the island and view small and beautiful vineyard sites. The hospitality here was top notch and the wines we were able to taste made for a fantastic couple of hours. We will certainly return to the Madeira Wine Company on our next visit, as it is impossible to take it all in, the first time around.
We had a very thorough tasting of the young ones and since I normally only get to drink ancient Vintage Madeiras, this was an eye opening experience for me, given the depth and the organization of this tasting:
Blandy's Malmsey 5 Year Old Madeira – Dark caramel color with yellow rim, tea and spice, sweet, acidic, medium smooth with 5 year old with decent length, uncomplicated and tasty. 84 points (11/3/05)
Blandy's "Alvada" 5 Year Old Rich Madeira – A unique blend of both Bual and Malmsey. Marketed in a new 500 ml package, I liked this better than the Malmsey. It was more distinctive, with more toasty and glycerin. Medium caramel color with a yellow meniscus. A toasty note , plush and attractive, very approachable with gentle VA and more focused acidity and good length on the aftertaste. 88 points (11/3/05)
1998 Blandy's Malmsey Colheita Madeira – Medium amber with a light yellow edge. Buttery notes with almond and green tea essence. Dense up front fruit with a simple mid-palate and sweet, rich butterscotch and candied nut flavors. Very easy to drink now. The finish is long and the acidity stands up to the young intensity of flavor. Drink now or hold. 88 points (11/3/05)
Blandy's Dry Sercial 10 Year Old Madeira – Light amber color with an orange rim. Salty sea breeze and lightly toasted almond note. A very light and elegant style with a dry nutty character and a velvety smooth presence, lots of zingy acidity and a long but simple finish. A nice summertime quaffer. 86 points (11/3/05)
1988 Cossart Gordon Sercial Colheita Madeira – Very light amber/tawny color offering a slightly more nutty, toasted coconut nuance and crème brulee than the last Sercial. The finish was medium in length and was extremely smooth. A bit more to the mid palate here. 88 points (11/3/05)
Cossart Gordon Medium Dry Verdelho 10 Year Old Madeira – Medium amber with a tawny edge. Exotic spices and tropical notes of lychee. I like the richness and mouthfeel of this off-dry, dense and mouthcoating wine. Best in the lineup so far and it delivers a classy, silky texture that smacks of Verdelho focus and this is a Madeira I'd drink anyday! Excellent finish with a long and lingering aftertaste with a core of a penetrating acidity that remains right to the end. 91 points (11/3/05)
1995 Cossart Gordon Verdelho Colheita Madeira – I love when Madeira comes in neat 500 ml bottles. Very thoughtful! Medium amber wotj am pramge edge/ Toasty, round, full-bodied with slightly more oomph than the ten year old. Complex and layered mid palate with some cheeky tannins that support the chestnut and toffee flavors. Delicious and unctuous and I will admit loving the Verdelho style. 92 points (11/3/05)
Cossart Gordon Bual 10 Year Old Madeira – As much as I enjoy the dry styles of Madeira, there is no question I appreciate the sweeties as well. Medium caramel color with a tawny/yellowish rim. Light to medium weight and I prefer my Bual a bit bolder than this, when young. Somewhat simple with a clipped finish. Not my style as even the texture was not as smooth as I typically appreciate. 84 points (11/3/05)
1995 Cossart Gordon Bual Colheita Madeira – Just about identical in color to the 10 year old Bual. More expressive and richer as well, with toasty walnuts and praline with a slight citrus peel nuance. Medium bodied with fine acidity and good length overall, but it lacked any wow factor. Nice finish. 86 points (11/3/05)
Blandy's Rich Malmsey 15 Year Old Madeira – Cola color with a greenish/yellow meniscus. Vanilla extract and asian spice provide a swirling nose and it was a highlight here. Soft and generous palate presence with velverty texture that is fun to roll around in the mouth. There is a roasted element to the nuttiness here and some tropical flavors of coconut and overripe pineapple. Exuberant malmsey finish a a very fine bottle of 15 year old. Impressive! 92 points (11/3/05)
1977 Cossart Gordon Terrantez Vintage Madeira – We've just crossed the border and entered into a very different level of Madeira with theis fine bottling. Meium caramel color with orange peel, mohagany and salty sea mist aromatics that are fabulous and sexy. Great complexity on the palate even though this is no bruiser, it shows its fine breeding and delineation of fruit and acidity which make for a well-balanced and youthful showing. A fine example of the grape and this finish provides all that is required to make me smile. 94+ points (11/3/05)
1975 Cossart Gordon Verdelho Vintage Madeira – Medium amber color with a yellow rim. For a 30 year old youngster, this shines. Bracing acidity and a much drier Verdelho which I prefer. Silky in the mouth, elegant caramel and toasted almonds with a finish that is exceptional in complexity, but the aftertaste does not linger like a great Verdelho. 92+ points (11/3/05)
1964 Blandy's Bual Vintage Madeira – Dark amber color with a greenish/yellow rim. Dense, mouth coating and texturally pleasing. Big acid that really explodes on the finish with waves of flavors. Very complex and still a baby. 94 points (11/3/05)
1963 Leacock's Sercial Vintage Madeira (bottled 1994) – This just might be the very driest Sercial I've ever tasted. Huge concentration, deep and rich flavors and excellent mid palate depth with salinity, leather and the finish lasts forever. Great acidity which attacks the salivary glands in a take no prisoners death grip. Outstanding! 96 points (11/3/05)
1908 Blandy's AO-SM Bual Vintage Madeira (bottled 1985)– Coffee color with a yellow-greenish meniscus. The smell of antique furniture and mohagany in particular with caramelized surgar and toasty vanillin. Crème Anglaise, velvet on the tongue. Excellent balance and plenty of acidity with hints of mandarin orange. Fabulous! Richness that I love in Madeira and a finish that never does. 95 points (11/3/05)
Henriques & Henriques
The company was established in 1850 by Joao Joachim Henriques who was best known at the time as one of the most prolific growers of grapes from vineyards at legendary Quinta do Serrado, in Câmara da Lobos. Today, Henriques & Henriques is considered the second largest producer on the island.
There is a 10 hectare vineyard (almost 25 acres) above H&H's production facility, by Ribeira do Escrivão at Quinta Grande which is 60% larger than any other vineyard on the island. It is actually owned by H&H, which is atypical since almost no vineyards are owned by the shippers, so this is a rare exception. It will be planted to 100% Verdelho grapes as it is not appropriate to plant the other grapes at this vineyard site. Madeira Wine Company is also considering a huge vineyard like this as well. If it sounds odd that a ten hectare vineyard is the largest plot of grapes on the entire island, I was surprised until I really had the chance to see more of Madeira.
Unfortunately we missed seeing their adega in Quinta Grande but we were able to tour the entire Belem facility which is where their main offices and tasting room is located. This is the building often shown or written about with the enormous South facing window, where many of their casks are stored and aged.
John Cossart's father Peter joined the firm in 1938 and was a legendary figure in the trade. The Henriques & Henriques company has been in Cossart hands ever since. John took over from his father in 1995 and today is President of Henriques & Henriques. John is a controversial character who does not shy away from frank discussions about island politics, or those of America and the world at large. He spent lots of time showing us around parts of the island, including an incredible overlook which was the highest point on the island and sadly I did not write down the name of the place. I very much enjoyed our afternoon together and learned a lot about the history of various facets of Madeira from Mr. Cossart who is a fabulously talented raconteur.
As an example, I have heard various anecdotes about how Madeira's "Rainwater" got its name; I do believe John Cossart's version above all previous sources and renditions. He told me that Rainwater – originally called American Madeira, was coined in the phrase "as soft as rainwater and the color of straw after rain," circa 1760. Brilliant!
Like the Madeira Wine Company, H&H uses the Estufagem (see description below) process for their more basic bottlings and the more expensive Canteiro method for their top line of Vintage and Solera bottlings. Henriques & Henriques' specially devised Estufa, heats their Madeiras slowly (approx. 90 days) and quite gently which Cossart believes prevents some of the burned flavors that are found in some of his competitor's products. He mentioned that the signature of Henriques & Henriques wines is that they have an innate freshness to them, along with great depth and intricacy.
Onto the wines we tried during our visit:
1976 Henriques & Henriques Terrantez Vintage Madeira – A beautiful baby! Dark amber hue with a yellow meniscus, highlighting a light and deftly balanced Terrantez at this early stage. The zesty acidity stands out prominently against the backdrop of some honeyed lemon and toasted almond nuances but it all comes together on the seamless, nutty finish. There is excellent upside potential for my grandchildren's drinking pleasure some day. 92+ points (11/3/05)
1954 Henriques & Henriques Terrantez Vintage Madeira – In a word, fabulous! Coffee colored with a yellowish-green edge, this Terrantez makes a statement with heady, complex aromas that swirl in the glass and lead on to the ultra-smooth and ethereal flavors of crème caramel, candied pralines and butterscotch. This delivers such a delicate dance in the mouth with a velvety texture and it is as enjoyable to roll around in the mouth, as it is to finally swallow. Bracing acidity provides all the structure this needs to carry on to the 22nd century. I will be looking for bottles of this one for sure! 94 points (11/3/05)
Interesting Madeira Facts
The following info was gleaned from direct observation and/or various sources during our trip:
I was told that there is still some lingering negativity and that Madeira's poor image in some venues, is due to those who believe it is nothing more than a cooking wine – France, Germany, Belgium and Luxemburg cook with Madeira but from statistics, their citizens rarely buy the good stuff to drink.
Madeira pipes (CASK) hold 515 liters, in comparison to Port pipes which typically holds 550 liters
Interestingly, the organic matter derived from grapes after crush is given to flower growers on the island which is then re-utilized to fertilize their crops. Like in Hawaii, the flower exports are big business.
In order to use a specific grape name on the label of a bottle of Madeira, it must comprise 85% of the volume from that designated grape.
The Sercial, Verdelho, Boal, Malvasia and Terrantez grape varieties, (and others) used to be called "noble grapes" on the island, but the term "traditional" is used instead, these days.
Madeira's grapes are graded from A - C with a bonus paid for "A" quality grapes. Grapes are normally paid by weight and sugar levels, (the latter of which is measured using a refractometer).
Aguardente (the alcohol added during the fortification process) is an incredible 96% pure grape alcohol for Madeira. By comparison, it is significantly weaker for Port at only 77%. Madeira fortification is stopped at 18 degrees. The aguardente is extracted from the left over grape must and must be approved by the Instituto do Vinho da Madeira (or IVM). In fact, the IVM visits the Adegas to check the wines during fermentation.
The cost of grapes is very high these days. The average price for one kilo of grapes with 9 degrees of potential alcohol was 1.1 euros (quoted Nov. 2005). The higher the degree of alcohol, the higher the price. It is very expensive for the producers to buy grapes. This is just one of the numerous reasons why great Madeira can be pricey.
Sources revealed that other countries buy less expensive Madeira in bulk and blend in "other stuff" then re-label it to make it appear older than it is. I can not say whether or not this actually happens and figure that it is up to the Madeira Wine Institute to deal with it. If true, it's certainly a controversial topic.
Madeira loses more water than alcohol with time in cask. Not a surprise, but conceptually intriguing. Speaking of water, irrigation is permitted in the vineyards on this sub-tropical island.
The specific bottling date (year) is very important; Madeira can taste different depending on when it was bottled. So if comparing two bottles, it helps to know the actual bottling date.
All Madeira uses natural yeast except for Sercial which may be inoculated.
During the harvest, the grape pickers typically make 3 passes through the vineyards. The vast majority of Madeira's vineyards are cultivated and picked by hand, but there are some which utilize machinery.
Some of the specific Madeira designations by the IVM are: "Reserve" must be 5 years old, "Old Reserve" must be 10 years old, "Colheita" must be a Madeira from a single vintage and at least 5 years old. Vintage Madeira must age a minimum of twenty years in wood cask.
Concentrated grape juice can be added to alter sweetness and color in less expensive bottlings of Madeira. An even cheaper way to enhance what nature provides is to add sugar, which is then caramelized in a copper pot before being added to the fermented wine. Today, the Madeira Wine Institute, (created 1975) only prohibits the use of sugar and aguardente that's derived from sugar cane.
The vast majority of the men are over 50 years old, who are grape growers today (4,000+ growers with approximately 1800 hectares) and having the next generation succeed them is very difficult due to economics. This may be a far reaching issue for many family farmers, unless they own/control enough hectares to make it worth the while of their heirs apparent … which is a rarity.
The 4 dominant traditional grapes of Madeira: Sercial, Verdelho, Boal & Malvasia make up only about 10% of all grapes planted on the island.
The record for the largest single wooden tank on the island belongs to the Madeira Wine Company with one vessel holding 54,500 liters.
A Hot Madeiara Topic:  Estufagem & Canteiro
One of the really cool things about Madeira is that it's nearly indestructible once bottled, unless the bottle itself winds up breaking. Not only can Madeira age for a century or two once bottled, but once the cork is removed the wine can be consumed for months without any negative effect. After all, just about anything that would murder mere mortal wines would have little to no effect on Madeira. During its production it is intentionally heated and allowed to oxidize. Having undergone these processes, Madeira is about as bulletproof as any wine known to mankind.
There are basically two methods employed to heat Madeira. But before we explore Estufagem and Canteiro, it is important to understand why Madeira should even have to be subjected to this type of treatment. Simply put, back in the 1600s, casks of Madeira were frequently stowed on board merchant sailing vessels that were headed to America, England, Portugal proper or the East and West Indies. They made for great trade bait and were treasured in the aforementioned corners of the world. On one storied voyage, a lone cask was left aboard a ship which had taken a long sojourn across the other side of the equator. When it returned to the island of Madeira, it was discovered that having been jostled and heated during its voyage, the wine actually was significantly better than when it had left. It was smoother, richer and even more delicious, so casks of Madeira developed into regular passengers on all future voyages from the island until the early 1900s.
Right before the turn of the 18th century, the presence of pirates prevented passage -- in addition to Napoleon's naval fleet, which blocked the Madeira laden ships and made it too risky to set sail. A Madeira merchant experimented with the wine and discovered that by heating it he could replicate the metamorphosis that took place onboard the equator passing ships. This discovery by P. Fernandes led to the process now known as "Estufagem."
Today, Estufagem which artificially ages the wine, is mostly employed on lower priced Madeiras, with the wine heated to about 120 degrees Fahrenheit, typically for more than three months. Frequently, it is put into enormous, (30,000 – 50,000 liter) old concrete tanks with hot water circulating through pipes to maintain steady temperatures. Over time this causes the sugar content to caramelize and adds richness and sweet flavors to the wine. It can also occasionally create a bit too much VA in the wines. An inspector from the Madeira Wine Institute comes around to certify the process and leaves a tag on the outside of the tank with pertinent information attached, which must remain in place. The area within the production facility where this process takes place is called the "Estufa."
There is another type of Estufa, usually reserved for better quality wines up to 10 and 15 year olds. It is a less radical method and tends to gently age the wines and therefore the VA problem is reduced. This process in which Madeira casks are kept in "armazem de calor" (or warm rooms) heats the casks and therefore the wine inside them, but to a lower temperature than the above method and usually for twice as long.
The other way that Madeira is allowed to age is using the "Canteiro" process, which is extremely expensive and is rarely used and in some operations does not exist at all. This method has been employed for three centuries and is solely reserved for the company's finest Solera and Vintage Madeiras. Frequently the wines age for at least eight years and may even stay in these warm rooms with their oversized windows boasting southern exposures, for four or more decades.
Obviously heat rises and the higher the level the wine is stored, the hotter it gets. The wines are placed in reverse order of sweetness with Malvaisia on the ground floor (requiring less heat) and the dry Sercial up in the lodge's loft. Additionally, evaporation comes into play; further concentrating flavors and the casks are allowed to maintain some airspace so that the oxygen can come directly in contact with the wine, thus creating a reductive atmosphere. Various wood types from Mahogany to Chestnut, Brazilian hard woods and even Teak may be selected for producing pipes, cubas or tonels which are then used for long-term maturation that continues on the cooler bottom floor areas.
Save the Grapes:  A Terrantez Solution?
This may sound crazy to some of you, but others will certainly understand if not applaud. There are a few traditional grape varieties that are venerable Madeira warriors, which are now all but extinct. Nothing against Moscatel and Bastardo, but my favorite Madeira grape is Terrantez, bar none. Many of the greatest bottlings I have tasted came from this ancient noble variety. Sadly, there is very little of it left on the island. I am not talking about old bottles of Terrantez; I am pining over the white grapes themselves. So given the opportunity to lobby a few of the Madeira shippers, I asked every single winemaker and owner I came in contact with: 'why isn't more being done to save Terrantez?'
From what I was told by the shippers, there are only 500 kilos (for Americans that translates to a total of 1100 pounds) of Terrantez grapes harvested on the entire island today. Without the continuance of these grapes in the islands' vineyards, the entire species (which was introduced around the end of the 17th century) may also wind up on the list of extinct indigenous grapes. Unfortunately, what I heard from those who actually sympathized and shared in my "cause" was not very encouraging.
Some folks squarely put the blame on the shoulders of the governmental regulatory group, the Madeira Wine Institute. Fair enough, given that the IVM is responsible for -- what, where and how much grapes and/or vines get planted. I reckoned that an American journalist was not going to have much impact, especially given that I was not going to have time to meet with the IVM. But it was unacceptable just to let this topic die quietly, (which I contemplated often) while I was walking amongst the vineyards. So close, yet so far!
By the end of my visit, even I was tired of hearing myself press on about the mistake that was being made by allowing Terrantez to disappear from Madeira's horizon. A few key individuals were very open minded about this discussion and willing to cut to the chase. I appreciated their candor. Certainly not all of the causation for the demise of Terrantez, can be laid at the feet of those in charge of the Madeira Wine Institute.
First of all, Terrantez is a tough grape due to its very thin skin which is quite susceptible to rot and Oidium (a powdery mildew). Given the heat and humidity which is a constant on this sub-tropical island, it is not easy to avoid Oidium. In fact, the Terrantez grape like many other varieties suffered the double whammy of a massive Oidium outbreak in 1852, followed by the even worse root louse epidemic that arrived on the island in 1872, known as Phylloxera. The majority of Terrantez vines, like much of the Madeira trade itself, seemed to be completely devastated by this one – two combination punch.
The trade recovered decades later, but most unfortunately, Terrantez never really did. There was a period of time where Terrantez was actually believed to be extinct … and it practically was! It reappeared in the early to mid-1950s. As an aside: recently, Mannie Berk of the Rare Wine Co. (and his European counterpart, Madeira specialist Patrick Grubb, MW) learned of a half dozen bottles or so, of 1950 Fajã dos Padres Vineyard Terrantez that was released by the Fernandes family that owned the vineyard. It is gorgeous juice and coming from one of the greatest vineyard sites on earth, this nectar was simply, ethereal and unique. But I digress!
Due to the ease at which it spoils, most growers have not wanted to replant Terrantez in their vineyards. It is very costly to do so, as well as heart and wallet breaking when attempts fail. The island also has a unique network of irrigation channels known as Levadas, which stretch across more than 2000 kilometers, and the evaporation does not help the problem. It actually raises the cost of cultivation which is already extremely high for Terrantez. Another cost which makes Terrantez impractical from a financial sense is that without a winter season, the modest temperatures create the need (and an extra expense) to spray to prevent mildew and Oidium all year round. The same lack of winter results in vines that never get a chance to fully shut down and take a break. Combined, these issues further exacerbate the dismal situation.
If that was not enough, another significant issue with Terrantez, is that it is such a low yielding grape that it makes it economically infeasible to continue with. Henriques & Henriques own the largest quantity of Terrantez vines on the island, which only amounts to 600 - 700 vines. In 2002 or 2003 there was only something like 180 liters of Terrantez Madeira produced on the entire island.
I wish I had answers and welcome any viticultural experts or those familiar with the plight of the Terrantez grape, to join us on the -- For The Love Of Port website's Forum and go to the Madeira Forum.  Look for the topic: Save The Grapes: Terrantez. If we wind up with any salient solutions, I would be happy to personally channel them to the Madeira Wine Institute.