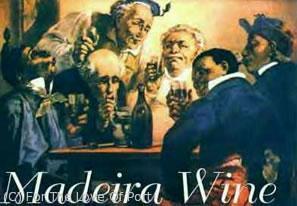 As much as I love Vintage Port, there is something about drinking the complex nectar from an ancient bottle of Madeira, which really hits my sweet spot.
This was the impetus for my trip to Miami to attend The Great Wine Seminar which was masterfully orchestrated by Arlette and Bob Cataldo.
This annual event is always one of the most hedonistic food and wine weekends held within the USA. Many of the greatest wines I have had the opportunity to taste during the past decade have been at TGWS' wine education weekends. The fact that there were sunny skies in Florida and higher temperatures compared to our winter in the Seattle area; it had little to do with my being tempted to cross the country. It was just an added bonus, as Madeira was the only motivation I really needed.
I considered myself fortunate to attend this tasting of sixteen Madeiras going back in time over 200 years with some of the world's leading Madeira experts. What made this tasting even more remarkable was that for each of the wines tasted, there were four bottles of each of these gems for the group, which was no small feat. Over the years, I have enjoyed these rare and ancient beauties while attending a number of outstanding Madeira parties and events around the USA. Always memorable, this was certainly one of the top lineups I have ever encountered.
Dr. Robert H. Maliner, widely considered one of the world's most prominent collectors of Madeira, generously provided many of these pristine bottles from his personal cellar. In fact, it was "Dr. Bob" as we fondly call him, who was the original founder of these decadent weekends of food and wine over two decades ago. The balance of the bottles came directly from the producer's cellars on the island of Madeira. In addition to Dr. Maliner's expertise, there were two other distinguished guests that are well-known to Madeira lovers across the USA.
Mannie Berk, President of The Rare Wine Co., (which is mentioned above in this month's website recommendation) was on hand to add some poignant commentary. Bartholomew Broadbent who is the proprietor of Broadbent Selections, Inc., imports Port and Madeira that he and his father Michael offer under their proprietary label. Bartholomew also imports some well-known Port and Douro wine brands (e.g. Quinta do Crasto and A.A. Ferreira) in addition to numerous family-owned table wines from around the globe. And if these Madeira experts were not enough to keep us entertained, the charismatic and always vivacious Jancis Robinson MW, author of The Oxford Companion to Wine and The World Atlas of Wine, was a brilliant moderator for this tasting as well as for the entire weekend.
We had a delicious dinner that was paired with a couple of young and zesty Madeiras to get us warmed up for the extraordinary selection of ancient bottlings that was about to follow. Prices mentioned as "current" have been added to the original tasting writing. Here are my humble tasting notes of the lineup:
Madeira With Dinner
1977 Pereira D'Oliveiras Terrantez Vintage Madeira – Depicts a dark tawny color with a yellow rim. Aromatics tend towards antique mahogany; Pekoe tea leaves, toffee and a bit of spirit emerges too. This Terrantez leans considerably towards the dry side of the spectrum while offering a bittersweet nuance on the initial attack. It then delivers an expansive palate infused with bouillon cube and walnut flavors that follow through with a dry, smooth and pleasing finish. 91 points (2/28/03)
1995 Broadbent Colheita Madeira – From Tinta Negra Mole grapes comes this bottling of "Colheita" which in Madeira terms, (as opposed to a Colheita Port) is the wine of a single vintage and at least five years old. An attractive maple syrup color shows on this medium-bodied Madeira. The Broadbent is quite evolved for its eight years of age, with none of the alcohol showing on the nose which is prevalent in the majority of these youngsters. Enjoyable butterscotch and a nutty nuance that prevails on the palate with a gentle and lengthy finish. Hard to believe this can still be found for just $25! 90 points (2/28/03)
Introduction
The wines in this section were tasted in order from dry to sweet, all from the same vintage in order to compare grape flavors, (in Portuguese, grapes translates to castas) and learn about the Henriques & Henriques "house style." All 3 wines in this flight were produced by H&H using the Solera method and are therefore, not Vintage Madeiras.
1898 Henriques & Henriques Sercial Solera Madeira – Honey colored with yellow rim, walnut nose with figs, VA and butterscotch. More fruit than initially expected as it was quite closed for some time. It delivered a dose of superbly integrated, mouthwatering acidity, as well as admirable length on the smooth finish that exhibited a purity of Sercial typicity. 90 points (2/28/03)
1898 Henriques & Henriques Verdelho Solera Madeira – More yellow to the edge and just barely lighter than the Sercial's color. More alcohol showing here, but it is supported by orange blossom, lemon custard and honey which makes for a drop dead gorgeous, lifted nose. This H&H is more youthful than the two other bottlings, serving up lip smacking, concentrated flavors of figs and zesty orange marmalade flavors, with crisp underpinnings of acidity. Nice complexity as well as a sultry, seductive finish. My favorite of the three 1898s. 93 points (2/28/03)
1898 Henriques & Henriques Bual Solera Madeira – Similar but just a tad darker than the Verdelho, almost identical to the Sercial in appearance. This Henriques bottling is a deftly layered Madeira with aggressive acidity and is impressive, but lacks the typical Bual level of sweetness. Molasses and pralines lead to an amazingly smooth, buttery mouthfeel and a sumptuous, caramelized aftertaste which lasts well over a minute, but who is counting? 91 points (2/28/03)
Dry & Semi-Dry
1862 Pereira D'Oliveiras Sercial Vintage Madeira – At the time of the tasting, this was selling for $425 per bottle. One of the last grapes picked at harvest due to the high altitudes at which it grows. Dark tea color with a greenish rim. Scents of beeswax, citrus and mocha offer greater pleasure than the palate. It is absolutely bone dry with an iodine, salty-lemon character and slightly bitter/astringent component similar to what I get from Cognac (which admittedly I don't like). The aggressive acidity provides the balance and the admirable length of the finish is the overall strong point of the wine. This was not my favorite Sercial, and generally, I do like the style. To be fair, I'd like to try this one again, on its own. 90 points (2/28/03) Currently $495.
1839 Oscar Acciaioly Verdelho Vintage Madeira – An explosive fragrance of honey, dried apricot and golden raisins emerge from the glass which sets the stage for the beauty which is about to appear on the palate. Impeccable concentration of flavors with rich, mouth coating caramel, orange marmalade, toffee and root beer. This vinous vixen of a Verdelho demonstrates the greatness of the grape and the capabilities of Acciaioly. A superlative and harmonious Madeira with a wonderfully long, lingering finish. Best wine so far. 96 points (2/28/03)
Sweet
1927 Leacock & Co. (Madeira Wine Company) Bastardo Vintage Madeira – I remember this wine fondly as it represented the first bottle of Madeira I had ever purchased back in 1993 for $135, which was more than I had ever spent on any bottle of Port or other wine at the time. 1927 is both a great year in the Douro as well as for Madeira too. Bastardo is the only red grape used in Madeira production besides Tinta Negra Mole, and in my opinion, its sweetness level falls somewhere between a Verdelho and Bual. The color here shows a medium amber core with a yellow meniscus and this bottle had a funky, musty nose initially that opened up to offer toasted caramel, roasted almonds and a hint of coffee beans. Full-bodied and rich on the palate, this was a soft and smooth beauty with orange marmalade, almonds and toffee flavors which provided complexity and an elegant drink. The finish has a slight bitterness akin to burnt coffee grounds which detracts from the overall aftertaste but otherwise the length is remarkable. Others liked it a lot more than I did. Maybe I'll just have to try it again. 91 points (2/28/03)
1907 Blandy Bros. (M.W.C.) Bual Vintage Madeira – A dark molasses color leads to a sensuous bouquet of honeysuckle, peach and crème brulee. Smooth, rich and viscous, it provides a dry style of Bual leaning towards Verdelho. This 1907 brings a mouthwatering intensity of flavors and an outstanding mouthfeel that had me begging for more. An impressive and enduring finish with just a hint of heat not to mention an abundance of lovely VA which I love in my Madeira. The dichotomy here is that this Blandy's bottling shows both elegance and youthfulness simultaneously, which is quite a feat. 93 points (2/28/03) Currently $595
1863 Vinhos Barbeito Boal Vintage Madeira – Dark caramel color with a yellowish edge. One of the more memorable Madeiras I've ever put in my mouth. Is it really possible that this was vinified during the same year in which the Battle of Gettysburg took so many lives? This profound wine offers an expansive and expressive nose of coffee beans, cola, truffles and cooked peaches. It has the unctuous palate presence of Malmsey, with the charm and finesse of a less sweet Boal. Infused with dried apricot and peach flavors, it is brimming with copious quantities of crisp acidity and possesses a decadent chocolate finish not to be believed. Simply put, this is a thought provoking wine that hits on all cylinders and is the greatest Barbeito bottling I have ever tasted. 98 points (2/28/03) Currently $395
1834 Vinhos Barbeito Terrantez Vintage Madeira – I have enjoyed many a bottle of 1834 Barbeito in the past, but only the Malvasia. It is always a great treat to explore Terrantez with this much bottle age. Gorgeous nose of citrus peel, caramel and toffee notes with a hint of a roasted character which I enjoy in some Terrantez. This Barbeito is stylistically quite dry for a Terrantez and depicts a finely tuned acid structure with an elegant and smooth sensation on the palate. The flavor reminds me of prunes in Armagnac and the impressive length and texture of the aftertaste, epitomize finesse. 94 points (2/28/03)
1802 Oscar Acciaioly Terrantez Vintage Madeira – The darkest colored wine so far, almost appears to be the color of coca cola and fully opaque. This is as good as it gets in Madeira. Clearly the greatest Terrantez I've ever tasted and unquestionably the finest Madeira to pass my lips. It's considerably more elegant and ethereal than the exalted 1795 by Barbeito, at least the one I had the opportunity to try back in 1998. The aromatics of the Acciaioly literally filled my head for a long time with a full arsenal of mocha, truffles, maple syrup and lime zest. Ultra viscous and almost syrupy had it not been for the provocative and focused acidity which creates the extraordinary balance at the heart of this Terrantez. An awe inspiring and captivating wine experience, with a breath-taking, unforgettable finish, that gives the word "aftertaste" new meaning. One of the top 3 or 4 wines I have ever consumed and I am not the least bit ashamed to admit going around the room after the tasting and pouring leftover glasses into mine to savor throughout the evening. Pure perfection in a glass and I only hope to live long enough to try this at least one more time. 100 points (2/28/03) Currently $1,700+