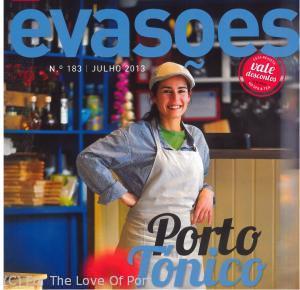 In the July edition of Portugal's leading monthly lifestyle magazine, "Evasões" dealing with travel and tourism inside Portugal, there was a brief interview included while I was staying at Linha 22 and blind tasting my way through dozens of 2011 Vintage Ports.
The introductory note writes that "If one day you come across an American defending Port as if it was one of his own children, its highly likely that person will be Roy Hersh". The following text only appeared in Portuguese, for those of you who can't read the language, I've included my original answers to the questions, below.
Interview – answers submitted below were edited to fit the formatting shown in the article layout.
We heard that you are renting a room (in Porto) for you and another for wines, is that true?
Yes, a friend of mine told me about a place that opened at the end of 2012, after a full renovation. It is called Linha 22 and is fantastic. The owner and the entire staff are extremely professional and incredibly friendly. They provide excellent suggestions on everything a person could possibly want to know or places to visit in the entire area. Also, breakfast is included too which is very much appreciated. The five guest rooms have brand new over-sized beds, there are tons of electric outlets, very fast WIFI connectivity is included, brand new bathrooms with a very spacious shower, and in addition, the rooms possess large French doors, (some of which open to a small balcony) and provide fresh air and the sounds of the city or can be closed to keep all noises out.
I rented a second room so that I can have plenty of space to do my blind evaluation tastings of the 2011 Vintage Ports. The owner was very helpful in creating a great, well lit work space that is comfortable and spacious. He even purchased a wine cooler so that I could keep my bottles at the correct temperature when the weather warmed up in Porto. I love it here and am spending the better part of a month at LINHA 22. I have stayed at many types of hotel properties in Porto from simple Pensão, Residencial, to 3, 4, and 5 star hotels too; but I must say, this is the place I will continue to return to in the future.
How does an American fall in love with Port wine?
I began drinking Port wine 30 years ago in 1983, while working at a great restaurant in New York City, where I was born. They offered 1963 Sandeman Vintage Port by the glass back then when it was 20 years old, and I was still 25. When new bottles of it were opened by the sommelier, I was called to join in watching him decant the bottles before putting them into one of the very earliest Cruvinet dispensing units, (an inert gas fed system) built for the restaurant trade. I got to taste what I could squeeze out of the cheese cloth that the Port had been decanted through. That was my first experience with Port and I fell in love right from the start.
I purchased every available book for sale on Port that existed in the English language and sought out specialty book collectors so I could find ones that were out-of-print too. As I had no money for traveling overseas back then; I spent what I could on buying vintage bottles for my collection. Having worked in hotels and restaurants, I got to taste new vintages of Port at trade tastings and kept all of my notes from the early 1990's vintages in my notebooks. The first vintage that I wrote about on the internet was 1994 in 1997 on America Online's Wine Message Boards.
However, it was not until 1994 that I could afford to travel to Europe and came over with a girlfriend to first visit Lisboa and then FINALLY, had my eyes opened wide during a few weeks in Porto/Gaia and Douro. I had a letter of introduction and James Symington who at the time was the head of his family's company, took me to the Factory House and introduced me to the entire Port trade at a great Wednesday luncheon. He then let us visit and stay up at his Quinta do Bomfim property and provided a driver to take us to Quinta da Cavadinha. I took many hundreds of photos on that trip. In the mid-1990's I wrote about every Port I tasted from that point on, online. I got really serious about this and by the year 2000, I was being published in the USA.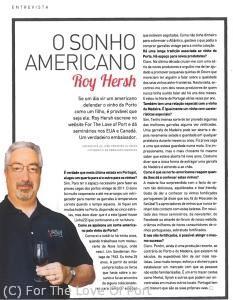 My life changed in 2003, when I was enthroned by the Confraria do Vinho do Porto. I took my Confraria oath so seriously that a few months later, I decided my career in restaurants was over and I began a new career as a Port writer. For the next four years, I gave my newsletter away for free and made no money on it, and that is why it was named: For the Love of Port. The following year, www.fortheloveofport.com began and today it remains the largest and most diverse independent Port-centric website in the world, (no advertisements or funding by any Port company or subsidy from any organization). My newsletter now reaches 76 countries. This past weekend, I returned to the Confraria do Vinho do Porto to see the ceremony and celebrated the 10th anniversary of my enthronization.
Last but not least, in 2005, my friend Mario Ferreira from Turquel, Alcobaça, (who had been the IVP/IVDP liaison to the USA and held over 200 tastings in America during his five years based in NY and San Francisco) and I joined forces to begin bringing oeno-tourists from around the globe, to Porto/Gaia and Douro. Two years later we added Madeira (and later, Vinho Verde) to the list as along with Port and Douro wine, Madeira is the other area of my expertise in wine. Our guests always leave our tours having a greater appreciation of Port and Douro wines, but it is also important to teach them about the authentic and delicious regional food, the culture and most importantly, the amazing nature of the people who reside in this remarkable country of Portugal. I am currently in Porto for the 21st time, actually, 20th time since 2003.
Lastly, in 2002, when my daughter was born, I chose the name Taylor. She enjoys helping me decant bottles of Vintage Port which she began doing by herself when she was twenty eight months of age.
There is a long tradition associated with Port Wine; is there a place for new producers? And to improve?
Yes of course, there is always space for new producers as there are now over 120 Port producers in the Douro region. Throughout Port's history, there has always been consolidation with large companies purchasing the smaller ones that were having financial difficulties or other issues that forced them to sell. In the past two decades, it has been even more prominent as many of the old companies have had to sell, here are just a few of the big names: Calém, Sandeman, Cockburn, Croft, Burmester, Real Companhia Velha, Delaforce, Quinta de Roriz, etc. But as the companies were purchased, they did not go away, and in many cases their new owners have had the resources to rebuild the reputations by improving the quality of the Ports.
Additionally, DOC Douro wines in that same time frame have gained popularity here in Portugal as well as emerging markets globally. It is this movement that has made a huge impact on the landscape of Douro, both viticulturally and for tourism. It has also opened the door for new producers to start up, and also the Douro region has seen many quintas turn away from growing grapes solely for the big Port houses, in order to create their own brands.
What prevents more new companies from getting into the Port business?
Having enough start-up capital to be successful.
The antiquated Beneficio system which badly needs to be revised so that new companies are not prohibited, or at least, not greatly discouraged from becoming entrepreneurs and entering the Port trade.
Over the past decade I have met with MANY new and undiscovered Port producers and take pride in doing my part to promote even some of the tiny Douro quintas which may never get to sell Port outside of Portugal, and even less likely, in America.
Regardless, they deserve to have a voice and someone talking about the quality of their Ports beyond the borders of Portugal. On this visit, I have met with two new Port producers that I had never even heard of two months ago, and I am here in Northern Portugal several times every year. I hope this trend continues, while I also enjoy supporting the mid-sized producers as well as the big five too.
You also have a special relationship with Madeira wine... It´s also a wine with special characteristics?
Yes, I have a very significant love for Madeira too. It does not go as far back as my love for Port wine, but it is very deep and I have been extremely fortunate and humbled to have tried many of the greatest bottles of Madeira ever vinified. Madeira has already been exposed to oxygen and then heated, as part of the two production methods known as: Estufagem and Canteiro. So two of the characters which will kill any other wine type on earth, have virtually no effect on Madeira. A bottle can be opened and left recorked, standing up on a shelf anywhere in the house ... for several months or longer. I had a Madeira expert blind taste me on a bottle of his that was in a bag. It was amazing; but the shock was in learning it had been open for nine years! I like to joke that the only way to hurt a bottle of Madeira is to drop it on the ground and have it break.
I organize Madeira tastings in the USA and occasionally in Canada too, (some with America's finest importer of Madeira called, The Rare Wine Company; and some on my own). I love visiting Madeira and although I enjoy Funchal where the majority of the producers are gathered, it is great to see what is beyond the city and going to the old vineyards on the South side of the island such as Fajã dos Padres and the wild vineyard sites in the North, in Seixal and close to Porto Moniz, as just two examples. We also bring oeno-tourism to Madeira, providing distinctive, educational wine and food vacations. To understand the depth of passion I have for Madeira, your readers can visit our article about the Transcendental Terentez Tasting to read about one of our tastings going back to the mid-eighteenth century. These are ALWAYS done not-for-profit!
When you show Port wine and Madeira wine in your seminars around the USA and Canada, how do people react?
For the majority, I believe they are often amazed at how delicious, balanced and food friendly these fortified "dessert wines" can be. I love to introduce those that enjoy wine, but are not yet familiar with the fortified wines of Portugal, (did I mention I am also a big fan of Moscatel de Setubal?) to taste these beauties for the very first time. By simply explaining the various categories, giving a glimpse of the history and showing some photos, a very basic introduction can go a long way to winning over lifetime enthusiasts for Port and Madeira. If I get the sense they have some more serious background with wine, the talking points approach whatever level they would like. I enjoy creating unique tastings for retailers and their clientele, private wine groups, sommeliers and restaurant managers, as well as first timers and extremely serious wine consumers.
Expanding the knowledge base of these individuals and groups is as rewarding as my writing itself. It is a lot of fun to see their enthusiasm and appreciation for Port and Madeira, as well as the non-fortified wines from Portugal. From my seminars, newsletter, Facebook posts and also the Forum on our website, we have created thousands of new and long-term consumers of Portuguese wine and of course, especially the fortified wines.
What about the "other" Portuguese wines: it is possible to achieve the same international success as Port wine and Madeira? What is missing?
Yes, of course it is possible. However, Port and Madeira have been around for centuries and the "still wine" industry is much younger in Portugal so expectations must be realistic. It takes a lot of time, effort, visits and money to establish emerging markets for wine that people are not familiar with. As long as most of Portugal realizes that its greatest liquid assets are created by the indigenous grapes grown in the vineyards, and those castas are allowed to continue to lead all others in Portuguese wine culture, then the future will be bright.
Personally, I think it is a huge mistake to bring in varieties like Merlot, Syrah, Cabernet Sauvignon and others that can be found in most other appellations around the world. Portugal has a treasure trove of their own grapes and should do everything possible to promote them, continue to plant them and retain them as the story told to people in other countries. This is the single greatest point of difference that Portuguese wine possesses today and it should be marketed every single day in every way possible.
Vini Portugal is doing a good job, but their resources have their limits. Therefore, more must be done and I very much understand the economic challenges at this time in history. A more cooperative approach done regionally would be the way to go, if politics could be kept from getting in the way of promotional and educational efforts. The story should be about the region, the culture, the unique grapes, food pairing possibilities and most of all, the fact that these dynamics all come from Portugal, one of the greatest places on earth.