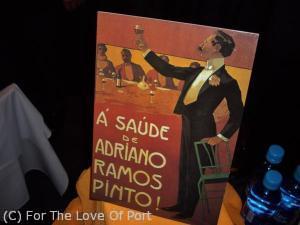 Guest Author Blair Curtis reports on the 2013 Vancouver International Wine Festival.  Another year brought another fantastic wine festival to the city of Vancouver. There were a few big changes – most noteworthy was the change of the arts charity that was the partner for this big event. The Vancouver Playhouse ceased operations, and so the wine festival continued on, now affiliated with the beloved Bard on the Beach (performances of Shakespeare).
From this writer's perspective, the wine festival was as strong and vibrant as ever. Wineries from around the world came to pour their vinous creations for an enthusiastic and receptive crowd.
Just to throw a few numbers out there (so you readers can appreciate the scope of this event) the 2013 festival attracted about 22,000 wine lovers to a total of 54 events where they were able to enjoy a total of 1850 wines poured by 175 wineries – this is a true world class event on a large scale!
For anyone considering attending this festival in Vancouver, one of the great events annually is the black tie "Gala" dinner and auction. This fundraising dinner occurs during the week, prior to the main weekend of tastings, and is a highlight of the entire festival. In addition to enjoying a wonderful dinner with wine pairings from participating wineries around the world, attendees get to participate in one of the few wine auctions in British Columbia (or Canada for that matter). Great wines are donated as auction lots by wineries, import agents and private collectors – and again, the proceeds go to support the performances of Bard on the Beach.
For this year's festival, the theme grape was Chardonnay and the theme region was California: a pairing one can conjure up in the wine tasting memory fairly quickly and readily. A natural match!
As usual, this festival has participation from Portugal. Though the number of booths varies from year to year, you can always be assured that producers from Portugal will have a presence at this festival, and continue to make an impression on attendees with the great quality and diversity of wines on show.
Ramos Pinto Wines
For the purposes of this report, I thought I would focus on the wines poured at one booth at the festival – Ramos Pinto. Certainly, this is not in any way about playing favorites. But Ramos Pinto does not always show multiple wines in Vancouver at the festival. Furthermore, the wines of Ramos Pinto seem to fly under the radar in this part of the world, so I felt this was a good opportunity to turn the spotlight on the high-quality group of wines this producer brought to exhibit.
Here is what I had a chance to taste:
2010 Duas Quintas, Douro red: This wine is a blend of six grapes, most predominantly Touriga Nacional (45%), Touriga Franca (25%) and Tinta Roriz (10%). The grapes come from two vineyards – hence the name – which are Ervamoira and Bons Ares. The nose features damson and plum. The palate leans a bit more to the red fruit side of things: some nice tart cherries, good freshening acids and a medium finish. A very good wine, and impressive for the price (here in B.C. under $18). 88 points
2008 Ramos Pinto LBV Port: This is lovely. A dark wine, but made lively by a bitter chocolate acidity – yum. Nice plummy flavours in the mouth with a great touch of menthol adding interest and dimension. Overall an excellent LBV. 89 points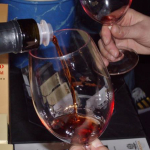 Ramos Pinto 10 Year Old Tawny Port: On average, this wine is closer to 14 years in terms of actual age. The components of this are 100% from Ervamoira. The nose has great volatile compounds plus lovely cinnamon. The wine is lively in the mouth with nice acidity and a strong linear mouthfeel. The flavours are delicious, showing dried fruits/fruitcake, and a wonderful nuttiness – some toasted pecans here. Ramos Pinto is aiming for a "drier" style with its Tawnies...I like it! 91 points
Ramos Pinto 20 Year Old Tawny Port: This one hails from Bom Retiro. Oh boy, this is intense! Mouth-watering caramel candies come charging through on the palate. Fantastic (nearly electric) acids. The mouthfeel is creamy and the finish is long. This is gorgeous. 93 points
Private Port Tasting Event With Roy Hersh
Roy Hersh and I had the pleasure of attending a private tasting event held by a Vancouver collector of Ports (and some other wines too!) He learned that Roy would be in Vancouver for the festival, and asked Roy if he would speak about all things Port at an event he wanted to host for some friends. Roy was happy to oblige...and I attended to keep him out of trouble!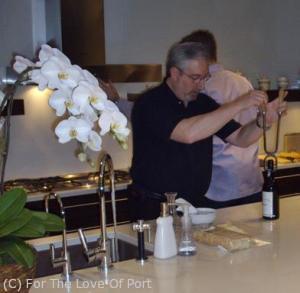 To get things kicked off in style, Roy pulled out his trusty Port tongs and put on a demonstration of how to use this rarely-used implement. None of the attendees had ever seen this done in person, and so Roy's expert use of the tongs left quite an impression on the group.
Then, after some delicious cheeses, we were on to the tasting. The tasting notes are in the order we sampled the wines (and all of the wines except the 1980 Gould Campbell had been opened much earlier and decanted in accordance with Roy's instructions. The GC '80 was opened during the Port tongs demonstration, and so it was naturally showing a bit tighter than it would have with more extensive air exposure):
2007 Niepoort VP: This has a really fine nose, which is fundamentally deep dark cherries, but also shows a nice perfumed/floral note. The wine is still primary, but it is deep and beautiful. I have had this VP on other occasions, and I still believe its elegance (as Ports go) is in keeping with Niepoort's desire to make wines that are ever more refined. Of course this Port still has plenty of power, but it lacks the brutality of some other young Ports from the vintage. 93 points
2000 Niepoort Secundum VP: This shows as simpler than the 2007. It shows distinct cherry cough drop and a bit of Dr. Pepper. This one does have a nice finish. But it is not in the same league as Niepoort's 2007 VP. 89 points
1994 Dows VP: This starts with some swampy bottle stink. It does show some mild oxidation – a bit stewed and pruny on the palate. This was not a sound bottle. Our host indicated that the cork was problematic and clearly not 100%. I left a small amount of this wine in my glass through the tasting, and curiously after a couple hours the glass smelled of caramel...I would have sworn from the scent that a Tawny had been in there! NR (flawed)
1994 Fonseca VP: Now we have a real thoroughbred here. This Port is nearly black still and shows a dark profile, including some molasses. My only quibble is just a bit of noticeable heat. But this is very, very nice stuff. Powerful flavors including root beer and licorice. Tremendous intensity and grip. Palate presence to burn. Certainly more tannic than the 1994 Taylor VP. 97 points
1994 Taylor VP: This one has the best nose on any of the 1994s. Gorgeous cinnamon intermingled with a lovely floral note. It is very fine. Relatively light on its feet (but lacking no intensity), this wine strikes an excellent contrast to the Fonseca. On the finish this Port gives up a lip-smacking mocha/chocolate note. 98 points
1983 Guedes VP: A new one on me! Never had any Port from this producer before this one. The nose does not bode well...VA – a slight white vinegar aroma. The palate is the best part of this Port. It is soft and somewhat weak, but there is a bit of fruit left and it is enjoyable for what it provides on the palate. Seems advanced far beyond its true age. Our host advised that this was a gift to him about 10 years earlier. 83 points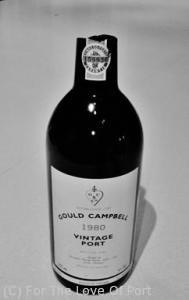 1980 Gould Campbell VP: This was Roy's bottle...and it came to play. It showed as incredibly intense, yet the mouthfeel was oh so silky..."liquid mink" was one comment at the table. Striking flavours of currants. Bags of life left on this. For most of the group, this Gould Campbell was an eye-opener. An underrated producer with a super wine from an underrated vintage. A true sleeper. 94 points
1970 Grahams VP: Worth the wait. This was a highlight of the tasting to be sure. I thought this was absolutely beautiful. No edges anywhere – the mouthfeel was completely spherical. And the wine progressed through the mouth like a wave rolling in...tremendous. Typical of Grahams, this was on the sweeter side, but that suited the age and the mouthfeel of the wine to perfection. Great balance. Long finish. Not many nits to pick here...just an outstanding bottle. No hurry to drink these by any means, but this is in a really nice place for sampling right now! 96 points
The 2013 festival was another wonderful event in Vancouver, bringing people together in a shared passion for wine.
It has now been announced that the 2014 Vancouver International Wine Festival (February 24-March 2, 2014) will have France as its theme region, and "bubbly" as the global focus. I really hope to see some of you at the festival in 2014!
This slideshow requires JavaScript.