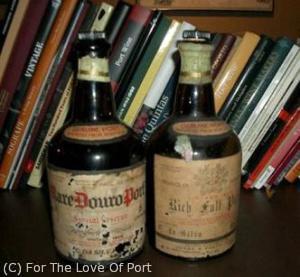 This month's Question for the Port Trade drew 26 responses, offering a variety of viewpoints as diverse as the grapes of the Douro.
Q: Keeping it very simple this month; which Port wine produced by another company have you always wanted to try, but never tasted as of yet?
Luisa Borges, Oenologist, Viera de Sousa
One of the Ports that I am really curious to taste and have never had the opportunity to try is a 1977 Fonseca Vintage Port. It was a great year, a classic one and with great aging potential. I am curious to see how this vintage evolved along these years.
Paul Symington, Joint Managing Director, Symington Family Estates
There are three wines produced by other companies that I would love to try, but have never tasted: Noval, Taylor and Niepoort 1927. That would be a fun tasting!
Bartholomew Broadbent, Importer, Broadbent Selections, Inc.
Stibbart 1851... A Shipper I've not tasted, the wine described by my father as, "Still the most magnificent old Port I have ever drunk". I can't think of too many Ports I haven't had.
José F. Falcão Carneiro, Proprietor, Wiese & Krohn
Taylor Fladgate Scion.
Pedro M. Branco, Proprietor, Quinta do Portal
There are two wines I would like to taste as I heard wonders about them, but their availability is very scarce. These are Noval Nacional 1931 and 1963. I had the 1994 last week at Quinta do Noval and it was a wonderful wine.
Dirk Niepoort, Winemaker & Proprietor, Niepoort Vinhos, SA
Very simple; Noval Nacional 1931.
Gonçalo Devesas, General Manager, Dalva Port Lodge
I would have to say the Quinta do Noval Nacional 1963.
Oscar Quevedo, Director of Sales & Marketing, Porto Quevedo
Quinta do Noval Nacional 1983. For sure not the best period for the Nacional Port, but I can't change the year I was born in.
António Agrellos, Oenologist, Quinta do Noval
Trying to answer your question, in fact there are a number of Vintage Ports that I never had the opportunity to taste, despite having had the fortune to be born in a family that is in this business for more than four generations! If I have to choose one among them, I might chose the Taylor's 1948, because I believe it is a tremendous Vintage and it is my birth year!
Luisa Olazabal, Sales & Marketing Director, Quinta do Vale Meão
There are many Ports I would like to taste, for sure. The following are amongst that list:
Taylor's Scion, Noval Nacional 1963, Fonseca Vintage 1994, Ferreira 1963. I still hope one day to taste at least one of them, but I am aware the odds are low…
Jorge Rosas, Export Director, Ramos Pinto
I would love to taste two vintage ports: 1931 Noval and 1931 Nacional, as I remember (many years ago) Mr. Fernando Van Zeller (Alvaro and Fernando's father and ancient President of Quinta do Noval) saying that everybody thinks 1931 Nacional is the best vintage produced by Noval, but he actually thought that the "standard" one was much better.
Sandra Marques, North America Export Manager, Sogvinus Fine Wines USA, Inc.
The answer is very easy … Andresen Colheita 1900 which was recently bottled! That would be a unique and special treat. I believe they are the only House that still commercializes such rare and old Colheita.
Rupert Symington, Joint Managing Director, Symington Family Estates
I would very much like to taste the elusive Noval 1931 Nacional, which seems to have cropped up quite regularly in US collector tastings over the years (I don't know how much they bottled, but it must have been quite a lot!). Several respected tasting authorities have written that this is the greatest Vintage Port they have ever had. Of course, I can't give my own opinion until I'm invited to taste for myself – so please include me next time you pull a cork!
Miguel Roquette, Director Sales & Marketing, Quinta do Crasto
For me it would have to be the legendary Quinta do Noval Nacional 1931.
I actually tried this wine once in 1991, when I was working at Noval with Cristiano van Zeller, but it was a tiny portion from a small glass that was left behind from a tasting with VIP clients.
I don't remember the experience any more as it was a long time ago and I was too young and did not have enough knowledge to truly appreciate this wine.
Paulo Coutinho, Oenologist, Quinta do Portal
A list of wines that I have wanted to taste and not already done would torture myself. I would love to taste the old stock of Ports from Andresen, Warre's, Niepoort, and others barrel-by-barrel, tonel by tonel (this was the first greatest experience I had when I started working at Quinta do Portal) then enter their wine library with a corkscrew in one hand and a glass in the other and taste Garrafeira 1931 from Niepoort, Ferreira Vintage 1945, Nacional 1963, or the most recent Ports like 1994 Fonseca and Taylor's, just to see the evolution of a such young Vintage Port already made by modern winemaking. That should be my list! I have to say that there are many famous wines that I haven't tasted yet. Of course the 1963 Vintage Ports are one's that let me be very curious, and I have not tasted the Scion. But I'd love to look for "my Scion" in Taylor's cellar.
Pedro Poças Pintão, Commercial Director, Porto Poças
It is in fact very difficult to answer as I have still so many wines that I want to discover. But to keep it simple, I would like to make an horizontal tasting of Vintage 1977 as the only Port from this year that I have tried so far (and it was showing very well) was a Graham's 1977. Apart from being an excellent year, I guess I want to know if those fellows are ageing better than I am!
Miguel Braga, Winemaker & Proprietor, Quinta do Mourão, (S. Leonardo)
As you know I´m a Tawny man, so I would like to try the Scion from Taylor's and for Vintage the Noval Nacional 1963.
Pedro Sá, Technical Director, Sogevinus Fine Wines S.A.
The sole Port wine I would love to taste but never got the chance is the pre-phylloxera Port wine 1863 from Wiese and Krohn.
Rute Monteiro, Sales Manager, Quinta do Noval
I am always more keen on trying very old Vintage Ports rather than very old Tawny Ports. To me, Tawny or Colheita Ports attract me most when they're 20 to 30 years of age. I 'm rather attracted by the way that old Vintage Ports perform in the bottle for so many years. It's probably a cliché but I'd be very curious about tasting the Ferreira 1863 Garrafeira Vintage. A wine made under the leadership of an amazing woman such as Dona Antónia Adelaide Ferreira and right before she had to struggle with the phylloxera ravage. If this is too much of an indulgence, then I may content myself with any Vintage from 1955 or 1945 of which I haven't tasted many…! I can keep on going if I may…?
Miles Edlmann, Director of Production, Valle Pradinhos
Right now all of them are produced by other companies! But I guess it would have to be one of the legendary Noval's of the early 30s - the 1931 or the 1934. I'd love to see how that acidity from the Souzão falls into line after eight decades. But honestly I would find it hard to turn down another chance to drink the Croft '45 again instead, given the chance - my first, and so far only, (personal) 100 point wine. I've drunk it three times and each bottle has been slightly different (which is hardly surprising given its age) but equally fantastic. Are we allowed known unknowns?
Luis Sottomayor, Chief Oenologist, Sogrape Vinos
Effectively, I have a wine which I would desire to taste and that wine is the Noval Nacional 1963.
Manuel Lobo, Winemaker, Quinta do Crasto
There are two Ports that I would love to try: Noval Nacional 1931 Vintage Port and also the Fonseca 1927 Vintage Port.
Carlos Flores, Co-owner, JH Andresen
There is a Port I've never tried and I doubt I'll ever will – Noval Nacional 1931!
George Sandeman, Board Member, PR & Intstitutional Representation, Sogrape Vinhos
I think that Andressen 40 Year Old White would be an interesting wine to taste, but I never have. As you may know this company was the pioneer of this category (aged white Ports) and I have had the chance to taste their 10 and 20 Year Old White Ports but never this one.
Richard Mayson, Journalist, Critic, Author ... Port and the Douro (and many more)
My answer is rather an obvious one I am afraid: Quinta do Noval Nacional 1931. I don't suppose that I ever will get to taste it!
Bento Amaral, Tasting Panel Coordinator, Instituto dos Vinhos do Douro e Porto
Due to their classifications and all the hype around this wine, I would enjoy a lot to taste a nice bottle of Noval Nacional Vintage 1931. I would also be very interested in tasting white Ports bottled on the 19th century as well as Ports from the 18th century. The last ones, to have an idea how these wines with less alcohol and sugar are evolving.
A Question for the Port Trade appears in every other FTLOP newsletter, sharing this space with Port Personalities: In Focus.