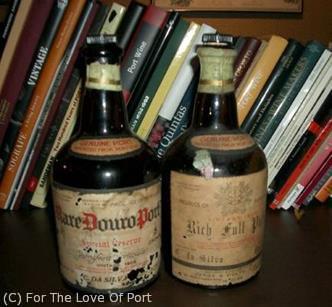 For The Love of Port's Roy Hersh asked and 17 key players in the Port Trade replied to his question:
What impact can a generally declared vintage like 2011 have on your company ... and from the early goings, which older vintage(s) would you compare to 2011 and why?
Cristiano van Zeller, Owner/winemaker, Quinta do Vale Dona Maria
All new Vintage Port brands, (and although I am one of the oldest Port families still in business - if not the oldest never having left or stopped making Port since 1620 – Quinta Vale D. Maria is a recent brand for Port, as the quinta only started to sell directly and under its own name in 1997) have yet a long way to go to get close to the older and more traditional Vintage Port brands (Taylor's, Fonseca, Dow's, Graham's, Quinta do Noval, etc.) in consumer and market awareness.
It is also a fact that those traditional and older Vintage Port brands consistently produce the best Vintage Ports and are clearly the benchmark for quality for the rest of us. It is also a fact that, when those brands do not declare a full house Vintage Port, that year is not recognized by the market as a classic declaration and classic Vintage Port.
When all companies declare a Vintage Port in a specific year, making it a "classic" and "general declaration", the market will certainly look for the Vintage Ports produced in that year. All of them. In a non-classical year, (when only a few declare), the market tends not to consider it worthy of looking into the Vintage Ports declared, especially if none of the "big boys" make any full house Vintage Port.
Having said this, it becomes obvious that brands like Quinta Vale D. Maria have a much better chance to be regarded as worthy of note and taste when there is a full declaration. And in being put in tasting comparison with the others we also have the chance to show the quality worthiness of our Vintage Ports, (which has been the case since we first declared our Quinta Vale D. Maria Vintage Port) and sell well and throughtout the different markets and top wine merchants. To put this in blunt figures, in a generally declared Vintage Port year, we oversell any available production of Quinta Vale D. Maria Vintage Port. If we produce one in other years, (which we have done and will continue to do) we sell something like 60% of the available production, (in both and every case we keep some 25% of our production for future sales).
The 2011 Vintage Port is fresh, deep coloured, structured, powerful. Frankly it looks so much like my favourite of the last 50 years: 1966.
Paulo Coutinho, Oenologist, Quinta do Portal
In general, I'm a fan of this Vintage 2011. I like the complexity of the fruit, which although an excellent maturation it also retained excellent freshness. On the palate, it is possible to experience what 2011 was like in terms of climatic and viticultural dynamics. There is a harmony between the freshness and complexity!
2011 has its own personality and crease. If I have to compare it with another vintage for Port, I would have to go back 10 years to ... yes, 2001!
The differences ...? I'll have to be controversial! The bad luck of 2001 ... was to follow directly after a commercial declaration (2000).
The luck of 2011? It comes after a lower quality Port vintage, as it was with the 2010 harvest!
A special toast to the 2001 Vintage and it is a great pleasure to put my glass very high for this 2011 Vintage Port.
Dirk Niepoort, Proprietor/winemaker, Niepoort Vinhos, S.A.
A generally declared vintage has a big impact on Niepoort, but I believe on all port houses.
"Vintage" is a strong horse for the port trade, (the kind of horse that Sherry doesn't have) for the image of port in general. It makes people talk about port which probably will have a positive (but gentle) effect on sales of port.
The declaration of 2011, I find particularly fascinating. The overall quality is very very good, I think that most houses took 2011 very seriously and made a great effort on quality by bottling less quantity than usual. It is an outstanding vintage with the unusual mixture of great power and concentration, BUT very fine and elegant at the same time. It has the earthiness of 1970 combined with the richness of 1966 and the concentration of 1945, (but fresher).
It is a vintage like no other ever probably. I believe that we managed to make the best VP since 1955 and must confess that I´m really proud of our ports; both the Niepoort and our Bioma.
Christian Seely, Managing Director at AXA Millesimes, Quinta do Noval
The impact of a general declaration is enormously positive both for an individual Port House and for all Port producers. It reminds people that the Douro Valley is one of the greatest vineyard terroirs on the planet - several people have speculated that the 2011 Vintage Ports were the greatest wines produced in the world that year and I would not discourage such thoughts. But a great year like 2011 reminds people how great Port can be, and this is hugely positive for us all. Year in year out we make lovely LBVs, or wines destined to become old Tawnies, wines that all Port lovers enjoy all the time. But a General Declaration is a big event for Port and for Port lovers, and for a short time at least Port takes the centre stage in the world of wine, where it belongs.
As for comparisons with earlier years, I do not think 2011 resembles in its youth any of the wines I have been responsible for at Noval since 1994. People have talked of 66 and 63. I dare to think that this might be better than either, but of course I did not taste those wines in their youth. At any rate, this is a wine that Port Lovers must taste: as a producer I am thrilled by what we have in our hands.
Miguel and Tomas Roquette, Export Sales & Marketing/Enologist, Quinta do Crasto
Although Vintage Port is a small portion of our overall business, (8.000 - 12.000 are bottled whenever a Vintage Port is declared by us) it is extremely important for us as a Single Quinta producer to declare Vintage Port in classic years.
The 2011 is a "classic declaration" and will be extremely important for the Port wine business and the overall quality is truly outstanding!
It is our goal to increase the quantity and, most importantly, the quality of our Vintage Port as well as other categories such as LBV, Finest Reserve and Colheitas over the next few years. As you know, we will launch our very first Colheita in the second half of this year and you will be able to taste it with us during your next trip to the Douro.
Bartholomew Broadbent, Proprietor, Broadbent Selections Inc.
I think that you've probably got enough commentary on the 2011 Vintage as it compares to other Vintages. In any case, Dirk Niepoort's answer would be the same as mine.
On the other hand, how the 2011 impacts our company is a much more interesting question. It is relatively simple.
Basically, the way I see the current state of the Port market, there is very little interest in Vintage Port. There is still far too much available from the last few Vintages which have not sold through on the shop shelves. It might be asked of any Port Shipper, why produce another Vintage when the market demand is so weak? They would probably answer that it is because it is such a fantastic Vintage. There is, however, no denying that, throughout the past 50 years or more, market conditions have affected Vintage releases, if nothing else, in the amount of Port produced
[though I would not trust all of the Port producers to give accurate production figures].
So, there are three factors which have determined our Declaration. First, the quality of the wine is fantastic, so it is a given that we want to turn it into a Vintage. Second, the market conditions for Vintage Port have been the weakest I've seen since selling Vintage Port in America, for this reason, we will produce enough to satisfy the immediate demand on release and we won't produce a lot more for future release. Third, it is the best advertising. When a Port Vintage is released, the press writes about Port. It is great advertising for the brand and keeps the name in front of the consumer.
José F. Falcão Carneiro, Proprietor, Wiese & Krohn
It's always important for a Port company's image to declare a Vintage Port in a year which is of general declaration. We declared two Vintage Ports: a single Quinta (Quinta do Retiro Novo 2011) and a 2011 Krohn Vintage Port. The quantities we declared are rather small when compared to those which are declared by other "famous Vintage Port" houses. Our speciality is, as you know, Tawny Port; in particular Colheita Port. But years that are well-known for Vintage Ports are also exceptional years for Colheita Ports. Probably we can compare 2011 to 2007.
Joana Pinhão, Oenologist, Lemos & Van Zeller, LDA: Quinta do Vale d. Maria
A generally declared vintage like 2011 can give, small companies like ours, a push forward in terms of sales and visibility in the foreign markets. For us it is always important to have a great vintage port in those years.
You taste the 2011´s and the quality is amazing, all around: the purity of fruit, quality of the tannins, which are silky and well-integrated. It is a year that combines elegance, with power and structure.
As for which older vintages should we compare it with: 1997 ... probably. But I haven´t tasted a lot of older vintages. You were asking for older vintages to compare with the 2011 and that truly depends on the producers, but as you saw I tasted the 2011 Quinta do Noval Nacional and I think it can be as perfect as the 1994, for example.
João Nicolau de Almeida, General Manager, Ramos Pinto
All our wines are the result of a passionate team of winemakers, viticulture and marketing team.
Vintage Port is a time of excitement, has it is the best selection of grapes, from our own terroir, that only can be found in an outstanding year.
For Ramos Pinto, the launch of the Vintage 2011 was a step of great importance.
We have, for a long time, a well-planned strategy of Vintage Port sales in a way that we only sell a part of our production in the year of the launch, and then we still have a small allocation available to sell, during the next 20 years. This strategy reflects the confidence we have in our Vintage aging potential and allows us to still have available small quantities of great diversity of Vintage years, to our customers.
In my opinion, Vintage 2011 is reminiscent of Vintage 1966.
Paul Symington, Joint Managing Director, Symington Family Estates
With regard to the declaration of the 2011 Vintage, I would say firstly that this is a very personal thing. To a great extent a person's career in Port is defined by the Vintages that they make during their time. This is only the 3rd Vintage Port generally declared by my family since the great 2000 (so the 2003, 2007 and now the 2011) and it is the 10th declaration in my 34 years working with my family. We therefore attach the utmost importance to such an event. With regard to the impact on the company, it must be clear that the actual amount of wine bottled as Vintage Port is exceedingly small in comparison to the sales of Reserve and other Ports, but of course all who work with us view a declaration as a great moment for the company. In the wider context, a Vintage Port declaration is very important in order to reinforce Port's position as one of the world's great wines and most leading wine commentators will be tasting and writing about the 2011 Vintage Ports, this is very important for us and for our region.
I always find it a bit invidious to try to find a comparison between a wine that we have just declared and previous Vintage Ports. By definition, each Vintage is utterly unique and has its own very specific identity. We had no rain whatsoever in July and none at all in August (following on a very dry January to end June), then came what I called at the time 'the ace of spades' on the evening of the 21st August, with 15.4 mm of rain, followed by 17.8 mm on the 1st September. Then perfect harvesting weather until rain in late October. How could these wines not be so distinct?
I believe that our 2011 Vintage Ports are outstanding and if forced to make a comparison, I would say that they are in the same mould of the 1994's, with superb fruit balance, backed up with a powerful tannic structure that, at the moment, is to some extent masked by the beautiful young fruit. Our wines are, by any standard, beautiful, each with its very specific identity, Graham's speaks of Malvedos, Lages, Tua, Vila Velha and Vale Malhadas, Dow's of Sra Ribeira and Bomfim, Cockburn's of Canais and Vale Coelho, Warre's of Cavadinha, Bom Retiro and Telhada.
It is important to note that these wines reflect many decades of work in our vineyard and in our wineries and to our family's commitment in two fundamental areas. Firstly to our 5 small 'micro wineries', each making no more than and few hundred pipes, each with their own dedicated team of wine makers. These teams have just this one objective in mind and are not asked to make any other style of wine.
Secondly to our 964 hectares of vineyards in the finest areas of the Alto Douro and Douro Superior. Without these vineyards we could not make wines like these. We are able to work with very old vines, some planted by our fathers and grandfathers, and some we planted in the 1980's, so already over 25 years old. This is reflected in the quality of these wines. There are no shorts cuts at this level. Our family's philosophy is that we take the very best of the old and the very best of the new, using lagares to make all these wines.
Jorge Serôdio Borges, Co-owner/co-winemaker, Wine & Soul (Pintas)
To take this decision of declaring the Pintas Vintage 2011, we needed to be sure that this wine corresponded to the quality we expected for a Vintage Port. To achieve this level of quality, it had to be a vintage where many aspects came together. In the vineyard, we needed perfect climate conditions during the year which permitted us to grow healthy fruit; plus we had good rainfall and enough hours of sun to get the right maturation. Additionally, at our winery, no mistakes could be made, to ensure we would produce the best quality possible. Only in special years like 2011, can we achieve all of this simultaneously.
The impact we get is of course very positive, because not every year are we able to declare and of course this means a confirmation of our work and quality of our vineyards. Declaring the Pintas vintage in a classic year like 2011 provides an even greater opportunity for us, because we can be compared with other classic Port brands and of course we are very proud to be a part of this great moment that is the declaration in an excellent Vintage Port year.
The Pintas Vintage Port has a young history as you know, we started in 2003 and this 2011 is by far the best vintage on this century so far. But to compare it another older vintage, I think 1970 is the one.
Pedro Mansilha Branco, Proprietor, Quinta do Portal
A Vintage declaration is always a moment of happiness and pride of a job well done. It's the recognition of the work and efforts, towards achieving the best possible quality wines. Our entire team put in their hard work during the previous years and we are proud of our 2011 Port.
Carlos Flores dos Santos, Co-owner, J. H. Andresen Sucrs. Lda.
The impact of a general declaration in our Company is always very positive. Not being a major player, and having an image much more associated to Tawny Ports than Vintage, we profit first of all in the sense that a general declaration puts Port in the spotlights it deserves. General declarations are rare, and this fact makes these wines even more special.
Obviously, we also usually sell our Vintage of such a particular year more easily, and in that sense there is a more objective positive effect. Also, it obviously has very positive repercussions in the other single vintage Port categories.
I must confess that I've only tasted a few of the 2011's. However, at some point I would compare 2011 to some 1997's and some 1994's. Honestly I find it hard to say at such an early stage, but concerning the few I've tasted, it's clear that overall quality looks outstanding.
Xito Olazabal, Oenologist, Quinta do Vale Meão
A generally declared vintage it is always good, because all the trade and wine writers want to taste, describe and score the Port wines. Many times when not all the Port Houses produce Vintage Ports, we don´t get the focus of the media, even when the wines are excellent. Suckling, Jancis, Wine Spectator and others only taste Vintage Ports in a generally declared year. This means it will be easier for us to sell the wines. Fortunately, we always have the attention of some really experts on Vintage Port like you ...
Up until now, we have produced Vintage Port in 2000, 2001, 2002, 2003, 2004, 2007, 2008. I think the 2011 Vintage is unique and I can't compare it with any of these Vintages. It has the freshness of 2007, the volume of 2000, combined with the perfume of 2001. If I may dare, I would compare it with a vintage with good volume and also some freshness like 1970.
Luis Sottomayor, Director of Oenology, Sogrape Vinhos, S.A. (Ferreira/Sandeman/Offley)
The impact of the vintages in our company is relatively small and therefore more a question of pride and reputation! In Sogrape Vinhos, where considerable quantities of wine are bottled every year, the 50.000 bottles of 2011 Vintage Port are used for more than business, to show the world our capacity, as a company, as a region, and as a denomination of origin, to make some really wonderful wines.
That is one of the reasons why after the amazing vintage of 2007, only now we have decided to go ahead with another declaration. If these wines are supposed to show what we do best, then the quality must be unquestionable, and only the best of the best deserves to be declared. Quality wise, 2011 follows the path of 2007!
In my opinion, I can say comfortably, this vintage is the finest we have achieved in the last 20 years. I have tasted several universal vintages, but I have never seen such a great quality in a wine. It is difficult to compare this year with others, but to make an easy description I could say we have the same structure and tannins as the 2003 and the same harmony, elegance and acidity as the 2007. It could be described as a 1994 with much more structure, elegance, harmony and finesse.
Oscar Quevedo, Marketing Manager, Quevedo Port Wine
Vintage Port is certainly the most important category of Port, that brings prestige, name and that crosses generations of wine collectors and wine lovers. 2011 is one of those Vintages that we all hope will live for many decades, showing us all how well Port can age. For the producers, at least in our case, Vintage Port is not really relevant in terms of revenue or profit. The volumes produced are very low, less than 1% of the entire production of Port in a family like ours, and the cost associated with the production of such a small volume is considerable. The importance of making a great Vintage Port is to help our brand awareness in the high end Port wine community. Vintage Port is the calling card of a Quinta's Port portfolio. In the end, I think that a vintage best reflects the skills and talents of the winemaker, more than any "house style".
I won't try to compare 2011 to anything else, as at this stage it is pure speculation.
Adrian Bridge, CEO, The Fladgate Partnership (Taylor/Fonseca/Croft/Skeffington)
A new vintage port always has an impact because it is news – the coverage about it tends to stimulate demand for all ports. Although the amount made is tiny, the impact is felt throughout the business. Clearly we farm our quintas in a way that has the potential to make vintage every year, so when nature gives us the final help we are delighted.
Our 2011's have a very pure expression of fruit and very fine, silky tannins. This makes them different from anything that we have made in the recent past – and I have been involved since the 1992's. As I was not around prior to that I cannot compare earlier years. I think that the purpose of seeking a comparison is to gain an understanding as to how they will mature. The freshness and balance makes them appealing now, but they have the structure and complexity to age. They will be glorious wines throughout their lives and, for those lucky enough to get some, they will provide years of pleasure.
A Question for the Port Trade appears in every other FTLOP newsletter, sharing this space with Port Personalities: In Focus. For Issue #76 there were seventeen responses to the question at hand. Typically related to the wines of the region, this month's AQFTPT provides insight from many of the key players in the Port wine business on a "hot topic" that should captivate everyone's attention.