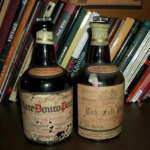 This month Roy took a question that has been discussed by Port lovers on our Forum for the past three years, and finally put it to the Trade.  Ten top producers replied.
Q: If the IVDP regulations were not an obstacle ... would it be feasible and profitable for your company to produce a reasonably priced basic Ruby and/or Tawny Port of good quality, packaged in an attractive bag-in-box; 1.5 L or 3 Liter size?
Possible benefits for consumers:
Market to a younger audience, new to Port and budget-conscious consumers
Extended shelf life due to hermetically sealed bag-in-box, stored in refrigeration
Ease of pouring with a simple spigot
Attractive packaging to avoid "cheapening" Port's image
TCA issue is virtually eliminated
Perfect for serving by-the-glass in hotels/restaurants/pubs
Offer consumers great value for money
Bento Amaral, Tasting Panel Coordinator, Instituto dos Vinhos do Douro e Porto (IVDP);
Under the current IVDP regulations, it's not possible to sell Port Wine in a bag-in-box.  The rules on the labeling and packaging of Port appellation of origin are – besides the European rules and taking into account the European law – established in a Regulation (published in the Portuguese Official Journal) approved by our Inter-professional Council. This means, primarily, that this Inter-professional Council is particularly worried with the quality of the wine as well as the international image and the prestige of the appellation of Port's origin (Douro) – values that are indisputable for the appellation of origin for Port. At least for the moment and taking into account the above referred values – so connected with the appellations' origin as industrial property rights – it is not possible to use bag-in-box for Port.
Jorge Dias, Managing Director, C. da Silva
Regarding your question, the Ruby, Tawny, White and Rosé Ports already have a very reasonable price. Even if the IVDP regulations were not an obstacle, I think that bag-in-box is not the way to encourage young and new consumers to drink Port wine.
In recent years, the entire sector has made a big effort and investment to avoid TCA related cork problems and the problems detected are rarer nowadays. And there is no evidence that BiB, (bag-in-box) is able to preserve the quality of the wine. Besides this, fortunately, Port wine remains preserved quite well once opened and stored in the refrigerator, and therefore it does not present problems of conservation, like most still wines do.
I think the effort of Port brands and the IVDP must be in consumer's and key players' education, in order to explain new moments and ways of consumption, like attractive cocktails and long drinks, and new food and Port pairings.
Pedro Branco, Proprietor, Quinta do Portal
It would be feasible to produce a Port in bag-in-box. But making it profitable? Possibly in the very short term only. In the medium and long run, I believe the quality image that Port has conquered for centuries could be lost very quickly, meaning that the small profit would turn into big losses. The Port wine industry must focus on the "special category" wines and not spend too much time in wines that don't add any value to the producers, like basic tawny and ruby Ports.
As for the possible benefits you listed I will reply briefly to each of them.
Market to a younger audience, new to Port and budget-conscious consumers:  I believe that new Port consumers should start with better wines than basic tawny and ruby. They can still get excellent Reserve Ports (Tawny or Ruby) for a very good price that will match their budget profile.
Extended shelf life due to hermetically sealed bag-in-box, stored in refrigeration:  Most Ports already have a long shelf life. I don't see a point in wanting to extend it.
Ease of pouring with a simple spigot:  Wine consumers have been easily pouring wines out of bottles for centuries. The whole ritual of opening a bottle is something that should be preserved for future generations.
Attractive packaging to avoid "cheapening" Port's image:  I'm sure there would be good design but, as one of the objectives would be to reduce the price/cost, then there would be a lot of cheap design and packaging materials too.
TCA issue is virtually eliminated:  This indeed would be an advantage, although I believe that the % of TCA in the T-cork these Ports use is very small.
Perfect for serving by-the-glass in hotels/restaurants/pubs: It could help the servers, but the idea of being poured out of a bulk box with 1,5L or 3L doesn't attract me at all. Port deserves better than that.
Offers consumer value for money:  I don't know of any other wine in the world that already offers more value for money than Port.
João Nicolau Almeida, Managing Director and Oenologist, Ramos Pinto
In my opinion, I don´t think that your question will be reasonable for Port wine. It could even be very bad for the Port business. You know that Port wine comes from a very difficult region where the costs are very high compared to other regions where the vineyards are flatter and much easier to work.
So the only way to survive in the near future would be to make less Port for current consumption where our margins are small and make superior quality Port wine and marketing those wines as a top luxury product. Instead of making current Ports which are very expensive to produce, I think we have excellent Douro wines with lower cost production and reasonable selling prices.
Robert Bower, Export Manager, The Fladgate Partnership
I have not studied this, but I don't think this would work for our brands (Taylor, Fonseca and Croft). This should be a question for a volume player with much lower production costs i.e. of the liquid. They would already have studied this question. With the considerably lower price ceiling that this product would have, I would not be surprised if it would still not be profitable or even feasible, especially with the higher costs involved in Port production.
João Álvares Ribeiro, Vice President, Quinta do Vallado
Regarding the question about Port in a bag-in-box, I must tell you I have little experience in this segment of the business, namely costs, selling prices, etc. As you know we've been only selling the high segment Ports. But my feeling is that we should not sell Port in bag-in-box.
Sophia Bergqvist, CEO and Owner, Quinta de la Rosa
Bag in the box wouldn't be La Rosa's market really, but I cannot see that there would be any harm in it. After all, we were selling port in barrels when people came with their bottles and filled up in places like Holland, only 20 years ago. And this port would have been rather tired and oxidised. So bag in the box would keep the port fresh and might give another boost to sales.
Miguel Roquette, Director of Export Sales and Marketing, Quinta do Crasto
Personally I don't see any problems by having a young Ruby or Tawny Port packed in a bag in box although these categories of Port wine are mainly produced by the bigger companies and major Port shippers.
But for the single Quintas, this operation would be quite difficult to accomplish due to the large volumes involved to make it worth doing. Nevertheless this could be an excellent way to target a younger audience, but the image should be very attractive and of the highest quality to avoid deteriorating the overall image of such a noble wine. It could also be a good advantage for the on-trade to serve these wines by the glass.
Pedro Poças Pintão, Commercial Director, Manoel D. Poças Júnior Vinhos, S.A.
I don't think that price is getting consumers away from Port wine. There is already a substantial amount of reasonably priced Ruby and Tawny Ports in regular bottles. As for the other benefits that you mention, apart from the TCA, (it would be difficult to get that in a BIB!) all the others are questionable and can easily be deconstructed, (e.g. the shelf life of an open bottle of Ruby and Tawny is already quite decent).
I do believe that we need to attract a younger audience and make the majority of the consumers willing to pay more for a bottle of Port, but I don't believe BIB will be part of the solution.
George Sandeman, Board Member/PR & Institutional Representation, Sogrape Vinhos
Call me old-fashioned, but Port from a BiB doesn't float my boat. Without getting into the technical aspects of fortified wine in plastic, and while believing that BiBs are a handy way to store and serve wines, I firmly defend that a special wine like Port, (the real thing, not the more mass produced product found in some warm climes like Central California) is to be savored and enjoyed in moderation – although I do like it in a cocktail!
The convenience of BiB for Port may increase the ease with which it is consumed, but I have serious doubts about the long term impact. Maybe we could ask the guys in Champagne what they think about this.
A Question for the Port Trade appears in every other FTLOP newsletter, sharing this space with Port Personalities: In Focus.