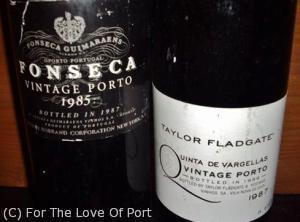 While learning to appreciate Vintage Port at all stages of its life cycle, the "sweet spot" for me, remains the same. My earliest encounter with Port, (in my mid-20s) took place in 1983 while working at a restaurant in NYC. The 1963 Sandeman Vintage Port poured by the glass from a Cruvinet dispensing system was the compelling elixir that coaxed me towards a passionate path of Port purchasing, drinking, collecting and a lifelong study of its history and culture. How this segues into the sibling pair of Ports pictured on the previous page will become abundantly clear by the end of this page.
The life of a Vintage Port begins as a ponderous, brash and spirited young pup. As it morphs into its teen years and early adulthood, its character becomes more intriguing, balanced and stable. From here, as the VP approaches its prime of life, it continues to show great promise while its personality has taken shape as it settles down. Evolving into maturity, the VP's sensuous nature becomes more apparent, exemplifying its elegance, complexity and rising to its exuberant potential. Upon advancing further into old age, where the best of Vintage Port's qualities often still shine, one is rewarded by textural sophistication, sublime intricacy and mellowed opulence.
Finding Vintage Port's sweet spot for your particular palate is imperative for developing a refined purchasing strategy as well as solid drinking pleasure. While I do appreciate VP at all points in its aging curve, the prime drinking window for me is around 35 – 50 years of age, which roughly translates to 1977 - 1963 Vintage Ports today. Over the past 30 years, those vintages made up the vast majority of my cellar, and I drink them early and often, depleting many of my older bottles likely too soon. For the most part, bottlings from the 1980s and younger have been opened with far less frequency (from my collection), yet younger friends who began collecting later on, tend to generously open these bottles often in my presence.
The vintages 1980, 1983, 1985 and 1987 have finally reached the point where they are coming into their own. Having experimented widely from the majority of Port shippers, there is a great deal of potential from the top vintage bottlings from the '80s.
As these Ports have now settled in, I finally feel comfortable in providing a definitive, "Top 5" list of Vintage Ports encompassing all of the 1980's. Over the past decade, some of these bottlings have traded places with one another on my list, but I don't see it changing from here. I've had every one of these VPs a dozen times or more over the years, from a variety of sources.
Roy's Top 5 Vintage Ports of the 1980's, in order of preference:
1985 Fonseca
1987 Taylor's Quinta de Vargellas
1985 Graham
1980 Dow
1983 Gould Campbell
With that assertion made, my premise for the article A Tale of Two Siblings begins here.
Now in their mid-to-late 20s, the first and second place VPs from above, stand out above the rest ... although admittedly, the other three that I've selected are also fabulous in their own right. The pair of 1985 Fonseca and 1987 Taylor's Quinta de Vargellas, for me, epitomize what I look for in extraordinary examples of Vintage Port: profound aromatics, intensity and purity of fruit, exemplary structural components that provide symmetry, well-integrated aguardente, elegance in the mouthfeel and lengthy finish, with significant long term aging potential. These are the hallmarks of greatness that I seek out when evaluating evolving Vintage Ports.
The 1985 Graham's and Fonseca spent many years as head-to-head rivals and during most of the 1990's and into the past decade, I felt that the Graham's bested the Fonseca. Without question, the Graham's was far more approachable and showed better as the Fonseca was a tight and tannic young beast, blessed with all of the peripherals, but just so reticent early on. In the past half dozen years, in several side by side comparative tastings, blind and sighted, my pick has been the Fonseca. I know lots of friends who fall on either side of this debate, so it is up to you to taste them together, blind, so you can determine which you prefer.
The 1987 Taylor's Quinta de Vargellas is a longtime favorite of mine from the 1980s. The first time I tasted it was when I lived in Virginia and in the late-1990's I bought my first case on sale at a great price. Those bottles disappeared rather quickly and I re-upped with another case. I purchased more early in the next decade and still have a few bottles left and promised to keep my hands off it, as much as possible. I love the 1991 Vargellas too, but would have to say the 1987 is definitely my favorite, considering I will likely never have the 1912 version of Vargellas again (and count the Vargellas Vinha Velha as a different animal)!
As you will read, a recent blind comparative tasting held here with FTLOP's Stewart Todd, pitted the 1985 Fonseca up against the 1987 Quinta de Vargellas, something that I had never done before. The result was fascinating and I reserved a couple of glasses in each bottle to try the next day. In hindsight, I probably should have included the Graham's 1985 too, but there's still time for that exercise to happen someday.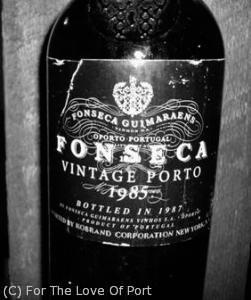 1985 Fonseca Vintage Port – Decanted for eight hours, this Port shows great extraction, nearly opaque with a dark maroon edge. Evocative scents of black raspberry, grape, black licorice and tar; dazzling and dark. The second day, an unrestrained note of mocha was present. Rich and full-bodied, showing a slight bit of heat, the dark berry essence attacks the palate. Opulent, juicy and a packed mid-palate with cassis, purity of grape and cocoa powder flavors. Powerful ripe tannins vie to dominate the fruit and nearly win the battle. What struck me on day two was how much the tannins had mellowed, while the acidity was more pronounced, and both seemed in complete unison with the spicy dark berry flavors that gained an incredibly sexy smooth mouthfeel. This led to an amazingly long, intense and chocolate laden finish. Conservatively, there's another three decades of great drinking ahead. 96+ points 1/13/13
A couple of years ago when discussing this particular Port with David Guimaraens, he mentioned that his father considered it to be the best Vintage Port he had ever made. Considering he also vinified 1963, 1966 and 1970 amongst many others ... well, I'll just take my hat off to Bruce!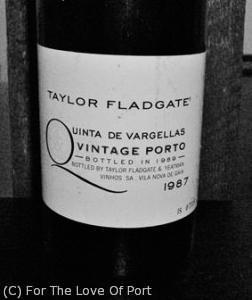 1987 Taylor's Quinta de Vargellas Vintage Port – Decanted for a full eight hours, the color deepened with time to a brilliant dark red center just shy of full opacity and with very slight bricking on the rim. Initially concerned with TCA, due to a musty – mushroom note, fortunately that blew off leaving in its wake a complex earthy profile of dark cherry, boysenberry, kalamata, creosote and wet rock aromas. Gorgeous from the first sip, massive yet sumptuous, loaded with Choward's Violet Mints, ripe blackcurrant, anise, minerals and a solid dose of warmth. Texturally, this was chewy but smooth. Day two added hints of white pepper aromatically and a fuller and silkier texture, with less spirit evident on the finish. Overall, it shows vibrancy, several decades of further aging potential and enormous drinking pleasure today. 94+ points 1/13/13
Impressive at 26 years young, the upside potential here given its power and youth ... is significant. I will save one bottle to enjoy late in life, and will fondly remember many bottles consumed while it was still coming into its own. If you can find bottles at retail or auction; well, you know what to do!