London, England
January 17, 2013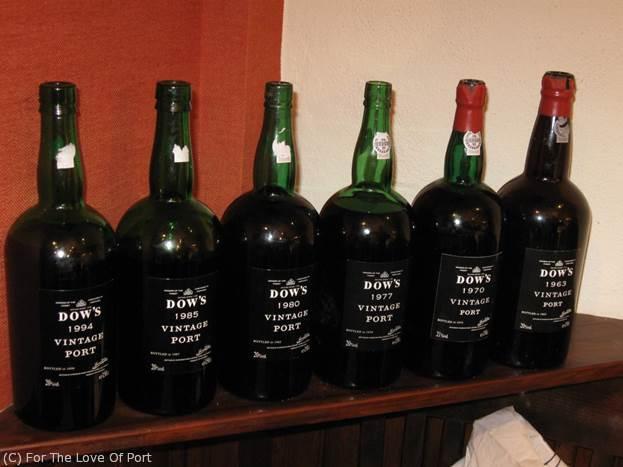 When someone asks if you would like to take part in a tasting of old Ports, one generally doesn't say no. When someone offers you the chance to take part in a tasting of old Ports in rare magnum format, one never says no. Thus the stage was set for me to jet-off half way around the world to London to take part in a vertical tasting of Dow's Vintage Ports, from magnums.
We assembled at The Bunghole (aka: Davy's Bar and Grill), in Holborn, London. Having never been, I was a bit worried when we walked a few feet into what appeared to be a dark alley and then down a steep flight of stairs and into what I would refer to as a basement. But this is London, and in true form the restaurant was well presented. We were immediately greeted by a young man with a large smile who introduced himself as the Assistant Manager, Jack. He pointed us toward our private room and informed us it was ready for the evening festivities.
As people arrived the pitch in the room grew louder with everyone focused on a row of big bottles in the corner. As much as this group drinks Port, it's not often that a lineup of old magnums awaits and it was easy to see the excitement in everyone's faces. As the magnums were passed around and glasses filled our exceedingly kind and attentive waitress took our food order. Throughout the evening we were well looked after by the wait staff and the food was fantastic as well. But this isn't about food, this is about old Ports.
The provenance of these old Ports was perfect after having spent their whole life in a single dark, cool, and humid cellar just waiting for the right time to be opened. And that time was now! Over the course of several hours everyone debated which vintages they liked best and why. There were some clear favorites and some not so favorable.
Being true to form with this assembled group of serious Port lovers, and as if six magnums of Port weren't enough, there were a few extra surprises which popped out as the evening wore on. Namely, an older Magnum of Warre's Vintage Port and a number of bottles wrapped up for us to try double blind. I must say double blind tasting is very humbling, very. I clearly admit to being wrong on my guesses regarding more than one of the Ports. OK, let's be honest ... all of them. My guess of a 1982 Sandeman VP was a far cry from the actual bottle of 1986 Smith Woodhouse LBV Port that it turned out to be. The next bottle I was much closer with my guess of a 1972 Colheita, which turned out to be a Quevedo 40 Year Old Tawny Port. As for the two other tawny's listed below ... let's just say I was decades off. Remember that part about being humbling?
As the evening drew to a close, people said their goodbyes and headed out into the cold dark winter night. Being kept warm by their thoughts of the evening and the Port they just enjoyed.
It was a true pleasure to see some old friends again, and meet some new ones. Being able to share such amazingly good Ports made it all that much better. My hat goes off to the main organizer, Alex, and everyone else who helped to pull this off. Until our next Port adventure ...
1963 Dow's Vintage Port (Magnum)
A light ruby with some tawny on the edge. The nose was full of licorice, flowers, and semi-sweet, though a touch of V.A. was barely noticeable. Initially light on the palate, this built with exposure to air. Some wood, leather, and a touch of heat (only a 30-min decant), and semi-sweet texture. The long finish had brown sugar, cranberries, and didn't show the drier side often associated with Dow's. As the evening wore on, this shed that heat and started strutting its stuff. In a great place right now, and at peak, but will hold for many years to come. 93 Points
1970 Dow's Vintage Port (Magnum)
Still a rich ruby color with a touch of strawberry and a hint of V.A. on the nose. Very soft strawberries initially. That quickly gave to a young dash of tannins, solid acidity, and full-bodied fruit. The rich, dry, and fresh finish shows how well this VP is aging, especially from this large format. The explosive long finish was captivating. 95 Points
1977 Dow's Vintage Port (Magnum)
Another dark ruby Port. The nose was marred by massive V.A. The palate was bitter and astringent, hot and lacking fruit. Though there were still plenty of tannins. Sadly, this vintage of Dow's doesn't have a great reputation due to so many issues with poor bottles. But when this shines, from a correct bottle, it rocks. Unfortunately, this wasn't a good showing. Not Rated.
1980 Dow's Vintage Port (Magnum)
The color is still a deep ruby purple. A young fresh nose full of juicy plums. The palate of young dried plums, anise, fantastic acidity, and still possesses solid tannins. Initially a bit closed this opened up with time in the glass. Some heat showed up later on the long finish, but I believe that was more a decanting issue. Still young with a long life ahead of it. It was clearly in a spot at the moment and in my opinion a far longer decant or longer in the cellar would raised my score a point or two. 91+ Points
1985 Dow's Vintage Port (Magnum)
Bright ruby color. Very tannic and dry compared to the prior vintages. Dark fruit, moderate acidity, plums, and that drier side. A rich long finish continues what the palate offered up. Well balanced across the board this has good upside potential. 92(+) Points
1994 Dow's Vintage Port (Magnum)
Dark! Real dark in color. Pure young black plums and that slight soapiness young VP's sometimes show on the nose. The palate is nothing but bold and expansive plums, blueberries, saddle wood, big tannins, and solid acidity. The finish is dusty with that familiar bold fruit. Semi-dry on the finish as well, but oh so long lasting. This is a young monster and will reward long term cellaring. 95+ points
1985 Warre's Vintage Port (Magnum)
Decanted 14 hours this was a deep purple still. Dark rich plums with plenty of tannins. Sweet plum profile shows this is still very young. The long finish was also full of fresh fruit and young dry tannins. Very lovely, I didn't want to put the glass down, but in this format will reward sitting a lot longer in the cellar. 93+ Points.
1986 Smith Woodhouse LBV Port (Unfiltered)
Served double blind. The color was a light ruby with a nose of anise, licorice, and a touch of heat. Soft tannins and a touch of heat, but still had nice fruit that isn't dried out yet and a moderately long finish. Lacking just a touch of complexity (which made sense once this was revealed). My guess was 1982 Sandeman VP. 89 Points
Quevedo 40 Year Old Tawny Port
Served double blind. A tawny color with yellow on the edge showing some age. Lovely toffee, dried nuts, carmel, orange peel, and cinnamon assail the nose. I could hardly stop smelling this. A sweet palate dominated by brown sugar, toffee, cinnamon, and spices. A long sweet finish is an extension of the palate. Wonderful first bottling of this Quevedo Tawny Port. I was told the base of this is a 1972 Colheita from the family reserves. I was feeling good, as my guess at to what this was was a 1972 Colheita. Then the next two Ports were served and that good feeling quickly left. 93+ Points
Some background on these last two Ports. The term "Vinho Generoso" is a traditional name for fortified wines made privately for family use. These are not commercially released Ports, rather intended for private family use only. So it was a real treat to be able to try something which will never be commercially released, though I wish they were. These two Ports came from a Quinta in the Cima Corgo, which faces southwest over the river. Both are 100% Touriga Nacional, treaded in traditional lagars with a mechanical treader with "feather" like paddles.
The 2000 had been aged in small casks in the house cellar in the Douro, around 500m in altitude, north of the river and was bottled last autumn. The 2011 was bottled mid-summer 2012 from the tonel at the adega (at the Quinta), as it was racked out to make way for the 2012 harvest wines.
2011 "Vinho Generoso" Colheita Port (bottled Mid-Summer 2012)
Served blind. Still a ruby, so guessing younger here. A soapy young nose I normally get with young VP. The palate was also young but very fresh. Then a wave of cinnamon, toffee, great acidity, fantastic complexity for what appears to be a younger Tawny. The finish was sweet with caramel and some tannins. Fantastic and I guessed a 1995 Warre's Colheita. Was surprised to find out this was 100% Touriga Nacional and so young! 93 Points
2000 "Vinho Generoso" Colheita Port (Bottled Autumn 2012)
Very light tawny with some yellow mixed in with the brown edge. The nose was soft and creamy, with oranges, candied pralines, sea salt, and beef. The palate showed big acidity, toffee, wood varnish, some light tannins, and fantastic complexity. The huge long complex finish simply carried on what started on the palate. This 100% Touriga Nacional Tawny was amazing! 94 Points
Article and photos © by Andy Velebil